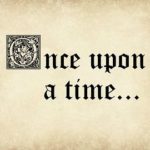 a long, long time ago, before Michael and Lori fell in love with the Central Coast, they walked into Wm. Harrison Winery in Napa Valley. The fair maiden behind the counter told them they had to try this special potion called Cabernet Franc. This was a new varietal for them. They had never heard of this fruit, but who were they to turn down the generous offer of the magical being. So they graciously accepted. They looked, they swirled, they smelled and then they sipped. The delight that came over their faces were obvious indicators that this elixir must be some sort of love potion. It immediately cast its spell upon them. Caught in the grip of the wine's spell, Michael and Lori began to search high and low for all the Cabernet Franc they could find. 
What they discovered was that this very precious philter was not easily found. They walked from winery to winery and asked the question. "Do you have a Cabernet Franc?" only to be greeted with the same response, "NO! It is a blending grape, we don't make it as a single varietal." As the years passed on, the couple never lost the desire for the grape that cast its spell upon them.
For over a decade, they hunted with very little success. So one night, in a small little town, in a not so small state, on the wrong coast, while sitting for their meal, a revelation occurred to them. They declared that they would no longer hunt for the magical Cabernet Franc, they would produce it themselves.  They were going to Pursue Their Passion and fulfill their destiny by starting a winery.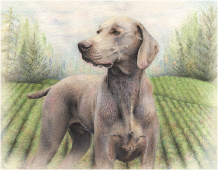 The winery had to have a special name. A name like no other, a name that showed their love for their faithful companion. The weimaraner that stood at their side during the many years of searching. The being whose love for them (and theirs for him) was like no other. Draco, after fourteen years of friendship, was now shining his light upon the couple from those very stars from which he was named. The name, Dracaena, better known as the Draco Tree became their mantra. They worked hard to secure the best fruit from Paso Robles, and hired the Prince of Winemaking, Jeremy Leffert, as their consulting winemaker. 
Their 2013 Cabernet Franc was greeted with much appreciation. The couple was in awe at how much their wine was loved! A Silver Medal in both the San Francisco Chronicle and Monterey International Competitions and a 91 in Wine Enthusiast. This led them to spearhead the #CabFrancDay campaign.  They realized that they were not the only people in search of this magical grape. There were others like them. Others who had tasted the beautiful black currant, raspberry, plum, chocolate and violet flavors and too fell under its spell. 
Back in 2015 when the very first #CabFrancDay was held, Lori had no clue what was about to happen. She reached out to her forest friends on Twitter and Instagram and asked if they would be interested in sharing their #CabFrancLove. The response was nothing outside of amazing. The love was there and they wanted to announce it loud and strong. On December 4, 2015, many came to their keyboards in support of this phenomenal grape. They came from near and far to show that Cabernet Franc is #MoreThanABlendingGrape.
The success of the first #CabFrancDay was the power boost that Lori needed to pursue the venture further. She knew that more would come to defend the helpless grape and help give rise to the respect that it deserved. She worked harder in 2016 to reach out to more wineries, like Dracaena Wines, that produce this magical potion that so many loved. And in 2016 the people responded by sending a resounding message to the Prince of red Grapes- WE LOVE YOU! And from that day forward, Cabernet Franc lived Happily Ever After.
~Sláinte!