March Madness
For me, March typically means two things. Mike's birthday and March Madness! But this year, it meant something else. This year, thanks to #winestudio, it meant I was going to hold a Winemaker's Handprint in mine! We were exploring the world of Meeker Vineyards in Geyserville, California. 
Winestudio is an interactive beverage education program organized via social media. Each month a new theme is selected and an online conversation ensues around that topic. You can follow along with and participate in the Twitter conversation on Tuesday's at 9pm EST using the hashtag #winestudio. 
We have been fans of Meeker Winery since the days of the teepee. According to Kelly Meeker, the teepee came into being due to a lack of space in the winery for a tasting room. Back in the early 1990s when Sonoma and Napa were at the beginning of their huge growth spurt, Meeker Winery was a mere 1700 sq. feet. They wanted and knew they needed a tasting room, so they had to think outside the box. They sure got creative and erected a 40-foot tall teepee besides the winery and began using it as a tasting room. The teepee was erected from 1993-1998. In 1998, they moved to the Vault. 
Charles and Molly Meeker bought their vineyard in Dry Creek Valley in 1977. By 1984, they had established their winery with Charles as the winemaker.  Initially, they specialized in Zinfandel, Cabernet Sauvignon and Chardonnay. Their Zinfandel was greeted with immediate success. Their first vintage won eight medals in various wine competitions and became the third most awarded Zinfandel in the country that year. In 1985, it received the honor of a Wine Spectator "Best Buy" and in 1986 it was a "Spectator Selection." To cap off the success just four years later, Meeker Zinfandel was awarded a spot in the "100 Best Wines in the World." 
During this time, Charlie Meeker was still working full time in Los Angeles. What else is
there to do in LA? Charlie began working in the film industry as an attorney, then a film producer and eventually became the President of Metro-Goldwyn-Mayer. The demands of the "day job" became too much and they decided to hire a full time winemaker. 
The early 2000s were a growing time for Meeker. They went from a few thousand cases to over 10,000 cases per year.  They leased winery facilities in Windsor and Santa Rosa prior to finding their current location three blocks from Healdsburg Square. Unfortunately, the teepee did not travel with them. Continuing in the "not to be like everyone else" concept, and with the fact that Charlie Meeker felt that Napa tasting rooms in the 70s were like "Going to a mausoleum to worship dead grapes", they chose to locate their new tasting room in the 113-year-old Geyserville Bank building, which had been robbed several times, in Geyserville [there is a photo of the teepee above the tasting bar] The bank has its original vault and [as they say] "near-original" teller windows. 
From Our Hands to Yours
A perfect slogan for Meeker Wines. The Meeker family believes that each wine has its own personality and that should be expressed through its packaging! But as Kelly Meeker stated in the twitter chat "It's about finding the packaging that expresses the wine! We're not trying to look fancy, we're trying to look like us." 
With Lucas and his father sharing in the winemaking responsibilites, as with all families, sometimes there are going to be philosophical differences. According to Lucas, the biggest philsophical difference is when it comes to blending. Charlie is all about blending to best wine possible while Lucas has more fidelity to the personality of original wine. I had to laugh when Lucas explained why he has an aversion to blending. "My anti-blending attitude comes from people putting Pinot Noir on [ster]roids with Syrah. Blending is core aspect of winemaking tradition." Their beliefs are aligned though when it comes to the core values. "The keystone of our house style is to merge early access w/ old world aging potential. Balancing fruit/tannin/pH."
2013 Hoskins Ranch Grenache (SRP: $38)
This 100% Grenache hails from the Hoskins Ranch in Dry Creek Valley in Sonoma County. The vineyard is located near the junction of Dry Creek and Russian Rivers at the southern end of Dry Creek Valley. Grenache, is a very high-vigor variety and needs special care in the valley floor. In order to maintain the quality, more than half of the initial crop was dropped during the growing season. The valley floor remains much cooler than the other regions of the appellation, so the fruit is able to hang on the vine longer and allows for a more even ripening and extensive flavor development. Although it does vary from vintage to vintage, they usually drop about 5 tons/acre. If you would like to learn more about Grenache as a grape variety, please click here. 
This wine was treated like royalty during the winemaking process. After crushing, 17% of the free run juice was held out of the fermenter. Following crush, the must was held below 50oF for 8 days. After the cold soak, the wine was cold fermented with 2 different yeast punching down the cap 2 to 3 times a day, until dry. Oak program consisted of 22 months in mixed once-used and neutral French and American oak. 287 cases were produced.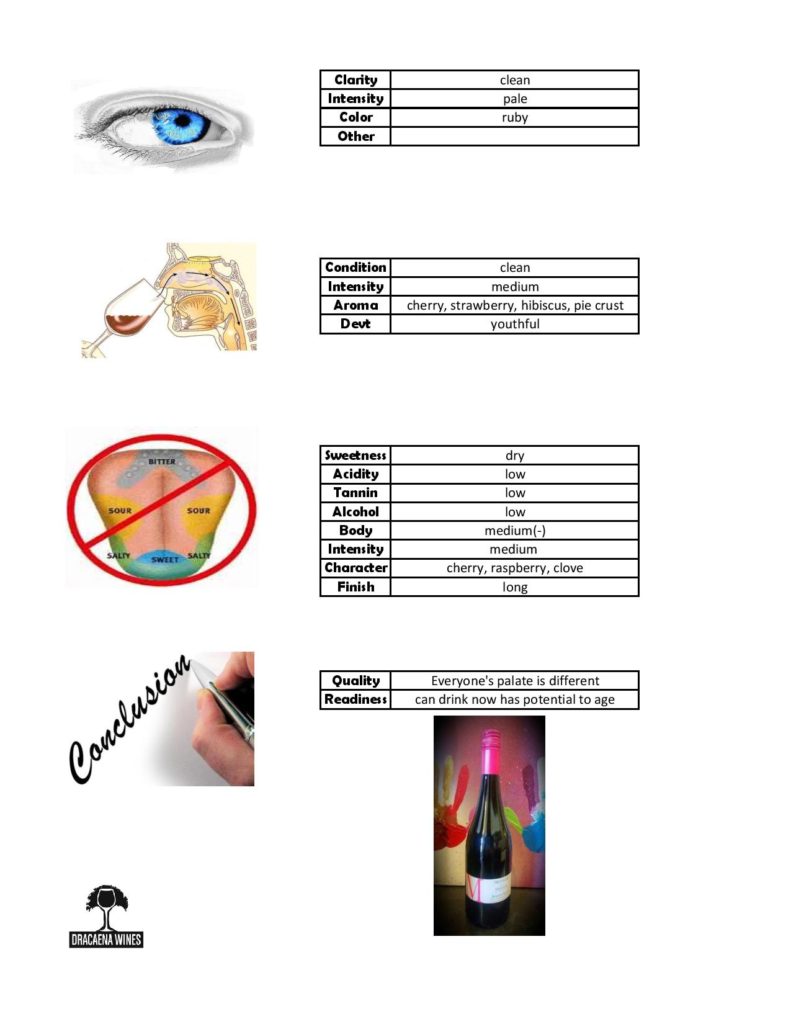 2013 Dry Creek Valley Cabernet Franc (SRP: $45)
Although it was toyed with to add 10% Merlot, the final wine is 100% Cabernet Franc and hails from Bob Pedroni's vinyard in the southern region of Dry Creek Valley near the Russian River. The site is known for its dusty red dirt and its 30+ year old vines. These characteristics lead to fruit that is rich in flavor and deep in color. Unlike the vigorous Hoskins Ranch vineyard, this site self selects to about 2 tons per acre. With the amazingly long hang time possible on this site, this fruit is usually the last to be harvested. 
Similar to the Grenache, this wine also saw extensive care during the winemaking process. Following crush, the must was held at sub -50oF for ten days, then fermentation took place over the next 23 days, again in cold temperatures. The juice was maintained on the skins for five weeks! Their belief is that the extended maceration time and cold fermentation softens the green characters and provides for longer aging ability. Their barrel program consists of 29 months in mixed once-used and neutral French oak. 240 cases were produced.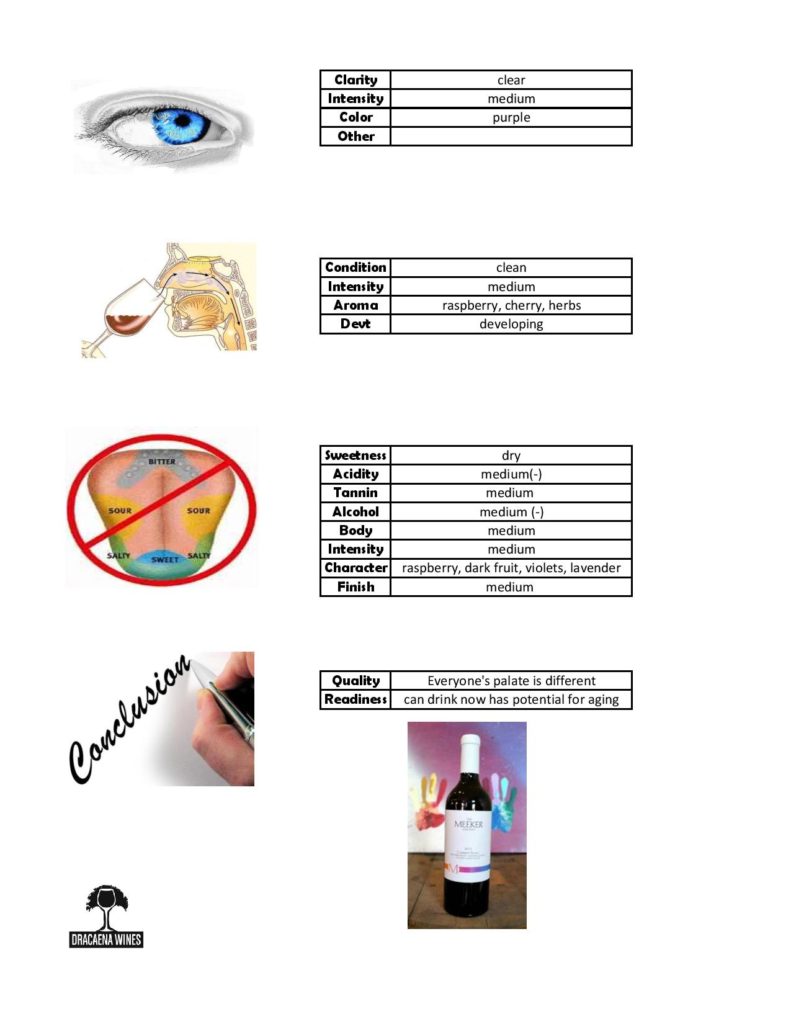 2013 Winemaker's Handprint Merlot (SRP: $45)
If you aren't familiar with their Winemaker's Handprint Series, I'm here to help! The idea for the handprint sprung from an assistant winemaker's suggestion of placing a thumbprint on the bottle. Molly Meeker quickly vetoed that idea, but from there the handprint emerged. There is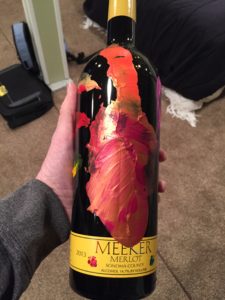 so much effort behind the scenes of a winery that people don't understand. The decisions that need to be made that most people just accept and look over can hinder or help the person who is walking in undecided on what wine to pick. The bottle color, shape, shoulder size. The label is a biggie! No matter how much wine education you have and as much as everyone wants to say, they don't buy by a label, we all are guilty of picking up bottles because of their label. Research has shown that it takes an average consumer eight seconds to decide whether or not they are going to pick up you bottle of wine when they look at the label. 
Meeker  understands how important the look of the bottle is and has this concept covered. These bottles are absolutely stunning with the handprints on the bottles. And yes, they do not cheat in any way. Each bottle is done individually, set to dry in a room and then wrapped in tissue paper and prepared for shipping.  Watch this short video of Lucas Meeker explaining how it all gets done. And you can read about the process that takes about 1.5 hours for a team of four to handprint one pallet (56 cs), and another 1.5-2 hrs to tissue wrap  here. 

The Dry Creek Valley Merlot is sourced from the Cam Mauritson's Ranch and yields about 12-18 tons/year. The terroir provides for the vines to house huge fruit that is big in complexity. During the conversation, Kelly had mentioned that Lucas is a bit geeky and likes to answer simple questions with technical answers. With that knowledge, I am going to go out on a limb and say that Lucas wrote the tech sheet for this wine. This varietal Merlot is a blend of 85.72% Merlot, 7.14% Cabernet Sauvignon and 7.14% Syrah. The fruit comes from 58.33% Dry Creek Valley and 41.67% Alexander Valley. (now that is technical!)
Following crush, the must was held at sub -45oF followed by 15-22 days of cold fermentation. Once again 5+ weeks of extended maceration occurred, with pumpovers being performed twice daily. again in cold temperatures. The oak program consisted of 30 months in mixed once-used and neutral French oak. With 1919 cases being produced, Charlie and Lucas handprint at least once a week. 
I'd like to extend a thank you to Tina Morey of Winestudio for arranging this program and to Lucas and Kelly Meeker for providing the wines and for their time during our two week exploration. If you enjoyed learning about Meeker Winery, please click those share buttons below so that others can become more aware of this winery and their wines. 
~Sláinte!