April is Achaval Ferrer month on #Winestudio! This is my second rendezvous with this producer thanks to this fantastic educational program. If you are unfamiliar with this program, please click here to learn more about how you can participate and the goals of the program. 
I have been a Malbec fan for a very long time, however, since the last program, which occurred in September 2016, I have become an Achaval Ferrer fanatic! Please find out more about this previous session by reading my posts Don't Cry For Me Argentina and Can I Get a Heck Yeah for Malbec? 
On April 4, 2017, we were discussing the 2015 Achaval Ferrer Malbec Uco Valley, Luján de Cuyo, Medrano, Mendoza Argentina with the winemaker himself, GusTavo Rearte. The winery is dedicated to producing extremely high quality wines with a strong respect for terroir. Their wines are carried in over 70 countries, in more than 10 languages and different cultures.
Malbec 101
Argentina leads production of the grape with over 75% of all the acres of Malbec in the world. Typically speaking, Argentinian Malbec is known for a flavor profile consisting of blackberry, plum, and black cherry. They also have been known to tinker in the flavors of milk chocolate, cocoa powder, violet flowers, leather, and tobacco. It is a medium bodied red wine with average tannin and acidity properties. Malbec is commonly found paired with duck, chicken leg, lamb, beef, ostrich, buffalo, and pork shoulder, as well as foods with earthy or smoky flavors. 
The Meal
If you read this blog, you know I am a finicky eater [to say the least]. I am that rare individual that loves wine but not food. As Mike says, I eat to live not live to eat. I like very basic stuff and I don't eat any game, beef, or veal.  So wine pairing can be a bit difficult for me. Luckily, I have become quite adept at enjoying wine on its own! So when considering what I was going to make for dinner to go along with this much-anticipated wine, my brain went to the most obvious smoked food in my repertoire – BACON! In addition to the candied bacon, I made sweet potato fries and buttered corn. 
Candied Bacon Wrapped Chicken
Prep Time: 15 minutes
Cook Time: 30 minutes
Total Time: 45 minutes
Ingredients
2 Tbsp. chili powder
½ tsp. garlic powder
¼ tsp. salt
⅛ tsp. pepper
2 cup Brown Sugar (this is a guess, since I just dump it in a bowl)
4 boneless chicken breasts, cut into tenders
bacon, with pieces cut in half
Procedure:
1- Preheat oven to 350ºF. Generously spray a broiling pan with cooking spray and set aside.
2- In a bowl, mix together the brown sugar, chili powder, garlic powder, salt and pepper. Stir to combine.
3- Wrap chicken piece in bacon and roll in chili powder mixture until fully covered.
4- Secure the bacon around the chicken using a toothpick.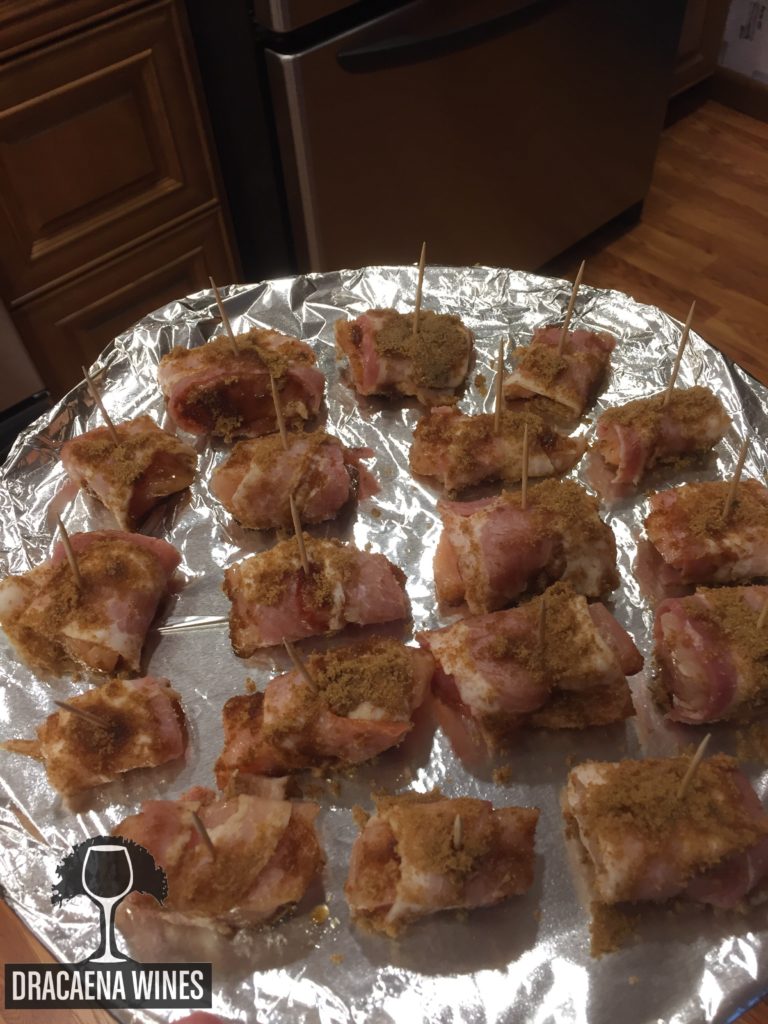 5- Place on the prepared baking pan. Bake for about 30 minutes or until cooked through.
If you like bacon crisper, place under broiler for a few minutes until bacon is brown and crispy.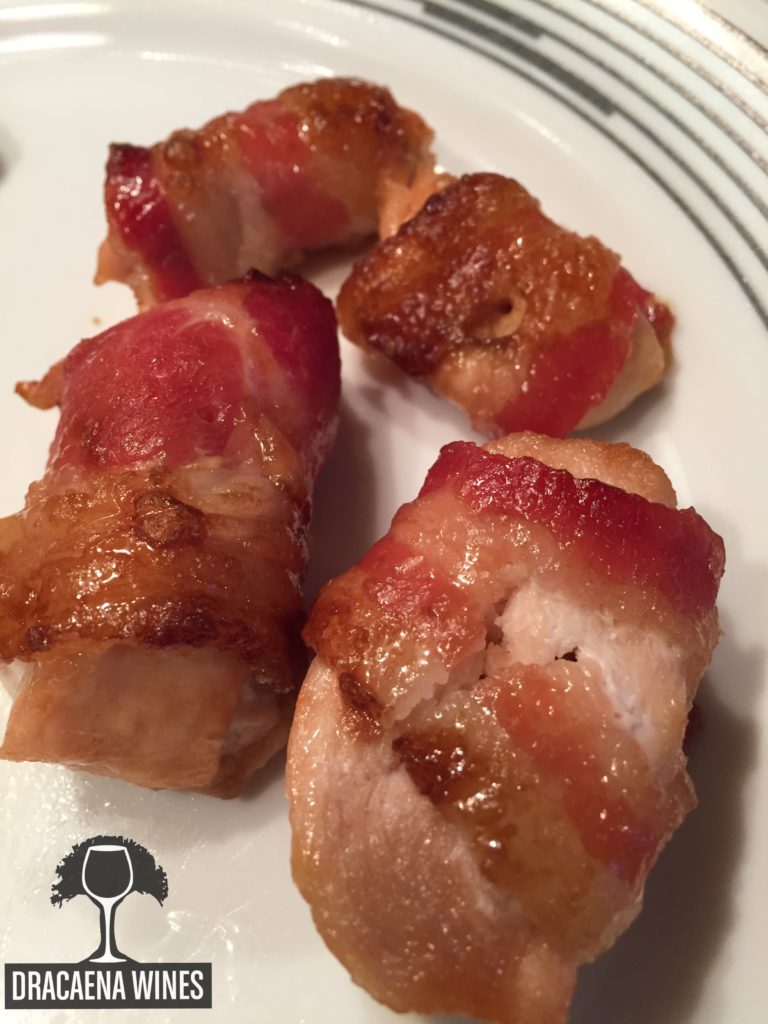 The Wine
As the evening progressed, I had to keep modifying my tasting notes because it seemed that with every sip, the wine evolved. The wine poured ruby in color. Initially, I noted the nose to have a medium(-) intensity. However, by the end of the evening that had changed to medium and then medium(+). Aromas of tobacco, plum, and baking spice were immediate. As the wine opened up more, I found licorice had entered the profile. This wine is youthful and it is screaming to be beckoned with.
On the palate, this medium bodied Malbec is fermented to complete dryness with medium acidity and tannin levels. Being so young, I was expecting this to be tighter, but was pleasantly surprised. Once again, I had to cross out my tasting notes. This time for flavor intensity. I originally declared medium but that too had to be modified to medium(+). Plum and tobacco continued into the flavors along with black cherry that lingered on and on in what could only be called a lo[ooo]ng finish. Although, you could very easily enjoy this wine now (obviously, since I did) this wine was born to be stored. Gustavo stated that the wine had an ageability of about six years allowing it will keep its fruit and juicy aspect. I'm not questioning the winemaker, I mean who would know better than he, but I must admit was surprised by that short time frame. I was expecting about ten years!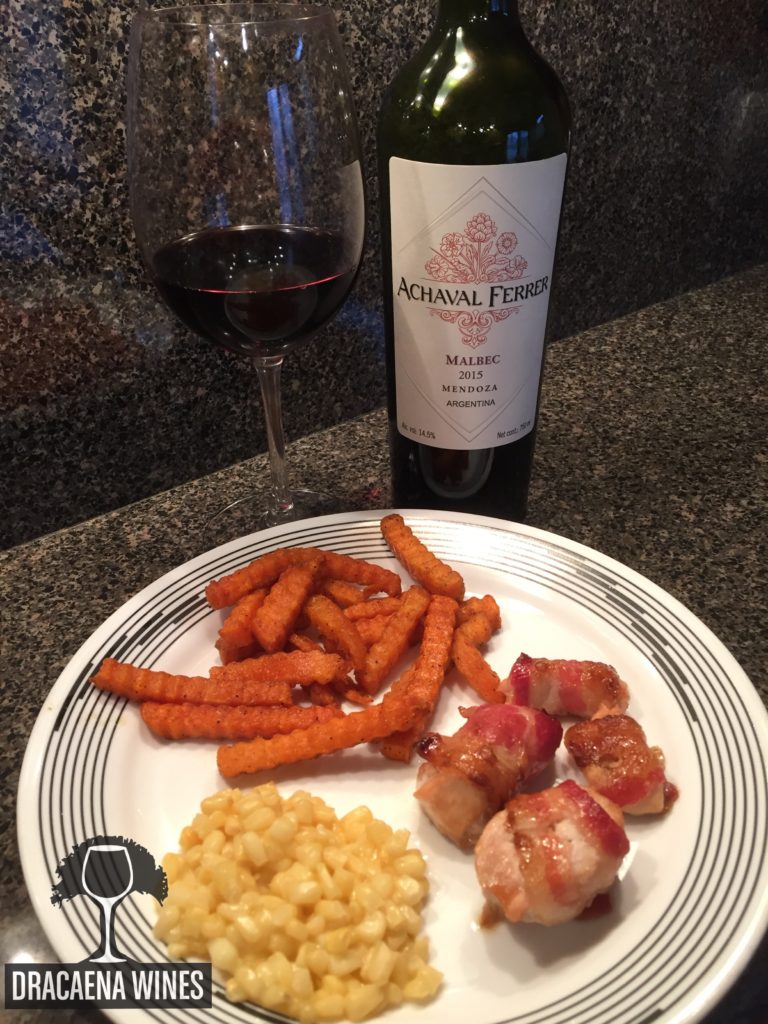 Celebrate World Malbec Day
Today, April 17th is World Malbec Day! Join in the celebration by opening a bottle of Malbec! According to the website Malbec World Day: 
Malbec is the heart of our industry and continues to be our ambassador to the rest of the world. This day celebrates our essence, what our people do best and what best represents our growth and expansion as a country. Malbec integrates the DNA of Argentina and, moreover, tells its story. This variety is grown in all the wine regions of the country. 35% of the hectares planted in Argentina are Malbec and it represents 51% of sales abroad.
Head over to the website to find an event near you! We will be celebrating by blind tasting two Achaval Ferrer wines tonight on #winestudio at 9pm EST. Feel free to join in the conversation! 
~Sláinte!