From the Ashes Rises a Phoenix
I love Merlot. I always have. Everybody blames a certain movie on the downfall of
Merlot, but in all honesty, I believe it had more to do with over planting and poor viticulture, than a misunderstood line in a movie. Or at least as a scientist, I'd like to believe our society has the ability to think for itself rather than being a puppet and choosing what they purchase because of a movie.
Merlot is an old grape with documentation that dates back hundreds of years. The name is derived from merle, the French name for the blackbird, which makes complete sense when you consider the dark blue color of the grapes. The ease of cultivation, its ability to thrive in cooler climate and it's tendency to ripen early, gave it an advantage over its half-sibling, Cabernet Sauvignon and led to a time, where it was over planted. In fact, after a 60 minutes feature titled "The French Paradox," where it was presented that French people had a relatively low incidence of coronary heart disease (CHD), even though their diet consisted of a high amount of saturated fats, Merlot plantings increased dramatically and hit a peak of over 20,640 hectares planted (51,000 acres.) Many vineyard owners planted Merlot in any open spot they could find (or create) and producers flooded the market with, what could only be called mediocre wines. The inferior quality, led to people turning their attention to other varieties, such as Pinot Noir.
Thankfully, we now are seeing a trend that people are beginning to once again realize the splendor of this grape variety. In 2015,  Wines and Vines reported that in 2015 sales of Merlot wines of $20 or more increased by six percent . That same year, winebusiness.com reported that in a survey where 1,072 American wine consumers (59 percent women and 41 percent men) were asked what their favorite varietal was. Merlot came in as the top red wine and the second overall, to Chardonnay. As of last year, Merlot is still the #1 red most consumed wine varietal according to consumers in a Wine Intelligence August 2018 survey of more than 4,000 wine consumers across all ages and drinking preferences. (Source: Wine Intelligence USA Portraits 2018.)
Diversity is Merlot's Middle Name
Balanced acids and soft tannins make Merlot an ideal varietal to pair with an assortment of meal options. Merlot is like a chameleon who adapts to the food that it is paired with and is heavily influenced by the climate in which it is grown.  Warm climate Merlot tends to be more fruit-forward with lower tannins, while cool climate Merlot presents itself as a more structured wine with higher levels of tannin. 
Merlots can easily pair with similar foods as Cabernet Sauvignon, but with the higher acid found in the cooler climates, it pairs with similar foods as Pinot Noir. In fact, it can pair with most any food with the exception of strong blue cheeses, heavy cream dishes and high spiced foods. Examples of previous winning pairings of mine include;  PF Changs' lettuce wraps, stuffed chicken breasts with sundried tomato butter, and ratatouille. The common theme between all these Merlot pairings is brown sauces, sage, and herbs. Think light earthy foods and you will be set. 
On My Plate
With the beginning of Fall arriving, I felt like making something warm and cozy for my pairing. I came across this recipe from Chris Collins on Don't Go Bacon My Heart, for Potato, Cheese and Onion Pasties and thanks to the combination of onions and cheddar cheese, thought it would be ideal. 
The Winery
I was excited when I opened the #MerlotMe delivery to see Donati Family Vineyard bottles. I am familiar with this winery, since they are from the Paso Robles area. We have enjoyed their wines before as we have visited their tasting room, which is very prominent just off Vineyard Drive.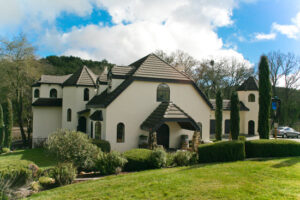 Ron Donati grew up in San Francisco and remembers the distinctive odors of winemaking while growing up. He often reminisces of memories of his grandfather, like many Italian immigrants, making wine in the basement. 
Italian heritage is rather obvious in many areas of Paso Robles/Templeton. Immigrants have been in the area for generations and are responsible for planting many of the first vineyards in the region, especially Zinfandel. Ron's basic belief is that everyone should be able to acquire high quality products and this is the basis of the Donati Family Vineyards mission. 
In 1997, Ron and his son Matt, decided it was time for a change. Ron sold his electronics business, and Matt, who was working as a coach felt it was time for a change. They had owned a large hunting ranch near Salinas, and thought they would make a go at starting a vineyard.  After evaluating the soil, they realized that it was not an ideal location and began the hunt for the perfect land. After some time, they "heard through the grapevine," that some property was available in San Benito County. While looking at the property, Ron found out that two very prominent wineries had purchased property nearby and were planting vines. He took this as a good sign and purchased 1,000 acres. They ultimately planted more than 800 acres and built a home for Matt and his family. 
There were vines on the land from the previous owners so they decided to create 'shiners' (wines with no labels) from the 40-year-old vines. As with many winemakers, when they gave these bottles to friends and family everyone loved the wine and the "bug" was caught! Donati Family Vineyard's first release came in 2004, a total of 800 cases.
The Wines
2016 Donati Merlot (SRP: $22)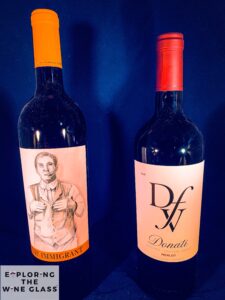 ? medium ruby
?? medium butterscotch, vanilla cherry and plum
? dry, medium acidity, medium tannin, medium alcohol, medium body, pronounced flavors Christmas spice, blueberry and blackberry
? 99% Merlot, 1% Cabernet Sauvignon, 14.3% ABV, 908 cases (12/case), 100% stainless steel fermentation, long finish drink now or age 2-5 years
2015 Donati The Immigrant (SRP: $35)
? Deep Ruby 
?? light leather, tobacco and cherry
? off- dry, low acidity, low tannin, high alcohol, medium body, light flavors candied cherry, chocolate, cranberry and raspberry
? 14.5% ABV, 100% Merlot, 1791 cases produced (6 pack), 100% stainless steel fermentation, medium finish, drink now
An AVA All Their Own
Although the tasting room is located in Templeton, the Donati vineyards are located a little over an hour from San Jose to the north and Monterey to the west in the Paicines AVA. There are a total of five vineyards in the AVA, but Donati is the only brand located within the AVA. Paicines boasts a large population of 204, with all the necessary town requirements – a country store, a restaurant, and a post office. All three are conveniently located in a single building! 
The land adjacent to the vineyards lack trees, and thereby allow for a large influence of winds to provide a cooling effect from the Monterey Valley. The temperatures drop overnight, and the vines see evening fog that often linger much longer than nearby areas.
The Pairing
The potato, cheese and onion pasties were rather simple to make, however took a long time.  The first thing I noticed was that since it only required one potato, I bought one from the local supermarket and it was soft and not in the best condition. Fix #1 – buy a good potato.  The directions stated to brown the potatoes and no matter how long I cooked them, they just didn't want to brown up.
Secondly, the recipe called for 4 oz. of sharp cheddar cheese.  I had a bag of shredded Cheddar and Jack cheese, so I decided to use that.  Fix #2 – use more than 4 oz. I thought the recipe would be better if it was cheesier. But then again, isn't everything better with more cheese? 
My third observation, isn't a fix, but a modification that I thought was a positive. Instead of using cream, as suggested, I used unsweetened Vanilla Almond milk. In my opinion, it added just a hint of flavor to the stuffing. 
Both wines paired nicely with the pastries. The Immigrant's profile was a bit too earthy for the softness of the food, while the Christmas spice and dark fruits of the 2016 Merlot really matched well and seemed to be enhanced by the pastry.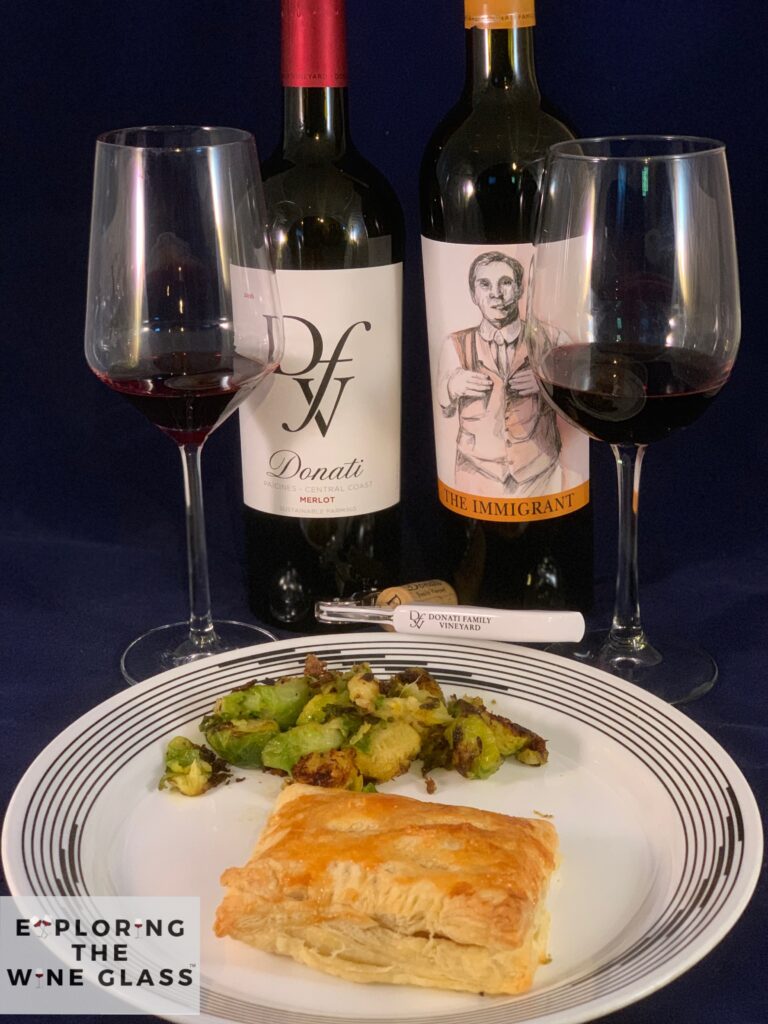 Be sure to check out my fellow #winePW friends who are also sharing their pairings with some incredible Merlots! If you are free on Saturday, October 12th, join us on Twitter for the chat. Just follow the hashtag. We will start at 11am ET. Hope to see you there. 
Please Visit our Sponsors by clicking on the banners: