The final Saturday of February has been declared "Open That Bottle Night" or #OTBN. It was created by two Wall Street Journalists who realized that too many people kept waiting for that special day to open a bottle of wine. Dorothy Gaiter and John Brecher , known on twitter as wine@wsj.com created the event in 2000, and it has grown in popularity every year since then. 
Open That Bottle Night also was this month's theme for our #WinePW group chat. (See invitation post here.) If you are unfamiliar with this group, it was started by David of cookingchatfood.com as a way to let people who love wine and food pairings to get together the second Saturday of each month to discuss their passion. If this interests you, join us at 11am EST and follow along on twitter. 
I love wine holidays. I think any day that highlights the love of wine is a good day. I have written a post asking if Wine Holidays are positive or if they are just Hallmark Holidays, not because I don't like them, but because I think people should drink for the love of wine not for the propaganda of it. 
With that being said, I have a huge issue with Open That Bottle Night. Once again, not with the holiday itself, but for
the fact that there is a need for it. It bothers me that people put wine on a pedestal and refuse to open it, waiting for that "One special day!" Who knows if that day will ever come. What makes one day better than another? Every day is a reason to celebrate and as we have stated repeatedly, it is the memories that matter. Any wine can be special. Every bottle may not have a story behind the purchase, but once opened, there is a story as it is consumed. Celebrate that! 
Our Wine Choice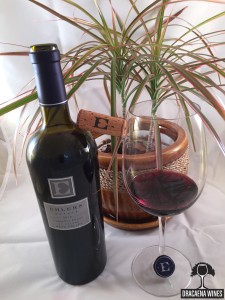 For Open That Bottle Night 2016 we chose an Ehlers Estate Cabernet Franc. Why did we choose it? We chose it because of the fun we had purchasing it. Mike and I visited Napa for the first time in about 15 years this past November.  We have made several friends through social media and Elizabeth Smith is one of them. So when we knew we were visiting the area, we contacted her and scheduled a tasting at Ehlers Estate where she is the Wine Club & Social Media Manager. Then it turned out that our dear, long-time friends, John and Karen Troisi of Jean Edwards Cellars  were going to be in Napa also at the same time, so we tasted at Ehlers together. It was great to finally meet Beth and to spend some time with John and Karen away from New Jersey. Very simply, it was a fun tasting and a great memory. On top of that, it's a Cabernet Franc! Two great reasons to open a bottle of wine. That's what makes it special and that is good enough for us.
The Wine
This 100% Cabernet Franc is currently sold out and with good reason. From their website:
2012 was a great vintage in the Napa Valley. Early spring rains gave us just the water we needed to get the vines growing, then the warm weather set in right on cue. All summer long we enjoyed warm days and cool nights that were so beautiful it was almost too good to be true! A long mellow season with enough heat to polish the grapes and develop the flavors, and no extreme weather events to compromise the valley-wide excellence. Every grape on the estate was picked at optimum ripeness.
Ehlers Estate is 100% organic and has a long history. A history that can be seen at the winery. I immediately fell in love with the stone structured tasting room that was originally built in 1886. In the late 1880's Bernard Ehlers purchased the then dying 10 acre vineyard with the dream of starting a winery bearing his name. He replanted the vineyard and established an olive grove that is thriving today. His wife continued to run the winery after his death until the 1920's at which point the winery was purchased and sold multiple times. Finally Jean and Sylviane Leducq took over and their first release was in 2000. 
The Food Pairing
In all honesty, we had an ulterior motive for choosing macaroni and cheese for the pairing.  We had some leftover Colby Jack and Cheddar cheese and Mike was going to Barcelona for the week so we had to use them up. Typically for mac and cheese we would open a Cabernet Sauvignon, but since both Colby and Cheddar are more mild in flavor we thought it would pair nicely with Cabernet Franc. The pairing was exceptional and the recipe is simple. The flavors of the dish did not overpower the softness of the Cab Franc. The flavors of dark cherry, herbs, cocoa and a hint of menthol aligned nicely with the acidity added by the tomatoes.
Join us today (March 12th), for our twitter chat at 11am EST by following #WinePW. Even if you can't join us, please check out the wine and food pairings of my friends. Who knows, you may find the pairing you have been looking for all of your life and remember don't hold that wine prisoner- open it. 
Be sure to check out all the tasty Open That Bottle Night Wine Pairings from #winePW!
Culinary Adventure with Camilla posted "Dracaena's Cabernet Franc with Steak au Poivre et Thé"
Curious Cuisiniere is pairing "Teriyaki Salmon and Pinot Noir"
Tasting Pour is posting "Steak Diane and Bell Cab Sauvignon"
Rockin Red Blog is sharing "Open That Bottle Night with a Beautiful Italian"
Pull That Cork blogged about "Wine, Friends and Food: Our OTBN and #winePW Evening"
L'Occasion is sharing "Wines of Les Baux-de-Provence to Enjoy with Steak Frites"
foodwineclick posted "Are You Kidding Me? Rosé for OTBN?"
The Armchair Sommelier shared "OTBN: A Pipe, a Port, and a Pudding"
ENOFYLZ Wine Blog brings us An Italian-Themed #OTBN
Cooking Chat posted "Pork Tenderloin with Mushrooms and a Burgundy"
Join us for a live Twitter chat about Open That Bottle Night wine pairings, on Saturday, March 12, at 11 a.m. Eastern Time. Just tune into the hashtag #winePW. You can also plan to join us next month's event. In April we will be talking about Spring Meal Pairings for Southern Rhone Wines, hosted by Jill at L'Occasion. You can get the full list of past and upcoming #winePW event here.
~Sláinte!