This month, the #WinePW crew is virtually traveling to South Africa with Jennifer Gentile Martin of Vino Travels at the helm.  You can join in the chat today (June 8th at 11am ET.) South Africa is a place that is on my bucket list. It has so much to offer. Choosing between the breath taking scenery, the bustling of city life, diverse culture, wildlife or sun soaked coasts is a decision I would love to have to make! Oh! and did I mention there's wine?!! 
When the topic was announced I immediately knew where to go to get the best South African wine. Lyss and Ian Wolf of Red Wolf Imports ! I met them online.. (of course) and was lucky enough to meet Lyss in real life. It was interesting to me to learn about another side of the wine industry. Wine importing is intriguing, and how they got into it captivated me. 
First of all, their story involves the 1972 Miami Dolphins! The all-time best football team EVER in the history of the NFL. (my parents swear the only time I sat still as a kid was when the Dolphins were on TV) I grew up loving the Dolphins. Every Dolphin fan, breaths a sigh of relief when the last undefeated team gets their first loss of the season and the day I met Larry Csonka is one that I will remember until I take my last breath. I also nearly lost my life defending Coach Shula at a NY Jets game, but that's a story for another day! (thank you to the guys from Miami that stepped in!)
Alright, I may have gone off on a tangent there, so lets get back to wine, South Africa and Red Wolf Imports. Jimmy Cefalo was the voice of the Miami Dolphins, and opened a wine bar. Ian and Lyss decided to take some wine classes at his bar for fun. This was their first soiree into the wine industry, but it wasn't their moment yet. 
In 2014, Lyss' mother took them on a trip to South Africa, where they spent several days in Stellenbosch. During this time, they fell in love with the wines of the region and were excited to explore them more when they returned home to Washington DC. However, what they found was the opposing sides of the spectrum. Loads of low quality value wine and some expensive super premium wines, but there were not mid-range ($15-$25) wine available.  The light bulb went off for them, and their business was created. 
After a significant amount of research and even more blood, sweat and tears, Red Wolf Imports opened their "doors" to wine importing South African wines. Similar to Mike and myself, they both maintain their full time day jobs and spend every bit of their so called free time growing their business. Although South Africa is their true love, you will be seeing wines from other underappreciated wine regions coming soon. 
I reached out to Lyss and asked if she would be interested in sharing a bottle from her inventory.  Luckily, she agreed and I received a bottle of  Villiera, Down to Earth, Sauvignon Blanc/Semillon. 
The Wine
"For over 30 years the Griers of Villiera have been unlocking the marvels of nature to create the distinctive wines and sparkling wines that bear the family name"
The Villiera story began decades ago when the patriarch of the family, arrived in South Africa from the United Kingdom in the 1920s. He began the family business of being a poultry farmer.  The second generation, continued the poultry business, but decided to expand to growing some vines. However, it was the third generation, cousins Jeff and Simon Grier, who in 1983 began the Villiera wine business by replanting their vineyard to both classic and local and varieties and .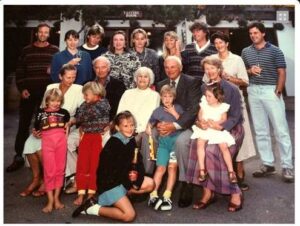 Today, the winery is still very much a family run business.  Jeff Grier, winemaker, after gaining hands on experience, studied winemaking at Stellenbosch University. Simon Grier, who also studied at Stellenbosch University, is charged with the maintenance of the vineyards.. Over the years, he has been recognized as an environmental expert. Cathy Crier Brewer, began a career in computer science, but the vines kept calling to her, and she decided to study Food & Wine in London and as of 1987, is in charge of sales and marketing as well as being a Cape Wine Master.  The family business extends to the fourth generation with Alexander Monro Grier, who joined the winemaking team in 2017. 
The winery prides itself on its sustainability.  With 1155 m2 of solar power, Villiera is able to produce a large portion of its own energy requirements. Water is extremely important to wine growing regions and the Western Cape is in the middle of a drought. Villieri has installed a rainwater harvesting system which is estimated to allow them to recover about 595,000 litres of water per year. They have also planted 1000's indigenous trees, do not spray insecticides and use flocks of Peking ducks for natural pest control. 
Villiera "Down to Earth" is a white blend. It consists of 82% Sauvignon Blanc and 18% Semillon. I liked the fact that the wine is suitable for both vegetarians and vegans, but I thought the name was so clever, implying that everyone, no matter who they were would enjoy it. And enjoy it, I did. I sipped on a glass while I was preparing the meal and agreed with the comment of liveliness. Although, I did not get grass (and that was a good thing for me.)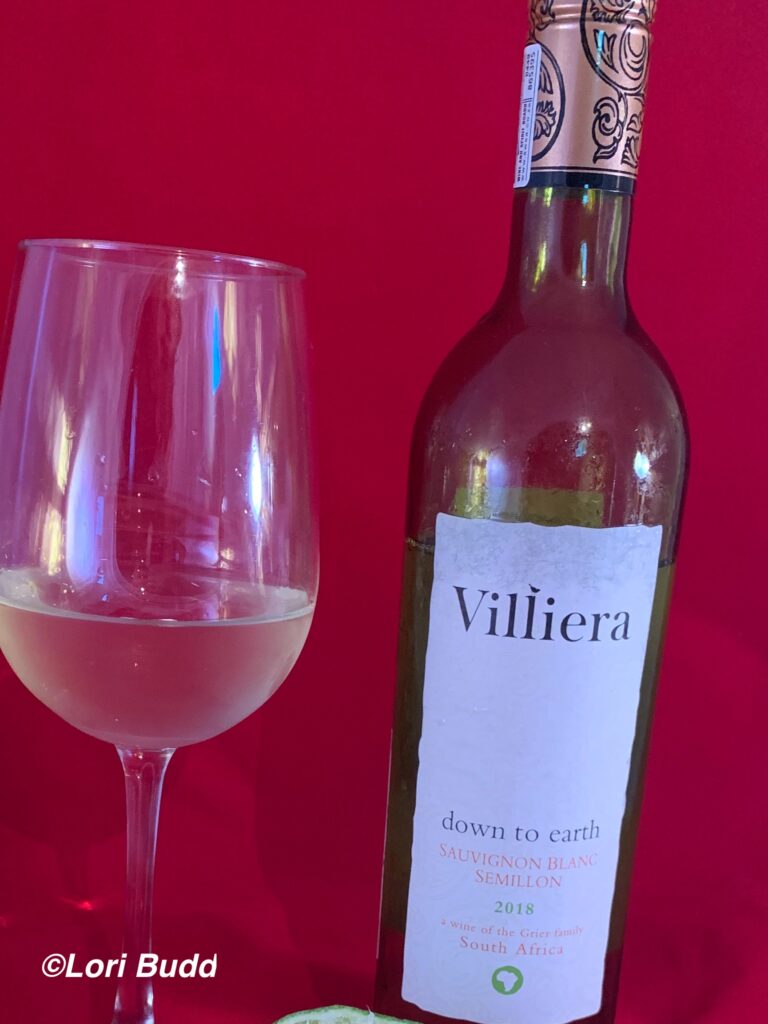 On the eye, the wine was clear, pale lemon-gold in color.  On the nose, it was clean, medium intensity aromas of chamomile, pear and lime. On the palate, the wine was dry, medium (+) acidity, low tannin, medium (-) alcohol, medium body, medium flavors included pear, grapefruit and lime. The finish is medium (+). At a suggested retail price of only $15 this wine is case worthy. Find this wine, along with many other South African Wines on Red Wolf Imports website. 
The Food 
When I opened the package and saw what wine Lyss sent, I immediately knew that I wanted to pair it with Thai food. I had made a Peanut Butter pasta dish, previously, but wanted to change it up a bit and be a bit more traditional. I settled on Spaghetti with Chicken and Thai Peanut Sauce. 
The recipe is super simple. It takes less than an hour if you are efficient at the planning aspect and is well worth it.  I actually made it without the ginger. It is such an expensive ingredient and we never use it, so it would just sit in the drawer mostly unused.  I didn't think that 3/4 of a teaspoon would make that big of a difference and after tasting the meal, I am glad I didn't purchase a jar.  
I have to say that if you compared the photos, my dish would be classified as a "Fail," since it didn't look anything like theirs, but thank goodness, even though it looked different, it was delicious and everybody cleared their  plates. Another positive of this dish is that since the chicken is cooked separately and added towards the end, it is an easy dish to make for both the vegetarians and the meat lovers at the table, alike.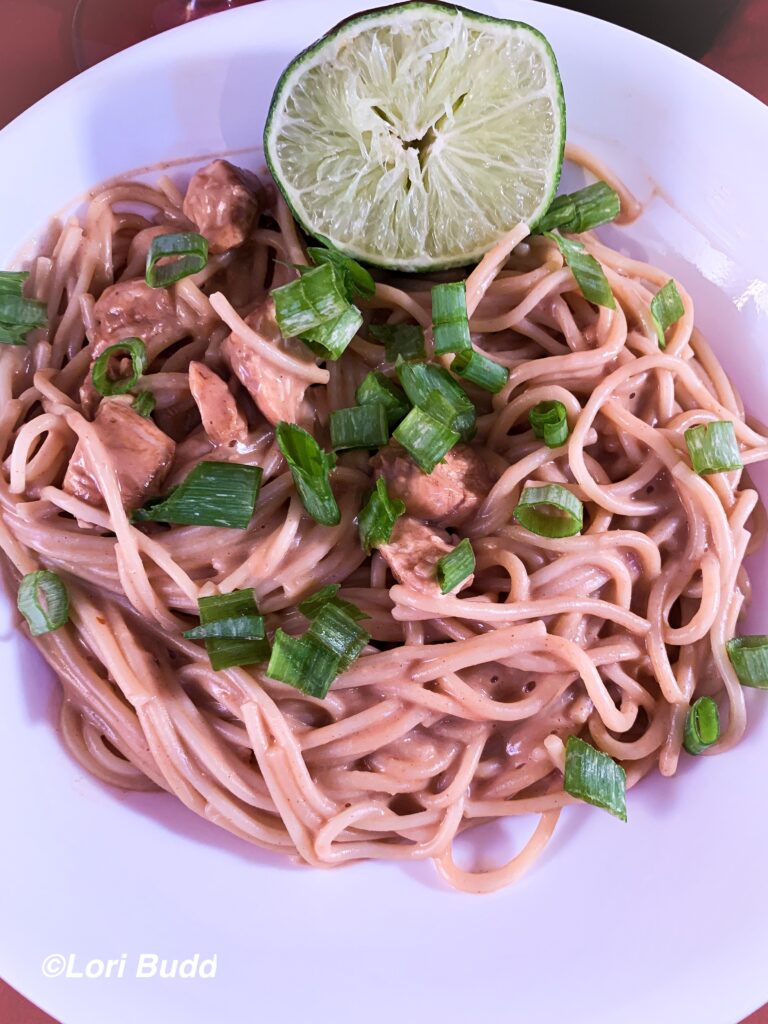 The Pairing
Let me start with the fact that the wine is delicious on its own.  I poured myself a glass, as I normally do, while preparing the meal and actually stopped after my first sip and said "Wow." I enjoyed that glass, and in complete disclosure, poured myself a second glass while I was waiting for the pasta to become al dente. But, just as the '72 Dolphins were perfect, so was this pairing! Thanks to the fat in the peanut butter, the perception of acid in the wine increased and allowed the flavors in the wine to intensify. This is a pairing that we will keep in repertoire.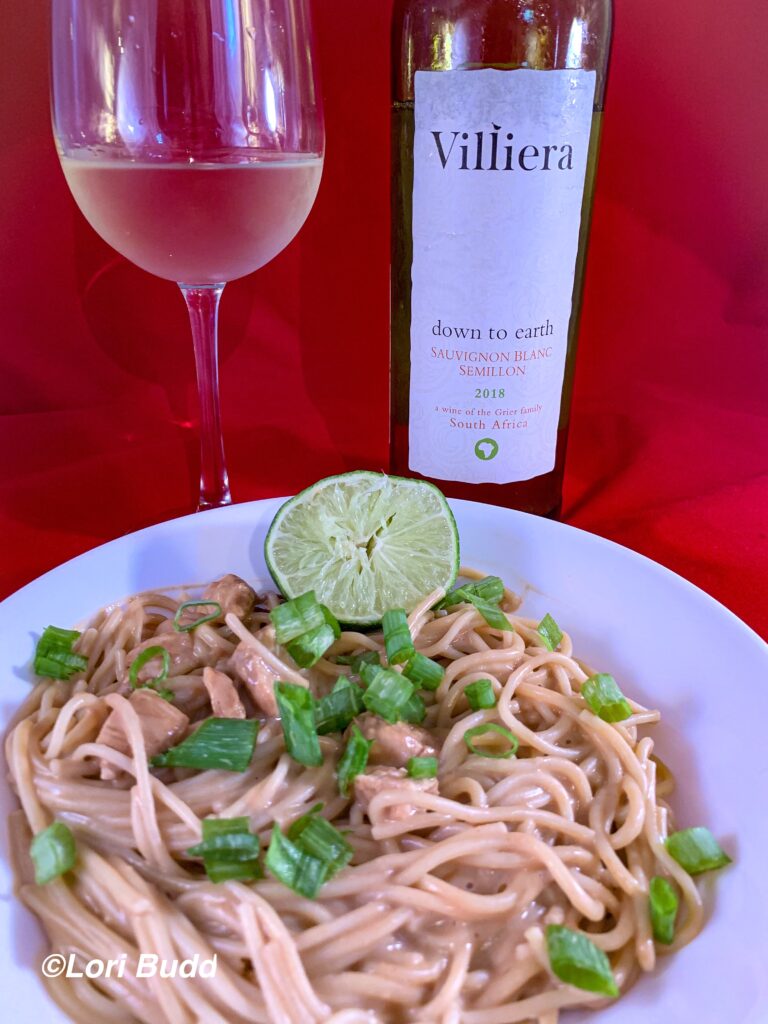 More South Africa Pairings
As I mentioned earlier in the post, my #WinePW friends have created a slew of ideas for South African wine pairings. Be sure to read their posts to be inspired and leave a comment on what your favorite South African wine is and join us on Saturday, June 8th at 11am ET for the Twitter chat. 
~Sláinte!
Please follow me on Instagram, Twitter, and Facebook. You can also find me on YouTube and if you are interested in wine pairings, follow my other blog, Wine Pairing with Dracaena Wines. And don't forget about my FREE wine education series, Winephabet Street. Sláinte!
Please Visit our Sponsors: