When in Rome…. alright, when in New Jersey, do what the 'natives' do.  As the Spring months approach, New Jerseyites crave the outdoors. Why wouldn't we? We spend, what seems to be more months every year, packed under ten layers of clothing and inside freezing our tushes off. 
Jon Snow and the other Starks may celebrate Winter, but, when April comes around, we are screaming for fun things to do OUTSIDE! One option, and an excellent one if I may add my own two cents, is the Crystal Springs NJ Wine and Food Festival. The event is held at one of New Jersey's premier destinations for food and provides an opportunity for both oenophiles and gastronome alike to spend a day doing what they absolutely love. 
The event, which runs over an entire weekend, kicks off its festivities with a Champagne Reception followed by your choice between the Top Chef/Top Wine Dinner or the Wine Cellar Dinner. Each event during the festival is à la carte, so you can pick and choose those that you want to attend. Additionally, you can choose to spend the weekend and purchase a package that includes attendance to the main events. 
I was a guest of the resort for their Saturday activities. I was provided passes to attend three tastings (Nickel and Nickel, Pursuit of Pinot, and Rose Champagne) as well as the VIP Grand Tasting. No payment was made and all opinions are my own.
The Tasting Sessions
My first session was 'The Art of Napa Cab with Nickel & Nickel.' They are part of a family of wineries, including Far Niente, Dolce, EnRoute and Bella Union. Located in Oakville, CA which is an AVA located within the Napa Valley AVA. During the 45 minute presentation, we were treated to a sampling of six single vineyard designated Cabernet Sauvignons.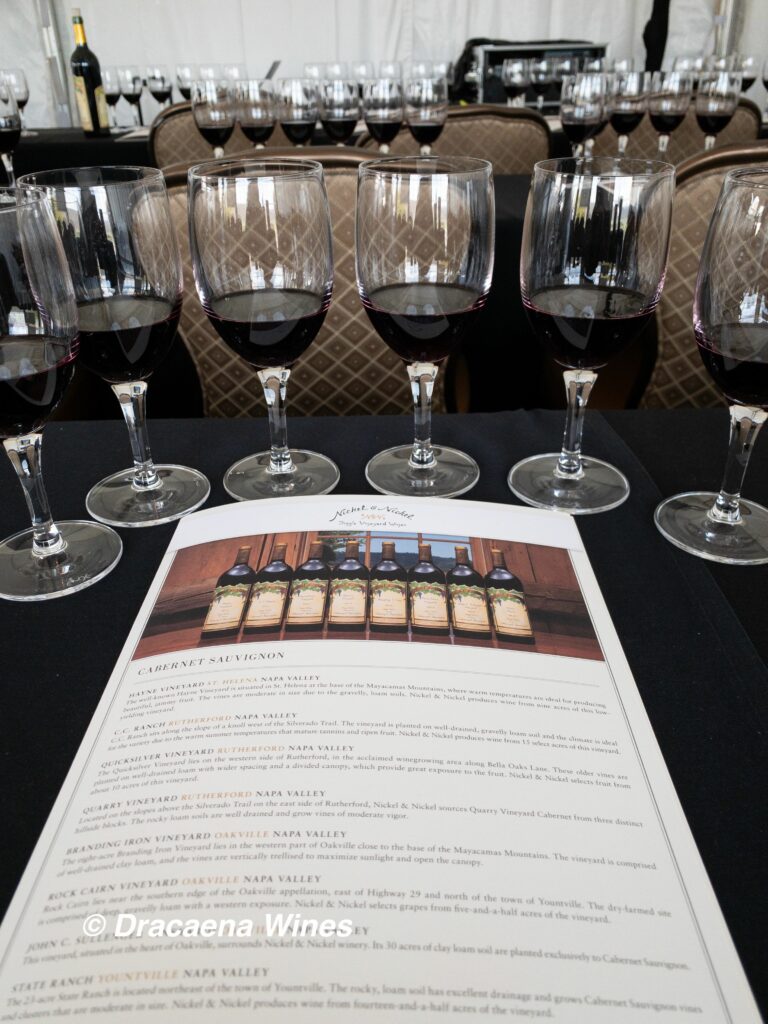 Next on the itinerary was 'The Pursuit of Pinot' hosted by Mike Waller, winemaker for Calera located in Hollister, CA. Calera is part of the Duckhorn Family of wineries. Calera's mission is to produce wines that express the true nature of the vineyard. After a love affair with Burgundy, owner Josh Jensen knew that he wanted to produce wine that mimics the best of the Domaines. He hunted for the perfect Pinot soil -limestone. What he found was an old lime kiln in the Gavilan Mountains of California's Central Coast. Against popular consensus, in 1974, he purchased the land and has been making highly rated Pinot Noir and Chardonnay ever since.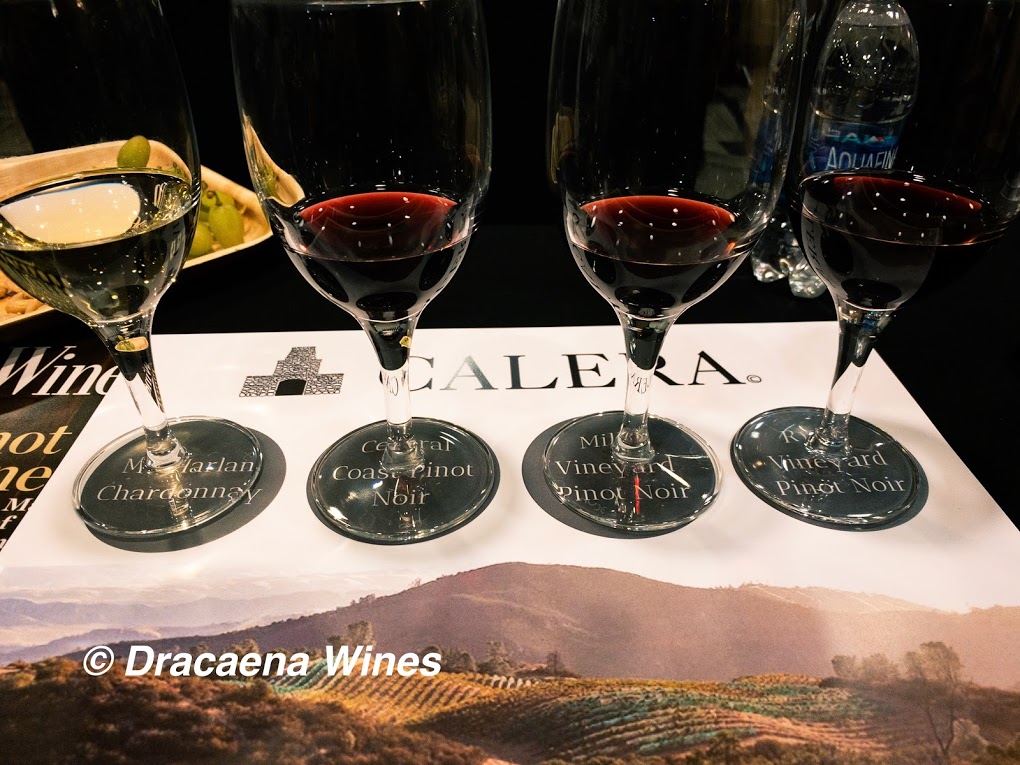 The final tasting session I attended was Rosé Champagne. During the tasting, we were treated to Moet & Chandon, Krug, Ruinart, and Dom Perignon. Our host, Nicole, guided us through the rainbow of pink Champagne. Champagne sits on a latitude that is actually equal to Vancouver, but Champagne has a continental climate. What makes Champagne so spectacular is the deep chalk beds in the soil. 
The Resort
Gene Mulvihill, was the co-owner and developer of the Crystal Springs Resort. His passion for wine went well beyond drinking.  He was extremely passionate about wine. He traveled the world purchasing wines from auctions.  He was well aware of the counterfeit wines and took things into his own hands to guarantee the wines he was purchasing. He contracting with a UC Davis engineers to  build a Nuclear Magnetic Resonance laboratory, where individual bottles of wine are analyzed without being disturbed or opened. 
Crystal Springs is situated just 50 miles from NYC. It boasts two upscale hotels, Grand Cascades Lodge and Minerals Hotel, located three miles apart. While visiting, you can enjoy time on the greens at your choice of six award-winning golf courses. If spending a day on the greens, relaxing at the pool, or pampering yourself at one of their two spas, still isn't enough for you, there is the opportunity for kayaking, canoeing, fishing, hiking, horseback riding, archery. Clay & Oak is available for trap shooting.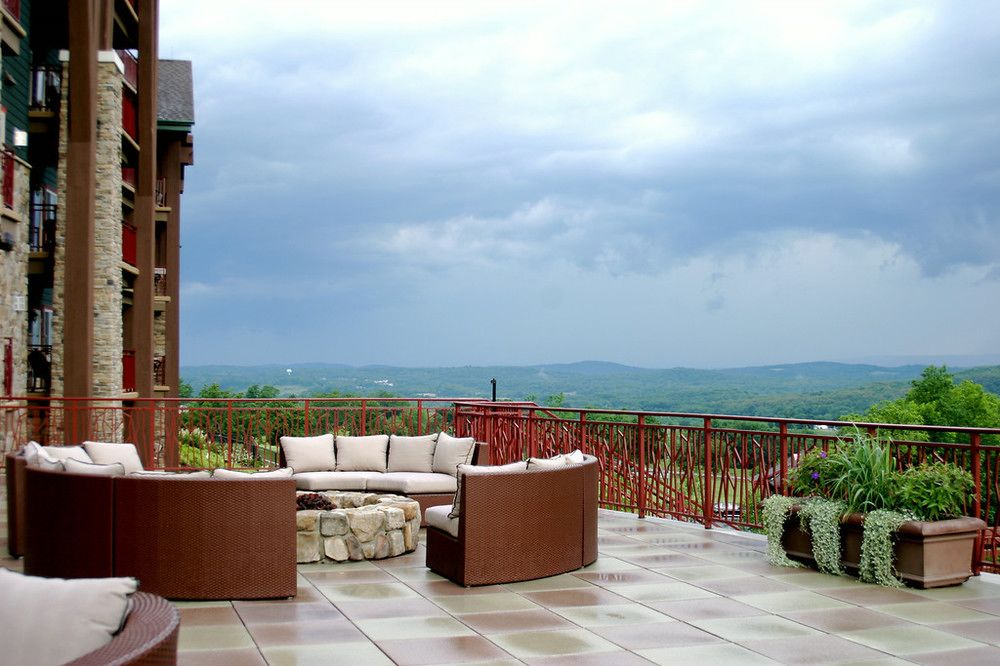 Restaurant Latour
The restaurant saw a full renovation in 2018, where real tree bark was used to create the wood paneling.  With luxury in mind, they imported antique lighting fixtures from Europe and hand-woven wool carpets from Barcelona. All tables and chairs were custom made to complete the look. 
Executive chef Aishling Stevens,  oversees the multiple culinary operations at Crystal Springs. In addition to being responsible for the luxurious fanfare at Restaurant Latour, she also is in charge of weddings, other catered events, the Springs Bistro, the outdoor Chef's Garden, and the Crystal Tavern.
Aishling believes that food's destiny is not just to be consumes. She states that she correlates the food she cooks to how she is feeling. It is this relationship that she feels is what makes her a conscious and successful chef. She stresses to her chefs, that everything on the plate, from its placement on the dish, to how the customer will eat it, has a purpose. 
The restaurant offers 4-course and 7-course menus as well as the option to have small bites paired with exceptional wine at the  8 seat 'Sommelier Table.' If you come at 3pm, you can have a guided tour of the wine catacombs prior to your evening reservations. If 3pm is too early, you can do the tour on your own. Be sure to request the recorded  script so that you can follow along. The windows are numbered to keep you on track. A must see is the 100 points room – wines scoring a 100 by Wine Spectator or Robert Parker's Wine Advocate.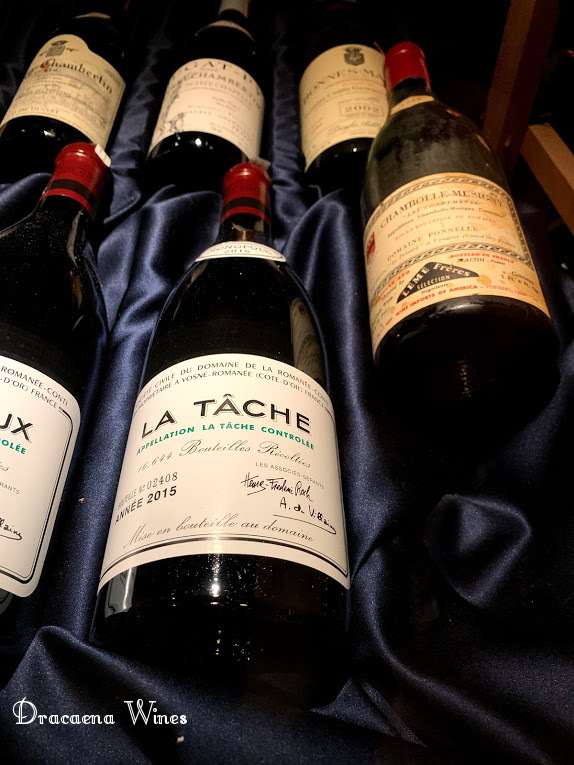 As you meander through the catacombs, you can see rooms that include all the major wine regions of the world. Windows allow you to peek into the rooms and showcase those wines that Susanne Wagner, managing Wine Director, Sommelier and Wine Educator of Restaurant Latour at Crystal Springs feel are the best of the best including bottles that have been signed by the winemakers. The cellar houses 6,000 labels, 45,000 bottles and is estimated to have a value of $10 million. (including a bottle of 2015 Domaine de la Romanee-Conti La Tache with an estimated value of $5,000)
If your wallet can afford it, you can also order a bottle of Pétrus, Ausone, Le Pin, or Cheval Blanc. Maybe you prefer a Bordeaux first growth; Lafite-Rothschild, Margaux, Haut-Brion, Mouton-Rothschild are prominently placed in the windows. But the real focus of the wine collection is, of course, Château Latour. If French, German, or Austrian wines are not to your liking, there are plenty of wines from California, Oregon and Washington state, which I was informed are the wines that are rotated through the most. 
Susanne has been at Crystal Springs for over 16 years. She casually mentioned, as we wandered through the cellar that she has most likely tasted every wine they have on the list, and I not so casually oozed of jealousy. 
Restaurant Latour has been a Wine Spectator Grand Award winner since 2006; one of only three restaurants in New Jersey to earn this title.  Crystal Springs Resort, is located at  1 Wild Turkey Way, Hamburg; 866-348-0958. Interested in learning more about Restaurant Latour at Crystal Springs, give our podcast a listen. 


Beer Time!
Man can not live on wine alone! I'm not sure that is true, but I won't question it, especially when there is an opportunity to enjoy some craft beer! On Saturday, June 15th, Crystal Springs will be hosting the 10th Annual NJ Beer and Food Festival. You can get your tickets here. It sounds like fun to me! 
Don't miss the ultimate beer lover's weekend where we have brewed up barrels of fun and entertainment. Fill your cup with tastings of 200+ craft and specialty brews, ALL YOU CAN EAT delicious BBQ – pulled pork, homemade sausage, spit-roasted Berkshire pork and more! Take flight with hot air balloon rides, tee off at the Brews & Birdies Golf Tournament, rock out to live music by Lima Bean Riot  and try your hand at unique outdoor games – like human foosball.
Thank you to Magdalena Spirydowicz, MST Creative PR, Susanne Wagner and Crystal Springs Resort for providing me with the opportunity to be part of the NJ Wine and Food Festival. 
~Sláinte! 
Dracaena Wines has a Wine Club! We named it the CHALK CLUB. Draco is on our label, but Vegas was getting a little jealous. So we decided he deserved to be club spokesdog. In Las Vegas, betting CHALK means you are betting on all the favorites. We are betting that we are one of your favorite wineries, so we thought the name was apropos. The club is simple yet a bit different from most. When you wager on us, we will ship you three bottles of wine twice a year; once in April and once in September. You can choose all red or a mix of red and rose'. You immediately receive 15% off ALL your wine purchases but what makes our club stand out is a progressive discount. Let your club membership ride into the next year, your discount increases. Each year you parlay your membership, you receive an additional 5% off up to a plan maximum of 25%. Your club shipments are discounted. Flat $15 shipping PLUS we'll cover your club shipping cost for your second shipment. That is $15 house money in a sure bet for you! So please head to our website; www.dracaenawines.com/chalk-club to find out all of the benefits of joining the CHALK CLUB and to sign up. We've stacked the odds so that you can get our award-winning wines without breaking the bank.