About Château Clerc Milon
I have become enamored with Bordeaux. There, I said it! I have done a complete 180 on the region and their wines. From the moment I arrived in April I was hooked. Seeing En Primeur first hand is something that I will never forget and something I hope to experience again in my future.  As winners of the Millesima Blog Awards, my fellow bloggers and I, were able to taste the 2017 vintage before release. Our sponsor was Chateau Clerc Milon, a Grand Cru Classe located in Pauillac. Their label dons two magnificent dancers and as I learned, these dancers are known as "dancing dolls" in Asia.  We spent our final night in Bordeaux in April, at the Chateau learning about their wines and their history.
Château Clerc Milon may look like it is a modern winery, but its history dates back to before the French Revolution when it was part of Lafite. After the revolution, the property was seized and auctioned off. The vineyards of Clerc Milon were then purchased by Monsieur Jean-Baptiste Clerc. He began producing wine under is own label and in a short time he demonstrated that his wines were superior. When the 1855 classifications were created, he was officially recognized. 
Over the years, the vineyard changed hands several times and pieces were sold off for inheritance taxes.  When Baron Philippe de Rothschild purchased the vineyard in 1970, it was only about one-third the original size and was in extremely poor shape. However, he knew the soil was special. Over the next three generations, Baron Philippe purchased back many of the blocks to the 45 hectares that the winery owns today. 
Like putting a puzzle together, over the next 45 years, Baron Philippe filled in the blocks he was missing. The jigsaw was finally completed in 2017, culminating with 247 blocks. Each block containing different rootstock and varieties, providing for an extremely complex vineyard site to maintain. For many years, while developing Chateau Clerc Milon's philosophy, the maintenance and harvesting of the vines was a joint venture between Mouton, Château Mouton d'Armailhacq and Clerc Milon.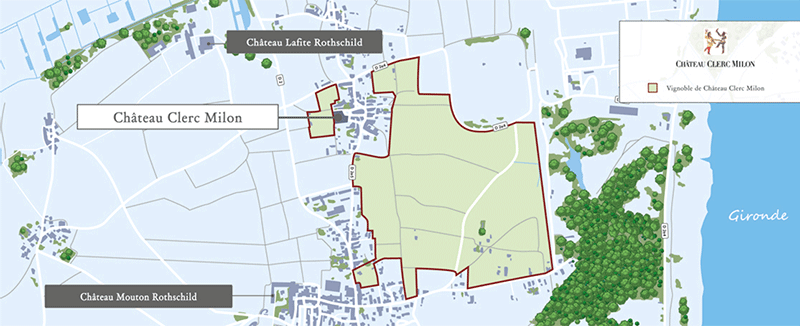 In 2009, Baroness Philippine, understanding the potential of Clerc Milon, decided to create a team to focus specifically Clerc Milon on  and to establish their own identity.  At this time Jean-Emmanuel Danjoy left Opus One in Napa, CA to lead the team that focus all the way to vine level to create their exceptional wines. 
Respecting tradition while instituting innovation, Clerc Milon produces approximately 16,000 cases yearly with an extremely high demand from all over the world, but sees its strongest markets in Russia and the Far East.
About the Label
As the child steps out of the shadow of the father, he needs to find his own path. They need to walk on their own, but take with them the knowledge their father has passed down to them. When seeking their identity, Clerc Milon, turned to the Museum of Wine in Art at Mouton Rothschild for inspiration. The original label showed a Jungfraubercher. Also known as a "wager cup," the design allows two people to drink from the cup at the same time. It was traditionally used by brides and grooms on their wedding day in Germany.
I loved the story behind the "wager cup" so I thought I would share:
Centuries ago, in Nuremberg, Germany, Kunigunde, a noble mistress, fell in love with a mere goldsmith. Kunigunde's wealthy father of course did not approve of this match and condemned it. He brought many worthy suitors to meet Kunigunde, and she refused each one, continually staying faithful to her one true love.  
Furious, her father did what any nobleman would have, and had the goldsmith sent to the dungeons, with the belief that his daughter would fall out of love with him if he was not present. To no avail, Kunigunde begged and pleaded with her father to free her love. Her father did not give in, but instead, watched as his daughter grew paler and paler as a result of the separation from her true love.
Thinking he had a winning solution, he proposed a deal to his daughter. "If your goldsmith can make a chalice from which two people can drink at the same time without spilling one single drop, I will free him and you shall become his bride." He devilishly thought that this could not be accomplished and that his daughter would then move on to marry one of the approved suitors. 
Inspired by love and with skillful hands, the young goldsmith created the masterpiece. He sculpted a girl with a smile as beautiful Kunigunde's with a skirt that was hollowed to serve as a cup. Her raised arms held a 'much smaller cup' that swiveled so that it could be filled and then swung towards a second drinker. 
With the challenge met, the father had no alternative but to allow the goldsmith and his daughter to join hands in marriage. 
This was the label until 1982. In 1983, paying honor to Baroness Philippine de Rothschild's love of the theatre, Clerc Milon's label now adorns two dancers in gold, enamel and pearls. The pair of dancers represents a prized piece in the Museum of Wine in Art made by a 17th century German goldsmith. 
Prix Clerc Milon de la Danse
With dancers on their label, and the matriarch of the family' s passion for theatre, it  seems reasonable that the Rothschild family helps promote the arts. 
To honor the memory of Baroness Philippine de Rothschild, her family and Baron Philippe de Rothschild S.A. created, at the end of 2015, the Corporate Foundation dedicated to her. By rewarding and supporting the work of many talents, the Philippine Rothschild Corporate Foundation values the originality and the know-how that underlies the magic of cultural creations. The foundation wished to award a prize that reflects the artistic passions of Baroness Philippine de Rothschild. Thus was born, in 2016, the Prix Clerc Milon de la Danse. Aiming to distinguish two young hopefuls from the ballet corps of the Opéra National de Bordeaux. (Philippine de Rothschild Foundation)
36 hours in Bordeaux
I was invited back to Bordeaux as an Ambassador of Chateau Clerc Milon in mid June to experience Prix Clerc Milon de la Danse first hand. It was a world wind tour, since I had no time to spare, but didn't want to miss this incredible evening.  I boarded my plane at 7pm EST and landed in Bordeaux at 10:30am Saturday morning. Ryan of The Fermented Fruit was on my flight from Paris to Bordeaux and upon arriving, we were picked up and whisked away to Frida's where I  met up with fellow bloggers Kelly Mitchell and Fabien Lainé as well as our host, Pauline Ford representing Mouton Rothschild. We had an incredible lunch al fresco. You know it is going to be a good day when you begin with Baron Philippe de Rothschild, burrata and risotto! 
After lunch, we walked the short distance to the river and we were entered the Mouton Cadet VIP tent at Bordeaux Fête le vin. Being one of the wineries major events of the year, Mouton Cadet pours about 9,000 glasses of wine each day of the event.
Mouton Cadet is one of the oldest brands in Bordeaux.  It was created in 1930 by Baron Philippe de Rothschild. At that time, he recognized the need for high quality wines at a reasonable cost. Mouton Cadet was created to fill this niche.  Today, they produce around 12 million bottles and are distributed to 150 countries.  They partner with about 450 vineyard owners, following the vines throughout the entire season, making all wine making decisions (when to harvest, etc.) 
Last year, for the first time, Mouton Cadet re-branded.  In addition to the changes on the label, they consciously made decisions to make the wines more premium, elegant and accessible. Not only changing the blend but also the fruit origins.  Now 40% are coming from Côtes de Bordeaux, providing increased complexity and quality. 
We were then brought to our hotel, Châtaeau Cordeillan-Bages, where we had about an hour and a half to get ready for the dance awards. Located at the edge of Pauillac, set within the vineyards, the mid-19th century Four-star Relais & Châteaux Hotel, with its 17th century towers opened their doors for the first time in 1989.
The room was exquisite with its Italian king-size bed and designer furniture and lamps. After taking in the beauty of the room, my eyes focused on the welcome bag from Clerc Milon with canelé! I am not one for desserts, but I haven't been able to forget canelé since my first visit! But alas, no time for that. I quickly showered and got ready, and met everyone outside in the beautiful gardens, to share a glass of Mouton Cadet Rosé. 
It was time for the real reason why we were in Bordeaux. The award presentation at the Chateau. I was so excited. Growing up just outside NYC, I was raised seeing Broadway shows, but not ballets. In fact, I have only seen one in my entire life, the Nutcracker. I knew this was going to be special, and I was anxious for it to begin.
We arrived at Chateau Clerc Milon and were greeted by the Rothschild family, Jean-Emmanuel Danjoy as well as other team members of the Rothschild estates. It was wonderful to see them again! We walked through the winery and out onto the patio where we enjoyed fresh juice as we awaited the beginning of the presentation. After a short time, we followed along as everyone entered the elaborate tent set within the vines where the program would take place. 
"We want the Clerc Milon Dance Prize to serve as a real springboard for the artists who receive it, and the awards ceremony to be a red-letter date for all dance lovers. So we are delighted, on behalf of the Philippine de Rothschild Foundation, to host for a second time this wonderful event centred on dance and wine, the essential symbols of Château Clerc Milon."

We would have the privilege of watching a magnificent show by the Bordeaux National Opera Ballet. Afterwards, the two winners would be announced. The jury consisted of Brigitte Lefèvre,  Elisabeth Platel and Heinz Spoerli. In order to choose the winners, they attended three previous performances. 
The show was breathtakingly beautiful. The dancers were so graceful, sucking me into their "story" with each arabesque, penché and plié. The first "act" was much more traditional, with all the dancers in white, while the second took on a more modern feel as the music changed and the dancers wore colorful costumes. 
After the final dance and bow, it was time for the winners to be announced. Alice Leloup, who has been with the Bordeaux National Opera Ballet since 2011 and Marc-Emmanuel Zanoli a member since 2004, looked utterly shocked when their names were announced. Pure emotion took over and you could feel all the energy in the room as the audience and fellow dancers applauded and the winners took center stage for the presentation of their awards. Afterwards, it was time to celebrate.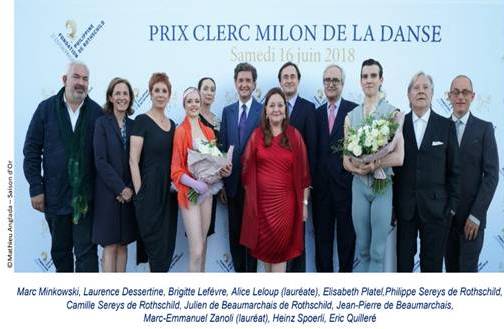 We proceeded to the magnificent deck where we were treated to Champagne, wine, food and a spectacular sunset! An evening, like a marvelous dream, I wished didn't need to end. But like all good things, sadly around midnight, we had to return to our hotel. The four of us, still excited from the evening, didn't want it to end so we sipped some more wine at the hotel as we shared our wine stories until I had to call it quits around 2am. The car service was picking me up at 3:45am to take me to the airport. We said our goodbyes, until the next time we would be together again, (hopefully, not too far in the future) I crawled into bed and got my hour and half sleep before unfortunately begin my return to reality. 
I am extremely thankful to the Rothschild family and the team members of Chateau Clerc Milon for inviting me to attend the Prix Clerc Milon de la Danse. I can not imagine a better way to spend 36 hours! 
~Sláinte!