Bi-Coastal isn't really all that fun
In case you didn't know, I live a bi-coastal life.  Although my heart (and husband) are in California, the little thing called a job is still in New Jersey.  People always ask why am I still working in NJ? Well, it's called planning for the future. I only have two more years before I can make California my full-time residency and sticking these last two years out will provide for a better future for Mike and me. Yes, it's not ideal, but the positives of staying in my job severely outweighs the negatives. And of, course… there is always wine!
One of the big negatives of this bi-coastal life is not always knowing what side of the country I will be on for certain events.  I generally know… typically if school is in session, I am on the wrong coast in New Jersey. When school is out, I'm in California on the right coast. But sometimes, things get messed up. That is what happened with the wines from Navarra.  I had signed up for samples from this wine region months ago, for another #WinePW event. But unfortunately, things got messed up and they were sent to California, while I was in New Jersey and I couldn't participate. But the good news is, this month's topic for our twitter chat is "Wines of Lesser Known Regions." Since I am currently in California where the wines are, I thought this was a perfect time to learn about this lesser known (at least to me) wine region. 
About Navarra
You may have heard of Navarra for two non-wine reasons.  First, the bordering Pyrenees Mountains is where Game of Thrones is filmed! And secondly, they are famous for the Sanfermines! What is that, you ask? Well, it is the official name for "The Running of the Bulls."  If you don't know what that is, I think you may have been living under a rock somewhere! I am all for doing adventurous things, but the possibility of getting gored by a bull doesn't rank up there. Coincidentally, this year's event happened just this past week! (is it wrong that at about 2:45 in I got upset that a bull fell down and was trampled by another?)
Located in the Pyrenees of north-central Spain, just below France, was once part of the  medieval pilgrimage route, the Camino de Santiago. About the size of Connecticut (120 miles north-south and 60 miles east-west), the Navarra region is home to  diverse climates, including Mediterranean, Continental and Atlantic.  Topography also varies, including semi-dessert lowlands, woodland hills and extreme mountain peaks. 
The Denominación de Origen (D.O.) Navarra comprises approximately half the region. it is estimated to contain about 11,500 hectares under vine and is bordered by the Pyrenees in the north, to the south by the Ebro basin, easterly by Aragon and to the west by the Basque Autonomous Community -Alava and Guipuzcoa. 
Because of the three distinct climates, the Navarra wine region has five well-defined subzones: (below is directly from navarrawine.us)
ATLANTIC CLIMATE: cool and humid, thanks to the proximity to the Atlantic Ocean

Tierra Estella: located in the Northwest, boarding the Basque Country and La Rioja, along the "Way of Saint James". Pronounced hilly landscape with mountain ranges to the north, highest average altitude and notable Atlantic influence.

Valdizarbe: located in north central portion of the region in the heartland of the "Way of Saint James", mountain ranges to the west and north, the Arga River runs through the area forming a landscape of gentle hills and valleys. This is the most humid area.

Baja Montaña: located in the northeastern area, at the foothills of the Pyrenees Mountains marked by a pronounced relief and abundant mountain scrub.

CONTINENTAL: transitional, extreme winters and summers

Ribera Alta: forms the heart of Navarra. The Rio Ega flows through the middle and at the center is the medieval town of Olite.

Continental climate transitioning from Atlantic to Mediterranean climate. Gentle landscape with high terraces. Warmer area compared to the northern zones with less rainfall.

MEDITERRANEAN: semi-arid with moderate winters, hot summers

Ribera Baja: most southern area near the town of Tudela, in the Ebro valley with the Moncayo mountain range to the south and the Bardenas Reales desert 15 miles to the east.
As the topography and climate varies, so does the wines you can find. In the 1980's the Estacíon de Viticultura y Enolgía de Navarra, proclaimed that the region shall be known for red blends. Since then, Tempranillo has become a main player, often being blending with Cabernet Sauvignon and Merlot. Rosé is also popular in the region but you shouldn't be surprised to see white varieties also! Sauvignon Blanc and Chardonnay do exceptionally well, especially in the Estella region. However, if you looking for the quintessential, Navarra wine, my recommendation is Garnacha!  
Two Wines and a Pizza
Nothing says Summer like pizza on the grill. We love pizza and make it all year-long, but in the 100+ degree weather, we do not want to turn the oven on. Years ago, I was totally into a book series about a forensic pathologist Kay Scarpetta. These books were written by Patricia Cornwell and being the biology geek that I am (and yes, for quite a long time as a child I wanted to be a coroner; a la Quincy) I couldn't get enough of the series.
You are probably asking what the heck a forensic pathologist have to do with pizza? Well, Kay Scarpetta was Sicilian and a major aspect of her character involved cooking. In fact, Patricia Cornwell actually published a cookbook of recipes that were featured in the series.  One of Kay's mainstays was pizza on the grill. (boy, that was a long way around, wasn't it?) Over the years, I have tweaked and modified the recipe until I found one that Mike and I really enjoy. 
Pizza on the Grill
INGREDIENTS
• 2 teaspoons active dry yeast
• 1 Tbs sugar
• 2 3/4 cups bread flour, plus more for dusting
• 1 teaspoon salt
• 2 tablespoons extra-virgin olive oil, plus more for brushing
• 1 cup water
• fresh mozzarella sliced thin (as much or as little as you like)
• fresh tomatoes sliced (as much or as little as you like)
• tomato sauce

DIRECTIONS
1- Make the dough: Fill a liquid measuring cup or small bowl with warm (not hot) water. Add the yeast 1/2 cup flour and sugar and stir with a fork; let sit 15 minutes. The top of the water will bubble and it will smell very yeasty-this is what you want!
2- Combine the flour and salt in a large bowl. Make a well in the center of the flour and pour 1 Tbs olive oil and the yeast mixture.
3- Using a wood spoon, gradually stir the flour into the yeast mixture until mostly combined, then mix with your hands to bring the dough together. Turn out onto a floured surface.
4- Knead the dough until smooth, dusting with flour as needed. Lightly oil a bowl with 1 Tbs; add the dough, cover with plastic wrap and set aside in a warm place until doubled in size, about 1 hour.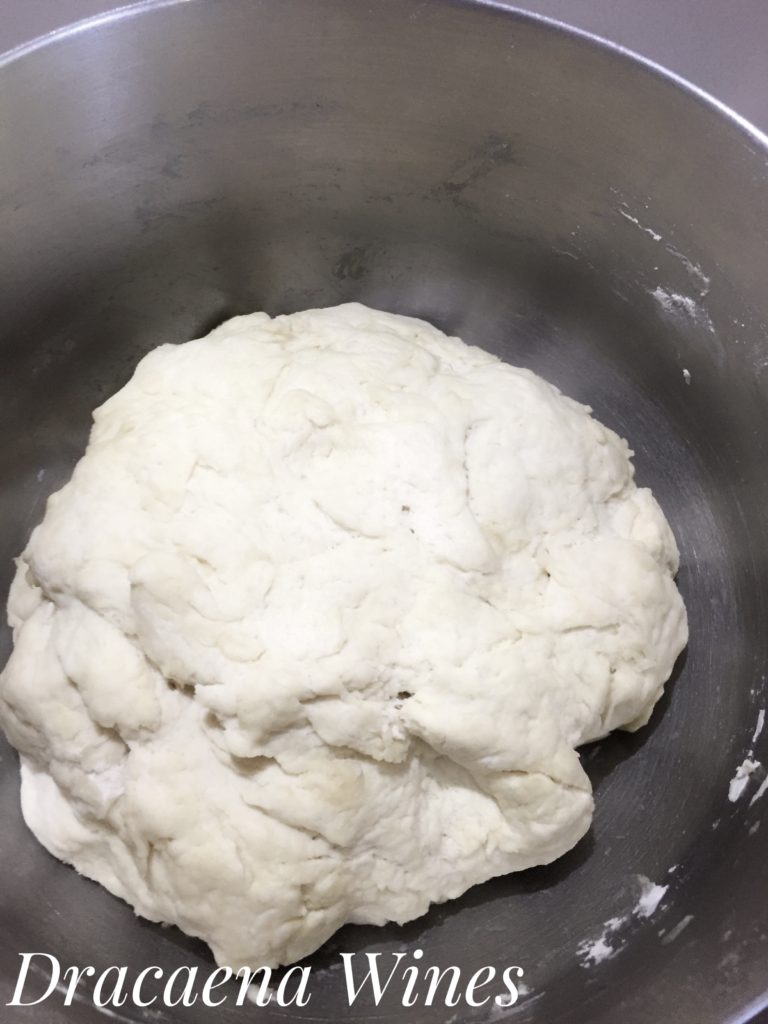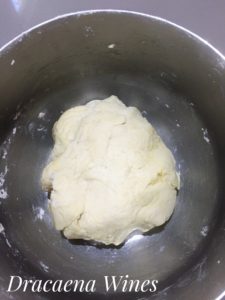 5- Split dough in half. Flour surface and use hands to shape into two equal round pies.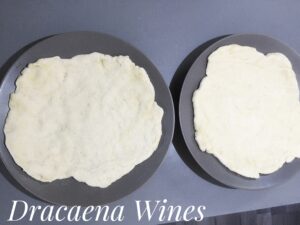 6- Heat grill so that it is hot. Coat dough with olive oil and place on grill. The dough will begin to puff almost immediately. When the bottom crust has lightly browned, coat the top and turn the dough over.
7- When second side is browned, remove from grill and coat lightly with tomato sauce and arrange fresh mozzarella and tomatoes on top. (add other toppings if you choose)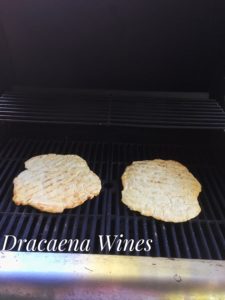 8- Return to grill, close lid and cook until cheese is melted. Be sure to check regularly, dough can burn quickly. Let cool a few minutes before serving.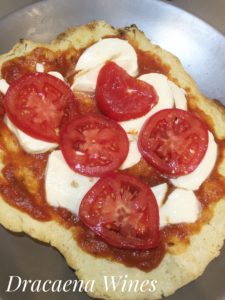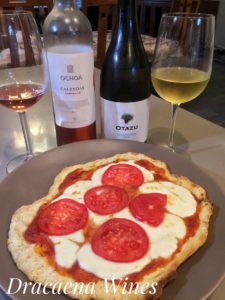 2017 Bodega Ochoa Calendas Rosado (MSRP: $15)
Bodega Ochoa is certified organic and sustainable family run winery. Currently in the fifth and sixth generation, the winery's philosophy is simple; produce quality wine while respecting the soil and remembering the history. With the belief that modern technology can blend seamlessly with respect for nature, Bodega Ochoa is one of the most advanced wineries for Research and Development in Navarra. They own 145 hectares of vineyards and in addition to their wines produce extra virgin olive oil and Agraz Verjus,which is an acidic juice of the agraces (green or imperfectly ripe grapes.) Agraz Verjus is an ingredient of salsa, as a condiment or as an element of deglazing.
This saignée is made from Grenache and Tempranillo blend. The fruit is left on skins for about 6 hours then decanted without pressing. Fermentation occurred in stainless steel vats. 
2015 Bodega Otazu Chardonnay (SRP: $12)
With a history that dates back to 1840, this French Chateau styled winery has 110 hectares under vine.  It is the first winery in Navarra to be built outside the urban area. The entire portfolio, which includes, Chardonnay, Cabernet Sauvignon, Tempranillo and Merlot is produced with this estate fruit. In fact, they are one of only fourteen estates that can claim Vino de Pago classification.  In order to be recognized in this highest certification of quality,the winery must be a single estate, demonstrate unique characteristics (climate, soil, etc) and the wine must be produced and bottled on property using only estate fruit.  
The Chardonnay was fermented in temperature controlled stainless steel tanks and received 89 points in Wine Enthusiast. Also, according to Vivino it is among top 5% of all wines in the world.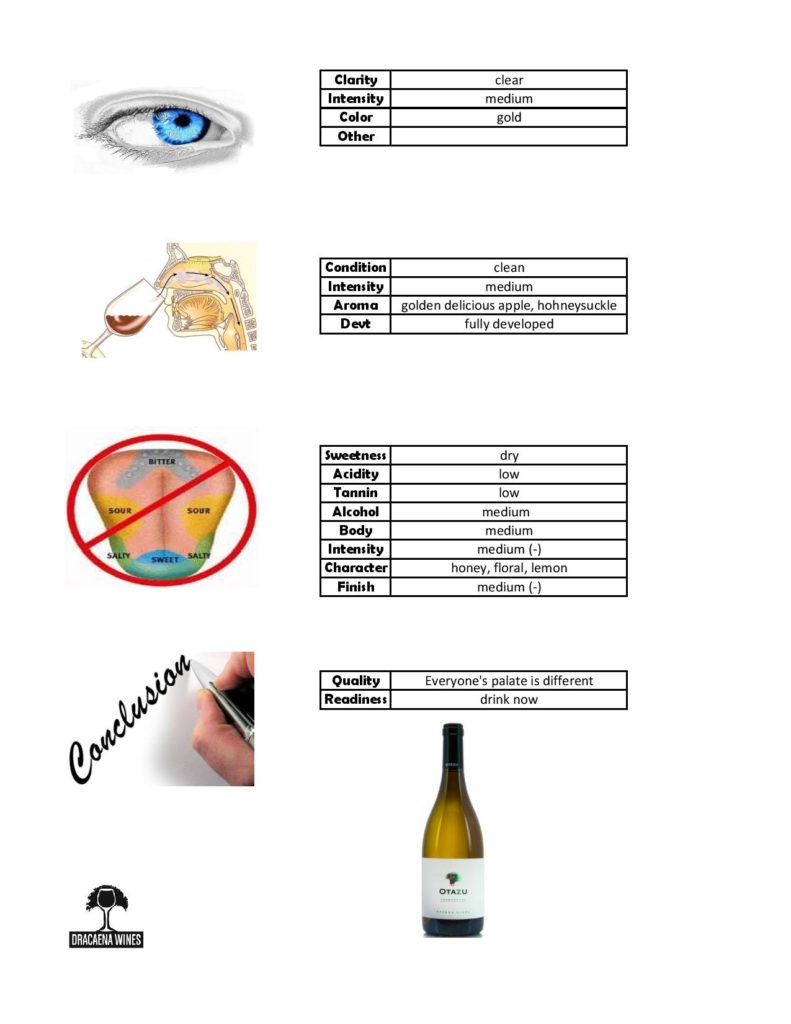 #WinePW
Want to learn more about other lesser known wine regions? Then it is your lucky day! Join me and my fellow #WinePW bloggers today (Saturday, July 14th) at 11am EST 8am PST. If you can't make the chat, you can still find out about these regions and what foods to pair with their wines by reading these posts! 
~Jade from Tasting Pour is sharing "Cauliflower Rice Risotto and Brandborg Gewurztraminer". 
~Cam of Culinary Adventures with Camilla has "A Few Firsts with the Infinite Monkey Theorem: From Colorado + From a Can".
~Lori of Dracaena Wines talks about how "Bi-coastal Life Gets Confusing.. Thank Goodness for Wine". 
~David over at Cooking Chat shares "Slow Cooker Honey Mustard Chicken Thighs with Wine Pairings" 
~Jill of L'Occasion is talking about "Midwestern Gardens and Missouri Wine: America's First AVA".
~Gwendolyn of Wine Predator invites us to "Under the Radar Regions: Ventura County says Ghost Wineries Be Gone!"
~Jane from Always Ravenous says "Georgia Frogtown Wines with Pimiento Cheese Peach Toast"
~Cindy of Grape Experiences suggests we "Go Greek! Cinnamon Lamb Stew and Limniona/Xinomavro from Karditsa".
~Wendy at A Day in the Life on the Farm is "Chilling out with Green Barn Winery"
~Sláinte! 
Please check out Vinos D.O. Navarra's website out to find out more about this region, the wineries and the wines produced.