"It was the best of times,  (I had a bottle of Ehlers Estate rosé and Cabernet Franc in hand)
it was the worst of times, (I drank both bottles and I didn't have another)
it was the age of wisdom, (In wine there is wisdom)
it was the age of foolishness, (Wine makes people act in a foolish way)
it was the epoch of belief, (wine + moments = memories)
it was the epoch of incredulity, (do you doubt wine leads to memories)
it was the season of Light, (take a look at the brightness in this rosé)
it was the season of Darkness, (oh, and the color of this Cab Franc)
it was the spring of hope, (I hope you all get to taste this wine)
it was the winter of despair, (it will probably all be sold out by winter)
we had everything before us, (two fantastic wines)
we had nothing before us, (pairing may be an issue, since I can't cook)
we were all going direct to Heaven, (only because I'm hoping to cash in on the credit of my friends)
we were all going direct the other way," (I'd rather laugh with the sinners, than die with the saints)
~Charles Dickens (and Lori Budd)
Ehlers Estate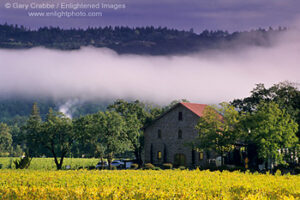 Passion, patience and hard work are three terms that define Ehlers Estate.  Their story begins in the 1800s with a small parcel of land. A mere 10 acres of dying land has become the legacy of Bernard Ehlers.
With the desire to become a winemaker, Bernard established an olive grove and began construction of the historic stone barn. The barn was finally completed in 1886. After his death, the winery passed from owner to new owner for the next one hundred years. 
In 1987, Jean and Sylviane Leducq fell in love with the
region. They recognized its potential to produce exceptional Bordeaux style wines. Over the years, with the stone barn as the focal point, they continued to develop the estate as if it were a French chateau. 
They hired eonologist Jacques Boissenot to aid in the expansion and to help acquire local vineyards. Once the land was purchased, they replanted with their desired clones and rootstock. Ultimately creating the 42-acre estate that is still organically farmed by Ehlers today. 
Jean passed away in 2002 and Sylvaine in 2014 but Kevin Morrisey, the winemaker for Ehlers Estate, maintains the same passion and vision for the wine as they did. A passion for sophisticated wines that play homage to the old-world tradition. With a "let the land speak" philosophy, Ehlers Estate allows the terroir to define their wine. Minimal winemaker intervention allows the vine to be expressed in bottle. 
2013 St. Helena Cabernet Franc 
I was not lying when I said I have no idea how to cook. Mike does the majority of the cooking. I bake and make homemade pizza/pasta. So when it came time to make a meal for this wine, I knew I needed to drink this before I went back to NJ and was left to my own devices. I chose to [have Mike] make brown sugar bacon wrapped chicken.  I mean, come on- does that not sound like a perfect pairing for a Cabernet Franc? 
The meal was a fantastic pairing. First off, the root vegetables brought the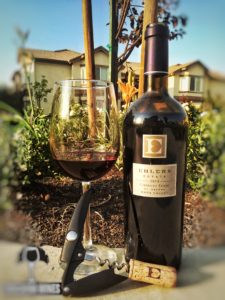 wine into a different realm.  Tasting alone, we did not notice any earthiness within the wine's character, however, once paired with the meal, a wonderful earthiness rounded out the flavors. The sweetness in the candied carrots foiled against the acidity of the wine and the bacon complimented the smokey characteristics within the wine.  Although the wine was a complex, layered wine alone, with the food more layers developed making it an even more exceptional wine.  This Cabernet Franc is not an in your face, bold and burly wine, but has plenty of body to hold up to food. 
This estate grown wine is 100% Cabernet Franc and as with all Ehlers Estate wines is 100% CCOF certified organic. The wine saw 100% French oak with 50% of the barrels being new. Only 831 cases of this wine was bottled and the wine is labeled at 14.2% alcohol. Find your bottle here. Below are our tasting notes. 
2015 St. Helena Sylvaine
Mike is on his annual golf trip with my brother. That really doesn't mean anything other than I needed to figure out dinner for myself. What that really means is that I was ordering take out. 
I have come to learn, from several people telling me over and over, that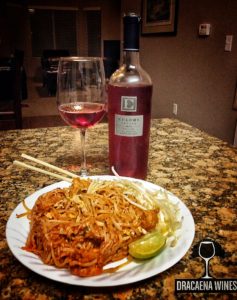 Fresno is huge for Vietnamese food. To be completely honest, I have no idea what that is, so I didn't want to try it with this highly anticipated wine. Unfortunately, for me, Fresno is not so well known for their Thai food. We had tried one place previously and I honestly would say it wasn't even Thai. Tonight, on the way home from the Apple store, I stopped at what is rated the best Thai food in Fresno.  I ordered tofu Pad Thai. 
The food itself was good. Not like the restaurants at home, but I did enjoy it. It was not exactly the pairing I thought it would be though. There was some flavor in the noodles- can't even tell you what it was – that just clashed with the wine. I sat down with my meal and as it progressed, I noticed the wine seemed to become less bright and fruity. The refreshing watermelon flavor became more rindy. (is that even a word?) This by no means is a reflection on the wine, because my first sip of the rosé brought a huge smile to my face. 
A Much Better Paring
Although last night's pairing, not being so successful, I learned from my mistake. Tonight, I decided to go simple with a wine and cheese pairing. I ran to a cheese shop and perused their selection.  I was looking for a cheese that would go with the acidity, but not over power the fresh fruit flavors. I chose a Monterey Jack Dry cheese. This was a whole new cheese to me.  A typical Monterey Jack is rich, buttery,  and has a creamy texture. The dry Jack is made like fresh Monterey Jack but then is aged for another seven to ten months. It is a firm, pale yellow cheese with a sweet nutty flavor.
This was a home run! The saltiness and nuttiness of the cheese, brought out the acidity of the wine, making your palate zing. Additionally, the watermelon that was hindered with the pad tai was brought to the forefront with the cheese. It was like biting into a freshly cut piece of watermelon on a hot summer day! 
This rosé of 100% Cabernet Franc was produced by gently pressing the grapes similar to how Champagne is made. The wine is named after founder Sylviane Leducq and the fruit is 100% CCOF Certified Organic. No oak was used in the production of this wine as it was fermented in stainless steel barrels. 333 cases of this wine was bottled and the wine is labeled at 12.9% alcohol. Perfect for these Fresno summer days.
I clicked onto Ehlers website so that I can insert a link to their shopping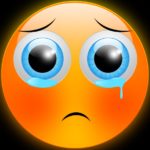 cart, but noticed it is already sold out! I was told it would go fast and although I knew I wasn't being lied to, my opening statement of "it was the winter of despair", held true. It didn't even make it to Fall,but mark your calendars for February 2017. This is when they will be releasing their next vintage! Just to make you feel miserable about missing out on this wine, here are our tasting notes. 
~Sláinte!
Disclosure of wine sample submission:  I received these wines at no cost from Ehlers Estate. I was not required to write a positive review and the opinions I have expressed are entirely my own.