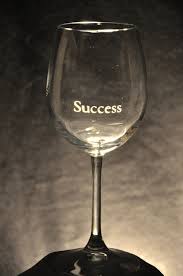 As part of the Monthly Wine Writing Challenge started by Jeff of the drunken cyclist I wrote a piece on Success.  When I thought about the concept of wine and success, it hit me that I wanted to share the success stories of people in the industry from the Paso Robles area.  Mike and I fell in love with Paso and we chose to start our winery there and ultimately live there.  The people are phenomenal and you can't ask for anything better in a community.  I reached out to several wineries and asked them a few simple questions about their thoughts on Success.  The actual entry into the "contest" was written on Four Lantern's Winery on West Highway 46.   
This installment will be about the wonderful people at Brecon Estate Winery located on Vineyard Drive. Damian and Amanda Grindley are
the owners of this fantastic winery. They have not been open long, but I guarantee they are here to stay.  Upon arrival, your breath will be taken away with the sheer beauty of the tasting room. They purchased the vineyard and building in October of 2012, immediately remodeled and opened in March of 2014.  We first visited them in July of 2014.  Once you get past the beautiful architecture and make your way to the back for the tasting room, you will most likely be greeted by their winery dogs Louie and Roy.  Watch out for the tennis balls at your feet, because Roy is a ball player and will play as long as you are willing to throw.  Roy and I were a perfect pair.  I made sure not to leave Louie out of the petting though.
What makes Brecon unique? In Damian's own words: 
Within Paso Robles West side's many micro climates are unique localities that can produce truly world class wines when combined with the correct variety/clone. Brecon is committed to elucidating the highest quality from these pairings. Producing an exciting range of world class wines and unusual blends there of. Indeed it might be said Brecon skims off the best of the best and is not tied to any one old world genre. So be it
Currently, Brecon's production is approximately 2,800 cases.  Damian, the winemaker, knows that he wants to stay under the 10,000 case mark, and feels he would like to settle in at about the 5,000 – 7,000 range.  They produce Albariño, Mouvedre, Petite Sirah, Cabernet Franc (which is why we found them), Malbec and several blends.  Although he doesn't really feel he has a "flagship" wine, his best selling and award winning wines include the Mouvedre, Petite Sirah, Cab Franc and Albariño.  
Brecon had a five-year plan to get to "break even" once they opened their tasting room.  It is amazing to hear that they are ahead of that goal.  With the well known saying "How do you make a small fortune in the wine industry? Start with a large one." Being ahead of plan in this aspect is a true signal of success. One of Damian's true beliefs of his success thus far, is
(It is true in  all real estate, and owning a vineyard falls under that category. ) When asked what his one piece of advice he would give  to would-be vintners he replied, "Carve your niche."  I think this falls in line with our beliefs (and Four Lanterns'.)  You need to be true to yourself.  Find the setting that you are comfortable in and make it the best possible place you can. 
Identify your niche and dominate it.  And when I say dominate, I just mean work harder than anyone else could possibly work at it. ~ Nate Parker
Making the best of it is exactly what Damian and Brecon Estate is doing as atoned by the numerous awards the wine is receiving. Their 2013 Petit Verdot, Mouvedre, and Petite Sirah all received a Gold Medal in the Monterey International Wine Competition.  Damian and his Cabernet Franc were featured in the March edition of Tasting Panel and the Albariño and Petite Sirah were rated a 90 and 91 respectively in February by the Wine Enthusiast.  So my suggestion is, keep an eye out for Damian, Amanda and Brecon Estate.  I think you will be hearing a lot more from them in the future.  Their success is imminent. 
You can read more about Mike's and my tastings in Paso Robles the fortuitous day we discovered Brecon Estate here.  I hope you get a chance to check out Brecon and all the wonderful wines of Paso Robles. 
~ Sláinte