Saturday September 10, 2016 6am
Today was another first for me and I love firsts! I was going to be a judge
at a wine competition. Before the summer, I was asked by Debbie Gioquindo,CSW if I would be interested in being a wine judge for the Hudson Valley Wine and Spirits Competition. I asked myself if I would be able to decide to give a medal or not to medal a wine. I ultimately said to myself, "Heck, it will be an awesome experience!' So the answer was yes!
After getting ready, I got in my car for the hour and a half drive to Rhinebeck, NY.  Thank goodness for Waze, because I had no idea where I was going. As a side note, I find Waze to be the most amazing app ever. I am baffled by the fact that they can pinpoint the exact time you are going to get there! Anyway, I got in my car and heading to my local Starbucks for my obligatory Sunday morning drive purchase and got on the road.
8:30am
I arrived at the fairgrounds where I was greeted by a very nice "security guard" who directed me where to park. After receiving directions, I proceeded into the festival and found where we would be judging the wines. Once in the correct building I passed a lot of people who were frantically opening a lot of bottles! I remembered Debbie telling us there were 100 wines entered in the competition, so each panel would be judging about twenty wines each.
It was like I was in Oz, except reversed. I was definitely looking at the "man behind the curtain." These fantastic people were working very hard to get the wines organized, put the identification numbers on each glass and then they would be delivering the wines to us. I walked through the curtains (yes, there really were curtains) and found the judging tables.  A few quick introductions to the other judges and I found my seat. There were five tables and three judges at each table. 
9:00am 
I sat at my table with my partners in wine judging, Tom and George. We were given directions on how we were suppose to judge the wines. We were to use the American Wine Society 20 point system to judge. The wines were to be judged individually and not against each other.  We would decide if the wine was a Double Gold, Gold, Silver, Bronze or if it did not medal.  Then as a panel we would decide what to award the wine.
To be honest with you, I was nervous. As I said this was my first time judging wines. If you read this blog, you know I do not ever rate a wine. I am a believer that what I like you may not, or vice versa. Everyone's palate is different. So for judging, I changed my mindset. I went with the closest analogy I could think of. A dog show. The dogs are scored against a standard. I can do that. I can judge if I thought the wine was well made. If I thought it represented the grape varietal well. I tried to take a large portion of subjectivity out of the judging process. I discussed this idea with my partners and they agreed it made sense. The American Wine Society also provided a guideline to help with the point distribution.
The Next Three Hours
Tom, who was the lead person at our table handed out the first tasting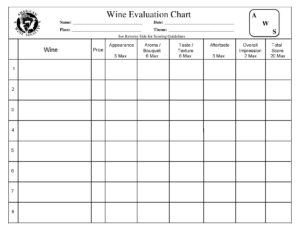 sheet. We were given a wine evaluation sheet at the beginning of each grouping. We started out with Cabernet Sauvignon.  As you can see, points were awarded for appearance, aroma, taste, aftertaste and overall judgment. If the wine received 12-14 points it was a Bronze medal, 15-17 points a Silver, and 18-20 points a Gold. Any wine that received a Gold could then be promoted to a Double Gold if it was unanimously voted. We could also suggest a wine move on to the next round of judging and be entered in the "Best of" wine competition.
After our twenty wines, we waited while the results were tabulated. You can see all the categories here. Next up came the Best of Hudson Valley, then Best Red, Best White, Best Sparkling, and ultimately the Best Overall.  We sipped, we decided, we raised hands and the winners were proclaimed! Ultimately, the Best White Wine was Fjord Vineyards Albariño and the Best Red Wine went to Robibero Cabernet Franc.
12pm
When the judging was completed we were greeted with a wonderful lunch of short ribs, sandwiches, paninis, desert and oh, of course the wine! 
1:30pm
When lunch was over a few of us walked around the festival for an hour or so. There were plenty of wineries there to sample their wines along with some food and wine related product vendors.  After seeing all the festival had to offer it was time to get in the car and head home.This was such a great experience. I loved being a judge and look forward to the possibility of doing more competitions. Part of my original nervousness was around my assigning scores. Were mine going to be either too high or too low compared to the other judges? I'm glad to say that for the majority of the wines we were pretty much all in agreement. Of course there were a few outliers to that, but that's what I love about wine. There is something for everyone, everyone's palate is different and sipping a wine is a personal experience that is made better with friends. (or in this case other judges)
My YouTube channel has a minute video of the wine competition. Please click here.
~Sláinte!