Jack be nimble, Jack be quick
Take a ride on the West Coast kick
Holiday road
Holiday road
Holiday road
Holiday road
Is there anybody who is reading this post and doesn't know what movie this song belongs to? If you don't know, you are missing out on what I consider the best family movie. Nothing cries out "Why is this my family?" more than a cross country trip, and Chevy Chase (Vacation) made that horrible experience hysterical! 
Last month, Loie of CheapWineCurious.com won the Monthy Wine Writer's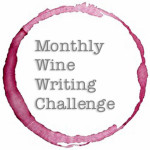 Challenge (#MWWC25) and like all winners she received a case of Champagne from Jeff's personal collection. (wouldn't that be an awesome prize- Hey Jeff- can we change the rules?) In reality, since we all just do this for friendly competition, the winner gets to pick the next month's theme.  Loie decided on "Travel" and it couldn't have come at a more appropriate time.
In case you didn't know, after 24 years for working for the same company, Mike has accepted a new job.  When the head hunter called, we were excited. The job was in Fresno, CA.  We immediately began to consider how moving to Fresno (we are currently in NJ) would be so advantageous for the winery.  Currently, we fly back and forth to California about 6 times a year for the winery. If Mike got this job it would cut our commute down from a 3,000 miles flight plus a three hour drive to an hour and forty minutes. We could now be in Paso Robles more often and be able to participate in a lot of the weekend wine festivals that we couldn't do while we were still in New Jersey.
It has been a crazy few months.  Mike interviewed for the job the Monday after Easter (March 28th). We found out he got the job on April 18th. We flew out to Fresno so that I can see the area over that weekend and now we are driving cross country today (May 25th).  In these short few months, we have had to tell our families, put the house on the market, try to sell a bunch of stuff online (let me tell you what a PITA that is!) and still work full time, run the business, and keep up with daily life. I'm exhausted! 
You may be asking, "why aren't we just flying to California?" Well,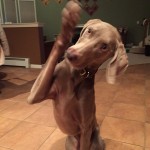 that is a great question and here's the answer – Vegas. (the dog not the city) I refuse to put him in cargo so we will travel 3000 miles to get him to his new home. He is our priority. Heck, we have already interviewed several dog sitters to make sure we would have one when we get there. We willing to  suffer through 4 days of driving 10 hours a day in order to keep him feeling secure.  He loves rides- I just hope he loves RIDES! 
With all the craziness, I haven't really had much time to write about the wines we have been drinking.  I usually post an Exploring the Wine Glass post twice a month. I think I have missed the last three due to the madness of trying to get this trip organized. It's amazing how a timeline seems so short when you have so much to do. 
With that being said, I have taken pictures of all the wines we have sipped during this time.  Because you know, no matter how insane life gets, wine is always the way you should end the day.  There is no problem that wine can't solve! I wish I had more time to do some of these wines/wineries justice, but there is only so much time in a day and travel is looming. I was able to post about #ChardonnayDay that actually is tomorrow (May 26th). You can read that post here.  
Just in case you didn't catch that in the video, we are thrilled to be in this month's Wine Enthusiast with a rating of a 91! Oh, yeah, and we are now officially sold out. So thank you everyone who has purchased our wine and has supported us. 2014 vintage will be here soon! 
Although Clark Griswold wanted to stop at all the tourist spots; the house of mud, the big ball of twine, "the biggest damn hole in the world" and wild west city, Mike and I are going for the beeline. We are taking a direct path, do not stop, do not pass go, no Wally World in our future. We just want to get to Fresno as fast as possible, then open a great big bottle of champagne and toast to the fact that we survived our travels and are starting a brand new adventure. 
"Traveling – it leaves you speechless, then turns you into a storyteller." – Ibn Battuta and I am sure we will have plenty of stories to tell when this is over. 
~Sláinte!