Did someone say "Chardonnay?" I LOVE Chardonnay! In fact, it was a 1992 Ferrari Carano Chardonnay that was my ephiphany wine. The wine that all other wines are held up to. So when Benson Marketing contacted me to ask if I would like to participate in a National Chardonnay Day promotion, I didn't even blink an eye before I said "YES!" 
Chardonnay History
Chardonnay is believed to have received its name because it originated in a village bearing its name in Maconnais, Burgundy. The Chardonnay story continues to tell how Cistercian monks distributed the grape throughout France. To the best of my research, the first mention of Chardonnay was written by monks in 1330.
Chardonnay on the Vine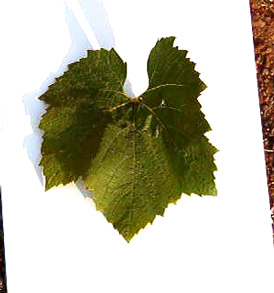 How can you identify Chardonnay? This majestic grape has some defining characteristics. According to UC Davis this is what you can expect to see on the vine. 
Clusters: small to medium; cylindrical, often winged to double in larger clones, short peduncles. French clones are typically smaller cylindrical clusters; they are often larger in California.
Berries: small; round, yellow to amber when ripe.
Leaves: medium; more or less entire with shallow lateral sinuses; U-shaped petiolar sinus with naked veins; short, broad teeth; upper surface bullate and rough; lower surface mostly glabrous with scattered hairs.
Shoot tips: downy white; young leaves yellow-green with subtle bronze-red tinges.
Harvest Period: An early season variety, in warmer regions ripening in late August to early September; and in colder production areas ripening mid- to late October.
DNA and Chardonnay
Dr. Carole Meredith is the "mother" of Chardonnay DNA. Through DNA analysis, she has discovered that Chardonnay is actually a member of the Pinot family. In fact, it is cross between Pinot and a very old and nearly extinct grape variety called Gouais Blanc. It is believed the the Gouais Blanc made it to France from Croatia because of the Romans. 
The Chardonnay grapevine is a vigorous one.  Once the clusters are ripe,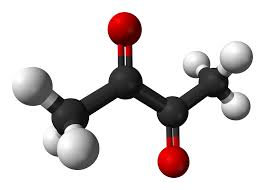 they become a golden yellow and their thin skin is considered quite fragile. Since the berries are so sensitive to the environment, much care is taken in harvesting the fruit. Traditional winemaking lends itself to fermenting Chardonnay in oak barrels with little Diacetyl (butter flavor). However, in recent years the market has seen an influx of non-oaked Chardonnays along with what is known as the butter bomb Chardonnays. Personally, I love the oak but can leave the butter behind. 
Why Chardonnay Day
National Chardonnay Day is upon us. There seems to be some controversy of when to celebrate since Winefolly and Vine Pair have it listed as May 21st and Wente Vineyards and American Winery Guide have the day of celebration listed as May 26th, but what really  matters is that you celebrate this varietal! You might as well hear about why this grape deserves its day from California's first family of Chardonnay. From  the Wente Family, creators of the Wente Clone of Chardonnay—the most widely planted Chardonnay clone in California:
In 1976, the Judgment of Paris featured a 1973 Chardonnay from Chateau Montelena that was composed largely of the Wente Clone of Chardonnay. When that wine bested some of France's most prestigious whites in a blind tasting, California Chardonnay plantings grew exponentially from 2700 acres in 1970 to 11,000 acres in 1980 to 45,000 acres in 1982.

Currently, there are almost 100,000 acres of Chardonnay planted in California and it has become the number one selling wine varietal in the U.S. For more information on the Wente family's Chardonnay history or to host your own National Chardonnay Day celebration by downloading the Chardonnay Party Kit, please visit www.wentevineyards.com/chardonnay.
The Wines We Tasted
2014 Landmark Vineyards Overlook Chardonnay
Landmark Vineyards agriculture relationship began in 1974 when the great-great granddaughter of John Deere, Damaris Deere Ford, was part of a group that founded Landmark Vineyards. After fifteen years Damaris became the sole proprietor of Landmark and decided to move the vineyards to its current site in Sonoma.  
In August of  2011, Fiji Water's owners acquired Landmark Vineyards. Landmark is known for high-quality Chardonnay, Pinot Noir and Syrah. According to Wine Spectator, the deal included the winery, inventory and an 11-acre vineyard.Stewart Resnick, chairman of the company that owns Fiji Water "We felt [Landmark] met our profile for a good quality brand, and what I'd consider the affordable premium area."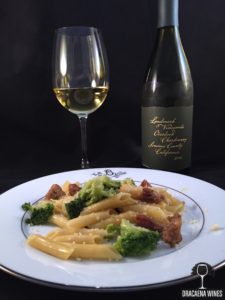 The 2014 Landmark Chardonnay is produced by selecting a blend of grapes from the best vineyards in California. Their recommended food pairing includes fresh crab and drawn butter or fettucine alfredo with lemon zest.Our wine poured tuscan sun in color. ON THE NOSE: juicy apple pineapple and butter. ON THE PALATE: Apple, melon, caramel. Medium(+) body with a long finish. Nice acidity on the end. We paired the Landmark Overlook Chardonnay with a broccoli sausage and past in olive oil. The acidity level in the wine cut through the olive oil in the dish very nicely.  A wonderful pairing. 
2014 Hahn Family Chardonnay
If you are like me and have wondered why there is a rooster on the Hahn Family Wines' label, I have your answer! Hahn Family Winery is named after their founder Nicky Hahn. In German, which is his native language, "Hahn" means rooster. So it actually  makes complete sense!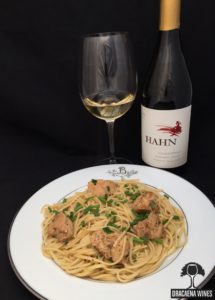 The majority of the grapes for this wine are gown in the Arroyo Seco appellation of Monterey County. This region is greeted with cool winds from the Monterey Bay allowing the fruit to ripen slowly providing for a well balanced and fruit forward wine. A large portion of this fruit comes directly from their own vineyards in Santa Lucia Highlands and Arroyo Seco AVAs.
The unblended Chardonnay is aged in 100% Chardonnay in 40% new French oak, with the balance in neutral oak. Our wine poured pineapple in color. ON THE NOSE: butter, apple, mango and pear. ON THE PALATE: pineapple, melon, and butter. Medium body with a short(+) finish. We paired our Chardonnay with my version of Chicken Diane. The butter flavor within the dish paired beautifully with the butter flavors within the dish.
2015 Harken Chardonnay
In complete disclosure, I have never heard of Harken Winery before, and I must admit I was a bit nervous to try their wine, because in their own words: 
We created Harken Chardonnay because we missed that rich, oak y taste of Chardonnays one by. At some point, someone decided that those great toasty notes and buttery finish went out of style. We think that's crazy. So we brought it back.
All that came to mind was "Butter Bomb" and although I know that there are still a lot of people who love them (my two best friends in particular,) they are not to my liking. So I was nervous. but upon researching their winery for this post, I came upon this infographic they named Harken 101 and fell in love with their attitude. I like their light hearted and playful philosophy.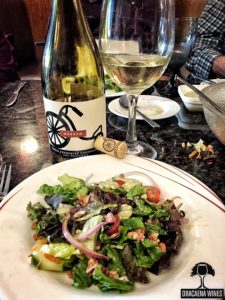 Our wine poured pineapple in color. ON THE NOSE: rope melon, green apple, butter. I must admit, I was a bit timid to take a sip! I didn't want to experience a butter bomb. ON THE PALATE: toasted oak, vanilla, ripe apple. Hey wait! No overpowering butter! Can you say "heck yeah!" The wine was full bodied with a medium (+) finish. For dinner, we went to our favorite local restaurant and had the most amazing salad (as usual). Mixed greens with Italian meats and cheese in an aged balsamic and olive oil dressing. 
2014 Balletto Chardonnay
Being a former jock, I am always intrigued when an athlete enters the wine industry. Not to mention kicks Ass in it – and this Chardonnay hits it out of the ballpark! (read my Jocks in the Wine World post here.) John Balletto, was an athlete. He had a promising career not only in one sport but two (football and track). But due to the unfortunate early death of his father, he had to choose to support his family as opposed to pursuing his athletic career.   With only $200 in the bank and five acres in Sebastopol, California, John Balletto began farming produce. 
John was a good athlete, but it turned out he was an exceptional farmer. By 1981, John purchased his first ranch in Santa Rosa. He went back to his roots and asked for help from his  former high school counselor and friend, Pete Barbieri. This team worked well together and John leased more land. He and his wife decided to "go big or go home" and purchased a large piece of land in order to grow more vegetables and build a new produce packing facility. This is the current site of the winery and one of their larger vineyards.
Balletto Vineyards makes all of its wine from sustainably- farmed estate vineyards located throughout the cool southern third of the Russian River Valley. It is one of the few Russian River wineries to be 100 percent estate grown and estate bottled, and specializes in vineyard-designated Pinot Noir and Chardonnay, which are consistently elegant, balanced and delicious.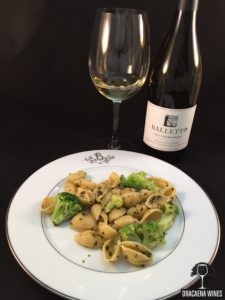 Our Chardonnay poured blonde in color. ON THE NOSE: pear, melon, toasted marshmallow. ON THE PALATE: Pear, toffee, melon, Apple with a tropical fruit acidity late in the flavor profile. This is one complex Chardonnay! Lots of layers that just keep going. Medium body long finish. We paired this outstanding Chardonnay with a broccoli and pasta in pesto sauce. Although the food and wine complimented each other, the wine really stole the show. 
Disclosure: these wines were sent to me as complimentary samples. As always, the opinions expressed here are entirely my own.
~Slainte!