The Demographics
Paso Robles (PASS-ə ROH-blayss) is the shortened name for El Paso de Robles which means 'The Pass of the Oaks.' It is a city in San Luis Obispo County, California, United States. Located on the Salinas River north of San Luis Obispo, California, the city is known for its hot springs, its abundance of wineries, production of olive oil, almond orchards, and for playing host to the California Mid-State Fair. Paso Robles is located on the Central Coast of California, specifically three hours north of Los Angeles and three hours south of San Francisco. It's elevation is only 721 feet above sea level and is just under 992 square miles with a population density of 43 people per square mile. Economics in Paso Robles has increased significantly since 2000. For instance the median household income in 2015 was $62,404 compared to $42,263 in 2000 and the estimated median house or condo value in 2015 was $403,817 while it was $173,700 in 2000.
Paso Robles History
The original inhabitant of Paso were the Salinan Indians who were in the area thousands of years prior to the mission era. The Salinans called the area as "Springs" or "Hot Springs." 
In 1857, thanks to a Mexican land grant, James and Daniel Blackburn purchased the land. It was originally intended as a rest-stop for travelers who traveled the Camino Real trail. The first mineral baths were created by the Franciscan priests of nearby Mission San Miquel. The original pioneer settlers created a community and established cattle ranches, apple and almond orchards, dairy farms and of course vineyards. 
Just a short seven years later, the first El Paso de Robles Hotel was constructed and featured a hot mineral springs bath house. Unfortunately, today there are only three places where you can have this experience. (Paso Robles Inn, River Oaks Hot Springs, and Franklin Hot Springs.) The city incorporated in 1889. If you would like to read more about the history of Paso Robles, please click here. 
Paso Robles Wine
The Paso Robles wine industry began in 1797, when the first wine grapes were introduced to the area by the Spanish conquistadors and Franciscan missionaries. Francisco Cortez visualized a flourishing wine-producing operation and encouraged settlers to cultivate the  land. The original vineyards were located in Mission San Miguel and you can still find their fermentation vats and artwork at the mission. 
The first commercial winery in Paso Robles opened in 1882. Andrew York, originally from Indiana, planted vineyards and established Ascension Winery, which later become York Mountain Winery and is now known as Epoch Winery. Afterwards, Gerd and Ilsabe Klintworth planted a vineyard in the Geneseo/Linne area around 1886. The Casteel Vineyards in the Willow Creek area were planted just prior to 1908. Cuttings from the Zinfandel old vines provided the start for other vineyards that are still producing wines today.
The Vineyards
The Paso Robles American Viticultural Appellation (AVA) is home to more than 250 wineries and 32,000 vineyard acres. The region is known for its distinct microclimates and diverse soils. Extreme changes in diurnal temperatures, make growing conditions ideal for producing more than 40 wine varietals. In 1983 the 556,765-acre Paso Robles AVA was established and was extended another 52,600 acres in 1996. In 2007, a law (AB 87) was passed requiring wines of Paso Robles AVA origin to list Paso Robles prominently on the label and a petition to TTB proposing to add 11 districts within the Paso Robles AVA was submitted. One year later, the AVA expanded once again, this time 2,635 to the south. Finally, in 2013 the Tax and Trade Bureau (TTB) released the news that there were to be eleven American Viticultural Areas (AVA's) within the current Paso Robles AVA.
The 11 new viticultural areas are as follows:
| | |
| --- | --- |
| Adelaida District | Creston District |
| El Pomar District | Paso Robles Estrella District |
| Paso Robles Geneseo District | Paso Robles Highlands District |
| Paso Robles Willow Creek District | San Juan Creek |
| San Miguel District | Santa Margarita Ranch |
| Templeton Gap District | |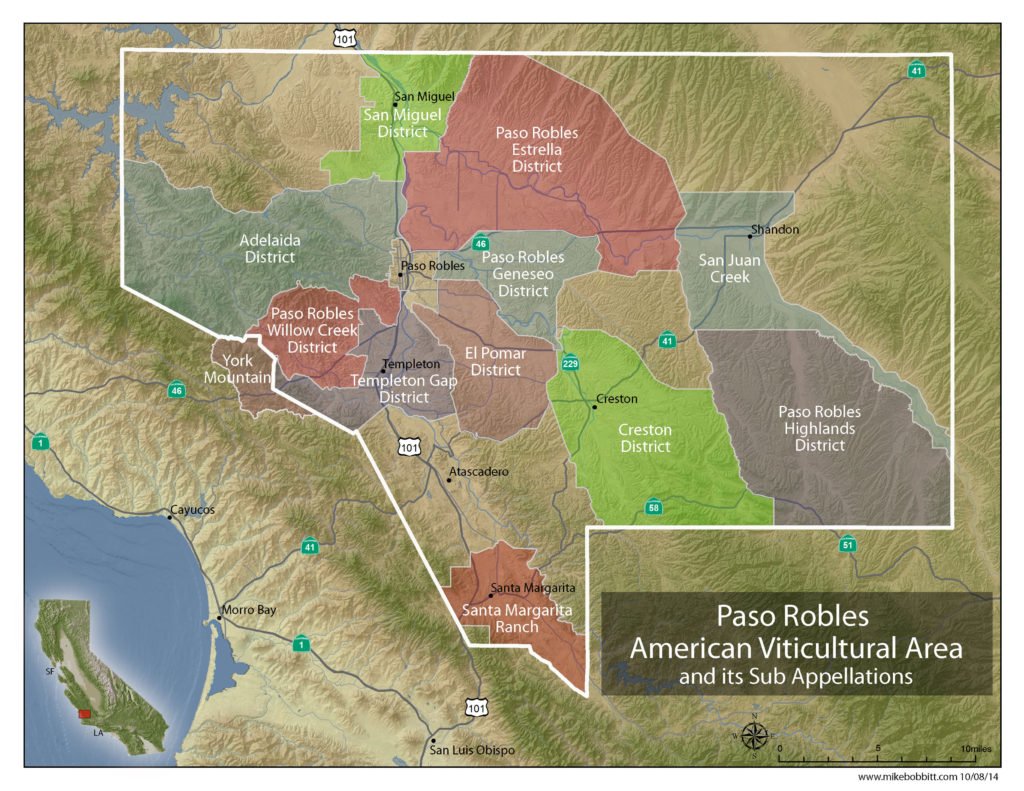 According to Steve Lohr, chairman and chief executive of J. Lohr Vineyards in a Decanter article dated September 27 2013:
We wanted science to prevail over politics in defining the boundaries of the new appellations. We wanted to avoid future boundary skirmishes and confusing overlapping appellations that can occur when AVAs are proposed one at a time. The Paso Robles AVA is 'one of the most diverse series of soils of any winegrowing region in the US'. There is often a 40 to 50 degree daily temperature swing during the growing season and a variation of 10 to 30 inches of average annual rainfall.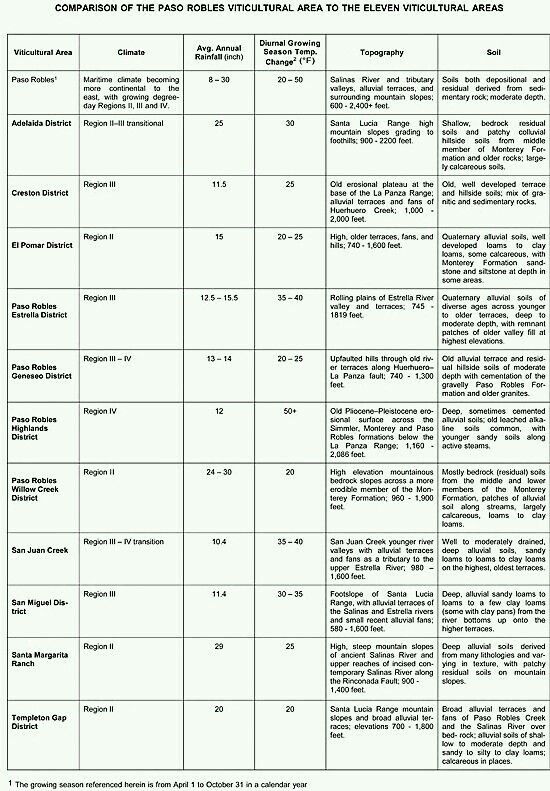 Want to read the actual TTB ruling with all the legal ease?! Here you go! 
~Sláinte!