Rodney Dangerfield of Wine
From an October 5, 2016 article in Forbes: "The #MerlotMe movement dedicated the month of October to the Merlot grape—a varietal that has suffered the slings and arrows of outrageous movie lines (read: Sideways) for far too long and has quietly been staging a steady, quality-driven comeback. To be sure, this grape gets around. It's the most widely planted varietal in France's legendary Bordeaux region."
I for one, never lost the love for Merlot. I think I have more individuality and self image than to allow a single line from a movie to tell me what I like or don't like. (sadly, many Americans tossed the grape aside because of the line) This caused a huge butterfly effect. The wineries saw fewer people purchasing Merlot, which in turned made them purchase less Merlot fruit, which in turn made farmers rip out Merlot vines and plant to a different varietal. Luckily, this trend seems to be finally turning around and Merlot is getting some more respect. 
The Little Blackbird
It is believed that French winemakers named Merlot for the deep blue-black color of the grapes. Merlot translates to "little blackbird." and the oldest reference to Merlot dates back to 1784. Along with Cabernet Sauvignon, Cabernet Franc, Malbec and Petit Verdot, Merlot is one of the primary grapes used in Bordeaux wine.
As with many grape varietals, there are two main expressions. New World vs. Old World. New World wine regions look to express the ripeness of the fruit and the darker, inky purple color. The wine is full bodied with higher alcohol levels with stronger tannin influence. The Old World tends to harvest earlier to maintain acidity and therefore produce a medium bodied wine with lower alcohol levels. There tends to be more leafy, vegetal notes in Old World Merlot.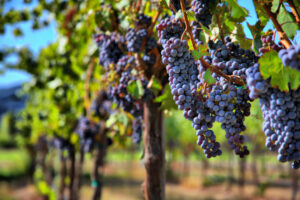 Merlot grapes are found in loose bunches. Compared to Cabernet Sauvignon, the berries are less blue/black and have a thinner skin with less tannins per volume. Typically ripening a couple of weeks earlier than Cabernet Sauvignon, they tend to have higher sugar and lower malic acid content. The natural cross-pollination that gave rise to Merlot, hailed the best of both worlds. Easy fertilization and early ripening from its mother, Magdeleine Noire des Charentes, and deep color, tannic structure, and flavor phenolics from its father Cabernet Franc. 
Merlot vines love cold soil, especially ferrous clay.  The vines tend to bud early, exposing itself to the risk of cold frost. That early budding along with the thinner skin leaves the vines susceptible to Botrytis bunch rot, downy mildew and leafhopper infestation. It thrives in well-drained soil and performs better when pruned back to only a few buds. 
More About the Wineries
I am all for promoting Merlot.  I love the grape and want to see it shine. I mean, honestly, the more Merlot comes into the spotlight, more wineries will produce it. If more wineries produce it that means I get to drink more Merlot! It's the circle of life that comes full circle to my palate! 
In my previous post, "Hello, Can You #MerlotMe?" I discussed the wine itself. I talked about the food pairing and gave tasting notes. The post was more about the wine profiles and not about the wineries themselves. However, since I like to share the story behind the wine, talk about the people who put that lovely juice that we enjoy into the bottle, I decided to do a second post. 
St. Supéry
Their story begins in 1920 when Robert-Elie Skalli began making wine in Algeria. For forty years this remained the same, but in 1961, Francis Skalli, Robert-Elie's son develops the family estate on Corsica and created his wine import company. While building a new winery in Sête, France, Robert and Francis take a trip to Napa Valley.  After visiting, their dream of developing a distinguished winery in Napa was set in their minds. In 1982, the dream became a reality when Robert purchased Dollarhide Vineyard. Located in the northeast mountains of Napa Vally, Dollarhide was a 1,500 acre cattle ranch. Today St. Supéry grows their estate fruit on this 500 acres of vines. The dream expanded just a few years later when the Skalli family purchased 56 acres of land in Rutherford. This is the site of today's winery which opened its doors in 1989. In 2015, the Skalli family sold the winery to Chanel, Inc. 
Duckhorn Vineyards
In 1978, Dan and Magaret Duckhorn released their inaugural vintage that
included 800 cases each of Cabernet Sauvignon and Merlot. They have not looked back since, establishing themselves as a premier Napa Valley producer. From the very beginning, Duckhorn wanted to focus of Merlot, so it makes sense that they are the leaders behind the #MerlotMe movement.
Dan fell in love with Merlot when he traveled to St. Emilion and Pomerol. He recognized that this varietal was underappreciated in the United States. 
I liked the softness, the seductiveness, the color, the fact that it went with a lot of different foods; it wasn't so bold, didn't need to age so long, and it had this velvety texture to it. It seemed to me to be a wonderful wine to just enjoy. I became enchanted with Merlot.
Ca' Momi
Ca' Momi was founded in 2006 by three friends (Valentina Guolo-Migotto, Dario De Conti and Stefano Migotto) who grew up in Italy. They came together to bring the values of  Italian families to Napa Valley. Ca' Momi Winery was created in order to bring Italian wine culture to California. They say their wines are heartcrafted with passion, soul and integrity. Their goal is to produce a wine that is easily approachable and intimidating.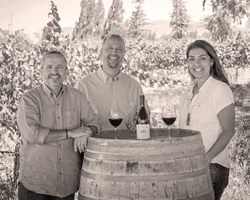 Dario, learned how to make amazing pizzas at his family's pizzeria in Italy in order to pay for his Master's degree in winemaking. He believes that wine is something to enjoy daily, not something to be placed on a pedestal. Stefano comes from a wine family. He is a third generation vintner.  He grew up helping out at his family's winery working his way up to a leadership role. He earned an enology degree from Scuola Enologica di Conegliano. Valentina came to California in 1997 with the dream to be an entrepreneur. Her partnership allows her to pursue her passion to promote culture and authenticity. Ca' Momi's green and sustainable programs promoting recycling, repurposing, composting, and organics are led by Valentina along with their partnership with the Do It For The Love Foundation.
Ehlers Estate
I have written several posts about Ehlers Estate. The most recent, A Tale
of Two Francs, discusses both their Cabernet Franc and their Rosé of Cabernet Franc along with a pretty extensive history lesson about them. I wanted to find something new to write about them in this post and man di I find it! I discovered they operate as a non-profit. Yep, you read that right! After the deaths of Jean and Sylviane Leducq, the winemaker, Kevin Morrisey carries on their legacy but the winery is now owned by the Leducq Foundation, a trust established by Jean and Sylviane Leducq in 1996. 
As part of a vineyard-focused, socially responsible approach to winemaking, the Ehlers Estate vineyard is farmed exclusively using earth-friendly organic farming methods. These methods help to preserve the purity and character of the estate's fruit, leading to stellar wines reflecting an authentic sense of place. No chemical herbisides, pesticides, or synthetic fertillizers are used on these pristine vineyards.
The vineyard, in which the historic Ehlers winery building is located in the center, consists of five main blocks based on soil type.  They currently have Cabernet Sauvignon, Merlot, Cabernet Franc, Sauvignon Blanc and Petit Verdot planted. The microclimate found on their side is defined by cool fog in the mornings, burnt off by bright, full sun at mid-day, and breezes in the afternoon.
Kendall Jackson
I received a sample of Merlot from Kendall Jackson after my post for #MerlotMe was published.  I actually have never had this Merlot before, so I am excited to give it a try.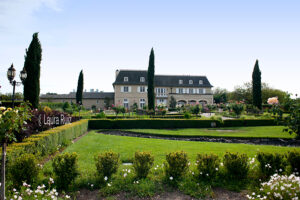 For Kendall Jackson, everything is in the details. Their six cool climate vineyard sites are located from Lake County in the North to Santa Barbara in the South . Their vineyards sit atop mountains, ridges, hillsides and benchlands. Every vintage has its own story to tell, told through the soil, the vines, and the barrels. As stated on their YouTube channel, "The Jackson family is deeply rooted in a devotion to long-term stewardship of the land and an unyielding belief that natural, sustainable environments produce wines of clarity with a resounding sense of place." Their wines are produced with one-third less water than industry standard. Through the use of solar panels produce enough clean energy each year to power over 1,300 homes and they purchase emissions offsets for all of their company wide electricity usage, plus enough for all of their employees' personal usage. 100% of their estate vineyards and wineries are certified sustainable by the CCSW Winegrowing program.
Grab A Bottle
Once again, I would like to thank the wineries for providing me with samples of their wines. October is a long month with plenty of opportunities to open a bottle of Merlot.  I hope that between my two posts, I have piqued my readers palates and have inspired you to grab a bottle of Merlot. Please click on the links below to head over the these amazing wineries' websites to check out all of their wines.
~Sláinte!