Happy Thanksgiving! Here's a question for you. How many blogs did you read, or YouTube videos did you watch in these past couple of weeks that told you to stop trying to pair the perfect wine with your Thanksgiving dinner? They were everywhere. Everyone saying the same basic thing- the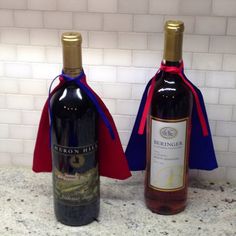 foods we serve on Thanksgiving don't go together. Nobody makes this food any other time during the year and with all those flavors you can't expect one wine to be THE wine. The message has been beaten in-you are not going to find a wine that comes to your rescue wearing a cape. [ok, maybe you can find a cape- since apparently you can buy anything online] Since I knew the wine was going to be an issue, I decided to be my typical sarcastic little self and go completely off the reservation. [that's a bad pun, sorry] Most people are going to choose American wines for this American holiday, oh no, that is too easy for me. I fell in love with a Languedoc wine sent to me by Benson Marketing and decided that Thanksgiving was a good time to drink more Languedoc wine and share it with my family.  

Languedoc-Roussillon is located in southern France. It ranges from the Mediterranean coastline on the French border to the Provence region.  It is the largest wine-producing region and vineyard area not only in France. The region is home to fantastic climate and soil types which factor into the wide variety of wines produced there.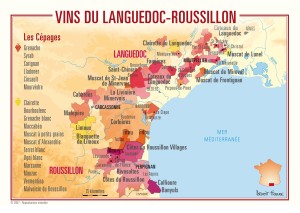 The cool thing about Languedoc wines is that they are so intimate with the terroir in which they grow. They are most known for Garrigue. This refers to the low-growing vegetation on the limestone hills. These are bushy, fragrant plants that grow wild there. The most common ones are juniper, thyme, rosemary and lavender. The combination of them together is what is known as garrigue. What is really amazing is that these flavors have found their way into the wine itself, and when sampling these wines, those aromas and flavors come through. 
For Thanksgiving dinner, we brought three  Languedoc wines. I'm not sure if it is sacrilegious to bring French wine to the All-American holiday of Thanksgiving but I am not one to follow the rules. I placed the bottles on the table and decided to let what happens happens. The first one that the family went to was the Delatour Chardonnay.  Dinner wasn't yet served, and we were still on appetizers, so that may have played a role in the decision, but who knows! [when I asked my sister-in-law's brother what he thought of the wine the answer was "It tastes like a good white wine."] Can you ask for a better endorsement than that? I don't think so.  I will say that the Chardonnay went quickly. It was being poured with shrimp cocktail, Caprese salad and spinach dip and although this was not a Chardonnay Mike and I typically drink [Old World] we did enjoy it.  It was a pleasant wine to drink on its own and we were looking for more when the bottle was empty. 
When the glasses were devoid of Chardonnay my brother-in-law got up and upon noticing the Chardonnay bottle was empty had to make a decision. It mustn't have been a difficult decision for him because he immediately went to The Gnome Knows Grenache.  Now, I must admit I purchased this wine because of the label. I'm not sure it can be classified as a "critter label" but he might as well be, because he is so darn adorable and he just calls out to you in the wine shop to bring him home! Critter label or not, this wine was a hit. Dinner was just about being served and Mike and I got a very small pour each prior sitting down for the meal. I'm not really sure how it happened, but we never saw that bottle again! It somehow stayed down at the other end of the table and never made its way back to our side. Next thing we knew, it was empty. I guess, there is a better endorsement than "a good white wine."  I'm thinking, [bctt tweet="I'm hoarding this bottle and not sending it down to your side of the table"] is the best endorsement you can have!
The final bottle was the sample that was sent to us.  Chateu Ollieux Romanis Capucine is a blend of Carignan, Grenache, Syrah and Merlot. Admittedly, this was not the most favorite of the night, but it was an acceptable wine to drink.  
The Languedoc region is often grouped in with the Roussillon, but even Wine Spectator believes it is time to separate the two and let them both shine on their own. According to Wine Spectator,
Change is under way in Languedoc, driven by a dedicated group of innovative winemakers focused on distinctive, high quality wines. Long bracketed with Roussillon, its smaller neighbor, and dogged by a history of bulk wine production, France's largest grapegrowing region is retooling its approach and working to establish its own fine wine identity.
Languedoc winegrowers currently cultivate more than 395,000 acres of vines, and though the majority is still classified in lower-tier regional appellations, nearly 94,000 acres are now designated AOC.
You can read the entire Languedoc Earns Respect article on WineSpectator.com and see the Languedoc-Roussillon wines that were tasted and their scores here. 
As Thanksgiving passes and we enter the Holiday season of Christmas and Hanukkah or
even Festivus, Mike and I would like to wish everyone a wonderful holiday season. 
~Sláinte!