Give Cab Franc its day
Its more than a blending grape
Cool climate great wine
A Haiku for you. A plea from me. We all love wine. We write, talk, and dream about it. We have scheduled vacations and planned parties around it.  We all have our favorites. If there was a popularity contest, there would be an overwhelming top three and unfortunately, Cabernet Franc would not be one of them. This is a fact that I would love to change.
Cabernet Franc is one of three main grapes used in Bordeaux blends.Click To Tweet
It is known by many names including Breton, Véron, Noir dur, Bouchy, Bouchet, Gros Bouchet, Carmenet, Grosse Vidure, Messanges rouge, and Trouchet noir. Its popularity in Saint Emilion and Pomerol began back in the 1700's, it originated in the Loire Valley at least a hundred years prior. It was originally known Bouchet and received its name by being planted at the St Nicolas de Bourgueil under the care of an abbot named Breton whose name by the 18th century had become associated with the grape.
Genetically speaking, we should all be thanking Cabernet Franc.Click To Tweet
Isn't it every parent's desire for their progeny to be more successful than themself?  Cabernet Franc should be ecstatic in this realm.  It has been proven through DNA analysis that it is the parent, along with Sauvignon Blanc, of Cabernet Sauvignon. "The world's most renowned grape variety for the production of fine red wine" (Robinson, J. The Oxford Companion to Wine; Oxford University Press, Oxford, 1994) was born.  [I guess they weren't very creative with the baby names back then, so they just combined mom and dad's names.] In 1996 Dr. Carole Meredith, a professor at UC Davis provided the DNA evidence and determined that the crossing likely occurred in the 17th century by mere chance; an accidental cross-contamination. As if that were not enough, it was crossed with a now extinct vinifera named Magdeleine Noire des Charentes to gave rise to Merlot. It is also thought that Cabernet Franc may be the father of Malbec and Carmenère, which had been previously confused with Merlot in Chile. (J-M. Boursiquot, T. Lacombe, V. Laucou, S. Julliard, F-X. Perrin, N. Lanier, D. Legrand, C. Meredith, P. This In: Australian Journal of Grape and Wine Research 15:144-155. 2009)

With this lineage, Cabernet Franc doesn't deserve to take the back seat when it comes to wine holidaysClick To Tweet.
Yes, there is Cabernet Day, and technically Cabernet Franc can be recognized on this day.  But when the word Cabernet is mentioned, it is not Cabernet Franc that is thought of.  Just head over to twitter and check out #CabernetDay and notice that it is the son who is truly recognized. I get it, and I appreciate it.  I love Cabernet Sauvignon and it does deserve its own day as does Cabernet Franc. There are differences between the two vines. Cabernet franc berries are thinner-skinned, typically ripen earlier and have lower overall acidity than Cabernet Sauvignon. It is more cold tolerant and tends to survive colder winters, however is more susceptible to being damaged by Spring frosts. Although a lot is dependent on farming practices, Cabernet Franc is usually fruitier and has more of a tendency to lean toward herbal or vegetative characteristics and tends to be less tannic. Clusters are tighter than Cabernet Sauvignon due to greater berry set.
So why December 4th you ask? I didn't just randomly choose a day.  I wanted a day with historical significance.  Cabernet Franc is believed to have been established in the Libournais region of southwest France sometime in the 17th century, when Cardinal Richelieu transported cuttings to the St Nicolas de Bourgueil in the the Loire Valley from Bordeaux. It has been growing there ever since.  
During his political tenure he was vitally involved in the reform of France. King Louis XIV continued in Richelieu's vision of creating an absolute monarchy. Historically, Richelieu's motives are debatable.  Some historians believe him to be a patriotic supporter of the monarchy, while other claim he was simply a power-hungry cynic which is how he is portrayed in the Dumas novel "The Three Musketeers." Cardinal Richelieu died on December 4, 1642 at the age of 57. It is on this date that I chose to celebrate the grape, that without him, we would not have.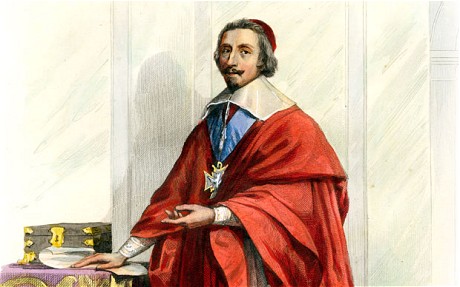 We will be hosting a twitter chat on Friday, December 4th at 8pm EST using #CabFrancDay. So grab a bottle of Cabernet Franc and join us in discussing this fantastic and underrated varietal. 
~Sláinte!