Down Under with #WineStudio 
Although visiting Australia is on my bucket list, because of the beautiful photos I have seen, I must admit that I know very little about the country and its wine.  But that is where Protocol Wine Studio comes in. An opportunity provided by to the amazing Tina Morey. Exploring the region through the eyes of a winery and winemaker themselves is the best way to learn about an area! Two Hands Wine will lead us through a four week course where we will discuss: 
– Australia wine origins
– The Australian wine boom of early 2000s (and crash)
– The recovery of the Australian wine market in the US
– Introduce Michael Twelftree and the Two Hands brand in relation to the above
– How working backwards set Two Hands up for a future
– The significance of each tier:
Join us on Tuesday nights at 9pm EST using #winestudio to follow along with our wine education. 
In the Beginning
'Quality without compromise' that is Two Hands Wine's motto. A winery that was born in September 1999 when two friends, Michael Twelftree and Richard Mintz, sat at another friends engagement party and decided they should make their own wine. Not just any wine, but wine that demonstrates the region's and vineyard's specific characteristics. 
Less than a year later, armed with an investment of $30,000 and
seventeen tons of fruit the talk ended and action began. Connections in the industry helped get Two Hand's wine in the spotlight, but early success allowed them to continue and expand. As the brand continued to expand, more dreams became a reality.  In 2003, Michael came upon a deserted cottage in the Barossa Valley next to Marananga Creek.  It was perfect and it became the new home of Two Hands Kraehe House. 
By December 2004, a new state of the art winery designed specifically for small batch handling was built and functional. With the new facility allowing them to provide constant attention from harvest to barrel aging, they were able to explore new varietals and new winemaking techniques. Throughout the years, more sources for Shiraz throughout the Western Ranges in Barossa were added to the winery's portfolio. 
Accolades Galore
Two Hands Wine has received recognition almost from the get go.  Robert Parker claimed they were "The finest negociant south of the equator." You know how the story goes… When EF Hutton Robert Parker talks everyone listens. The demand for Two Hands wine skyrocketed and export increases to Europe, Asia, and North America. From 2002-2012
Wine Spectator named Two Hands one of the Top 100 wineries. That is ten consecutive years of being in the top 100! 
Winemaking Philosophy
Their fruit is sourced from six leading Shiraz growing regions in Australia. They work with the vineyard growers to guarantee they get full potential of each vineyard site. Making sure they are involved in every step of the winemaking process, they insure each wine produced displays the best the vineyards have to offer.
…we strive to produce wines that reflect their origin, meaning that they show the characteristics that we associate with the regions and vineyard sites from where the fruit was sourced.
The wines have just enough tannin and acid structure to maintain the fruit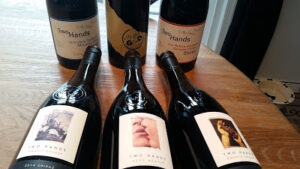 forwardness of the wine. Michael himself, makes all picking decisions as he takes his daily walks through the vineyard during harvest season. Minimal intervention occurs once the decision to pick is made. Barrel sampling begins at six months after harvest. Michael and Winemaker Ben Perkins blindtaste each barrel and rate it on a scale of A+ to D. Ratings determine which wine will be used to make which tier of Two Hands wines. Wines that receive an A+ become their Flagship Series (Ares, Aerope, Adrestria.) In addition to their flagship series, additional tiers include single vineyard series, garden series picture series and twelftree wines. The links will send you to their site to read all about their wines. 
Looking Towards the Future
In 2015, Tim Hower became an owner along with Michael Twelftree. Since Tim has come on board, Two Hands has purchased additional estate vineyards, including Seppeltsfield Road which is currently under development. Together they agree on their business approach to "Differentiate [themselves]; to be unique, fun and innovative."
~Slainte!