Yes, Germany is synonymous with Riesling. There is no doubt about that fact but I'm here to tell you to stop pigeon holing an entire country. Their wines are so much more than just Riesling. Not that is anything wrong with Riesling- I love German Riesling, but you are missing out if you aren't looking to Germany for more than Riesling. 
Riesling in Germany
Riesling has come a long way. It is almost like there has been a reawakening. For most of the 20th century, the Riesling of Germany was associated with being a sweet white wine. Riesling is still the king in Germany, but it has become extremely versatile. There has been a huge movement towards dry Riesling. During the 1970's only about 18% of the Riesling grown in Germany was dry, today that number is an astounding 47%!  Not only has the numbers increased, but so has the quality. 
The grape is originally from the Rhine region of Germany and the best is considered those grown alongside the Mosel river. The categories of Riesling are determined by their sweetness level. I have a memory trigger to remind me of these levels: Kelly Spoke About Beer Every Time. In increasing sweetness levels: Kabinett, Spätlese, Auslese, Beerenaslese, Eiswein and Trockenbeerenauslese. If you would like to learn more about these levels please listen to my Winephabet Street podcast on Kabinett. 
The Michael Cera of Countries 
Actors are chameleons. (or they should be) Think Edward Norton, Charlize Theron, or Gary Oldman. When you go to a movie with one of these actors, you are not sure who they are going to be, but you know they are going to be great in portraying that role.  Can you name this chameleon? Start your career  in a show where you, a man, needs to disguise yourself as a woman simply to live in a building while struggling in the advertising building. Then as a child, you go to an amusement park and make a wish on a Zoltair machine and wake up as an adult in New York City to become a big wig in a major toy corporation. Oh, and then you work for FedEx, get called away from a family celebration. Your plane crashes and you are lost on an island by yourself where your only friend is a volleyball named Wilson. Lets not forget when you were a captain on a ship that gets hijacked by Somalian pirates. 
Then there are the Michael Cera's of the acting world! Those actors who show up and perform exactly the same way in every movie they are in. They are just recycling themselves. They have come, and they have conquered nothing but being a one-dimensional actor. They have entered typecast purgatory! Michael Cera is the quintessential awkward teen. He played the geeky kid in Superbad. He was equally inept in social matters in Juno. Don't even get me started on Nick and Norah's Infinite Playlist. (have you seen that train wreck?)

There is a method to my madness, I promise. I'm going somewhere with this train of thought. Germany is like Michael Cera. You know there has to be more than just that awkward kid – and more than Riesling- but are you willing to give it a try?
Beyond Riesling
It is difficult to walk into a restaurant and not find a Riesling (or two) on the list. Walk though the aisles of your favorite wine shop, and once again, you will find Riesling. These occurrences, make it difficult to think that there is more to Germany than just Riesling. But in reality, only 22% of Germany's total vineyard plantings are Riesling. 
I had the pleasure to participate in the "Enjoy an Endless Summer with German White Wines" Snooth virtual tasting in September. Co-hosted by Snooth's co-founder Mark Angelillo and Matthew Kaner (Wine Director & Partner of Good Measure LA, Bar Covell, Augustine Wine Bar, and Dead or Alive Bar.) We tasted through four samples of German white wines and only one was a Riesling! 
Borell-Diehl Müller-Thurgau 2017, Pfalz (SRP $12)
Sip this one and uncover the magic of Müller Thurgau, one of Germany's most planted white grape varietals. Developed in 1882, it is a cross between Riesling and Madeleine Royale. The wines are aromatic and zippy. Look for notes of fresh-cut peach and juicy, plump grape on the palate. ~Snooth
This was in intriguing wine. It wasn't an extremely complex wine, but had an allure that called you back for more.  Müller Thurgau was actually the leading grape variety in Germany prior to about 2000, when it lost its reign to Riesling. Although no longer the dominant planting, it still is about 20% of all vines planted. Interestingly enough, the name represents both the person and the place where the grape originates. Currently there is approximately 42,000 hectares of Müller Thurgau planted world-wide with more being planted in New Zealand and the Willamette Valley. If you are looking for an out of the ordinary grape, this is one you should seek out. If you enjoy Sancerre or Chenin Blanc with less acidity in your face, this is grape variety for you. 
Koehler Ruprecht Pinot Blanc Kabinett 2016, Pfalz (SRP $20)
The wine world's most well-respected Pinot Blanc is grown in Germany. You may see it referred to as Weissburgunder.  These are easy-going, refreshingly tart white wines with just dash of decadence. This one is sure to please a crowd of thirsty beach bums on a hot summer day. ~Snooth
The first thing you notice about this wine is the tribute to the old school German wines. The bottle and label scream tradition. Beginning in the 1700s, and for seven generations, this winery has been producing wine, but today, they are combining new technology with old school practices, to remain true to their history. 
Pinot Blanc has been around since about early 1700s and has continued to evolve. Recently it is gaining some momentum in Germany. Growing in production five fold since the 1970s, this grape likes both cool and warm climates and has an affinity for chalky soils. With this versatility, it can grow in many German regions. You can find it produced as both a dry and a sweet wine and even as a botrytized dessert wine. This wine provides both a great body and a higher acidity level, and the use of old oak imparts a beautiful complexity. 
Weinreich Basisweiss Pinot Gris 2017, Rheinhessen (SRP $12)
Pinot Gris is a natural cousin of the Pinot Noir grape. Its evolution from Pinot Noir can be traced to Germany's south-west wine growing areas. It was first identified as an individual variety and vinified separately in Germany's Pfalz region back in the nineteenth century. Its wines are full-bodied, aromatic and rich. ~Snooth
Pinot Gris may have been the first mutation of Pinot Noir. This too is a very versatile grape. Winemakers have made it into a lessened colored white wine while others have allowed some skin contact to produce an orange wine. It has been shown that the grape migrated from Burgundy into Switzerland around the 1300s. It is said that it found its way into Hungary because it was a favorite of the Emperor Charles IV, who had cuttings imported to Hungary by Cistercian monks.
In 1711, a German merchant, named Johann Seger Ruland found grape growing wild in the fields of the Pfalz region of Germany. He began producing wine from these grapes and the subsequent wine became known as Ruländer. It was quite some time later that these vines were genetically proven to be Pinot Gris.
Although it is not that popular, there has been an increase in Pinot Gris plantings. Approximately 6% of total vineyard land is dedicated to Pinot Gris and that number seems to be on the rise. We are also seeing more planting in Oregon and New Zealand where the vines love the chalky, limestone soils. 
There is some confusion when it comes to Pinot Gris and Pinot Grigio. Technically speaking, Pinot Gris and Pinot Grigio are identical in the fact that they are the same grape. The DNA is similar however, they act very differently and there is a huge difference in the style of production. 
Von Winning 'Winnings' Riesling 2015, Pfalz (SRP $18)
We couldn't let you go without at least one German Riesling! It's Germany's most widely-planted grape variety for a reason. But the story here is about dry Riesling. Demand for mineral-driven, dry German Rieslings has grown by epic proportions. Back in 1985, just 16% of German Rieslings were produced in a dry style. As of 2016, it's a whopping 46.3%. ~Snooth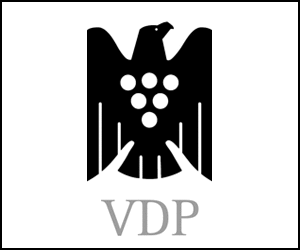 As stated earlier, Riesling is King in Germany, so a tasting wouldn't be complete without opening at least one bottle. The winery originated in 1849 and has a significant place in the history of German Riesling. In 1910, the second generation of this winemaking family were founding members of the VDP (Verband Deutscher Prädikats- und Qualitätsweinguter.) The VDP, is an association that maintains and ensures the quality of German wines. It now has 200 voluntary members that all adhere to strict standards well beyond the already rigid German wine law. In order to be approved and to bear the extremely impressive VDP emblem, they must farm and operate according to a specific regimen that is similar to organic or biodynamic practices and submit to a board for a yearly review.
As Matthew Kaner stated during the tasting, Riesling is an age worthy white wine. Alhtough the color may change, they are "time capsules." It is a white wine that ticks all the necessary boxes for age-ability; sweetness, acidity and tannic structure. 
 Explore on Your Own
With 12 wine regions in Germany there is so much to explore and so many wines to try. The next time you walk into your favorite wine shop, be adventurous and reach for a different variety than Riesling. Or better yet, grab that Riesling and a second bottle of a lesser know variety. Let your palate take you on a vacation. But if you are heading to Germany, Matthew has a travel tip for you:
Fly into Frankfurt. Rent car drive and 45 minutes to Rheinhessen. The Mosel region is just a short 2 hour drive.  You will be welcomed by wineries who now have a cellar door type of culture. You no longer need to make an appointment. There are many tasting rooms throughout the regions, although Mosel is a bit more old school and still requires reservations at most places. Enjoy not only the wine but also the huge food culture.
If these wines sound interesting to you, (how can they not!) Snooth has put together an incredible deal.  Get all four of these wines in their "Enjoy an Endless Summer with German White Wines" package for only $47.80. You can place your order here. 
~Sláinte!
We are proud to have the following sponsors. Please click on the photos to find out more.