When you receive an email from Laura Fiorvanti , one of only 33 female Master Sommeliers in the world, asking if you would like to participate in a virtual tasting, you say yes. When you find out that the tasting is going to be about one of your favorite varietals, Garnacha, your answer changes to Heck Yeah! 
Old Age is Relative
Although what comes to the forefront of most people's minds when they hear Garnacha is a red wine. But it can also be a white, rosé, sparkling and even a sweet wine. Garnacha, or as we Americans call it, Grenache, is actually one of the oldest and most widely planted grape varieties in the world, with an extremely large proportion of old vines. We all know that there actually is no legal requirement that deems a vine "old," however for Garnacha from Calatayud, Carineña, Campo de Borja, Somontano, Terra Alta and Roussillon it is often assumed that if you see that label it means the vine is at least 50 years old. 
Older Grenache vines tend to have less canopy (green) and thereby allow more sun to reach the grapes. This means that the wines will have more dried fruit flavors.  Grenache grows in an upright and relatively strong trunk. It is a water-loving vine, that enjoys hot regions, but can be a bit finicky in terms of fruit development, so older vines make the tonnage even lighter. 
Carineña
The Cariñena Denominación de Origen (DO), situated about halfway between Madrid and Barcelona, was created in 1932 making it one of the oldest protected wine regions in Europe. Vineyards with the Cariñena region range from 400m(~1300 feet) above sea level to about 800m (~2600 feet) in the Sierra de la Virgen mountains. Of the four DOs located in the region of Aragón, Cariñena is the largest. Cariñena DO is in the northeast region of the country, and is not only the geographical name, but also the grape itself. Possibly more commonly known as Carignan, Cariñena is no longer the most planted grape in the region. That honor is now held by Garnacha, which is believed to also have its origins in this region. 
Three Expressions
Prior to this virtual tasting, I had only been aware of Grenache and Grenache Blanc. Both grow exceptionally well in Paso Robles as well as other regions of California, South Australia, Spain, and France.  Grenache is known to be extremely tenacious vines that thrive in hot, dry, harsh conditions. But in the tasting both Grey Grenache and Black Grenache were mentioned, so I turned to Jancis Robinson to find out more. 
Grenache Blanc – Light-berried Grenache, planted all over southern France and northern Spain, as Garnacha or Garnatxa Blanca, producing full-bodied, sometimes rather flabby wines which can oxidise easily, although careful winemaking can make attractively scented wines for early drinking.

Grenache Gris/Grey Grenache — the least important of the three Grenaches is a pink-skinned mutation of grenache noir and is most important in Roussillon where two-thirds of France's 1,565 ha/3,866 acres in 2011 were grown. It is more perfumed than grenache blanc and can add interest to table wines. A small amount of 'Garnacha Roja' is grown in northern Spain.

Grenache Noir/Black Grenache — increasingly fashionable vine variety that in the late 20th century was the world's second most widely planted, sprawling, in several hues, all over Spain and southern France but by 2010 had slumped to seventh place, thanks largely to the eu vine pull scheme. It probably owes its early dispersal around the western Mediterranean to the strength and extent of the aragón kingdom. 
With further investigation, I found a website winefrog.com that had this to say:
Black Grenache is a red wine grape variety that is originally from Northern Spain. Known and named for it's intense dark color, Black Grenache is considered one of the most widely planted red wine varieties in dry, hot climates. Wine produced from Black Grenache has low tannins and medium acidity along with concentrated sweet flavors of red fruit and a hint of peppery spice. 

Grey Grenache, or Grenache Gris, is a wine grape variety related to both Black Grenache and White Grenache, and it originates from Northern Spain. Grey Grenache is a pinkish-grey grape that is a mutation of Black Grenache and gives wines a spectrum of color, from a pinkish-grey hue to a yellow-green tinted hue. The vine is woody and hardy, preferring a dry, hot climate with sandy rocky soil. 
The Wines
2017 Domaine La Tour Vielle Collioure Rosé des Roches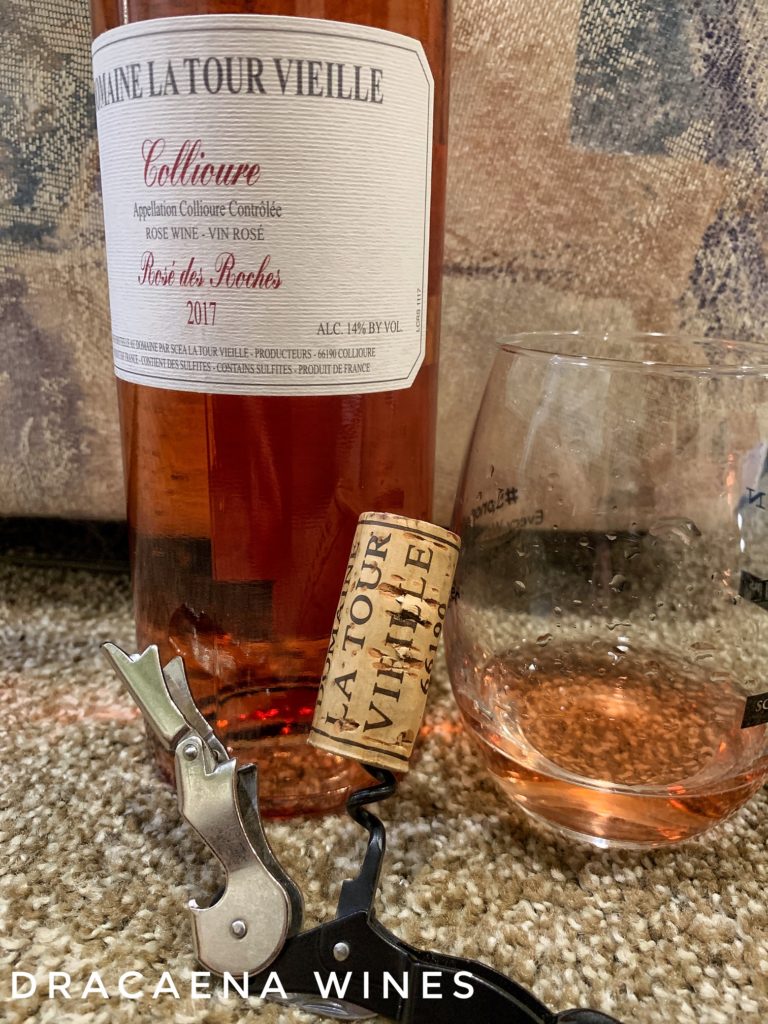 This Rosé is a blend of 40% Syrah, 30% Black Grenache, 30% Grey Grenache. 583 cases were produced and the wine has 14% ABV.
Founded in 1982, the vineyards are planted on Schist Rocks and produce extremely low yields. The vineyards are at a low altitude, only 2 to 220 m above sea level, but have an amazing vie w of the Mediterranean Sea, the vineyards are only at 2 to 220m above the sea level. Small drainage ditches were placed among the vines. Although not classified, the vines are grown organically. Thanks to steep slopes and terraced vineyards with stone walls, all fruit is manually harvested. 
2016 Bodegas Aragonesas Garnacha Centenaria
Produced from 100% Garnacha and hand harvested from old vines. Yielding just two pounds of fruit per vine, the fruit is extremely intense. Aged on lees for four months in new French oak. 14.5% ABV. 
The winery, which was founded in 1984, has approximately 9,200 acres under vine. The red soils are filled with stones and provide for an excellent  environment for Garnacha. Some of their vines are over 100 years old. The vines can be traced back to 1145 when the Cistercian monks of the Monastery of Veruela were in the area. 
Bodegas Aragonesas is found within the Campo de Borja appellation. It is located in the northern part of the Zaragoza provine in the foothills of the Iberian Mountain Range. This region is known for its high quality soil and climate that are ideal for Garnacha vineyard growth. 
2016 Las Rocas Garnacha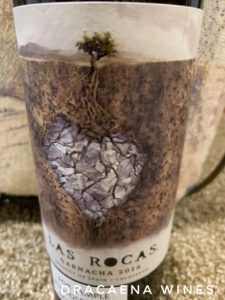 I fell in love with the label that says all you need to know about their mission. The vines roots, digging deep into the rocky soil to find the heart. 
Las Rocas Garnacha is grown at altitudes ranging from 700 to 1,100 meters and the vines are 60 years in age.  Founded in 1962, the winery was named after St. Alejandro. What began as a project for a group of winemakers has become a benchmark for quality in the region. The winery's mission is to leave the world a better place for their future generations. The soil is composed of black and re slate, as well as rocks and clay. The fruit is hand harvested and fermented in stainless steel tanks and 30% in barrel. 
2017 Clos Dalian Garnacha Blanca
Located in the Terra Alta DO, this wine is produced from 186 cooperatives which encompasses 20,000 families of growers. Combined they have 4,400 hecatares of vineyards. The DO is located in the southern, inland area of Spain. The region can date wine making history for over 1,000 years. Known for their local winds "crec" and "garbi", the region is best known for Garnacha thanks to the hot summers and calcareous soil.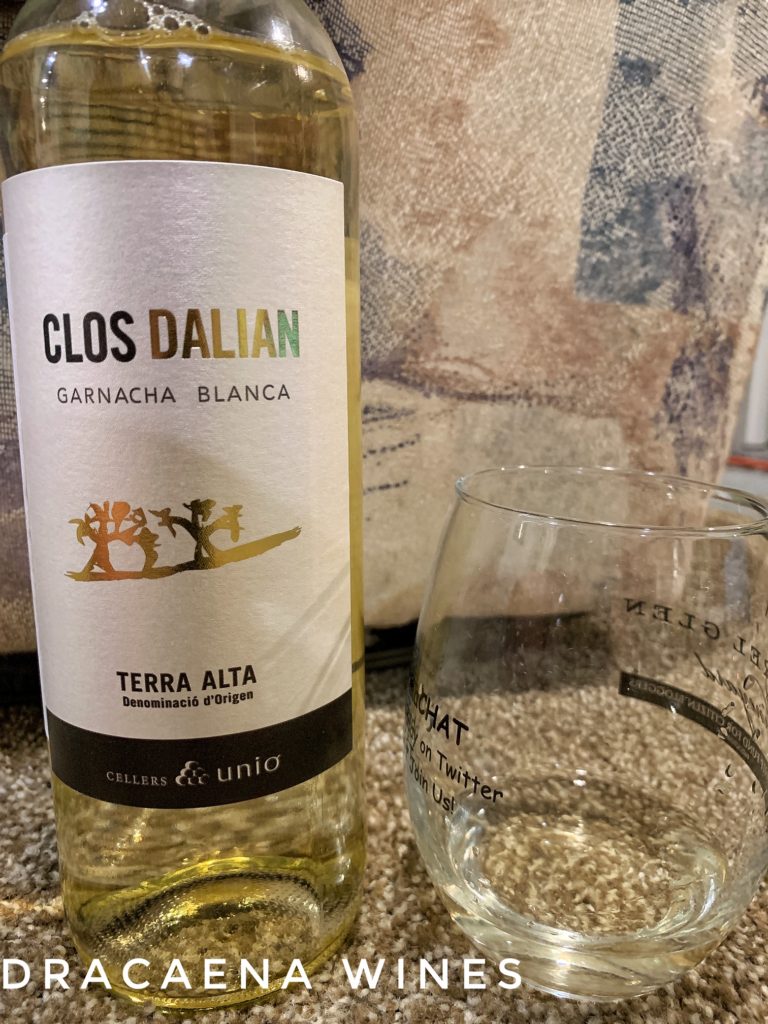 NV  18 year Rivesaltes
This tasting introduced us to a broad spectrum of Garnacha. We were able to see the grape in many of its expressions. The final wine of the event showed us that it can also be made into a sweet wine. 
Producing wines since the 13th century, the PDO (Protected Designation of Origin) Rivesaltes is actually one of the largest sweet wine appellations in France.  There are seven grape varieties allowed in the production of wines from this region, although the focus is on black, grey and white Grenache. 
With 86 communes and  5,600-acres, the vineyards for Rivesaltes wines border with the Eastern Pyrenees. On the label you can see the classification of Vin doux naturel, which is associates with the Languedoc-Roussillon region of France. This tells you that the wine has a natural level of sweetness created through fortification with a spirit being added to the wine before the end of the fermentation process. In addition to the residual grape sugars, the process of mutage (adding alcohol to the musts) adds to the sweetness level.  This fortification is typically brandy. 
~Sláinte!
Please visit our sponsors: