Today, December 20th, is #NationalSangriaDay and I must admit, I was originally confused as to why it is in December. I feel most people typically think of sangria during warmer weather. Probably has to do with the fresh fruit aspect. At least for me, I eat fruit A LOT during the summer months, and the amount consumed has an indirect relationship with the colder the weather. As I thought about the concept of #NationalSangriaDay being in December, I began to get the marketing concept. In the midst of the holiday craziness and all the festive parties, a punchbowl filled with sangria makes for a great holiday punch.
Sangria History
Sangria, the mixture of red or white wine, seltzer and fruit has had its place in history for centuries in some version or another. Today we celebrate that history with #NationalSangriaDay. 
As with most alcohol history, the Greeks and Romans led the way with sangria.  Reminiscent to modern day college days, where you mixed anything you had into a drink, they mixed their wine with sugar, spices, and whatever was on hand. They named this concoction "hippocras," and sometimes heated it, which is thought to be the historical beginnings of mulled wine. Additionally, people in Spain were doing something similar with grapevines planted by the Phoenicians.
The production of sangria was on the rise until Portugal's Political History played a role in the decline of the Spanish sangria business.  It wasn't until the Moors were finally run out, about 700 years later, that sangria began its rise to fame. The term sangria comes from sangre, or blood, and originally referred to its dark color. Although historians believe that sangria was introduced into America in the early 1800s, official accounts place the US introduction to sangria at the 1964 New York World's Fair, when it was served to visitors of the Pavilion of Spain from the Taberna Madrid kiosk.
Ruca Malen 
Ruca Malen is located in the premier wine region of Mendoza, Argentina. As every winery will attest, you need a story behind the wine. Making wine is the easy part, selling it is a wee bit more difficult, and the story helps. Ruca Malen took its name from an indigenous legend of the Mapuche Indians. The translation means "the house of the young girl." As the legend explains, a young tribal woman looked up to the heavens and fell in love with a handsome god. He gifted her a house, overlooking the world's splendors. It isn't difficult to belief she was on Ruca Malen's property when she did this. 
Jean Pierre Thibaud and Jacques Louis de Montalembert have known each other for years since they were co-workers at Chandon Argentina. Together they recognized the phenomenal potential of Mendoza as a winemaking region. They envisioned combining on an endeavor that would allow them to produce wines drawing on their French heritage and still  expressing Mendoza's incredible terroir. To turn the dream into a reality, they reached out to one of the most respected winemakers in the region, enologist Pablo Cúneo.
They own vineyards in Uco Valley, Tupungato, and Lujan de Cuyo which were planted in 1996. Intense devotion to understanding the various distinct microclimates of within the vineyards along with a modern winery equipped with the latest technology allows Ruca Malen to produce high quality wines the express the soils from which they are created. 
Celebrate with Aimé (SRP: $8.99)
Ruca Malen introduced their new line of wines to Argentina in 2016 and to the United States in May of 2017. According to Federico Ruiz, U.S. Sales Manager of Ruca Malen:
Aimé Ruca Malen was inspired by younger drinkers who were coming to the winery looking for new wine styles to discover – consumers who are familiar with the quality reputation of Argentine Malbec and who enjoy wines that are approachable, versatile and full-flavored.
It is a new wine collection that is "inspired by simple, genuine experiences and a zest for life." The portfolio includes a spicy Malbec and a sweet Moscato. Perfect for use in sangria or on their own, the recommended food pairings for the Malbec include pastas in red sauce, meats, and tamales, while the crisp citrus flavors of the Moscato lends itself to fish, sushi and Mediterranean salads.  
Sangria Time
I was invited to an Ugly Sweater Holiday party and knew it was a perfect event to bring some sangria.  As stated earlier, what looks more festive on a holiday table than a vase (yes, I used a vase. I didn't have a crystal bowl or pitcher. I'm pretty good at modifying on the fly) Of course, I broke a little law about open containers in a car by just putting cling wrap on top and seat belted it in! 
The recipe for this white sangria was so simple. 
1 bottle Aimé Ruca Malen Sweet Moscato
1 Granny Smith apple, cored and cut into small pieces
1/2 red apple, cored and cut into small pieces
1/2 pear, cored and cut into small pieces
Sparkling water to taste
1/2 cup pomegranate seeds (optional)
For best results, chill overnight.
Grab a bottle of Aimé, some fruit, and make your next holiday party even more special by bringing some sangria. One of the wonderful things about sangria is that you can make it taste the way you like it. Have a sweet tooth then throw in some extra sugar. If you are a fruit lover, then chop up some more fresh fruit. And, if wine doesn't carry enough punch for you there is always the option of adding some liqueur.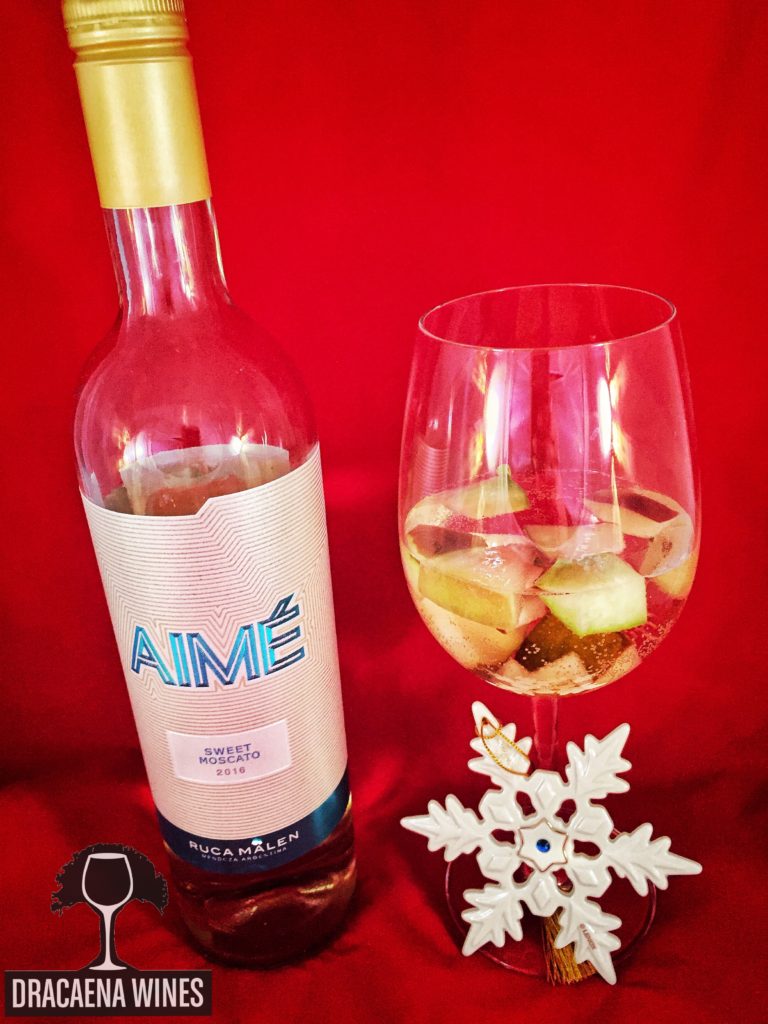 ~Sláinte! 
Disclosure of wine sample submission:  I received this wine at no cost from Ruca Malen and Gregory White PR. I was not required to write a positive review and the opinions I have expressed are entirely my own.