Nino Franco has been producing Prosecco for a century! Not only producing it, but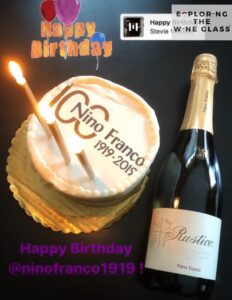 killing it! They have been providing wine lovers of the world with delectable bubbles at incredible prices and I, for one, am thrilled to have been included in their birthday celebration. 
My first introduction to Nino Franco was two years ago, when I participated in a winestudio session. It was quite the educational experience. At that time, I didn't even know that Prosecco was made from the grape variety, Glera. I truly got Educated on Prosecco by Nino Franco. I was an immediate fan of Prosecco, and began hunting high and low to increase my education on it. (yeah, I began purchasing Prosecco) But what I found was, that I do indeed enjoy it, but I really love Nino Franco's interpretations.
One of the best values is their Rustico. The name refers to the traditional method of making Prosecco, which is no longer in practice, includes a short second fermentation in the bottle that leaves the sediments in the wine. Rustico is their flagship Prosecco and in my honest opinion, you can't find a better value and I guarantee if you taste blind, you would never guess the price tag was only $19. 
About this time last year, I received a lovely package including a bottle of Nino Franco's Rustico and  Root 23 Maple Cinnamon simple syrup. Between my favorite season of pumpkin and spice and my favorite Prosecco, it made for a very happy Fall! 
Antonio Franco founded Nino Franco Winery in 1919 he founded "Cantine Franco" winery located in Valdobbiadene, a province of Treviso, Veneto, Italy. As the oldest wineries in Valdobbiadene, home to DOCG Prosecco, Nino Franco prides itself on tradition. By combining old practices and adapting to new technologies three generations have been producing exceptional Prosecco.  
As part of their 100th birthday celebration, I received a hand crafted cake from We Take the Cake. The cake arrived in dry ice in an insulated cooler. Upon opening, the cake was in a very elegant box, extremely well packed and most importantly….. ready to enjoy! The multi-layer vanilla cake, with just a hint of ginger, was the ideal pairing for the Rustico Prosecco. And what else is one to do when they are celebrating a birthday with sparkling wine? 
What is one to do when you are given a birthday cake and an exceptional bottle of Prosseco? You cut that cake, you saber the bottle and you have yourself a fantastic evening with family and friends! Thank you Nino Franco, for including me in your Centennial birthday celebration. I wish you nothing but the best for the next 100 years! Buon Compleanno!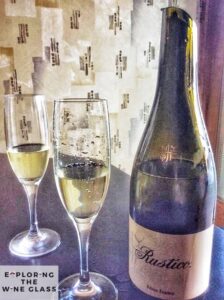 Sláinte! 
Please follow me on Instagram, Twitter, and Facebook. You can also find me on YouTube and if you are interested in wine pairings, follow my other blog, Wine Pairing with Dracaena Wines. And don't forget about my FREE wine education series, Winephabet Street.
Please Visit our Sponsors by clicking on the banners: