Fàilte! Welcome to the next installment of Exploring the Wine Glass. Mike and I are big proponents of you should drink what you like and you are the only one who can taste like you. We advocate the fact that everyone experiences the wine differently, so in these posts we do not discuss our tasting notes.  Instead we include basic information about each of the wineries, and/or a bit about what was happening in our lives while we were enjoying them. With that said, if you are interested in reading our tasting notes and our ratings head on over to Delectable and check us out. We tell it as we taste it over there.  As always, since as oenophiles we love to celebrate #WineWednesday, our week runs from one Wednesday to the next. 
Week 1
Happy Wine Wednesday everyone.  I can't believe how fast time is flying! I spent the day today talking on the phone, no, let me correct that, being on hold on the phone. I stupidly spent two and half hours yesterday at the Microsoft store upgrading my laptop to Windows 10.  Although there are some things that I like better than Windows 8.1, it has completely made Google Chrome wacky. It is driving me crazy. After an hour of waiting on hold, the "expert" asked me what was the matter. When I explained that Chrome was messed up his expert advice was, "No worries, our internet Edge is much better, just use that." Are you F'n kidding me?  I have since spent several hours on hold and have not spoken to another human being.  
While on hold I was able to multitask.  I took the test so I was re-certified to officiate Volleyball this upcoming year. Passed with flying colors. [yeah]  Worked on the website. I finally got around to
changing the size of the header so that people realize there are different pages when they click on the menu and I was able to install our new shopping cart so that we can start accepting orders. [Can you say SUPER YEAH!?] Please head on over to our Purchase Our Wines page and check it out. Let me know if your state is not mentioned, because we are working on being able to ship to more states. Yes, New Jersey is coming, it is just not there yet. It should be there before October though! 
So although this would be a perfect scenario for wine, I opted to prepare for this weekend's adventure to Atlantic City for the first Annual Cider Festival. Which brings up another question. How do you call it "First Annual?" How do you know it is going to be an annual event? Maybe it's just semantics, but I think you need to have a second one before you could call it "annual." No?  Anyway, I digress. I had a Redds Apple Cider tonight while we caught up on some Jimmy Fallon and partook in #SonomaChat and #FoodTravelChat. 
It's Thursday and we felt like a little wine. So much for the cider festival preparations, sometimes you just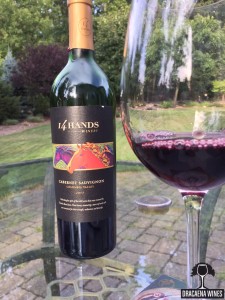 need to give in to your little desires.  We opened a 14 Hands Cabernet Sauvignon (2013).  We once again enjoyed the beautiful weather. Another evening with a slight breeze and no humidity. [a rarity in Jersey] I had a nice large bowl of fresh tomatoes and cucumbers with balsamic vinaigrette. As we were having dinner, I happened to turn the bottle around and read the back label.  I loved the story behind the winery name. The name was inspired by the Wild mustangs that use to roam free in eastern Washington State. You can read more about this awesome story and Cynthia Sampson, the label artist here. 
We spent the weekend in Atlantic City.  We drove down early Friday morning to avoid the shore traffic. We checked in and I sat down at a Wonder Woman machine. She paid nicely the last time, so I thought I'd give her another chance.  She was ok, at least she wasn't sucking in the money. But as I walked past a craps table, I ran into an old Craps buddy from the Showboat. [they closed it last year] So I decided that was an omen and I ponied up next to him. Three hours later, I was a happy camper! It was a good table.  The people were friendly and the dealers were quick and responsive.  I went to bed after recuperating my money and added some of theirs! Saturday we walked to the cider festival.  We had a good time.  It was a bit smaller than we thought, but the weather was nice and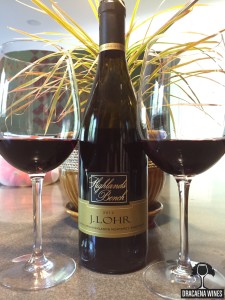 we were surrounded by cider producers.  Life was good.  After our walk back, we decided to have dinner and take it easy.  We wanted to get up and leave early enough on Sunday to miss the traffic coming back North.  But before I could leave, I had to play their money.  I had $30 in free play.  I plopped myself down at a Wonder Four and played some Wild Buffalo.  I became a Buffalo fan thanks to my "sister- in-law" Cindy. She loves the game, so I started playing.  I spun, and got a bonus which decided to give me $287!  Thank you very much Buffalo, or as Cindy taught me "Pilamaye tatonka!" ("thank you Buffalo" in native American).
When we got home, Mike was craving his pizza. It has been a couple of weeks since he had some, so we placed an order. (thankfully, he didn't want me to make from scratch) and we opened a J. Lohr Highland's Bench Pinot Noir.  You can read the press' reviews of this wine here.  We are lucky that J. Lohr is just a hop, skip and a jump from our winery. It makes it so easy to keep stocked up. It is good to be spoiled. 
Week 2
Today was a big day for us. Yes, it is WineWednesday, but more exciting is that it was a two-fer in terms of blog posts.  Today I posted Do You love your wine? You need a Clurichaun and it seems to be a big hit. I had so much fun writing this post and it was nice to see that other people seemed to enjoy it also.  Secondly, today on WineFolly, my blog post about the science of tasting wine was published. Wine Folly is an amazing site.  Their wine education is bar none and the fact that they liked my post enough that they wanted it for their site is exhilarating.  Words can't describe how excited and honored we are to be part of such an amazing site.  So what else were we going to open tonight? What do you open when you are celebrating? You open bubbles!  We opened one of my favorite sparkling wines. Domaine Ste. Michelle Extra Dry.  I have talked about them incessantly on this blog.  I love them and at a price point of $13 in my opinion, you can't beat it!  
Mike decided he wanted some more wine tonight, so who was I to complain.  We opened a 2013
Meiomi Pinot Noir. This wine has made it in the news recently for their $315 million sale. As for the wine itself, I have a question. It doesn't deal with the tasting or the sale. It deals with the law.   According to governmental regulations, in order to be a vineyard designation your fruit needs to be 95% from that vineyard. To claim AVA on your label 85% of your fruit needs to be from that AVA (ie. Napa Valley.) In order to claim an appellation (ie. Sonoma county) on your label it needs to consist of 75% fruit from that appellation.  So here is my question.  Meiomi claims three counties on its label (Sonoma county, Monterey county and Santa Barbara county.) How does this fulfill the governmental regulation?  I get if they claimed California Pinot. Then as long as 75% of their fruit comes from anywhere in California they have it covered, but I am honestly baffled by this label. If anyone could explain this to me, I would be eternally grateful. 
We paired the wine with a plethora of veggies from our garden.  I sliced up a zucchini and a yellow squash, egg dipped them and coated in breadcrumbs and Parmesan then baked at 400oF for 15 minutes per side.  We also grabbed a bunch of tomatoes and some basil from the garden and made some bruschetta . [we definitely eat more healthy during the summer months]
I really do love this time of year.  In addition to the fact that I don't have to wake up early for work every day, I love being outside and watching my garden.  Although, honestly, the majority of my garden has vanished thanks to the deer eating everything in site, but at least I have my veggie garden.  We built some raised beds and surrounded an area with a 4 foot fence to guarantee I get my vegetables. And veggies did we get. I actually think we may be overtaken by tomatoes and zucchini. Every day we come up with new and creative ideas to eat them and still we need to give a lot away.  But it is nice to share with our neighbors and my parents.  My dad absolutely devours the tomatoes. Tonight Mike made a pasta primavera. It was delicious.  Nice and light and full of fresh veggies. We paired it with Four Lanterns Rosé from Paso Robles.  This was a big deal for us, since it is the first rosé Mike and I have ever purchased. In fact, when we walked out of the winery, I had to snap a picture of it and send it to Michelle of RockinRedBlog since she is a huge rosé proponent and I read all of her blog posts about how great rosé is. It just has not been a varietal Mike or I can wrap our taste buds around.  This one was a rosé of Syrah and when we tasted it, we were both surprised that we liked it.  It was more of a patio sipper than a wine to pair with our meal.  It was so light and refreshing and great on its own, but the very simple flavors of the primavera were too much for it.  I'm still not sold on rosé but I now will not be so quick to pass up on tasting it.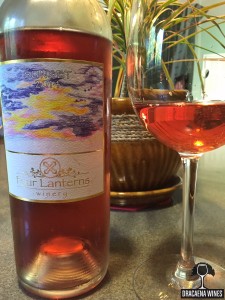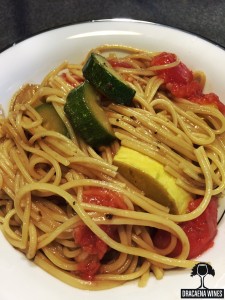 It's Saturday, and tonight is going to be a tough night of sleep.  Tomorrow, bright and early, 3am to be specific, we will be getting up to catch a flight back to Paso so we can bottle on Monday!  It seems an eternity ago that we began this venture, while at the same time I can't believe that it is actually here. All I can do is keep my fingers crossed that all goes smoothly.  After bottling, we will move our cases over to Pack and Ship where they will rest and get use to their new homes in the bottles.  And we are thrilled to say that our official release date will be October 1, 2015.  We knew we were going to release in October. It is my favorite month, which is why we got married in it. When choosing the release date, I didn't want it to be our anniversary date since I hate double dipping. Since there are some pretty cool sport moments that happened on October 1st, we thought it was a good date. We will explain those events in our release newsletter or you can just google it. 
Since we are almost at the point of "Attack of the Killer Tomatoes" in the garden, Mike used a bunch to make homemade tomato sauce and I made homemade dough. We also grabbed some jalapeños  from the garden and Mike grilled up some pizza. We chose a Tobin James Dusi Vineyard Zinfandel to pair with it. I love their story:

 It all started with an extra six tons of grapes that a winery could not accept and process. Tobin (Toby) James, a lowly assistant winemaker at the time, asked the owner of the winery if he could have the grapes and make wine out of them for himself. The owner replied, "sure kid, knock yourself out". A year and a half later, gold medals began pouring in for Toby's first Zinfandel, the 1985 "Blue Moon" Zin.
Hope you have had some great wines and times these past two weeks. Remember, always Pursue Your Passion. We would love for you to leave a comment telling us what your favorite recent wine was.
~Sláinte