Fàilte! Welcome to the next installment of Exploring the Wine Glass. Mike and I are big proponents of you should drink what you like and you are the only one who can taste like you. We advocate the fact that everyone experiences the wine differently, so in these posts we do not discuss our tasting notes.  Instead we include basic information about each of the wineries, and/or a bit about what was happening in our lives while we were enjoying them.
Want to know what we think of the wines? Do you want a little insight into our palates? Then head over to Delectable and check us out. We tell it as we taste it over there. Click here to see the chart we use to describe the color. A video of them as they are poured is found at the end of the post. Visit our YouTube Channel to see other wine videos. As always, since as oenophiles we love to celebrate #WineWednesday, our week runs from one Wednesday to the next.
Rosé and Friends
Tree Tavern Wine Bar is in a neighboring town that is nestled inside a residential area. In fact, you would typically drive right by it and never know what a good thing you are missing. But this cozy restaurant has the most amazing outside area. There are a ton of tables, chairs, fire pits, and even a little gazebo that invite you to sip and savor all night long [well, until 11pm – the troubles of being in a residential area] It is located on a site that has been a tavern for many years. Although the early history is not very clear it is known that it has been a tavern since 1910. While cleaning out the back to create the outside area, they found old distillery equipment and a few bottles of moonshine!
We decided to head to the wine bar because we saw on their Facebook page that they were having a Rosé flight tasting event for only two evenings. It has been awhile since the four of us had gotten together, so we figured this was a great excuse for a girls' night out! The waitress came over once we were all there and poured our three glasses. All the wines were 2016 vintage. I did a quick swirl, smell and sip, to experience all three, but then drank the wine in the order they were arranged. We decided that we would order three appetizers to go along with the wine – a cheese plate consisting of four cheeses of our choice, the hummus and pita chips and artichoke/spinach dip again with pita chips.
First up was  Illario Rosé of Sangiovese. This 100% Sangiovese rosé is from Tuscany and is produced by Fattoria Di Magliano. The wine was named after the winery owner's father. Beginning with the 2015 vintage the wine was crafted using exclusively certified organic, single-vineyard grapes. The vineyard consists of vines between 15-20 years old and the soil is primarily limestone, with some clay and flint deposits. The vines are trellised in a simple Guyot system and have an East/West exposure. 
The fruit was manually harvested across several vineyards in August. After pressing, the wine was left to macerate for 24 hours before being transferred to stainless steel tanks for cold fermentation. The wine rested on lees for three months and then was bottled and released. 1200 cases were produced and 500 cases were exported.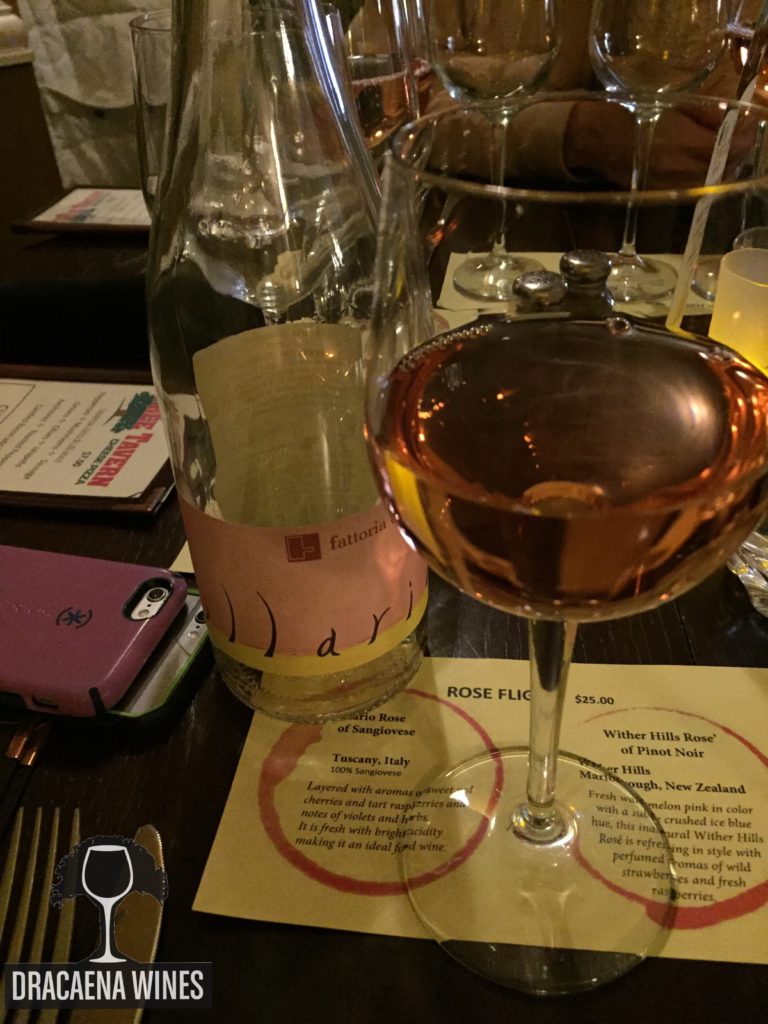 Next up was Wither Hills Rosé of Pinot Noir from Marlborough, New Zealand. With the passion to craft exceptional wines from Marlborough, this winery took its name from the landmark Wither Hills that surround the vineyards. The winery is led by a team of three winemakers and a viticulturist. (sounds like a good name for a sitcom) The fruit is harvested from three vineyards located throughout the Marlborough region.  
This 100% Rosé of Pinot Noir hails from the Wairau Valley. The season began with quite a scare, with cool temperatures leading to Spring frost. Luckily, warm, dry weather prevailed and berry development was not effected. Thanks to Mother Nature, fruit was harvested earlier than normal. The fruit was gently pressed, was allowed to settle, then underwent cool fermentation with chosen yeast strains. Once fermentation was complete, the wine remained on its lees  before being racked, blended, filtered and bottled.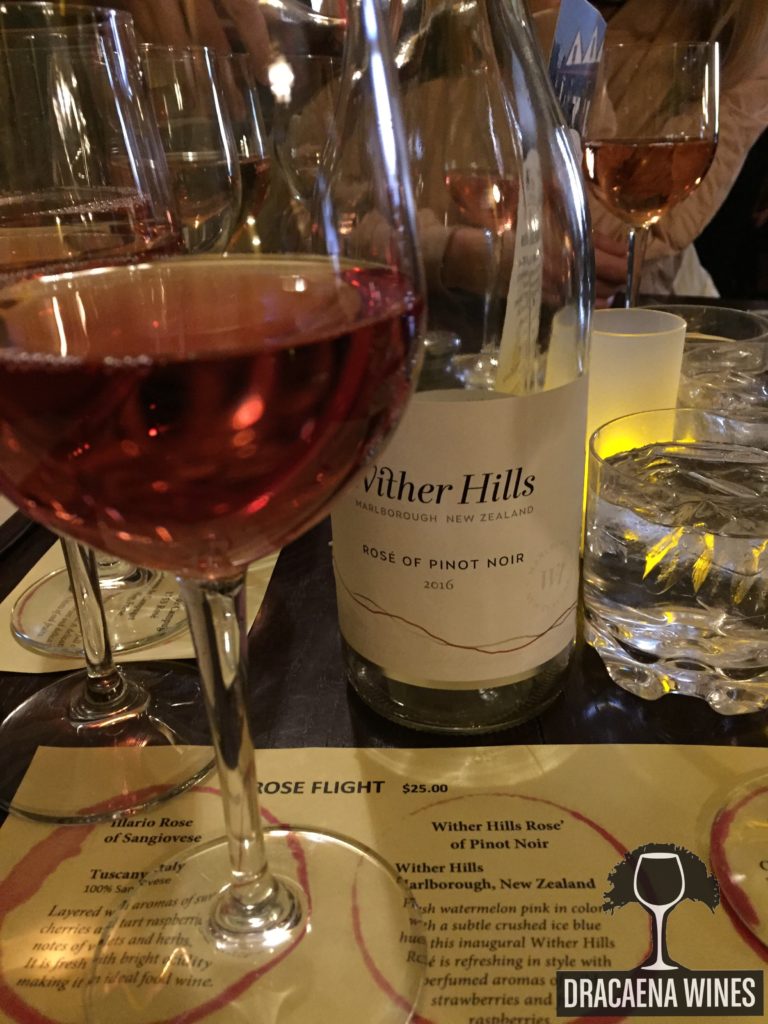 The third and final wine of the evening was 1753 Rosé from Chateau de Campuget in the Rhone Valley. The wine was a blend of Syrah (90%)and Vermentino (10%). I must admit I have never had a rosé that used Vermentino, so I was intrigued. In production since 1942, the winery thrives to produce Rhone Valley Grand Vins that are true to the terroir. 
Has anyone had any of these three wines? I would love to hear your thoughts on them. There was a definitive preference between the four of us for our favorite.The 1753 was the winner, but there was a split between our second and third choices. 
Mondavi for Everyday
In 1966, when the land in Napa was dedicated to plums, Robert Mondavi purchased some land and Napa Valley changed forever. That's when Robert Mondavi opened his winery along California Route 29 in Oakville. Since then the Mission-style archway has become an iconic symbol of California wine. 
With the desire to prove that California could make world-class wines, Robert Mondavi chose to focus on quality in the vineyard and innovative techniques in the winery. He spearheaded the "estate" wines, rather than selling for bulk and was devoted to the use of new French oak barrels and temperature controlled fermentation for white wines. Partnering with Baron Philippe de Rothschild, of the Bordeaux first-growth Chateau Mouton Rothschild, he opened Opus One, to focus on luxury Cabernet Sauvignon.  But he knew not everyone could afford this luxury, and he also wanted his wines to be on the dinner tables every day. With this in mind he created the inexpensive new lines of wines such as Woodbridge and Robert Mondavi Private Selection.
In Robert Mondavi's California Coastal vineyards, it's foggy, windy, cool, and damp, with a break of sun, pretty much every day. For grapes, it's paradise. The valleys in the California Coast run from west to east, drawing fog and wind into the vineyards off the Pacific Ocean. The grapes soak up sun in the afternoon and are cooled by evening fog. They mature slowly, developing intense, pure fruit flavors unique to California Coastal vineyards.
The fruit for the Private Selection label is sourced from a variety of vineyards that winemaker, Jason Dodge, feels expresses the best of each grape varietal within the Central Coast appellation. This region spans from Santa Barbara to the southern end of the San Francisco Bay area.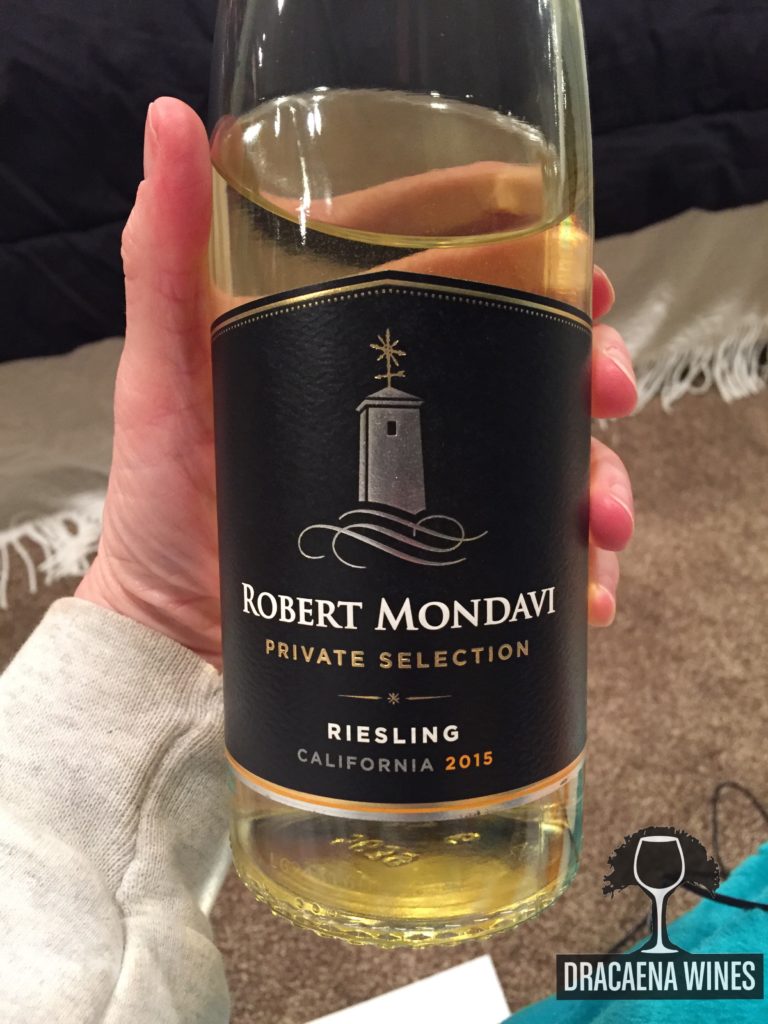 Daisy, Daisy
Give me your answer do! I'm half crazy, All for the love of you! It won't be a stylish marriage, I can't afford a carriage But you'll look sweet upon the seat of a bicycle made for two.
As soon as I saw the name of this Sauvignon Blanc, the song entered my head. As soon as I tasted the wine, I decided Daisy nor anyone else, would not be riding the bike with me because I didn't want to share! I was lucky enough to win this bottle of Cono Sur Bicicleta Sauvignon Blanc by participating in #WiningHourChat. If you are not familiar with this chat, you should check it out.  I participate in several chats throughout the week, and this chat is one of my favorites. Li (@thewininghour) and Cara (@caramiaSG) run the chat held on Tuesday evenings at 9pm EST. It is always a fun time. 
With a strong dedication to quality, innovation and a respect for the environment, Cono Sur winery began its mission in 1993. They searched for vineyard sites to find the best soils to produce wines that expressed the diversity that Chile had to offer. They found ten valley sites of which they harvest their fruit. The vineyards are protected and isolated by natural geographic bodies (the Andes Mountains to the east, the Pacific Ocean to the west, the Atacama Desert to the north and glaciers to the south). In addition to these natural boundaries their vineyard sites see extremely long days, large diurnal temperature changes and dry weather during ripening. 
Animals, insects and their own self-regulation allow Cono Sur vineyards to manage the vineyards in organic and sustainable practices. 
Going natural is all about being creative! It's about working hand in hand with nature and its elements, knowing that you can make good use of everything the land gives you. That's why here at Cono Sur, we like doing things the natural way.
Located in Chimbarongo in the Colchagua Valley, their state of the art facility has enough stainless steel tanks for 12 million litres and is capable of storing up to 4,000 barrels. However, their true passion is Pinot Noir. In 1999, they opened an annex especially designed for the vinification of Pinot Noir and then built a cellar specifically for storage of the premium Pinot Noir which has a capacity of 530,000 litres.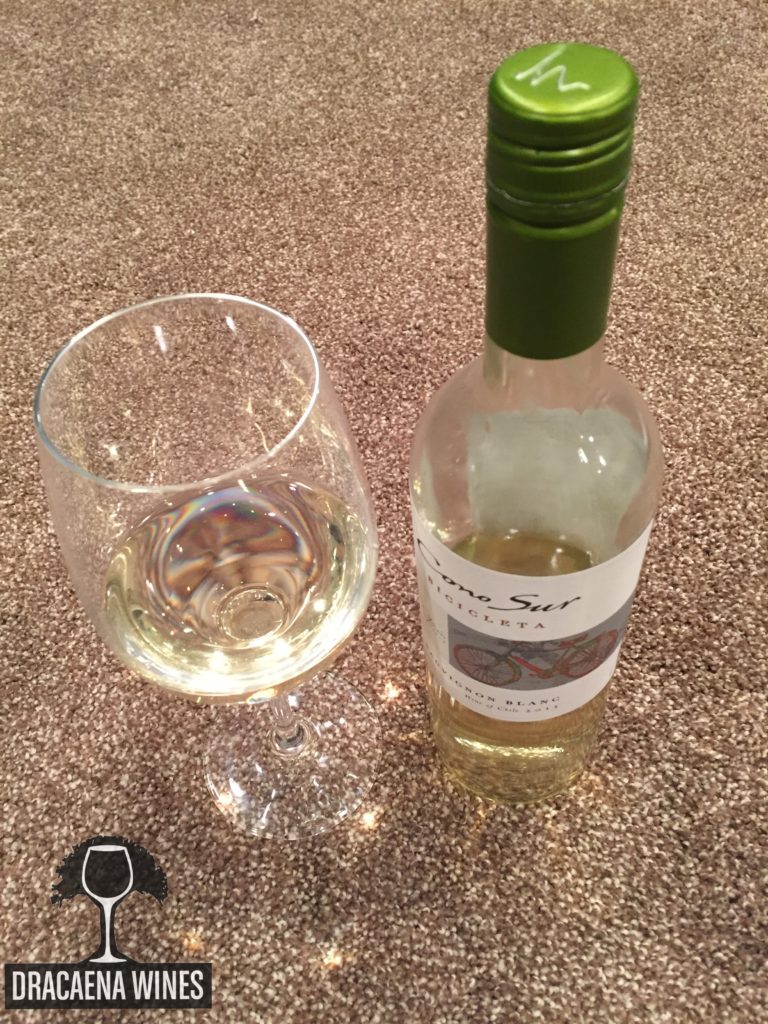 Tactile Wine
While I was in my local wine shop, where they know me well, they were having a tasting of some French wines. I have been on a kick lately to expand my palate, and have found that I am quite the fan of this region, so I stopped by the counter for a taste. One of the wines they were pouring, Bila Haut, I have seen my wine friends talk about on several occasions. [Shout out to Jim, Nancy, Anatoli and Michelle!] So I decided to give it a sip. Wow! You guys were right. I am a fan and let me tell you, it pairs great with chicken parmesan with homemade tomato sauce! 
Les Vignes de Bila Haut Cotes du Roussillon Villages is a blend of Syrah, Grenache and Carignan. I readily admit, I am behind the times when it comes to Old World wines. It turns out that Maison M. Chapoutier is one of the most recognizable producers in the Rhône Valley. Michel took over the family company in 1988, but the family has been growing grapes since 1808. Michel Chapoutier broke tradition of using foudres (large format wood vats) and chose to use the smaller oak casks to allow for shorter aging periods. He advocates biodynamically or organically grown fruit and wines that are unfiltered and unfined. 
When I went to open the bottle, my palm grabbed the label so that I could pull the cork out, and I the 3-D on the label.  I didn't realize this when I first picked up the wine  or when I put it in the cellar. So I looked at the label more carefully and realized that there was braille on the label. How cool is that?! It made me think of how much we take for granted. From 1996, all M. Chapoutier labels have included braille in honor of Maurice Monier de la Sizeranne, who created a form of modern abbreviated braille, and was the original owner of the Chapoutier vineyard in Hermitage. What a way to honor history!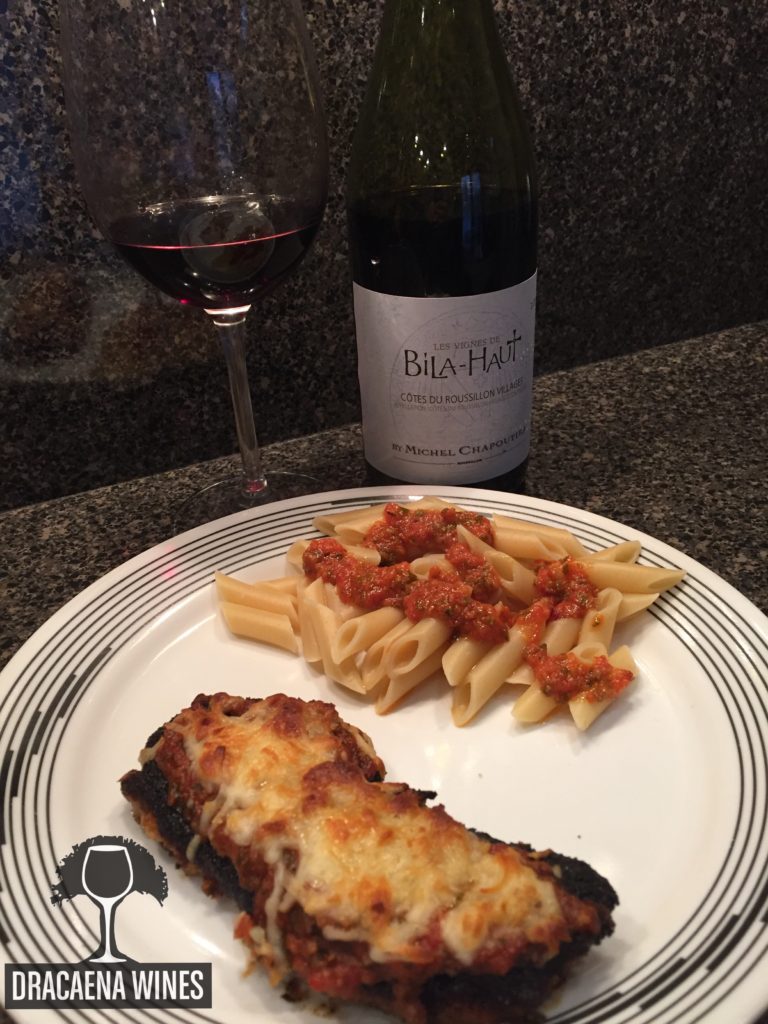 Hope you have had some great wines and times these past two weeks. Remember, always Pursue Your Passion. We would love for you to leave a comment telling us what your favorite recent wine was.
~Sláinte!