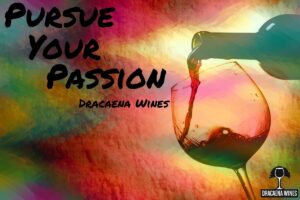 What is the definition of being successful?  Is it making more money than you know what to do with? Is it having letters after your name that people aren't even sure what they mean? Or is it simply being happy?  When Mike and I decided to enter the wine business, we knew it wasn't going to be an easy road.  We were realistic. We understood that we would neither be an overnight sensation, nor ever be as recognized as Robert Mondavi.  That's not why we entered the business. We entered the wine industry because we love wine and it was our dream to own a winery.  We chose to not just wish or dream about it, we made a conscious decision to make it happen. We chose to Pursue Our Passion. 
It's a scary thing chasing down your dreams, but if you don't enter the race you are never going to win.  One of my favorite sayings about Pursuing Your Passion was made by "The Great One," Wayne Gretzky. He very eloquently stated, "You miss 100% of the shots you don't take." He knows you need to take risks. You need to leave the safety net that tethers you to your comfort zone so that you can experience what happens next.  
In this, what has become a monthly tradition, a guest blogger will tell you their story of how they pursued their passion in the wine industry.  These people understood what Van Gogh meant by "I would rather die of passion than of boredom."
In June, I participated in a #winestudio presented by Protocol Wine Studio and was introduced to Angels & Cowboys Rosé. Yes, I did fall in love with the wine, but during the twitter chat I really fell in love with the Cannonball and Angels & Cowboys mindset. 
The Angels & Cowboys journey began with a sentimental namesake, a bold, mysterious icon and an appreciation for down to earth wines. These elements drove the vision to create a wine that indulges the lover, the trailblazer and the rulebreaker in all of us.  Angels & Cowboys wines are hand crafted, proprietary blends with intriguing, soulful design.
 As soon as I heard those words, I was hooked. I knew immediately that their story was perfect for a Pursue Your Passion post. I reached out to them, and Dennis graciously agreed to tell his story.
~Sláinte!
Right Place; Right Time
You could say I was born in the right place at the right time. Just in time 
for the Renaissance of winemaking in California, in the heart of the most diverse wine-growing region in the world ─ Sonoma County. I grew up in the prune and apple farming community of 1960's Healdsburg, which at the time did not seem very exciting, but in retrospect it provided an idyllic life: athletics, academics, art, fishing, hunting, and exploring the abundant natural resources of Sonoma County. The overriding result of growing up in paradise has given me a profound appreciation for the land and its resources.
Harvest leads to Infatuation
After graduating high school and an extended adventure to Europe in the early 1970's, I returned home and accepted an offer to help with my landlord's grape harvest. That harvest position at Seghesio Family Winery is where I became infatuated with winemaking ─ my first crush job became an inevitable vocation. Pursuing my passion, I headed to Santa Rosa Junior College to study wine chemistry and then on to UC Davis to complete my education in Enology.
In the early years of my winemaking career, I focused on estate grown/ family wineries in the Healdsburg area including: Seghesio Family Vineyards, Alexander Valley Vineyards, DeLorimier Winery, and Mill Creek Vineyards.  Later, in the early 1990's, I met and joined the Benham brothers as winemaker for their portfolio of brands, which included Blackstone Winery, a producer specializing in Merlot. While winemaking at Blackstone, the brand came to be known as the most successful producer in the Merlot category.
Consumed by Constellation
In 2001 Constellation Brands acquired Blackstone Winery. I spent six years at Constellation, during which time I was founding winemaker (along with Australian, David Hayman) for Hayman and Hill Wines ─ a brand that was created to bring together the strengths of both Australia and California winemaking heritages. The Hayman and Hill wines survive today, even though neither Hayman nor Hill is still associated with it.
As Constellation continued to purchase more brands, properties and wineries, they found it necessary to fully integrate the production management. I had to share key people and other resources with our partner wineries a little too much to maintain brand uniqueness. I felt I was losing too much control of the process – needless to say, this was not feeding my passion for winemaking.
Timing is Everything
After spending many dedicated years at Constellation, the time seemed right to join entrepreneur, Yoav Gilat, to build a new kind of wine
company.
Nine years ago, Cannonball Wine Company was born with the vision to produce the best wines under $20, deliver an approachable appeal and style to the consumer, and never compromise on quality in any aspect of the business. We were passionate that wine should be about freedom, fun, and the good life!
It all started with one varietal, Cabernet, and the vision to own the under $20 Cabernet category. Other popular varietals had their category leaders; Chardonnay had Kendall Jackson, Zinfandel had Ravenswood, the Cabernet category was missing a leader…
Bucking industry convention and armed with tireless passion, Cannonball Wine Company rapidly took hold in the market and expanded.
2010, Cannonball Cabernet had established a solid reputation in the marketplace. The trade wanted to do more business. As a result of market demand, the line was extended. The first varietal was Chardonnay, followed by Merlot and then Sauvignon Blanc, all bearing the Sonoma County appellation. As our first born, Cannonball California Cabernet maintains the largest production.
Making it Personal
2014, we decided to expand and develop another brand, Angels &
Cowboys, this presented another opportunity to make wines from grape to glass. The Angels & Cowboys wines are exciting because of the highly personal winemaking involvement.
Angels & Cowboys was immediately well received into our existing network, the first vintages sold out ahead of forecast. We continue to grow this beloved brand, alongside Cannonball Wines.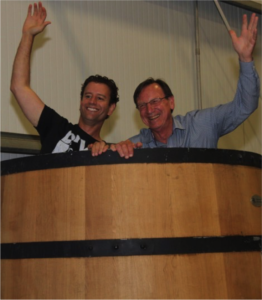 Today, we are a thriving Team of 15 industry professionals with 200+ years of cumulative wine business experience. Our philosophy is to build relationships and cultivate brand ambassadors worldwide and to always over-deliver in our commitment to quality to our consumers, all of which requires passion for what we do!
In addition to my work at Cannonball Wine Company, I manage my family's vineyard at the northern edge of the Russian River Valley near Healdsburg ─ this vineyard also provides some of the grapes used in Cannonball Wines. My passion for wine was also passed on to my two children, who have made it their careers as well. And just as the right food pairing enhances wine, my wife Melinda rounds out that equation in our life as a professional cook. I am also active in non-profit organizations; with my innate appreciation for the rich environment I was so fortunate to call home I am giving back to the land. I currently sit on the boards of the Clean Water Coalition of Northern Sonoma County, and the Westside Association to Save Agriculture. This non-profit work is my way of preserving the paradise of Sonoma County for future generations.