Fàilte! Welcome to the next installment of Exploring the Wine Glass. Mike and I are big proponents of you should drink what you like and you are the only one who can taste like you. We advocate the fact that everyone experiences the wine differently, so in these posts we do not discuss our tasting notes.  Instead we include basic information about each of the wineries, and/or a bit about what was happening in our lives while we were enjoying them.
With that said, if you are interested in reading our tasting notes and our ratings head on over to Delectable and check us out.  We tell it as we taste it over there. Click here to see the chart we use to describe the color or if you want to see the wines themselves as they are poured, visit our YouTube Channel and watch for yourself. As always, since as oenophiles we love to celebrate #WineWednesday, our week runs from one Wednesday to the next. 
WEEK 1
A Fire Was Lit
I am in Fresno and I don't have my car.  So in order for me to do anything, I need to get up early with Mike and drive him to work and then drive back to pick him up at the end of the work day.  So, if I am going to do that, you know I am going to do something worthy with my day! I made a BevMo run.  We don't have BevMo in New Jersey. This is something that I can get use to in California!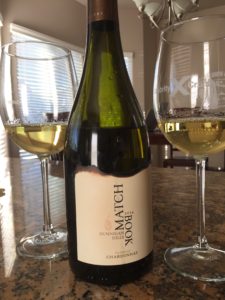 While in BevMo I discovered their 5¢ sale. What a concept! I do think that the bottles are priced higher than I can typically get them, but when you add the second bottle for only 5¢, it makes all the difference. With this sale I was able to get two bottles of 2014 Matchbook Dunnigan Hills Chardonnay for $9/bottle. This is well below the $14.99 SRP. 
I first became aware of Matchbook thanks to my social media friend Joey Casco, aka The Wine Stalker. You can read his review here. While in the store, I couldn't remember exactly what Joey said, and for some reason my phone was not being nice and I couldn't access his site. I decided to tweet him. He must have been busy [how dare he not answer me immediately] but I did get a response from another SM friend, Jay who said he has had it and recommended to definitely buy it. So I did. I then later heard from Joey that he also thought I should buy. All I can say is Thank you guys! You rock! 
Honoring pre-Industrial Revolution
Friday's are great, but I must admit that when you are off for the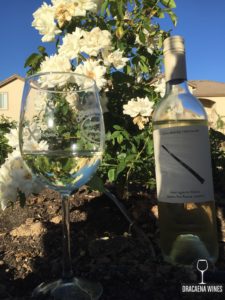 summer weekends don't really have the same effect. I'm not complaining, I love my summers, but the adrenaline rush of "no work tomorrow" isn't there. But what is there is another reason to open a bottle of wine. 
Tonight's wine was a 2013 Alta Maria Sauvignon Blanc that we purchased on one of our trips to Los Olivos. If you have not visited this area, make an effort to remedy that. Is love the area. You can park your car and just walk. You can spend an entire day there. You can read about our excursion here.
This stainless steel aged Sauvignon Blanc is made from 85% Old College Ranch and 15% Mirabella vineyards and saw no malolactic fermentation. The name "Alta Maria" is a reference to the upper Santa Maria River where the winery's founder James Ontiveros ancestor crossed in 1855 driving cattle from Southern California to Rancho Tepusquet.  The nail on the label stands for the hand-hewn iron nails used by the original homesteaders in Santa Maria prior to the Industrial Revolution. 
Crafted in Tradition
We are still discovering the Fresno area. I can't remember the last time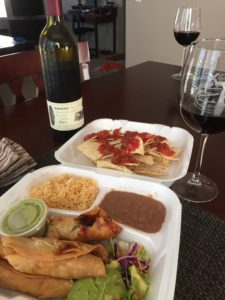 an area was new to us. And this is a big change for one very important reason. There are no BYOB restaurants here! How can that be? Home in NJ, many restaurants do not have a liquor license, so you bring your bottle and that's it. There is no corkage fee. But here, we can't even find a restaurant that we can bring a bottle of wine to! Talk about culture shock!
So tonight, we ordered out. We both felt like Mexican, so we found a place nearby and placed an order.  The food was decent, but Mexican food is definitely one that falls under the canopy of tastes better at the restaurant.  But with that aside, it wasn't bad. We paired the food with a 2012 Primitivo. 
"Three generations, four decades, five ranches" — how's that for an introduction to a winery? The Trione family has been farmers in Sonoma for forty years. Their story is pretty impressive. In 1973, the Henry Trione purchased Cloverdale Ranch in Alexander Valley. In 1975, he purchased Geyserville Ranch also in Alexander Valley. In 1976, he purchased Flatridge Ranch on the Sonoma Coast. And in 1982, Henry Trione and family purchase Geyser Peak Winery and Home Ranch, Geyserville. [I had no clue about this relationship, did you?]
In 1998, the Trione Family sells Geyser Peak Winery to Fortune Brands and finally Trione Winery came to fruition in 2005. The winery is located next to a 1908 landmark stone building at the Home Ranch in Alexander Valley which is now an event center and can be reserved for private parties.
WEEK 2
#CabFranc "Research"
We are still trying to find a good pizza place here in Fresno.  Being from NY/NJ area, we rule in pizza and bagels and there is no comparison anyplace else on the earth. So it's been a bit tough. Everyone here keeps talking about this Me N Eds as if it is to die for, so Mike picked some up on the way home from work.  He also stopped in at BevMo and chose a bottle of wine. (You really have to love that 5¢ sale)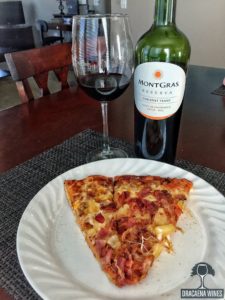 First the pizza- uh…. NO! Although the bacon and pineapple were good, the sauce was just blah and I words can't describe what the "dough" was. Seriously, when you picked the pizza up it stood straight out, stiff as a board. WTF?! I may be a bit traumatized over that memory!
Onto better things… the wine! It was a 2013 MontGras Reserva Cabernet Franc from Valle De Colchagua Chile. I don't believe we have had a Cabernet Franc from Chile before, but I definitely know this was a new vintner for us. Thank goodness the wine had a better review than the pizza. 
MontGras was founded in 1993 by two brothers, Hernán and Eduardo Gras, along with partner Cristián Hartwig. Since then, they have converted MontGras into one of the major wine groups of Chile. They can be found in Colchagua, Maipo and Leyda, Chile, along with several international markets. They have been producing sustainable wines since 2011. They remain committed to vineyard, soil, water energy, fuel and waste management. They maintain the highest appreciation for nature and the environment and train their workers to follow strict guidelines. 
When in Rome..
We had a somewhat laid back day today. We spent time at the gym and at the pool.  Vegas LOVES going to the pool.  He doesn't go in the water, but he just likes hanging out there.  Although, it  may have something to do with the fact that he always gets a good boy treat when we go.  He gets set up nicely. We bring his water bowl and he gets a chewy. We put it under the covered area and he goes to town. With the temperatures over 100o, we aren't there too long and he is able to come out into the sun or go into the shade as he wishes. I'm not really sure he is allowed, but no one has told us otherwise, so he comes. 
We had a couple of beers while we were at the pool, so we didn't really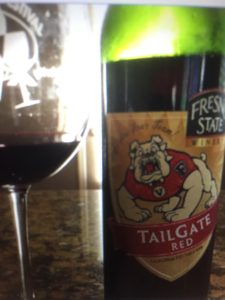 want to open up anything major. While I was in Costco I found Tailgate Red, which is a wine made from the viticulture classes here at Fresno State.  It was a two-pack for $8. It was worth a try! I'll just let you read what they say:
Produced from classic red grape varieties grown in the San Joaquin Valley, Tailgate Red radiates bright cherry and berry flavors with a hint of oak. This medium-bodied, easy-drinking Fresno State wine makes it the perfect complement for any outdoor meal you choose to pair it with. Served at room temperature or slightly chilled.
Nothing but 90s!
Mike and I adore Cayuse wines. I have written about them multiple times and even have done an "In Dracaena's Glass" about a Bionic Frog on our YouTube Channel. We have been on their mailing list since before their first big score and refuse to give up our space.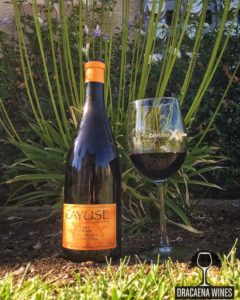 The 2009 Cailloux Vineyard has seen some amazing ratings. 
96 points – Wine Spectator – Polished, effortless and juicy.
95 points – Wine Advocate – Underlain by salivary gland-engaging roasted but still bloody red, organ-like meaty savor 
95 points – Wine Enthusiast –  Explodes with flavors of blueberries, soy, earth, black tea 
94 points – International Wine Cellar –  Christophe Baron told me that he did no leaf-pulling for syrah and then carried out a very gentle extraction: "like steeping tea." 
We paired this phenomenal wine with chicken parmesan subs.  Yum! I would have put a photo up, except that my phone went completely berserk and after spending seven hours on the phone trying to get help, the only thing that happened was I no longer have my photos!
Hope you have had some great wines and times these past two weeks. Remember, always Pursue Your Passion. We would love for you to leave a comment telling us what your favorite recent wine was.
~Sláinte