Fàilte! Welcome to the next installment of Exploring the Wine Glass. Mike and I are big proponents of you should drink what you like and you are the only one who can taste like you. We advocate the fact that everyone experiences the wine differently, so in these posts we do not discuss our tasting notes.  Instead we include basic information about each of the wineries, and/or a bit about what was happening in our lives while we were enjoying them.
Want to know what we think of the wines? Do you want a little insight into our palates? Then head over to Delectable and check us out. We tell it as we taste it over there. Click here to see the chart we use to describe the color. A video of them as they are poured is found at the end of the post. Visit our YouTube Channel to see other wine videos. As always, since as oenophiles we love to celebrate #WineWednesday, our week runs from one Wednesday to the next.
Bubble Time
It's the middle of February and we are on the verge of what people are calling Snowmageddon 2017.  I am not so sure I am believing the hype. Maybe it has something to do with the fact that their prediction is anywhere between 4 and 12 inches.  Come on people, that is a  huge range- can't we narrow that down a bit? I know, if you keep the range large enough you eliminate the chance of being wrong. Even if we do get the 12 inches, I really can't complain that much, like I said we are almost halfway through February and we really haven't had any severe winter weather. I can deal with one big snow – but that it! Do you hear me Mother Nature?! 
Anyone who lives on the east coast, knows exactly what I mean when I say you need to
stay away- far away- from a grocery store the night before a predicted snow storm. I don't know why, but people feel obligated to snatch up all the milk and bread they possibly can, so the stores are a madhouse! Seriously, just google snow storm and food or something on that level and the amount of memes that will pop up similar to this one is outrageous!  It really is hysterical, but I have learned the hard way. I will do without whatever I need if it means going to the store the day before a storm.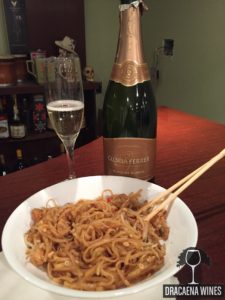 On the positive side of the storm, it meant I was going to have a snow day on Thursday! Which means I get to sleep in and get some winery work done. What it also means is that it was a celebration, so I decided to open a bottle of Sparkling.  I chose Gloria Ferrer Blanc de Blancs.  One of my favorites. And since I wasn't going to the store, I decided it was a good night to order out and Thai sounded like a good idea.  I put the Sparkling in the refrigerator and ran out to pick up my Tofu Pad Thai. This was a new restaurant for me, but after tasting, I definitely will be back! 
Gloria Ferrer has won their fair share of awards and scores. In fact they have earned over 400 gold medals and fifty 90+ ratings in just the past five years.  Their beautiful tasting room with amazing views on their   outdoor Vista Terrace makes for an exceptional tasting experience.  They offer flight tastings along with by the glass service.  You can even sign up for a tour that will show you the sparkling making process. It is offered three times a day and is limited to a maximum of 8 guests, so you know you are going to get a personalized experience. Even if you are not a sparkling fan [is there such a beast?] Gloria Ferrer also produces varietal wines. 
Alfredo and Chardonnay; Yeah! 
Snowmageddon was a doozy. It wasn't the end of the world, but it did cause major inconveniences and a lot of accidents. It was definitely a day that should have been spent inside, but for those who had to go out, it was treacherous.  I sat inside all day on Thursday and when the phone rang to tell me I had a delayed opening on Friday I was very happy! So for dinner Friday night, now that it was safe to return to a store,  I decided to get the ingredients to make linguine in Alfredo sauce.  Oh I love Alfredo sauce, but it really is not a very healthy dish so I don't eat it often, plus Mike hates it, so that makes it a bit difficult to serve.  But tonight to hell with calories, and Mike isn't here, so I was making Alfredo!
It is actually very easy to make. All you need is a stick of butter, 1 cup of heavy cream and 1 1/2 cups of Parmesan cheese.  It can all be done while the pasta is cooking. So it is an easy meal to throw together.  I really don't do anything that is high on the technical scale. 
I paired the meal with a 2009 MacRostie Winery Chardonnay. Yes- a 2009 and this baby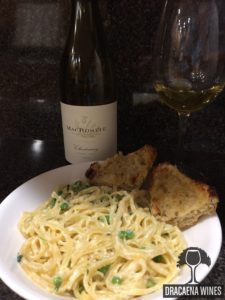 was still a beauty. I admit the flavors were not at their peak and had started to move onto the  hazelnut, caramel aspect of a Chardonnay, but it was still alive and delicious and went fantastically with the Alfredo. 
Mike and I visited MacRostie on our last visit to Healdsburg and I can honestly say it was one of the most beautiful tasting rooms that I have ever seen. It is so open and modern with multiple seating areas. But what truly made the experience [besides the fact that the wine is outstanding] is how the tasting is performed.  Once seated, we were greeted by our representative and he poured us a couple of glasses of Chardonnay. From there, we discussed which wine we preferred and why we liked it.  Our representative then was full of information about the wine we chose He explained where the grapes were harvested from, the winemaking process and was able to answer any questions we had. He then chose other Chardonnays that he felt we would like because of our initial choice. Can you get more personalized than that? We then did the exact same process with the Pinot. I highly recommend visiting MacRostie on your next trip. We will definitely be back! 
Quiche and Chardonnay – Double Yeah!
I'm not going to lie. This may be the most white wine I have drunk in one week in a very long time! Not that I am complaining, just making an observation. I wanted to make a Quiche for dinner on Saturday night. I love Quiche. What's not to like? There's bacon, spinach and egg all in a tasty pie shell. You can find my recipe here.  I know most people think of it in terms of brunch, but as someone who loves cereal for dinner, I don't see anything wrong with having it as a main course for dinner.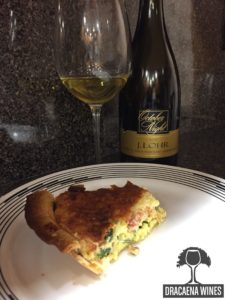 Wine pairing is a bit more difficult though. I must admit, there are limited choices when it comes to pairing wine with a Quiche. It pretty much falls into the same category of the Alfredo. Basically two choices – especially for us New World palate people- Pinot or Chardonnay. My big issue is that I do not like butterbombs and you need a bit of butter creaminess in the wine in order to go with the eggs, swiss cheese and cream. I didn't think I had any in my rather small collection [most is now in CA] but after looking, I found a 2012 J. Lohr October Night Chardonnay. This wine has gone through malolactic fermentation so it has a hint of butter on the palate, but by no means is over powering. Plus with bacon in the mix of the Quiche and the toasted vanilla in the wine complimented each other. I thought it would be perfect, and I was right. It was if they were a match made in heaven. 
The vineyards for the October Night Chardonnay lie in J. Lohr's Block 9 plantings in the Arroyo Seco AVA of Monterey County, near the mouth of the Arroyo Seco river, which provides the vines a slightly more wind protected environment in which to grow. The wine is 100% Chardonnay composed of 73% Clone 809 and 27% Clones 95 and 96 and was aged in barrel sur lie for 9 months in 45% new oak. 
Besides having exceptional wines, J Lohr is dedicated to sustainability. They are adamant about protecting the quality of the air and water. Their belief is that there is "No disconnect between conservation and quality, just as there are no shortcuts to rich, vineyard-inspired flavor." They were one of the first wineries in California to earn the Certified California Sustainable Winegrowing distinction from the California Sustainable Winegrowing Alliance. They achieved this recognition over six years ago and it was no easy feat. They had to meet a set of 58 prerequisites from the Code of Sustainable Winegrowing Practices.
Valentine Wine
Happy Valentine's Day! Mike and I were never really into this holiday. Two main reasons.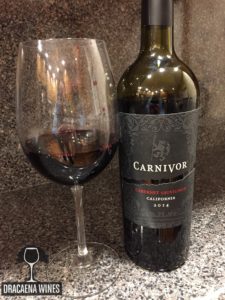 First, in case you haven't figured it out, I am a very picky eater. No beef, no crustaceans, no seafood and I really am not a fan of chicken. I will eat it, but it kind of needs to be hidden – like in Chicken Parmesan. I don't eat ham, but I do eat bacon [I love bacon!] I know, I'm a conundrum! So, going to a restaurant on a holiday is really tough. They always have a specialized menu and there usually is nothing that I eat. Reason two is I kind of think that you should show you love someone on a daily basis. I don't need a hallmark holiday to tell me to show Mike that I love him. 
Tonight I chose a wine from the cellar strictly on its name. In my head I was laughing because I thought Carnivore was a perfect choice for Valentine's Day. You know, you are so in love you just want to devour your soulmate. Get your minds out of the gutter- I'm not meaning anything that risqué. I don't know- I hope you understand what I mean! If you don't, oh well, just go with it! 
Carnivore's tagline is #DevourLife and I love it!  I am a believer that you should make the most out of every minute of every day! Don't sit back and let life pass you by. The fruit for this wine came from vineyards in Lodi. The Lodi AVA offers intensely ripe grapes with great natural acidity and fruit-forward characteristics. They harvested the fruit in early October and added a hint of Petite Sirah to deepen the color, increase tannic structure and enhance the mouthfeel. 
Cayuse and Cheese
Tonight was a special night.  Mike and I went to a new restaurant in Fresno, Cracked Pepper Bistro. Now although that is exciting, that is not what really made it special. What made it special was that we met up with Greg and Geena to have a couples date night. You may know Greg better as @talesofthecork. He has quite the following on IG. If you are unfamiliar with him, head on over and check out his account. You won't be sorry. He is a Central California wine and food fanatic.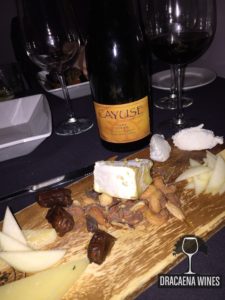 Cracked Pepper Bistro is a cute place. I am not sure how you would actually classify the restaurant, but online it says "Warm Californian-style bistro with a seasonal menu featuring local ingredients & nightly specials." They sure had  a lot of specials! However, I did not opt for a special. My eyes went right to the Farmstead Cheese Plate. Yeah, once I see cheese, it is tough to look any further!  I modified a bit, asking if they could eliminate the blue cheese and add an extra goat cheese. Our wonderful waitress agreed with a smile. In addition to the cheese, there were nuts with honey drizzle and dates. What a dish!!! And enough for me to have lunch the next day! 
Since it was a special occasion, and since I found out that it was Syrah Day [Thanks Dave Razzari] I opted for a special wine. We brought a 2008 Cayuse En Cerise Vineyard Syrah. I have talked numerous times about Cayuse on this blog. We have been on his list since around 2004 and we are never giving up our spot. I think he has something like a 10 year wait list.  His Syrahs are amazing and this one didn't fail to impress. Instead of me talking about the wine or winery again, here's what others have said about this particular wine. 
99 Points. The 2008 En Cerise Vineyard Syrah offers up a remarkably complex, sexy perfume that leaps from the glass. Exotic spices, a velvety texture, and a succulent richness on the palate are sublime. It, too, can be enjoyed for a decade or more. –Jay Miller, The Wine Advocate

98 Points. A subtle, complex, utterly distinctive mix of flavors, with opening streaks of butter cookie, then mushroom broth, tightly wound berry fruit, earthy coffee grounds and even darker streaks of espresso and smoke and licorice. It is deeply layered with flavors that just keep piling on. Amazing wine. –Paul Gregutt, Wine Enthusiast

96 Points. Rich and round, yet amazingly transparent as the cherry, mineral, tar and sassafras flavors expand over the long, expressive palate. This shows richness and depth balanced with vibrant acidity, finishing with intensity. Best from 2012 through 2020. –Harvey Steiman, Wine Spectator

93 Points. Bright ruby-red. Black raspberry, bacon fat and an exotic apricot note on the nose, complicated by a saline nuance; very Old World. Then thick, saline and sweet; less high-pitched than the Cailloux syrah but really stains the mouth with dark fruits, wild herbs and smoke. Still a bit youthfully edgy on the back end, finishing with terrific lift and a note of black olive. –Steven Tanzer, International Wine Cellar
Italian and Cabernet
We were suppose to have another couples night on Friday, but unfortunately one of the members of the other couple became sick.  So we decided to order out and enjoy a quiet evening at home. This was actually the first night we were eating dinner together since the furniture arrived, so it was nice to just sit and relax. [especially since I had spent the whole day unpacking an exorbitant amount of boxes. 
Back on January 2nd, we poured our 2014 Cabernet Franc for Eric at The Tasting Room here in Fresno. At that time he purchased a case of our wine to have in the tasting room. Well, here we are two months later, and earlier today we received a call that he needed more.  This is our fourth case in two months. Our wine has been greeted with immediate success, basically selling a case of wine every two weeks. So if you are in the Fresno area and want to taste our wine, please head on over and grab yourself a glass and if you enjoy it please reach out to us in an email [contact @ dracaenawine (dot) com]. If you are in the Fresno area, we will be more than happy to save you shipping charges by delivering the wine to you.
Since we were in the general area, we decided to take the recommendation that Greg had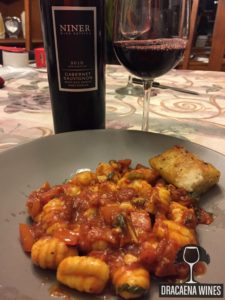 given us the night before for Italian food. We placed an order for take out at Bella Pasta Trattoria. I had gnocchi Pomodoro and Mike had his usual, first time at an Italian restaurant, Chicken Parmesan. 
In our glass we went back to Paso Robles. Niner Wine Estates 2010 Bootjack Ranch Cabernet Sauvignon. Bootjack Ranch was purchased by Niner Wine Estates in 2001.  It originally had 40 acres of vines but since then have increased to 89 acres. This is their oldest estate vineyard and sees a larger diurnal temperature change than their more famous Heart Hill Vineyards. The diurnal swing allows for varietal development. Within the vineyard itself, there are two soil profiles. The calcareous soil that is very popular in Paso Robles and sandy loam. In addition to Cabernet Sauvignon, Sangiovese and Carmenere are grown on this vineyard site. 
#NationalDrinkWineDay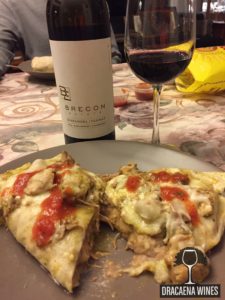 Today was another wine holiday. Who am I to question a reason to drink a great bottle of wine. So tonight we opened a Brecon Estate 2014 Zinfandel/Tannat blend. This wine is made up of 65% Zinfandel and 35% Tannat. 
We are huge fans of Damian and Amanda. We came across Brecon when they were first opening and have been repeaters ever since! In fact we even wrote a blog about their success. We are such big fans that we continue to ask if we could purchase some of his amazing Cabernet Franc fruit every year. And every year, he smiles at us, thinks about it and says, "Well, I don't have enough this year, but maybe next year, so keep on asking." And keep on asking we will do, because Damian's fruit rocks!  In his own words: 

Hope you have had some great wines and times these past two weeks. Remember, always Pursue Your Passion. We would love for you to leave a comment telling us what your favorite recent wine was.
~Sláinte