Fàilte! Welcome to the next installment of Exploring the Wine Glass. Mike and I are big proponents of you should drink what you like and you are the only one who can taste like you. We advocate the fact that everyone experiences the wine differently, so in these posts we do not discuss our tasting notes.  Instead we include basic information about each of the wineries, and/or a bit about what was happening in our lives while we were enjoying them.
Want to know what we think of the wines? Do you want a little insight into our palates? Then head over to Delectable and check us out. We tell it as we taste it over there. Click here to see the chart we use to describe the color. A video of them as they are poured is found at the end of the post. Visit our YouTube Channel to see other wine videos. As always, since as oenophiles we love to celebrate #WineWednesday, our week runs from one Wednesday to the next.
One Warm Day = Rosé
It hasn't been the greatest of Springs. In fact, it has been downright nasty! Lots and lots of rain and very cold. We have been about 15 degrees colder than the average. But today we were 76oF and it was a phenomenal feeling! It felt like a Rosé day to me!  I decided to open a new-to-me bottle. 
The 2016 Charles and Charles Rosé hales from Columbia Valley, Washington and is a blend of 60% Syrah, 17% Grenache, 10% Mourvedre, 10% Cabernet Sauvignon, 2% Cinsault, 1% Counoise. It is produced through a collaboration of two very well know winemakers. In 2008, Charles Smith and Charles Bieler decided to join forces and produce a new line of wines. Their focus was originally on Rosé, but they then expanded to a Cabernet Sauvignon/Syrah blend. Just recently, they once again broadened their line to a cool climate Chardonnay. The sustainable farmed fruit is all from the Columbia Valley and they are dedicated to making "Kick ass wine." (their twitter handle is @KickAssWaWine.)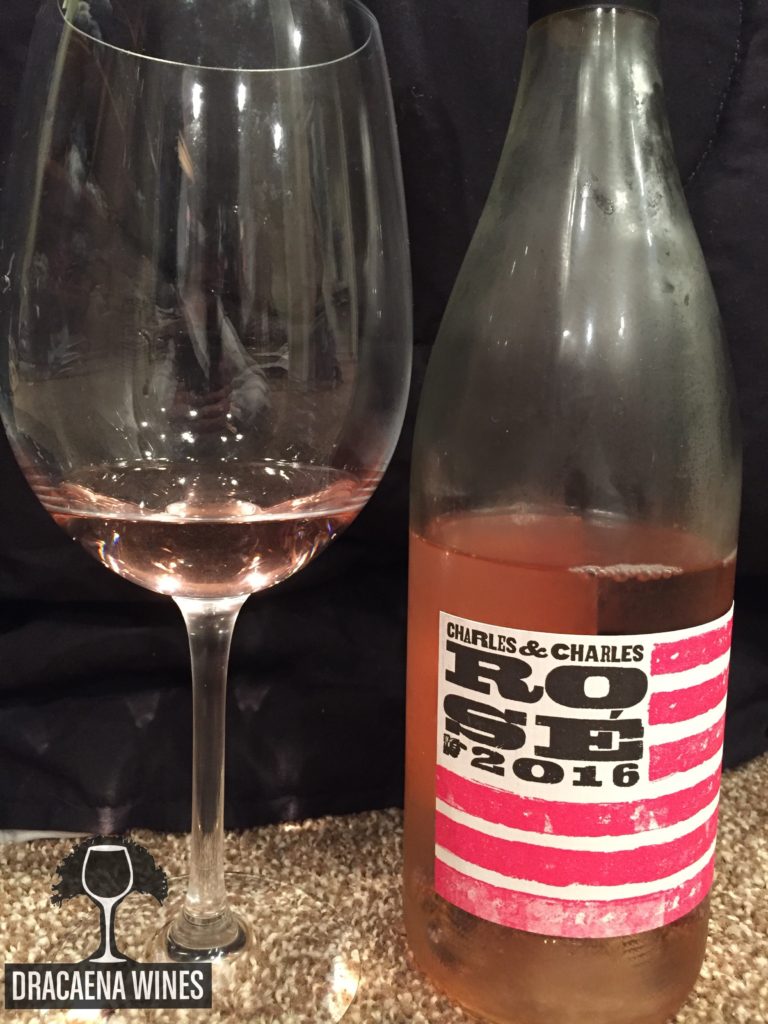 Brunch = Bubbles
On the second Saturday of every month a wonderful group of wine and food lovers get together to discuss a common theme on #WinePW. This month's theme was brunch.  I am not much of a brunch person, but whenever I hear the word brunch bubbles immediately enter my mind. 
Deciding what to sip was not an issue. In fact, I immediately knew that I would be opening a NV Gloria Ferrer Blanc de Noir. What was the difficult part was figuring out what food I was going to make. Whenever I am in dire need of a recipe idea, I head to Pinterest. After plugging in "brunch" the 50 bazillion ideas came flooding in. But what I noticed was they all were the same thing. Quiche, French Toast and breakfast potatoes. I wanted something different. I wanted something that was not on the typical brunch menu. I scrolled and scrolled and found nothing! How does that happen on Pinterest?!
I decided to create a casserole version of a Quiche.  I layered potatoes, bacon, sausage, spinach, and Swiss and Mozzarella cheeses. Super easy and it was a major hit! You can find the recipe  for PoQuiche (yep, that's what I called it) on my other website Wine Pairing with Dracaena Wines.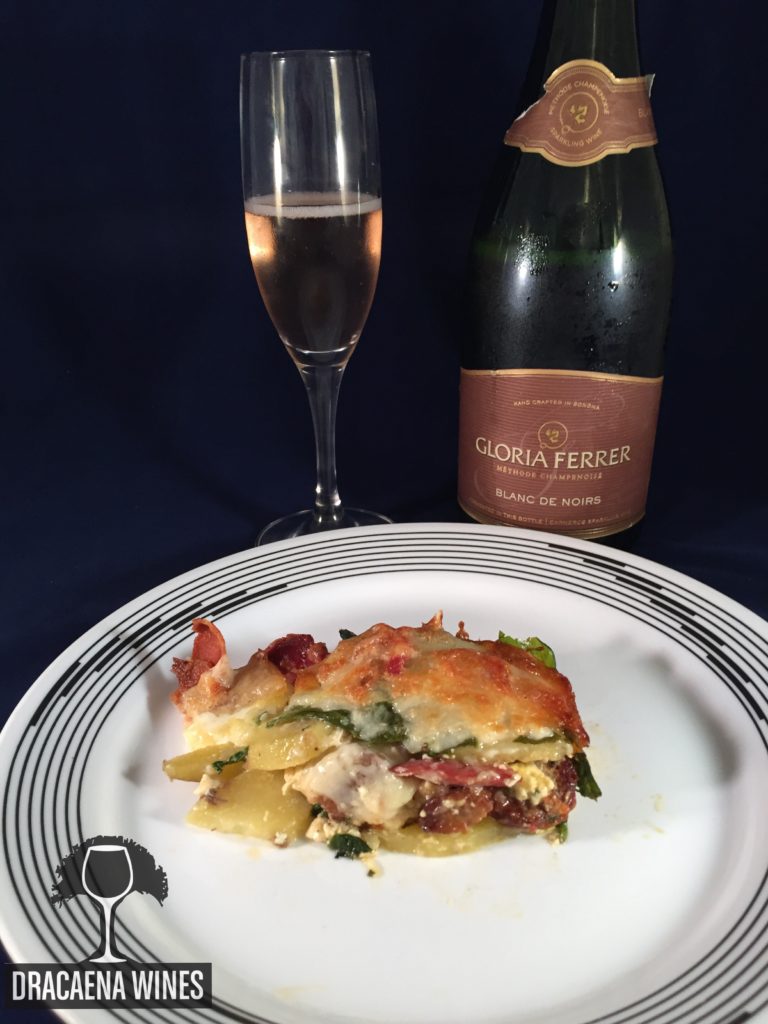 NYC = Greek Wines
I was invited to this year's Taste of Greece, sponsored by Wines of Greece. The event took place at City Winery in New York City on May 9th. My friend and I took the Path into the city and we had a spectacular time. I was lucky enough to interview the head of the event and several winemakers/representatives of the wineries.  You can listen to my podcast on iTunes. (I would appreciate it if you could also leave a review to help others find the podcast) I also wrote a blogpost with some general information about Greek wines. And to top it all off, I was able to finally meet Li Sylvester of TheWiningHour!  
The coolest thing to me was the Assyrtiko (ah-sir-tee-ko) grape varietal. This white wine is known for its minerally, bone-dry,  and citrus-edged profile. Although I thought the wine was intriguing, what really blew my mind was how it is grown. They train the vines into a crown. A 2016 article in Decanter provides a thorough background on the grape. 
ASSYRTIKO IS GREECE'S most striking white grape. It hails from the Cyclades island of Santorini and covers 65% of its vineyard area, where many vines are ungrafted and vary in age from 60 to 250 years. On this windswept volcanic isle, the roots of the Assyrtiko vine can reach up to 18m in the black, ash-rich soil, giving the resulting wines great minerality. The vines are uniquely trained in groundhugging, basket-weaved fashion to minimise wind damage during flowering, as well as grape sunburn. Maritime humidity and fog contribute to an annual rainfall of just 350mm in this improbable winemaking location. Different altitudes, latitudes and soils on this island result in varied styles. Wines classified as 'Santorini' are bone-dry, in-your-face, crisp, mineral-laden, high-acid wonders. Field blends of white grapes include the softer Athiri and the aromatic Aidani (it was only possible to produce a 100% Assyrtiko with the advent of sorting belts, where selection is done by hand).
Sauvignon Blanc + Mozzarella = Heaven
Actually it equals Horse Heaven Hills by Columbia Crest. If you are a regular reader of this blog, you should be familiar with H3. Columbia Crest is my go-to winery and H3 is the brand that I typically drink. Horse Heaven Hills is located in the south-eastern portion of Washington and has produced four 100-point wines. The AVA is the home of 27% of Washington's vineyard acreage. This Sauvignon Blanc is a blend of 97% Sauvignon Blanc and 3% Chenin Blanc.
I really hadn't planned on having much of a dinner, but when ordering out for Italian food became an option, I immediately started dreaming about a mozzarella, tomato and roasted bell pepper sandwich. If heaven is like they show it in the movies, where you see what you want to see, mine will have this sandwich available to me at all times! When you lightly toast the bread and add quality balsamic vinegar… Mmmm Mmmm Good! In fact, it is so good, that I made it through half of the sandwich before I remembered I never took a picture. (so sorry for the bite marks!)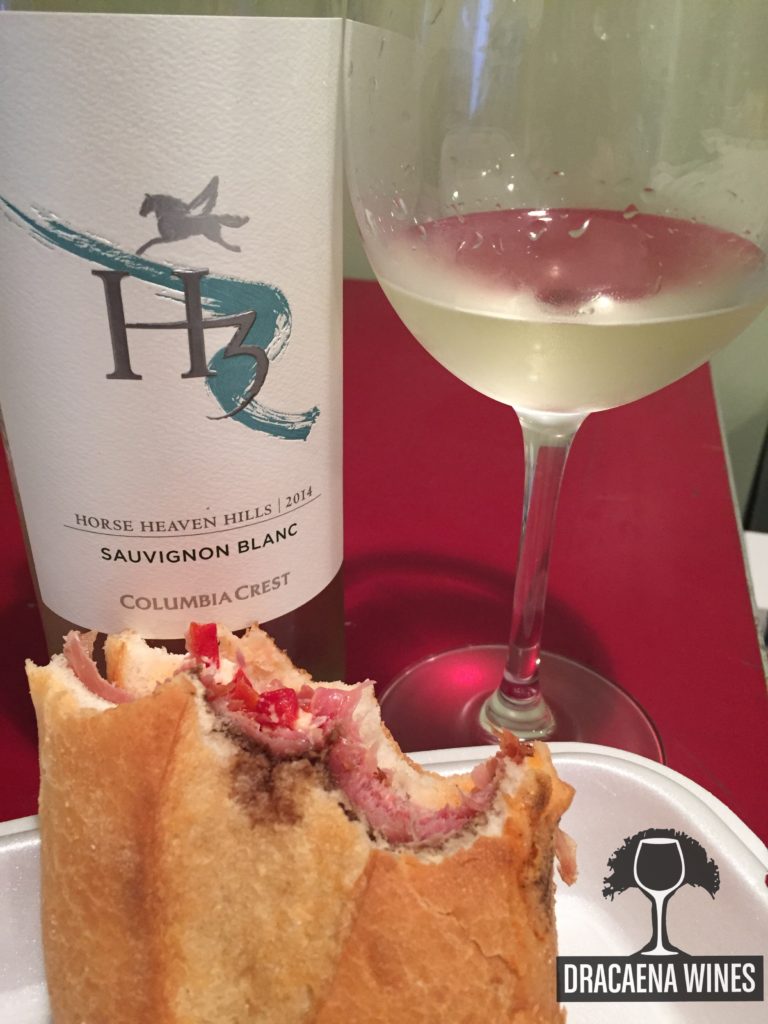 Hope you have had some great wines and times these past two weeks. Remember, always Pursue Your Passion. We would love for you to leave a comment telling us what your favorite recent wine was.
~Sláinte