We are all familiar with Bordeaux. Those beautiful, big bold, red wines that are either Cabernet Sauvignon or Merlot based. We immediately think of the Right and Left Banks. We find ourselves dreaming of the Garonne, Dordogne and Gironde Rivers meeting before continuing into the Atlantic Ocean. Pomerol and Saint Émilion jump into our thoughts, but there is another region that is full of diverse wines. A special region that is that is on the Right Bank of the Garonne River, just 25 miles southeast of the city of Bordeaux.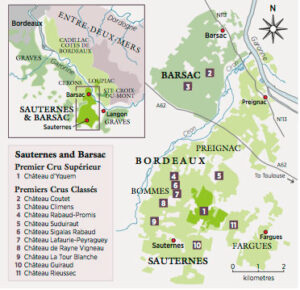 The Sauternes wine region is a compilation of five communes— Barsac, Sauternes, Bommes,  Fargues and Preignac. Sauternes, although haunted by some poor weather such as frost and hail, generally sees a maritime climate that is influenced by the two rivers, the warmer Garonne River and its tributary, the cooler Ciron. These rivers produce a mist that encapsulate the vineyards overnight and promotes the development of the Botrytis cinerea fungus. Since the mist dissipates by mid day, the grapes are able to dry. This allows for the desired Noble Rot to develop and not the less favorable gray rot.
When the microscopic spores Botrytis cinerea finds their way into the grape, dehydration and evaporation occurs. As a result concentrated grape juice and high acidity remain in the shriveled grape leading to an extreme intense flavor. Since Noble Rot is not all inclusive to the bunch, the grapes must be hand harvested over a long period of time picking each berry.
Sweet Bordeaux wines may be more on the expensive side, but when you consider what it takes to produce them, they are well worth it. The fruit is hand harvested, literally berry by berry. Much fruit is left behind as it may contain gray rot instead of the Noble Rot. It takes a trained eye and skilled harvester to go through the vineyard picking the ideal fruit. Multiple passes are required in order to fully harvest the vineyard.
We've stacked the odds so that you can get our award winning wines without breaking the bank. Click the image to find out all of the benefits of joining the CHALK CLUB including free shipping and progressive discounts.

There are only three grape varieties allowed to be labeled as Sauternes. The thin skinned Sémillon, that is most susceptible to the fungal growth, Sauvignon Blanc, and Muscadelles. Sauvignon Blanc, although not very susceptible to Noble Rot makes up approximately 15% of the plantings in the region, adds the acidity and freshness to the wine. Muscadelle, the smallest percentage of vineyards planted, adds to the beautiful aroma of these wines.  
In September, I attended a virtual tasting hosted by Gregory & Vine showing the diversity of these Sweet Bordeaux wines. Sommelier Yannick Benjamin led us through a lesson on Sweet Bordeaux as we sipped on four samples.
After a deep dive into the region and what makes Sweet Bordeaux so special, spirit educator Chasity Beasley, showed us her take on some classic mixed drinks. I loved the idea of her Sweet Bond, which is a variation on the Vesper. The original recipe calls for
Chasity replaced the Lillet, which is a blend of wines and macerations crafted in Podensac, Bordeaux, with the Sweet Bordeaux. Here is her recipe for this aperitif:
1 ½ ounces of Sweet Bordeaux

1 ½ ounces Grey Goose Vodka

1 ounce white vermouth to add dryness

¼ ounce St-Germaine liquor

Garnish: lemon twist
Add all ingredients into a mixing glass, add ice, stir (not shaken… it is an adaptation of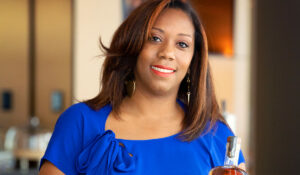 a Bond martini, after all) and garnish with a lemon twist.
According to Chasity, the sweet Bordeaux adds not only sugar to the cocktail, but also complexity. Typically, wine cocktails lack the flavors of stone fruits provided by the sweet Bordeaux.  She mentioned that the sweet Bordeaux demonstrated the terroir and eliminates the taste of "alcohol" in the drink. Since the use of sweet Bordeaux lowers the overall alcohol content it is an easy sipping and elegant cocktail.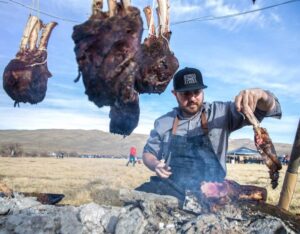 After wetting our whistle on some incredible cocktail suggestions, we drooled all over our screens as Chef Justin Kingsley Hall showed us three incredible BBQ pairings. It has been said that sweet Bordeaux best are best enjoyed with salty cheese, spicy food, but his suggestions of New Orleans BBQ shrimp, smoked quail with rice and sausage stuffing with grilled blackberry jus and grilled 100% grass-fed, pasture raised beef tri-tip with chimichurri had us all packing our bags and heading to Las Vegas to try these meals for ourselves. 
Chef Justin loves contrasts in his food. He feels the heat an spiciness of New Orleans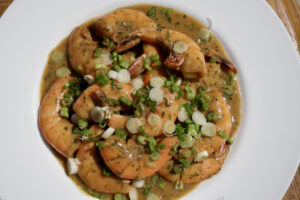 style Cajun creole cooking is ideal for sweet Bordeaux wines. Additionally, the age and complexity of the wines match nicely to the bold flavors, smoke and gaminess of the quail.
As you can see, sweet Bordeaux is so much more than just an after dinner, dessert wine. In fact, keep in mind that Sauternes, due to its high sugar levels, does not pair well with dessert. They are complex wines that have so much to offer and can be enjoyed upon release or cellared for decades.  
~Sláinte!
Dracaena Wines has received consistent 90+ ratings and multiple Double Gold medals. Click image to order yours today and let Dracaena Wines Turn Your Moments into Great Memories!