Fàilte! Welcome to the next installment of Exploring the Wine Glass. Mike and I are big proponents of you should drink what you like and you are the only one who can taste like you. We advocate the fact that everyone experiences the wine differently, so in these posts we do not discuss our tasting notes.  Instead we include basic information about each of the wineries, and/or a bit about what was happening in our lives while we were enjoying them. With that said, if you are interested in reading our tasting notes and our ratings head on over to Delectable and check us out @Dracaenawines. We tell it as we taste it over there.  As always, since as oenophiles we love to celebrate #WineWednesday, our week runs from one Wednesday to the next. 
Week 1
It finally happened! Ferrari Carano followed us back! I know you are probably thinking, REALLY? This is what gets you so excited?!  Well, yeah.  They are my all time favorite winery.  When I'm in a bad mood, it's Ferrari Carano, when I'm celebrating, it's Ferrari Carano.  When we go to Napa/Sonoma, it is a countdown until  I can walk the gardens and taste their wine.  It's insane, I know. But they are the reason why I fell in love with wine.  I liked wine before tasting that '92 Chardonnay, but once I had that wine, I was hooked! They are what wine lovers call their "epiphany" wine. So when I saw the notification that Ferrari Carano followed us on twitter, what did I do?  I did my happy dance and I thanked @runningonpinot who helped in the plea. Then I opened a bottle of what else? Ferrari Carano, that's right.  I opened their 2013 Fume Blanc.
Ferrari Carano actually has two winemaking facilities. The one that everyone is familiar with contains  the Villa Fiore Wine Shop & Tasting Room.  This is known as the Estate Winery and is the home for their white wines. At this facility extreme care is taken to ensure the gentle handling of all their fruit.  Whole cluster fruit presses are used to provide a gentle crush while ensuring the maximum flavor extraction and stainless steel tanks without centrifuges allow the grape solids to settle naturally. Inside, they maintain five barrel cellars including the French underground cellar where the fermentation and aging of the Chardonnays occur.
Their red wines are made at the Mountain winery located on RockRise Mountain on the east side of Alexander Valley. The red berries are harvested in the old world tradition by hand at night.  This state of the art winery is set up with gravity-flow.  This allows FC to maintain their gentle processing philosophy even with their reds. Next to the winery is a 46,000 square foot underground cave where the fermentation and barrel aging occurs. They harvest their fruit from their non-irrigated RockRise and LookOut vineyards.  
Today we chose a wine from our "backyard." It seems that we have been doing that quite  bit, but hey, we chose the Central Coast for a reason. We love the area and we love the wine.  Tonight's selection was Dierberg Chardonnay. I spent the day making the "EASY" recipe for homemade gnocchi. I learned a very valuable lesson today. There is a BIG difference between easy and pain in the ass. This was a very easy recipe.  Potatoes, flour and egg, but damn was it a royal pain to make. Luckily, with the fresh herb pesto from the garden it was a great meal and paired well. 
Jim and Mary Dierberg traded in their careers in the banking industry to chase their wine dreams.  Initially they owned Hermannhof Winery in Hermann, Missouri. This is one of America's oldest winereies. They dedicated their time and efforts to renovating the property and creating a place for education and fun. The Dierbergs loved the area of Hermann, but it didn't provide them with the environment that they wanted for the varietals they loved so they began to search outside Missouri.  In 1996, they found Santa Barbara, and felt it was a perfect fit. Dierberg has  a second label, Star Lane out of Happy Canyon. 
Saturday, what a day! It was absolutely beautiful outside today. The humidity wasn't too bad and there was a nice breeze.  It was a windows open day, these are the days that I love.  
We went to  Fresco, in Montclair, a new restaurant (for us) tonight.  We enjoyed sitting outside, even though there was a group of very intoxicated women at the next table. There is only so many times that you can hear "You guys are the best friends EVER!" before it gets on your nerves, and when they pulled out another bottle of wine, I think I outwardly shuttered!  The drunkards aside, it was a wonderful dinner.  We started with a polenta appetizer, which I forgot to take a picture of.  Mike ordered a Margherita Pizza and I had Orecchiette with fennel sausage and broccoli rabe. The food was spectacular.  Montclair is another town that is full of BYOBs. I know we are so lucky to have these restaurants that don't even charge a corkage fee!  We brought a 2011 Epoch Creativity. According to their website: 
In a given vintage, there is always a single lot of wine — from harvest to fermentation — whose unique character screams at us to leave it alone rather than including it in a larger blend. Creativity is just that, and what we call "winemaker's choice." There is no plan for what Creativity will end up being from year to year, but it promises to always keep us on our toes. Creativity represents winemaking experimentation, the chances we've taken in the vineyard and winery, and sometimes just pure delicious luck! It is only fitting that we commence our first vintage of Creativity with the wine that brought this label to fruition, a single pick of Grenache from our Catapult Vineyard during the 2011 vintage. Super limited in production, this wine will never ever be recreated! -– Jordan Fiorentini, Winemaker
Scores: WA 93; IWC 92
In 2011, Creativity was 100% Grenache, and it definitely screams to leave it alone and not blend! We do not buy too many Grenache's, in fact, this may only be the second one we have purchased. (Beckmen Vineyards being the other) but the winemaker made a phenomenal choice with this vintage. 
Week 2
Can you say "ONE WEEK?" Yep, that's what I have left to this school year! WOOT WOOT! I know people think teachers have a cake walk job, but with the risk of annoying people, we need summer vacation. It is a different world in the high school.  But I have to say, for all the BS that I deal with, every so often you get that one kid who makes up for all of it.  This marking period it was Danny.  He entered my class hating phys. ed and spent the first few days with me yelling at him and sitting him out.  It was a normal day for him to scream out "I Fn HATE GYM" or to be throwing the equipment across the gym.  After about a week of this, we had a heart to heart. I sat him down and told him how it was.  I yell when he does something wrong, I am concerned about his safety (and others in the class) and if he just does what he is suppose to do, all is good in our world.  (it happened that two other kids did something stupid that day and I had to deal with them, so he saw that it wasn't just him) Safety in a Phys Ed class is the highest priority.  After that pow wow, he was  changed kid.  He became involved in all activities, he helped the other students with the activities and although he said he would NEVER climb when the climbing unit came, he was the first one up every day, GoPro and all. That is why I teach! To see this student go from hating phys ed to being actively involved and laughing – there is no reward better than that. 
Tonight's wine was a 2012 Columbia Crest Grand Estates Merlot  We've had this wine before and we always make sure we have it in the cellar.  It's one of our 'go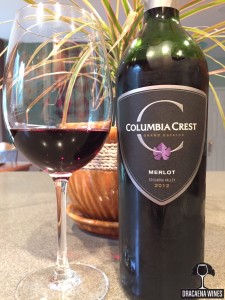 to" wines. Columbia Crest started what I consider one of the most brilliant social media blitzes.  They have allowed the general public the opportunity to make a wine through crowd sourcing. They are providing 5 acres of their reserve grapes to the public to make a Cabernet Sauvignon. Through social media, the public gets to vote on what Columbia Crest does with this fruit.  They vote on when and how to canopy trim, irrigate, and harvest.  They get to vote on the blending process and label design. They provide the weather analytics and all other information a winemaker takes into account when he produces a wine. How awesome is that?! Of course they have vineyard cameras so you can check out the grapes anytime you want. There is no other word that comes to my  mind other than Brilliant!  So go ahead, get involved in the wine making process with Columbia Crest. The 2015 vintage information can be found here. 
Happy Friday everyone!  It was another beautiful day here in Northern Jersey, and it is the last Friday of the school year. I spent it taking down all the belay ropes and replacing with haul cords.(which meant lots of climbing for me) I brought in all the harnesses and hardware and made a checklist of all new equipment we will need for next year. Project Adventure is officially done for the 2014-2015 school year. 
I celebrated with a 2010 Zaca Mesa Winery Z Three paired with Chicken Fajita Pasta using MangiaTV's dry rub. It was a fantastic pairing and so easy to make. It was made even better by enjoying it in the yard. 
Zaca Mesa is located on Foxen Canyon in Los Olivos and is in such a beautiful area.  They have a hiking trail that begins right off of their parking lot and leads to a beautiful lookout. The vineyards are located in the northern most portion of Santa Ynez Valley, with an east-west exposure allowing for the Pacific Ocean to influence the fruit by providing cool morning fog and an afternoon breeze.  When they first planted their vines in 1973, Zaca Mesa went all out with many varietals, but once they planted Syrah in 1978, they realized their soils were a perfect match and decided to focus on Syrah (over 10 clones) and other Rhone varietals. 
With tomorrow being Father's Day, that means I will not be making pizza for Mike and that just isn't acceptable in Mike's world.  He lives for  Pizza Sundays. So I decided I would make it for him tonight.  We didn't use all of the chicken we had defrosted for the chicken fajita pasta last night, so I thought I'd make buffalo chicken pizza.  When I asked Mike if that was alright with him, I didn't even finish my sentence before he said "Yes." I marinated the chicken in Frank's Red Hot Sauce with a little butter and then made my normal pizza dough.  I added a little bit more Frank's on the dough before adding the sauce, chicken, and mozzarella cheese.  We paired the pizza with a 2012Turley Pesenti Vineyards Zinfandel.  
Turley Wine Cellars are the proud makers of thirty-four wines. The majority of the wines are single vineyard designations of Zinfandel and Petite Syrah.  Their
vineyards span throughout California including Lodi, Napa, Howell Mountain, Sonoma, Amador County, and our wonderful home of Paso Robles. Pesenti Vineyard, on the west side of Paso, is a certified organic vineyard that was planted in the 1920's. The soil is comprised mostly of limestone and the vines are dry-farmed and head-trained.  Turley has two tasting rooms. One located in Amador County where you can enjoy their bocce court & picnic tables, and a food truck every 3rd Saturday. The other tasting room is in Paso Robles where you can celebrate Pizza Fridays.  Every other Friday beginning in early May, Chef Jeff Scott prepares handmade pizza and you can listen to local live music. 
Hope you have had some great wines and times these past two weeks. Remember, always Pursue Your Passion.  We would love for you to leave a comment telling us what your favorite recent wine was.
~Sláinte