Fàilte! Welcome to the next installment of Exploring the Wine Glass. Mike and I are big proponents of you should drink what you like and you are the only one who can taste like you. We advocate the fact that everyone experiences the wine differently, so in these posts we do not discuss our tasting notes.  Instead we include basic information about each of the wineries, and/or a bit about what was happening in our lives while we were enjoying them. With that said, if you are interested in reading our tasting notes and our ratings head on over to Delectable and check us out. We tell it as we taste it over there.  As always, since as oenophiles we love to celebrate #WineWednesday, our week runs from one Wednesday to the next. 
Week 1
Hope everyone had a great Wine Wednesday. Our's was a very long one thanks to United Airlines and their delays.  Before heading to SFO to wait on our plane, we woke up early to head over to one of the vineyards that we source our Cabernet Franc from. We spent a few hours there with the vineyard owner and our consulting wine maker, Jeremy. You can read about why we are so thrilled to get Plummer fruit here. I posted pictures of our fruit on twitter and instagram and joked that we were expecting in October.  (I think I shocked a few people, until they actually looked at the pictures)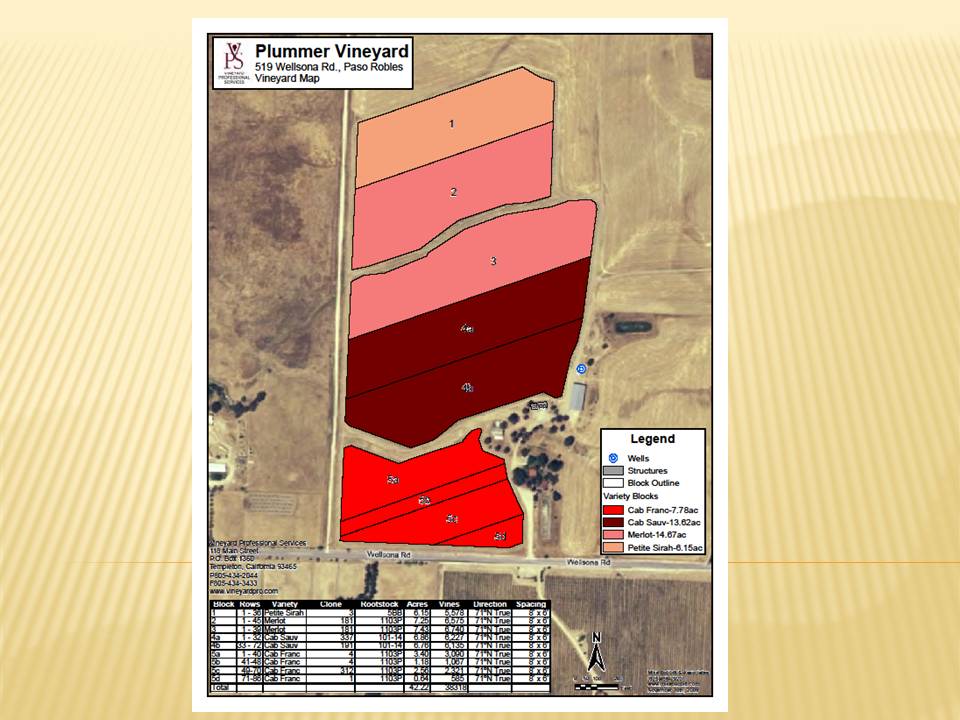 In case, you aren't familiar with how vineyard owners grow their fruit, they break the vineyard down into blocks. There can be multiple blocks of the same variable. Typically a block is designated by where and how the vines are planted. [orientation, trellising, processing] You are probably familiar with vineyard designated wines, but there are some wineries, more and more, who are even block designating wines.  In some cases, it is just a marketing ploy, but block to block variations can be very significant, especially when the vineyard manager treats them differently.  So here is Plummer Vineyards and our little block is called 5C.  Maybe one day, when we get bigger we will honor this block with its own name.  Who knows. (please forgive my lack of technical skills, I couldn't get the picture to be any clearer since I had to change it from a PDF. But our block is in red towards the bottom of the diagram. We are in the third row. If anyone knows an plug-in that allows you add PDFs directly to a wordpress blog, I would greatly appreciate you letting me know, it's a royal PITA to go through the process I do.) 
This is going to be a great week for me.  I may not be drinking much wine [Boo!] but I will be spending it with my family in Cooperstown, NY.  My brother and nephew, who live in Gurnee, Illlinois, are coming to Cooperstown for my nephew's baseball tournament. We are all going to see him play. It will be great having the whole family together for the week.  It is only a three-hour drive to Cooperstown, yet I have never been there.  Looking forward to seeing some the Mets greatest at the Hall of Fame. 
Week 2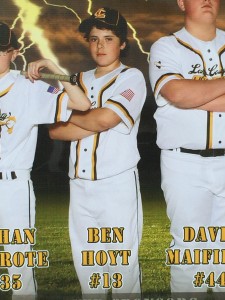 You may want to sit down before reading this next portion. I am pretty sure you are not going to believe what I am about to say.  But my prediction last week was correct. It is currently Friday- Yes, Friday morning and as you can see- there is not a single picture of wine! Can you believe that?! Nine days and no wine? I guess that is what happens when you are in the middle of New York State. I got to spend the week with my brother and my nephew. Actually, I got to spend the week with my whole family! I drove my parents to Cooperstown last Friday morning to watch my nephew play in a baseball tournament.  They live in Gurnee, Illinois, so we don't get to see them too frequently.  My other brother also came up with his family and we spent the week in a wonderful log cabin on a private lake. It was about a 25 minutes drive to the All Star Village where my nephew was playing.  It was a great time.  My nephew, Ben has grown so much since the last time I saw him (about a year ago) and without any bit of prejudice- damn he is quite the athlete.  He batted .400 with a homerun and 3 RBIs. He pitched, played third and played in the outfield.  He had two put outs at home from the outfield and an amazing play at third.  I could not be more proud!  I was beaming the entire time I was there and it was wonderful to see his smile on a daily basis.  
But with being in Cooperstown, actually the house was in Maryland, NY, there was no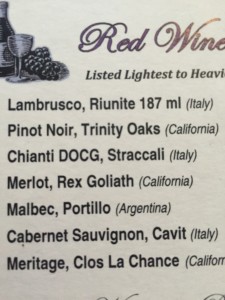 wi-fi.  The only time I could be on-line was when we were not at the house. I did post lots of pictures of his play while we were watching him, but I didn't want to miss him playing, so I was technology free for the most part. What a change! In addition to being technology-free, I was wine free.  I had ONE GLASS of wine for the week. We went to a local Italian restaurant during a rain delay.  It was fantastic!  I ordered a simple calzone, but the family had full meals. Shrimp arribiatta, veal parmigiana and chicken parmigiana. All meals came with a salad and bread with olive oil and spices.  It was a great meal.  This is where I got to get some vino.  I opened the wine list, and sorted through the wines by the glass.  Here were my choices. Quite the list, isn't it? Anyway, I went with the Trinity Oaks Pinot Noir and I have to say, I was pleasantly surprised. Reasonably priced at $6.50 for the glass, it was enjoyable.  According to their website:

 The Trinity Oaks winemaking team pays close attention to developing California's top vineyards with a focus on coastal climates proven to produce superior, expressive fruit. Each year we select the finest fruit from these growing regions to carefully craft our portfolio of wines. The final achievement is a fruit-forward, food-friendly style consumers have come to expect and appreciate.
This wine was comprised of 77% Pinot, 13% Syrah, and 10% Petite Sirah and was harvested from 53% fruit from Lodi/Delta region and 47% from our wonderful Central Coast.  It won a Gold Medal in the San Francisco International Wine Competition in June 2015. I will keep this wine in mind the next time we are searching for some nice red Wednesday wines.  It is a solid wine and what I LOVE is that for every bottle purchased, they will plant a tree. At the time of writing this, 12,791,814 trees have been planted. On their website it states One bottle = one tree no limit. How cool is that?! You can read more about their green mission here.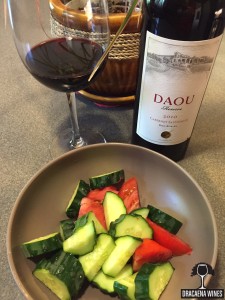 It's Friday evening and we celebrated with some wonderful veggies from our garden and a 2010 Daou Vineyards Reserve Cabernet Sauvignon. We added some brats that I brought back from our Cooperstown trip and we settled in for a nice dinner on our patio.  Daou is another Paso Robles winery that if you are not familiar with, you are going to want to remedy that quickly. Daou Vineyards is located 2,200 feet above the main road in the in the Adelaida region and provides amazing views. The property is located on a mountain nicknamed Daou Mountain. The tasting room is a Spanish colonial style structure at which a bell hangs at the entrance.  The bell, which can be seen on their label, is dated 1740.  The brothers. Daniel and Georges, recovered the bell from a monastery in Spain.
Last night, Saturday, Mike and I went to our very good friends' home for dinner. We have known John and Karen from Jean Edwards Cellars for about 25 years. They are wonderful friends and we love getting together with them.  When the four of us get together, time flies along with the wine. I had put together a charcuterie platter which we opened a bottle of Domaine Ste. Michelle extra dry sparkling wine with.  Once we were done picking through that, Karen made caprese salad with burrata, a soft creamy mozzarella. With that course, we had the not yet released Jean Edwards Cellars inaugural vintage of Sauvignon Blanc. After the salad, we then had pizza from the most amazing place in the area, Reservoir Tavern. This place has pizza down to a science.  You call ahead and they give you a time.  The pizza comes out when the clock on their wall hits that time.  I don't know how they do it, but they always do. With the pizza, we opened a Sextant Passage, which is a GSM and another Jean Edwards Cellar wine, but this time we got the 2012 Calistoga Petite Sirah . The evening ended around 12:30 am after a lot of food, wine and laughing.  Evenings don't get much better than that. 
Ah, it is Sunday and we chose to have some more wine.  I guess we needed to make up for lost wine time.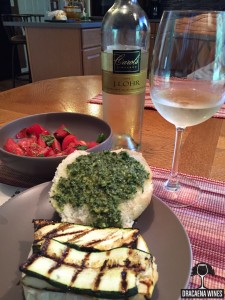 Tonight, we pulled some more fresh veggies from the garden. Mike grilled up zucchini and squash and made some fresh basil pesto. We also had fresh tomatoes with balsamic vinegar.  One of the things I love most about the summer, other than not having to be in school, is the veggies.  Grilled veggies make me happy. We paired it with a J. Lohr Carol's Vineyard Sauvignon Blanc.  We purchased this wine on our last trip to Paso Robles and thought we would try it at home since we could purchase more next month when we bottle. When we purchased this, it was solely on the fact that I thought it was a fantastic wine, but after looking at the bottle, I learned a bit more about the vineyard and their very special mission. 
HONORING A LEGACY
Seven years ago, J. Lohr began the Touching Lives program in memory of Carol Waldorf Lohr, late wife of Founder Jerry Lohr. In 2008, Carol passed away unexpectedly due to complications related to breast cancer.
TOUCHING LIVES, ONE TOAST AT A TIME
In 2015, to touch the lives of women and their families, J. Lohr is continuing its partnership with NBCF, a relationship that has provided over 4,000 mammograms to women who would otherwise be unable to afford them. This is our way of not only honoring the legacy of Carol Lohr, but is also our commitment to curtailing the impact of breast cancer on the lives of other families. While also celebrating J. Lohr's 40th anniversary this year as family winemakers, we are happy to report that your support has helped us exceed our goal! But we still need your help to spread the word about early detection as we continue to champion our efforts to raise awareness. J. Lohr Vineyards & Wines donates $2 to the National Breast Cancer Foundation for every bottle of J. Lohr Carol's Vineyard Cabernet Sauvignon or Sauvignon Blanc purchased.
Hope you have had some great wines and times these past two weeks. Remember, always Pursue Your Passion. We would love for you to leave a comment telling us what your favorite recent wine was.
 ~Sláinte