Fàilte! Welcome to the next installment of Exploring the Wine Glass. Mike and I are big proponents of you should drink what you like and you are the only one who can taste like you. We advocate the fact that everyone experiences the wine differently, so in these posts we do not discuss our tasting notes.  Instead we include basic information about each of the wineries, and/or a bit about what was happening in our lives while we were enjoying them.
Want to know what we think of the wines? Do you want a little insight into our palates? Then head over to Delectable and check us out. We tell it as we taste it over there. Click here to see the chart we use to describe the color. A video of them as they are poured is found at the end of the post. Visit our YouTube Channel to see other wine videos. As always, since as oenophiles we love to celebrate #WineWednesday, our week runs from one Wednesday to the next.
There's Two Moons on the Rise
If you are a regular reader of this blog, you know that we are very friendly with Steve Gleason of Four Lantern's Winery in Paso Robles.  We became friends because of our weimaraner, Draco. Mike and I would host an annual party at our home called Weim and Cheese as a fundraiser for our local Weimaraner rescue group. This is the same group that we got Vegas from, so we owe them a lot! Anyway, one of the very first parties, Amanda and Craig Gleason visited and we found out about their uncle Steve who has a winery in Paso. We couldn't believe how small a world it was. At the next party, they brought us a bottle of II Moons Ardor. Winemaking is in the Gleason family, because II Moons is owned by John Gleason. 
II Moons is a collaboration between John Gleason and Neil Roberts. Neil began his career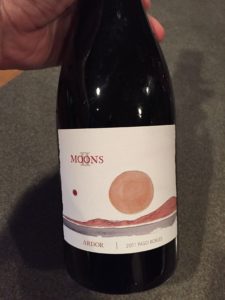 working with the Mondavi family. He used what he learned through the years to ultimately create his own label, Clavo Cellars in 2004. The goal of II Moons is to produce high quality, lower alcohol Central Coast wines. The 2011 Ardor received a Gold Medal in the San Francisco Chronicle Wine Competition, retails for $56 and is a 50/50 blend of Mouvedre and Syrah. I paired the wine with take out pizza and it was great the first night and even better the second! 
Time for Cider
Every so often, on that rare occasion, you need to open something other than wine. I know, I know, you are asking what the heck am I talking about!  Honestly, the real reason for a non-wine night is that the big move is happening this weekend. The movers came to pack up the house and I thought it would be difficult to have a bottle of wine without anything to open it with or pour it into, so I decided to get a bottle of hard cider.  However, that totally backfired on me, since it turned out the bottle needed a church key to open and I didn't have one! Oh the curse words that came out of my mouth! 
I tried everything that I could think of that I still had access to. First up was the corner of the cement overhand in the basement. You see it all the time on TV and there are loads of articles on the web. Simply put the cap on the corner of a table and smack it down, Voila, open bottle – NOT!  Next came a key.  I've seen that too- NOPE! Dollar bill rolled tightly and folded, should be a snap- NOT EVEN CLOSE! For a brief moment I thought about using my teeth- a guy I work with once showed me he can open a beer bottle with his mouth. I ultimately opted against that, considering my parents paid a lot of money for braces when I was younger and didn't know how I would explain my newly chipped tooth. Ultimately, I called a neighbor down the street, put on my coat and walked out in the snow to borrow a bottle opener. 
Finally opened, I popped the last of the pizza in the microwave (on borrowed paper plates), turned on the TV to watch the football game and enjoyed my Doc's Draft Raspberry Hard Apple Cider. Doc's Hard Cider is a product of Warwick Winery. Located in the Hudson Valley, the tasting room has an impressive outdoor area and an amazing restaurant inside.  The pizza is amazing along with their salads!  Open all year, they have free music on weekends. Unfortunately, they now charge for parking and have become non dog friendly. 
Wednesday = Wine and Cheese
Wednesday is such a great day. In addition to being Hump Day (and this week was a short week thanks to the holiday on Monday) it gives us winelovers something to look forward to. A night we know we will be opening a bottle of that precious juice.  This Wednesday was a hectic one. Immediately after work, I ran to the lawyer's office to pick up the checks from the closing on the house. I had to get to the credit union to deposit the checks by 3:30 and our lawyer was in the mood to chat. UGH! I graciously listened to his story of how he was at our closing later than he thought and how his cousin was waiting for him because he had agreed to have lunch. He proceeded to explain that everything was held up because of some mirrors in the closing of our buyers sale of their house.
In my head (and maybe a mumble out loud) I was counting the minutes as they ticked by. Finally, he finished, I thanked him, shook his hand and hauled my butt out the door. Ran to Cablevision to drop off the equipment that they told me I needed to return or I would be charged something around $800. Jumped back in my car and zoomed to the Credit Union with 5 minutes to spare! Whew! As I was leaving, I got a craving for cheese. I googled cheese shop, and to my delight only 3 miles away was Chez Cheese! What I found was Midnight Moon Goat Cheese by Cypress Grove. Wow! This cheese was amazing. At $25/pound it should be, but hey, I was only getting enough cheese for myself, so it wasn't too bad.  The cheese is aged for a minimum of six months and has a  nutty caramel finish. The best part were those protein crystals that gives it the little crunch that I love so much. 
In my glass was a Columbia Crest Grand Estates Merlot. There are three levels of wine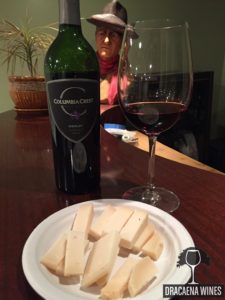 within the Columbia Crest label. The Reserve Wines are "Sourced from premier vineyard sites and meticulously hand-crafted in our Petit Chai – a "winery-within-a-winery" – our Reserve wines represent the pinnacle of winemaking at Columbia Crest." The H3 label are wines that are "created to celebrate the winery's rich heritage in the Horse Heaven Hills as well as its innovative spirit with regards to winemaking and viticulture practices. Grapes from this AVA produce bold, well-balanced and seductive wines." Finally the Grand Estates label provides a "combination of artisan winemaking with the best vineyards in the Columbia Valley to craft world-class wines of outstanding quality and value. Every bottle of Grand Estates is crafted to capture the authentic interpretation of the varietal."
Wine + Good Friends = Great Night
It's Saturday night and I was very happy to be spending the evening with our good friends John and Karen. It is always a fun time when we get together and it never ceases to amaze me how fast the time flies.  Tonight, we simply ordered Chinese food.  I brought Cooper and Oakley their Christmas presents from Santa Paws and they seemed to enjoy them! (the video is a bit dark though) 
We began with an Austin Hope 2012 Grenache from Paso Robles in our glasses. Part of the Hope Family Wines, Austin Hope began his studies at Cal Poly and apprenticed with Chuck Wagner and in the Rhône Valley. He believes in being actively involved in every aspect of the winemaking process – from vine to bottle. Austin Hope maintains a brand that  is artisanal. This wine is often only available to the wineclub and at the tasting room,so if you find it at a local wine shop, you may want to pick it up along with buying a lottery ticket, because it is your lucky day! 
The second bottle we opened was Madrigal Family Winery 2007 Petite Sirah. Madrigal is located in Calistoga and is run by Chris Madrigal.  The winery story has been continuous since the 1930s when Chris' grandfather began the relationship with the land and people in the region after he left Mexico in order to farm apples, pears, walnuts and grapes. It was Chris' father, Jess, who ultimately decided to move away from the other crops and focus solely on grapes.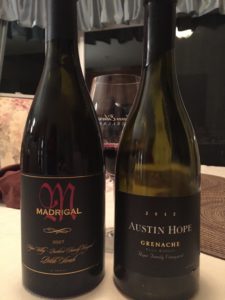 Hope you have had some great wines and memories these past two weeks. Remember, always Pursue Your Passion. We would love for you to leave a comment telling us what your favorite recent wine was.
~Sláinte