It has been quite some time since I published an Exploring the Wine Glass post.  It is not that I haven't been drinking wine, rather, I have enjoyed plenty! But November and and December were crazy with other things. I posted a #CabFrancDay post every Wednesday and Saturday throughout the month of November. December's Wednesday's were filled with more Cabernet Franc (and its' versatility), participation in #MWWC telling the story behind Dracaena Wines, a post about my introduction to Virginia Wines thanks to Frank Morgan and finally, of course I had to write a Christmas post! That didn't leave much time to write about the wines I was enjoying.
Fàilte! Welcome to the next installment of Exploring the Wine Glass. Mike and I are big proponents of you should drink what you like and you are the only one who can taste like you. We advocate the fact that everyone experiences the wine differently, so in these posts we do not discuss our tasting notes.  Instead we include basic information about each of the wineries, and/or a bit about what was happening in our lives while we were enjoying them.
Want to know what we think of the wines? Do you want a little insight into our palates? Then head over to Delectable and check us out. We tell it as we taste it over there. Click here to see the chart we use to describe the color. A video of them as they are poured is found at the end of the post. Visit our YouTube Channel to see other wine videos. As always, since as oenophiles we love to celebrate #WineWednesday, our week runs from one Wednesday to the next.
Mandatory Christmas Cheer Bottles
Mike and I enjoy our wine, [obviously], but we actually do not drink it every night. However, something about Christmas break makes it almost mandatory to open a bottle each night. Do you agree?
J. Dusi "The Don" 
I received a spectacular wine opener from Domaine DuPaws in the mail. I absolutely love their concept. "Free some wine, feed some furry friends." 
We are lovers of wine, design, dogs and cats (in no particular order).  We want to fill the world with goods that do good and we hope you'll join us on the journey.  With your help, we'll donate a minimum of 1 pound of food for every product sold to provide assistance to animal shelters, helping to feed cats and dogs and allowing them to allocate more resources to getting those furry friends adopted and in a loving home.
It came in a fantastic little carry case and I wanted to try it out right away.
We decided to open a J. Dusi wine from Paso Robles. Let me just say that both the wine and the wine opener were fantastic! Janell was born to be a winemaker. Her heritage in the wine industry dates all the way back to the 1920's with her great-grandparents.  She believes in 100% hands on involvement in each and every step of the winemaking process. You can see Janell working in vineyard, driving the tractor and cutting the fruit during harvest. There isn't a single aspect in the process that she is not engrossed in. If you are in PasoRobles, you are going to hate yourself if you do not stop into her tasting room. 
Kendall Jackson Riesling
We chose this bottle to be our pre-Christmas dinner wine. We paired it with some specialty cheese we received from Harry and Davids. Our Christmas day was a quiet one.  It is tough moving into a new house during the holidays and even tougher when you still have all your belongings in New Jersey while you are in California to celebrate the holidays. Not to mention this was my first Christmas EVER away from my family and it was rough not seeing my mom and dad on my favorite holiday.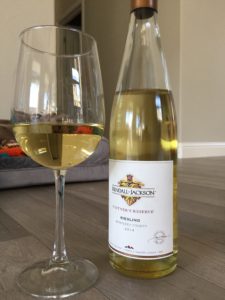 The Kendall-Jackson Wine Estate and Gardens was built by Ken De Baun in 1990. He originally built this facility to be used as the tasting room and as a special events site for his winery, Chateau de Baun. Kendall-Jackson purchased the building in 1996 to be an educational destination for all things food and wine.
The Riesling comes from Monterey County which is known for its long and cool growing season. Kendall Jackson has, in my opinion, one of the  best sites for a comprehensive look at their wines. On their site, they have pages that provide primary aromas and flavors, food and wine pairings, ideal serving temperature and recommended wine glass shapes for each of their wines.
Mooney Pinot
Mooney Family wines is a "Pinot Passionate" program by Michael and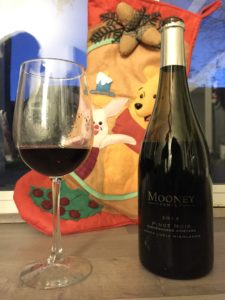 Margene Mooney. They work extremely close with the top growers in the Santa Lucia Highlands to guarantee the best fruit for their Pinot. Their story dates back over seven generations. Michael, a successful tech salesman decided to pursue his passion for wine. He decided to purchase a home that had potential for vineyards in the Creston area of Paso Robles. Their initial label, Chateau Margene focused on Bordeaux varietals. Their inaugural vintage (1997) was greeted with immediate success receiving two 94s in Wine Enthusiast. In 2006, Michael wanted to expand to Rhone varietals, so he created the Mooney Wines label. But his love for terroir focused Pinot, was the driving force, so the portfolio quickly turned to vineyard designated Pinot and small lot Chardonnays in the Santa Lucia Highlands.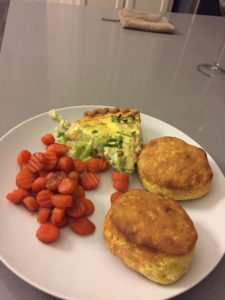 In case you didn't know, I am not a fan of meat. I am an oxymoron in real life. For as much as I love wine, I really am not a fan of food. My food palate prefers simple. I am not one to enjoy fancy restaurants or snazzy meals. Give me pizza, pasta, and cheese and I am good to go.  I will eat chicken if it is hidden (like in Chicken Parmesan) but I do not eat any type of beef or seafood. Now bacon is a different story! I will chow down on that! So for our Christmas dinner, since it was only Michael and myself, he made me a perfect meal.  Broccoli Quiche with candied carrots and biscuits. In my opinion, it should be illegal to celebrate any holiday without biscuits! 
Post Christmas Cheer
Located on Foxen Canyon Road in a little adorable town known as Los
Olivos, Fess Parker Winery sits upon a beautiful site. The site that caught the late actor, Fess Parker's, attention in 1988. Best known for his roles as Davey Crockett and Daniel Boone, Fess Parker wanted a change and desired to create something that he could pass on to his future generations. Upon seeing this site, he knew he was home and decided to raise cattle, plant some vines to sell to the local vintners and begin a small winery. 
His son, Eli and daughter Ashley continue to work at the vineyard and maintain their father's vision. The vineyard is composed of the 120-acre Rodney's Vineyard, named after Fess Parker's late son-in-law, at the 400-acre Foxen Canyon Road on the winery site while they also source fruit from Camp Four vineyard in Santa Ynez Valley, which Parker planted in 1998 as well as vineyards in Sta. Rita Hills and Santa Maria Valley appellations.
A New Friend in Real Life
Between Christmas and New Year's I was working out when I received a text.  "Hi! it's Nick (WineCommGuy). I'm in town, want to grab a glass of wine?"  I immediately responded, "heck yeah!" So on New Year's Eve Eve (yes, that is what I really call it) we met at The Tasting  Room in Fresno. 
Let me tell you! Nick is an awesome guy! We had so much fun tasting through the lineup offered at the restaurant. We have the same sense of humor and pretty much the same taste in wine. The night flew by and I am honored to call him a friend.  We joked about Fresno – he grew up there and got out- we just moved there. He gave us the ins and outs of how to be act like a Fresnan. 
Nick was kind enough to bring us a bottle of Duck Pond Pinot Noir.  Duck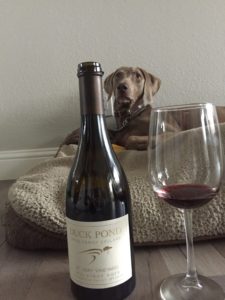 Pond Cellars, although a rather large producer, is a family owned winery located in Dundee, Oregon. Doug and Jo Ann Fries, moved from California's Central Valley to Oregon in the early 1980s. In 1984, they found property along the Willamette River in Dundee and planted a hazelnut orchard.  They were true oenophiles, so along with the hazelnuts, they decided to plant a 13-acre vineyard. 
Nine years later, Duck Pond Cellars officially opened their doors. They named the winery after their home on Sunriver's Duck Pond Lane.  Their first vintage of 1000 cases was sold strictly in the tasting room. Throughout the years, they continued to purchase land in order to plant more vineyards.  As the case production increased, so did Doug and JoAnn's desire to pay it forward. Duck Pond Cellars has implemented a special pricing program open to all qualified 501(c)(3) organizations for use in their fundraising efforts.
Happy New Year!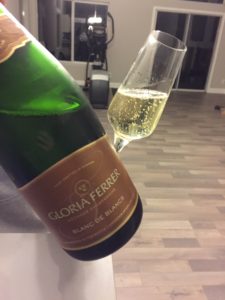 Well, 2016 is over! I know a lot of people said it was a horrible year, but for us, it was actually an amazing year! In terms of the winery, we received a Silver Medal in both the San Francisco Chronicle and Monterey International Wine Competitions and we received a 91 in Wine Enthusiast! We also sold out of our inaugural vintage! In terms of our personal lives, Mike and I celebrated our 21st wedding anniversary and he received an amazing opportunity that has relocated us to Fresno, CA. I know there are a lot of people who say "sorry" when we tell them we live there, but so far, it hasn't been bad and it does allow us to be a lot closer to the winery on a regular basis. No more six-hour flight then a three-hour drive. 
Does anyone celebrate the arrival of a New Year without bubbles? I am a Sparkling maniac.  I love it and would be happy if I had a glass or two every night. However, Mike is not as much a fan as I am, so unfortunately popping a bottle is often relegated to special occasions. For this special evening, we chose to open a bottle of Gloria Ferrer Blanc de Blanc. (if you are interested in seeing a great infographic to help understand the sweetness levels of Sparkling wines click here)
Gloria Ferrer is rich in history. In fact they are the first sparkling wine house in Sonoma Carneros. I hope you enjoy this short video on their history.

Hope you have had some great wines and memories these past two weeks. Remember, always Pursue Your Passion. We would love for you to leave a comment telling us what your favorite recent wine was.
~Sláinte