Fàilte! Welcome to the next installment of Exploring the Wine Glass. Mike and I are big proponents of you should drink what you like and you are the only one who can taste like you. We advocate the fact that everyone experiences the wine differently, so in these posts we do not discuss our tasting notes.  Instead we include basic information about each of the wineries, and/or a bit about what was happening in our lives while we were enjoying them.
Want to know what we think of the wines? Do you want a little insight into our palates? Then head over to Delectable and check us out. We tell it as we taste it over there. Click here to see the chart we use to describe the color. A video of them as they are poured is found at the end of the post. Visit our YouTube Channel to see other wine videos. As always, since as oenophiles we love to celebrate #WineWednesday, our week runs from one Wednesday to the next.
Making IRL Friends in NYC
One of my favorite rides in the Magic Kingdom is "It's a small world." I know, I know…. somewhere around four minutes of the 10 minute ride most people go insane, but not me. My smile stays on and my head rocks back and forth for the entire trip. 
I think the majority of people tune out the words after the first verse, but there is a second, and that's the one I have always liked:
There is just one moon,
And one golden sun.
And a smile means,
Friendship to every one.
Though the mountains divide,
And the oceans are wide,
It's a small world after all
I think there is a comfort and knowing that no matter how crazy the world is, or how upset I was at any given moment, that everyone is seeing the same moon and sun. That's about as reflective as I am going to get, but looking at the moon or a gorgeous mountain has always been a calming moment for me. 
Why all these "deep thoughts?" Well, this past week I finally met someone who has made me laugh so many times that I can't count. Someone who has shared her enthusiasm and love of life with me on a daily basis for probably the past two years. Someone, who sends me DMs of photos that are wickedly humorous. Yep, friends through social media but never met in person, until last week. And to top it off, I didn't only get to meet her, I got to meet another social media friend, who made me laugh so hard that night, there is no way we aren't meeting up again! (on a regular basis)
Heather lives in Canada, so it has been a bit difficult to see her in real life. But last week she made a trip to NYC for a small vacation and I took advantage of it and went into the city to meet up. Bonus, another SM friend Cindy came too! She is the coffee ninja! So if you are a coffee fiend, check her out at thequeenbean.com. I am not lying when I say this was the best night in a very long time! We ate, drank, sang, danced (ok, I was the only one who went on the stage) and we shoved ourselves into one of the photo booths for goofy photos and most of all, we laughed our asses off!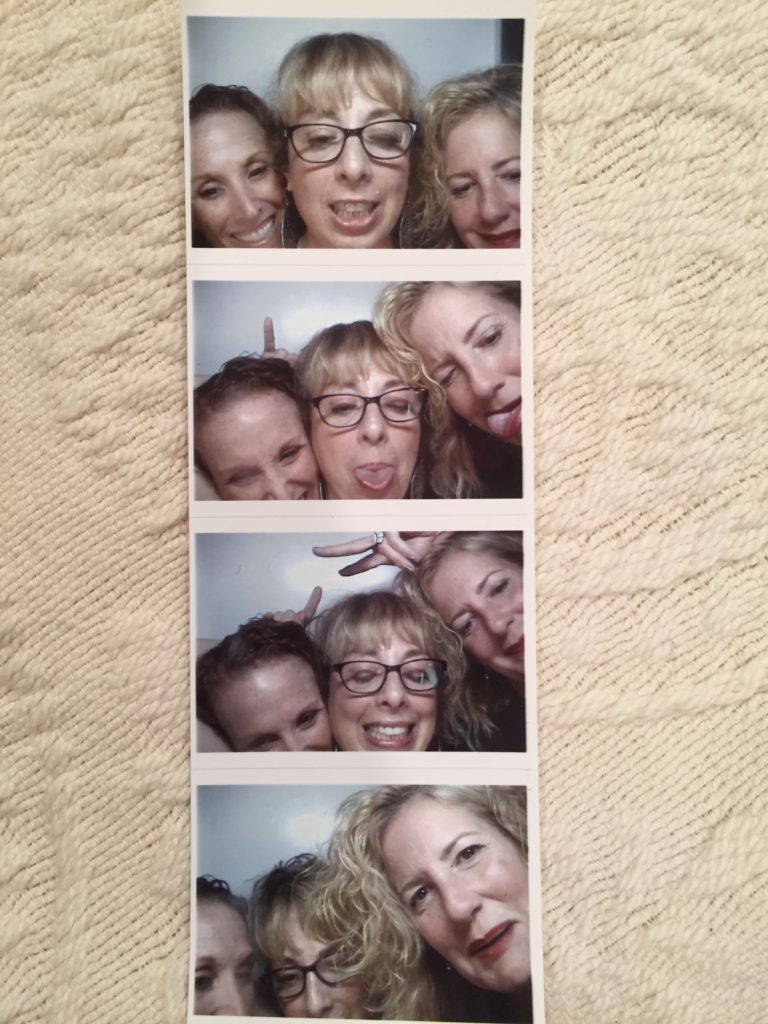 Continuing My Spain Exploration
After much debate of how I was going to get into the city, I settled on the ferry. (I am not a fan of driving in the city) It was a beautiful night and the ferry trip was perfect and the bus dropped me off two blocks away from Medi Wine bar and garden where we were meeting up. I got there a little early, so I plopped myself at the bar and asked what the house red was. It was a Tempranillo from Spain. I figured that since I had just enjoyed myself at Spain's Great Match two days prior, it was a good sign. So I ordered a glass. 
The 2015 Abadía Real Tempranillo hails from the Castilla y León region of Spain. This is the largest of Spain's 17 wine regions. There are twelves subregions within Castilla y León. The large diurnal shifts allow for slow ripening and results in wines that are rice and ripe. The region is most known for its Tempranillo, and this was a nice expression and at about $12 per bottle one I would pick up at the store. 
Dinner Time!
Once Cindy, Heather and Craig (another new friend!) arrived, we moved to the back garden for dinner. It was such a cute space. A hidden gem in the middle of Hell's Kitchen. We opened up with a sparkling rosé, but I totally forgot to take a photo, since we were already laughing so hard. It was a bit sweet for me, not my cup of tea. I ordered a Greek salad for dinner and it was just what I like in a Greek salad, less salad and lots of feta cheese! For our second wine, Craig ordered a Côtes du Rhone.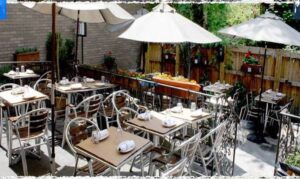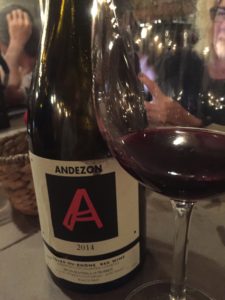 The 2014 Andezon is made up of 90% Syrah and 10% Grenache. The bottle was $55 at the restaurant, which I thought was a decent price, until I found out while researching it for the post, that it has a $10 price tag in Costco. I will admit, it tastes much more like a $20 bottle than a $10, but geez, that's one heck of a markup. 
From the importer:
Les Vignerons D' Estézargues is a co-operative cellar in the small town of Estézargues which is located near Avignon. Les Vignerons D'Estézargues is truly unique in the wine world. All over France the co-op still plays a very important role in the production and sale of wine. Co-ops receive grapes from members and then make wine from them, this wine is made in large batches and grapes from many different vineyards are vinified together; the focus is on producing wine in quantity.

Les Vignerons D' Estézargues takes a fundamentally different approach; starting in 1995 the ten different growers in this co-op began to vinify their wine separately and make single cuvées from their best plots. On the heels of the single cuvée evolution Les Vignerons D' Estézargues began to practice natural winemaking. Possibly one of the only co-ops in the world to do so, Les Vignerons D' Estézargues uses no external yeasts, no filtering, no fining and no enzymes are employed on the grapes during the winemaking process.

In 1994 Eric Solomon visited the Vignerons d'Estézargues and met a young, passionate director/winemaker named Jean-François Nicq. By the end of the day, he & Jean-François had decided on a custom bottling of old vine syrah from one of their best parcels, Andezon. This opaque-black, blockbuster Syrah could have been a top Northern Rhone wine, á la Cornas. What a find! Previously sold in bulk (vinous suicide) to a very famous producer in the Rhone Valley, Eric jumped at the opportunity and over a decade later it remains one of the core items in the Eric Solomon portfolio.
The Fun Had to End
After dinner, we walked a few doors down to a bar and found dueling pianos and some damn fine beer. We continued the fun and laughter until the wee hours of the morning.  Unfortunately, the fun needed to come to an end, and I headed back to the ferry. I loved seeing and meeting Cindy, Heather and Craig. They are a blast and the night is one I will always remember. The great thing about social media is although we can't see each other every day, we can still talk and make each other laugh. And thank you Heather and Cindy for your support! I hope you enjoy our Cab Franc. (and yes, Cindy- totally stealing your awesome quote "one to drink, one to share and one to hoard!")

#MerlotMe Month
October is #MerlotMe month so I figured it was a good idea to open one! I wasn't in the mood for a major meal, so I went to my favorite cheese shop and picked up some Piave cheese to pair with Murrietta's Well small lot Merlot. 
Growing grapes since the 1800s, Murrieta's Well is one of the original wine estates in California. They began their vineyard using cuttings Louis Mel brought over from the famed Chateau d'Yquem and Chateau Margaux vineyards in France when he built a gravity flow winery into the hillside.
Murrieta's Well, obtained its name in honor of Joaquin Murrieta Carrillo. Known as the Mexican Robin Hood or the Robin Hood of El Dorado, he is a historical figure in California from the 1850s. His legacy, whether an infamous bandit or a Mexican patriot, is the inspiration behind Johnston McCulley fictional character Zorro and discovered the property on which Murrieta's Well is now situated. Read more about Murrieta's legend here.

North Coast Wildfire Relief
I am sure you are all aware of the devastating fires that have hit our neighbors to the north. Napa, Sonoma and Mendocino counties have had communities completely wiped away from the fires and we are honored to join forces with other Paso Robles wineries in the "We are one wine community" fundraising event. 
We will be donating $4 per bottle of wine sold through the end of October. Together with the Paso Robles Wine Country Alliance, a donation will be made to the following charities helping those affected:
This is a win-win situation for you! If you place an order in October, you get our award-winning Cabernet Franc and you will be part of a bigger cause, helping out the people affected by this horrendous natural disaster. There is no minimum. So purchase a bottle, or a case; and we'll do the rest. $4 per bottle to those affected. If you are in the Paso area, head over to our fellow participating wineries. It's a guiltless way to build up your Paso wine cellar! Find out more at Paso Robles Wine Alliance.
Hope you have had some great wines and times these past two weeks. Remember, always Pursue Your Passion. We would love for you to leave a comment telling us what your favorite recent wine was.
~Sláinte!