Fàilte! Welcome to the next installment of Exploring the Wine Glass. Mike and I are big proponents of you should drink what you like and you are the only one who can taste like you. We advocate the fact that everyone experiences the wine differently, so in these posts we do not discuss our tasting notes.  Instead we include basic information about each of the wineries, and/or a bit about what was happening in our lives while we were enjoying them.
Want to know what we think of the wines? Do you want a little insight into our palates? Then head over to Delectable and check us out. We tell it as we taste it over there. Click here to see the chart we use to describe the color. A video of them as they are poured is found at the end of the post. Visit our YouTube Channel to see other wine videos. As always, since as oenophiles we love to celebrate #WineWednesday, our week runs from one Wednesday to the next.
Week 1 
Drink #Local
Last week's post was about the Fresno winery scene. This week we decided not to wait on opening one of the bottles.  We were making homemade chicken burritos and thought that the Engelmann Cellars 2013 Cabernet Sauvignon would go nicely. 
It's not a big, bold in your face Cab. I had to laugh at the back label when in addition to typical Cab food pairing of rib eye steak or tri-tip [which we learned is a major thing here in Fresno] they added [bctt tweet="This wine pairs well with a premium cigar on poker night." username="dracaenawines"] See that is just awesome in my eyes. And although I don't smoke cigars, I love the smell of them and can envision them going well. 
Their back label explains their history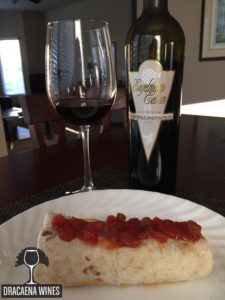 .  In their words:
In 1932, Phillip Engelmann bought a small plot of land on the west side of Fresno. Two years later he planted his first vineyard. In 2000, the same year that Bret Engleman's niece Ashley was born, the vineyard was removed and its second vineyard was planted to premium wine grapes for exclusive use in Engelmann's Cellars wines. The sandy, rocky soil puts extreme stress on the vines, which helps develop intense varietal character.
Paso Pinot (sort of)
We love J. Lohr wines. We frequent their tasting room a lot! The wines are stellar and the people are fantastic. As an added bonus, Vegas gets lots of love and treats.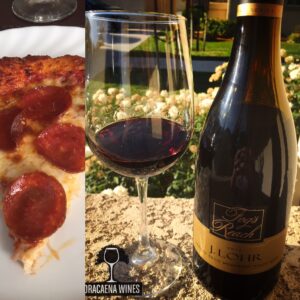 The fruit for this wine is located in the Fog's Reach Vineyard in Monterey county even though J. Lohr is located in Paso Robles. Located in the Arroyo Seco appellation, the vines see a cool and windy climate. The wine itself is a blend of three different Dijon Pinot Noir clones (115, 667, 777) in addition to Pommard 4.  Well drained loamy sand and fist sized cobblestones lead to the deep color and intense flavors. 
As with many Pinots they recommend trying with pan-seared sesame tuna, grilled portabella mushrooms or your favorite charcuterie. What did we pair with it? We are still on a mission to find our new pizza joint. So pizza it was! It's not a charcuterie plate, but it did have pepperoni. I'm not sure if that counts, but I will say, it paired well. 
Savor Every Sparkle
Mike is traveling for business. So I am on my own for dinner. What to do?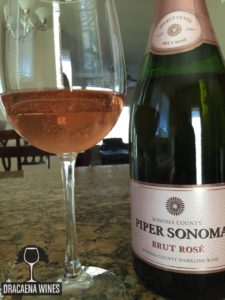 Well, there is left over pizza. Check! But what to drink? Hmm. Great question. I decided without Mike around I would kill two birds with one stone [or one bottle]. The above statement is the slogan for Piper Sonoma and I like that saying! I do savor every sparkle, unfortunately Mike doesn't, so I don't always get to pop a cork.
I decided to pop the cork on a this sparkling wine made in the Traditional Method [second fermentation done in bottle.] The wine consists of 54% Chardonnay, 39% Pinot Noir and 7% Pinot Meunier. Hand harvested Russian River Valley fruit sees a minimum of 11 months on lees before being blending with 20 – 25% reserve wines. 
Week 2 
Wine Leads to Friendship
This Wine Wednesday, we opened up a bottle of 2012 Byron Nielson Vineyard Chardonnay.  While tasting this wine in Los Olivos, we were talking to the person pouring and mentioned we were from New Jersey.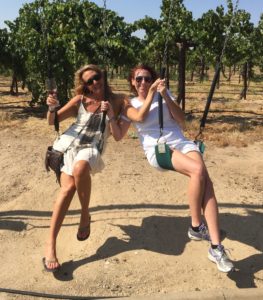 The couple next to us, turned and introduced themselves to us. They told us they too were from New Jersey and were transplants to Paso Robles! The tasting lasted quite a bit longer since we immediately started talking. We compared notes on our areas of NJ and we both explained our stories that got us to Paso Robles.  Since that day, we have kept in touch and have gotten together on several occasions. I laugh, because she is about the only other person here that understands the statement, "Went all Jersey" on someone..  It good times, and thanks to this Chardonnay, I am happy to have a new friend here on the right coast! 
Byron now has two separate labels. The Byron label is dedicated to small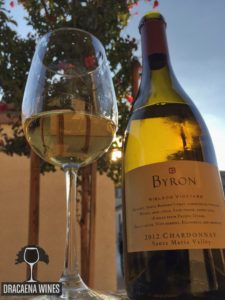 lot, site-specific Pinot Noir and Chardonnay from Santa Maria Valley and Santa Rita Hills appellations. The Nielson label is dedicated to Ureil Nielson who planted the region's first commercial vineyard in 1964. These are larger production wines.  
Four Days in Lodi
I just got back from spending four days in Lodi, CA at the Wine Bloggers Conference. Jam packed learning sessions and of course a lot of wine made the days fly! Being the adult that I am [or try to be] I spit everything mostly everything. Sipping this much wine leads to an early trip back to the hotel! The wineries of Lodi are the real thing. Let me tell you, there is more than just Zinfandel there. I fell in love with a couple of Albariños and Cinsault. Not to mention that I have a new winery obsession with Michael David Winery. They may want to get the restraining order paperwork in hand! Read about definitely NOT being "Stuck in Lodi" here. If you aren't in the mood to read, check out my YouTube channel for a two minute highlight reel. 
History in a Bottle
While at the conference, there is this super fun and crazy intense thing called live blogging. Basically you sit at a table and a winery comes to you. They pour a wine and discuss it while you tweet about it. Sounds simple right? Did I forget to mention that you only have five minutes before they leave and another winery comes in to repeat the process? I was able to get about two tweets out per winery, which I was pretty proud of.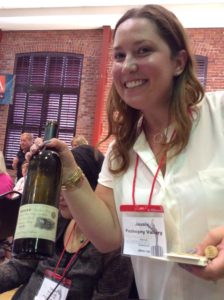 During this session, I looked up and lo and behold, who was at my table, but the amazing Jess Poshepny Vallery of Trione Winery. I have known Jess for a few years now. In addition to being friends on twitter, I have had the privilege to meet with her a few times at the winery itself. When I looked up to see her smiling face I got very excited. Not only to see her, but I knew we were going to be getting something special in our glasses. Jess poured us a 2015 Sauvignon Blanc.  This was one heck of a wine! I was lucky enough to have been given a half-open bottle, so when I returned home to the 109o temperatures of Fresno, there was only one thing on my mind – this wine! 
The wine, the grapes come from the River Road Ranch in the RRV appellation. The well-drained gravel and clay loam soils are a perfect match for the Sauvignon Blanc. Handpicked fruit is gently pressed and chilled for three days in stainless steel. To enhance aromatic qualities South African yeast is used during fermentation. Fifty percent of the wine sees neutral French oak aging prior to bottling. 
Last year (2015) was a remarkable milestone for Trione Vineyards and Winery. Tenth anniversary as winemakers, 40th as farmers and managers of some highly respected Sonoma vineyards, and 80th anniversary of the Old Stone building tasting room is quite a tradition. Trione specializes in crafting small lots of wine from estate grapes grown in the Alexander Valley, Russian River Valley and Sonoma Coast appellations. 
Hope you have had some great wines and times these past two weeks. Remember, always Pursue Your Passion. We would love for you to leave a comment telling us what your favorite recent wine was.

~Sláinte