Celebrating 100 years of cultivating grapes, Michael David Winery is exhilarating family
fun for Children Of Ages 21 and over! Experience the heart-pounding thrill that comes from watching amazing viticulture, majestic vines, and amazing vintners in a spectacular live event that will mesmerize the senses and create memories to be shared for generations to come. Explore a world of culture and tradition infused with contemporary surprises with America's Living National Treasure that can only be found at The Greatest Wine Show On Earth. Michael David Winery brings the wine world together to bring your friends together!
("borrowed" from Ringling Bros. Circus)
I recently returned from a four day jam packed trip to Lodi, CA. I had registered for the annual wine bloggers conference that took place August 11-14th. Please read my original post, It's Not Too Bad Being "Stuck in Lodi"  about the conference and the region.
Welcome Reception
On the first day of the conference we were welcomed by the owners of Mohr-Fry Ranches. They were gracious enough to have almost 300 guests spend the evening with them. What made it even more benevolent was that it just happened to be their 53rd wedding anniversary. Once again I would like to wish them a very happy Anniversary and thank them for sharing it with us. 
During the reception, one of the things we were told to do was to choose a ribbon at the registration booth. This ribbon would determine which winery we would be going to on the following night. However, Lodi wanted to make things a little more exciting and not really tell us where we were going. So the ribbons had cute and clever names on them, rather than the winery name itself.  Some names included: "The Wine Abides," "Clone Wars," "The Toasted Toad," and "The Dutch Crush." I scanned them all and decided on "Three Ring Circus." I always loved going to the circus when I was a kid and I figured, it has to be a fun evening with a name like that! 
Should I Swap?
For the remainder of the evening, as I was introduced to different
bloggers, I continued to look at their ribbons. Of all the people I had the pleasure of talking with, no one had "Three Ring Circus." I mean absolutely no one!!! I started to get nervous.  I started to doubt myself and think maybe I should go back to the table and pick one that I at least knew someone was going on.  I even turned towards the registration table a couple of times.  But as I have learned in life, you have to go with your first choice. I'm not sure there is any scientific background to prove this, in fact, there is probably evidence against it, but can you think of any more frustrating experience when you went against your first choice and found out you should have kept it.  I hate that feeling! So, I stuck it out. I stayed strong! I didn't succumb to my doubts and nerves.  And man oh man, did it pay off! I hit paydirt on my excursion! (needless to say, I would have been furious at myself if I missed this opportunity- and please don't take this as a negative of the other excursion. I heard they all were wonderful.)
Welcome to Bare Ranch
After getting off the bus, I was immediately mesmerized by the beauty of this winery. We had been dropped off in the middle of vineyards at one of the most beautiful sites I have ever seen.   The ranch is located five miles from Michael-David Winery. They purchased the site in 2007 and spent over a year and a half renovating.  It is now used as a place to host special events. The story I was told was this was the house that Michael and David Phillips always loved when they were growing up. It was the house they always wanted to own, so when it went on the market there was no doubt they were buying it. 
Winery History
The winery is named for brothers Michael and David Phillips, who represent the fifth generation of the Lodi grape growing Phillips family. They are known for producing premium quality wines with labels that catch your eye. I was amazed when I learned that they produce almost 800,000 cases of wine a year, because they maintain that small family run winery aura. 
The family has farmed fruits and vegetables in the Lodi region since the 1850s. The brothers represent the 5th generation of grape-growers in the Phillips family. Now with Kevin and Melissa, the sixth generation has now joined in the business.
Farming with future generations in mind, Michael David Winery has adopted some of the most progressive sustainable farming practices in the state. All 750 acres of the family's vineyards are third party certified and the state's first per ton bonus was issued for contracted growers to follow in the family's foot steps. Starting with the 2011 vintage, 100% of the Lodi grown fruit crushed at Michael David winery was certified sustainable.
The winery itself pays reverence to the family's legacy. The family's original roadside fruit stand is now the site of the winery. In addition to wine tasting, the winery has a café serving farm-style breakfasts and lunch, along with a bakery with delicious pies and gourmet cookies.
An Evening at the Circus
Once I was able to stop gawking at the beautiful scenery, I made my way over to the tasting tent they had set up for us.  I, was a horrible blogger and forgot to take pictures of most of what I was tasting. There were about 10 wines open for our tasting pleasure along with ice cold buckets of craft beers.  Do they know how to treat guests or what?!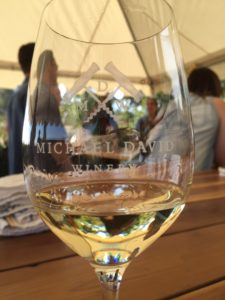 I began the night with their Michael David Winery Sauvignon Blanc. I knew this was going to be a rough night, because this first wine was delicious and I had about ten more to try.  It was time to pull the reigns back on myself or else I wasn't going to make it through the evening.  I decided that the next wine I was going to try was the very famous Petite Petit.  I have seen this wine in many wine stores (you know it, it has the circus elephant on it) and must admit the label always catches my eye. It may have to do with my childhood memories of the circus, but whatever I have always wanted to try it.  I honestly can't say why I haven't had it previously since it is not at all outrageously priced. (SRP $18) Two for two! I loved the wine and decided immediately that I was going to have to have another glass.
UNTIL…. my attention was caught by a bottle that was just placed in front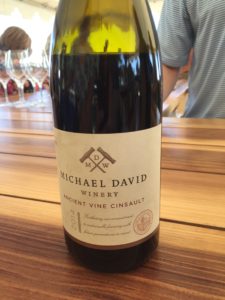 of me. The 2014 Michael David Old Vine Cinsault.  I have become a Cinsault maniac. The softer tannins, the elegance the refineness of this grape variety has found a solid place in my heart. The previous night I was enjoying the Turley Vineyards Cinsault. (I may have made a couple of stops at their table) So I had to give this one a try. OH MY GOD! It was love at first sip.  I couldn't believe how lucky I was to have found two Cinsaults right there in Lodi.  And amazingly enough, after having a phenomenal conversation about the grape and the Bechthold vineyard site with Kevin Phillips, I learned that both wines come from this same site. First planted in 1886, it is considered the oldest Cinsaut vineyard in the world. This 2014 vintage is dedicated to Al Bechthold, who farmed the site from 1973-2007 before handing the responsibility to Kevin.
After my education on Cinsaut we were told dinner was being served. We sat down to find an assortment of sushi being brought to the tables.  I can't even describe how much food there was and how amazing it looked and tasted. I personally do not eat sushi, but my fellow bloggers looked to be enjoying themselves immensely.  I was thrilled, because since they were focusing in on the sushi, I had all the pea pods, chicken satay and dumplings I could dream of.  I thought the night couldn't get any better. 
UNTIL…. out came the bubbly! Yes, Michael David Winery also makes a sparkling wine! The 2012 Bare Ranch Sparkling (SRP: $35) is a small production sparkling wine. It was produced to commemorate the historical Bare Ranch property. This sparkling, made of all Lodi fruit, is made in the traditional Methode Champenoise method and is 90% Chardonnay and 10% Pinot Noir.
The food and wine were exceptional. I ate til my heart's content. I ate until I couldn't put another pea pod in my mouth. 
UNTIL…. they brought freshly baked pies.  Yes, they ran out while we were eating, went to their bakery and grabbed pies for us. Life was good! It doesn't get much better than freshly baked, still warm pie. 
More than 7 Deadly Zins
Lodi is thought of as a Zinfandel wine region. If my trip there has taught me anything, it is that there is definitely a lot more to Lodi than just Zinfandels.  And there is a lot more (as already demonstrated) to Michael David Winery than their most popular wine 7 Deadly Zins. This may be the wine that supposedly put them on the map, but they have so much more and have several labels. These labels include Earthquake, Freakshow, Inkblot, Incognito, Bare Ranch and of course the Michael David Winery label. Grape varietals include Cinsault, Syrah, Zinfandel, Cabernet Sauvignon, Petite Sirah, Cabernet Franc (to die for!), Petite Verdot, Tannat, Chardonnay and Sauvignon Blanc.
A Beautiful End to a Fantastic Evening
Our excursion was supposed to be over at 8, but no one wanted to leave and the Phillips family continued to open bottles and share family stories with us.  No one wanted it to end.  As the sun set on the evening, giving us a hint that maybe we should let these generous folks get back to whatever they needed to do, a fantastic breeze came. The delta breezes that Lodi is known for. The breeze that allows the fruit to hang on those vines a bit longer. It was a perfect end to a perfect night.
UNTIL…..
~Sláinte!