There is wine in them Fresno hills!Click To Tweet Alright, I wouldn't exactly call them hills, but there definitely is more than raisins in Fresno. 
The Sun-Maid girl trademark was inspired by a real person–Lorraine Collett Petersen, who lived in the Fresno, California area where the company began its operations. Life then was simpler, less hectic—and red sunbonnets were the fashion of the day.  In May 1915, she was discovered drying her black hair curls in the sunny backyard of her parents' home in Fresno, California. She was then asked to pose for a painting while holding a basket tray of fresh grapes. This striking image was first applied to packages of Sun-Maid raisins in 1916.
Mike and I have been spending almost all of our free time house hunting. We have hunted and hunted and have found nada! Homes come on the market so fast that we can't get to see some and then they are selling for over market price. But this weekend, we took a break.  We decided we were going to do a little exploring of the Fresno area. What did we decide to do? We went wine tasting, of course! 
A Handful of Fun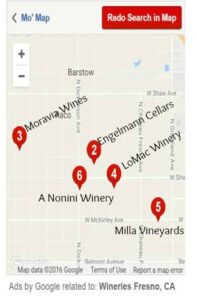 The wineries we visited were about a half hour from N.E. Fresno. It was an easy drive on 41S and 46W. Once you got to the area all the wineries were all within a few miles of each other, making it nice and easy to go from one to the other. There are also winery signs on the roads to help with the directions. No appointments were necessary. I do recommend calling ahead to double check if they are open though. Vegas had a blast at all of the wineries. It is so nice being able to take him along with us. 
First Stop
Google Fresno wineries and LoMac Winery doesn't immediately show up. Dig a little deeper and 25 Best Things to do in Fresno shows up with their name prominently listed. 
We were greeted at the door by Eric, the owner, and his dog Maggie. After a little getting use to each other, we took Vegas off leash and the dogs played while we sipped. It warmed our hearts to learn that Maggie was a rescue also. She wandered onto their property in 2014 and has been greeting customers ever since. 
The majority of wines, currently 350 cases, are produced with estate fruit. Choosing not to make the same varietals every year, he does sometimes rely on his neighbor for fruit of a varietal he doesn't grow himself. Eric likes to keep it local. The winery name came from an amalgamation of his children's names, Logan and MacKenzie. Not wanting to grow to large, ultimately looking to be in the 1500-2000 cases range, he is planning on relying on his children who are just about reaching the age to join in winery operations to continue to family business.

All in the Family
We took a short drive – literally two turns – and pulled into the parking lot of Englemann Cellars. Live music greeted us as we entered the old barn. The sommelier behind the counter, James, greeted us and immediately asked what we would like to taste.
As we sipped, he gave us three quick facts about the winery. First, Bret Engleman is the brother of Eric Engleman who owns LoMac Winery. Secondly, we were tasting in their grandfather's old raisin shed. This is where he hung the vines for the grapes to dry. Thirdly, the tale of the missing 'n' was told. When their ancestors came to America, it was a bit late and either the workers were tired, lazy, or just didn't down right care because they spelled their last name incorrectly. They left off the last "n." 
Bret Engelman graduated in 1999 with a BS degree in Enology from CSU Fresno.  After graduation he became responsible for a 12 million gallon per year winery in Fresno but wanted to make his own wine, so in 2000, he decided to open Engelmann Cellars in his grandfather's raisin shed.  Bret and his wife, Elainea currently produce 3000 cases a year. They sell mostly DTC although you can also find their wine in local Costco warehouses. 
Their tasting room is open every weekend from 12-5, but they really start rocking on Friday nights from 7-10pm.  All summer long you can enjoy their wine while listening to live music outside on their lawn. You can buy the tickets individually or you can purchase a season pass. You must be 21 or over to attend these events and although pets are welcome on the weekends, these concerts are not pet friendly. Come with your own blanket or chair and wine glass. They have caterers on site with food and drinks for sale. It is a pretty cool lineup and the tickets, depending on the show, range from $5-$15.  We will definitely be checking some of them out. 

Good wine – Good friends – Families – Children – Celebrating
These items are what are important to Moravia Winery located on N. Bishop Ave in Fresno. Typically, in wineries, one of these things is not like the other! How many wineries are kid friendly? We have conversations about this all the time. But this winery is! They have a very cool play center right on site [I had to control myself to not play on it] and every Friday evening they have family friendly events.
Way back in 1885, Hans Jacob Jeppesen, then 21 years old, left his home of Denmark to come to America on the Norwegian vessel "Moravia." It took him sixteen days to arrive but his journey provided the inspiration for the name of the winery. 
We were greeted by Zachary behind the counter. The first thing he offered up was some sangria. We politely turned down the offer and he then proceeded to offer sparkling. My ears, eyes and palate perked up when I saw the bottle of Brut. When we asked a question that Zachary couldn't answer, he actually got on the phone and called the owner. Now that is service!  After tasting through the lineup, we were offered a tour of the facility [along with an extra pour of the lovely bubbles]
Moravia is a family operated winery. Owners Howard and Barbara along with their son Rich, grandson Trent, and daughter-in-law Wendi, continue to carry on the farming tradition of their family that began in the 1890s when Hans purchased a farm. A brick façade of a WW2 era barn surrounds a new tasting room.
Fresno County Wine Journey
The Twin Rivers Vintners Association was formed in 2005 by winemakers from Fresno County to educate people about the great wineries and breweries of the area. The name comes from the rich agricultural region between the Kings and San Joaquin rivers.
The Fresno County Wine Journey consists of 11 wineries, 2 breweries, and 2 retail tasting rooms. Run by the Twin Rivers Vintners Association, they hold several events throughout the year, including a Wine & Chocolate Lovers Weekend, Roll Out the Barrels Event, and Fall Harvest Wine Journey.
~Sláinte!