Sometimes in life, all the stars and planets align and things work out perfectly. Back in January, Winephabet Street explored the Sangiovese grape. As it turns out, the next week we met up in NYC to attend Benvenuto Brunello. The event was hosted by the Consorzio del Vino Brunello di Montalcino, and provided the opportunity to taste 30 wineries from Montalcino. We  tasted wines that had not yet been tasted in the US.
The Master Class was hosted by Giacomo Pondini, Director of Consortium of Brunello di Montalcino and Nick Jackson of Sotheby's, Master of Wine Candidate. If you would like to listen to the program, it can be found on our podcast.
Brunello Through The Years
Brunello has been part of the wine world since the 14th century. In 1831, the future Prime Minister of Tuscany, marchese Cosimo Ridolfi, fell in love with the red wines of Montalcino and praised their superiority over all other wines in the region. At an agricultural fair some thirty years later, a wine titled "Brunello" was the winning red wine.  A few years later, Clemente Santi isolated Sangiovese vines in order to produce a 100% varietal wine. His goal was to make a wine that could age. Completing his grandfather's dream, Ferruccio Biondi-Santi released the first "Brunello di Montalcino" that had been aged for over a decade in oak. 
One hundred years later, Biondi-Santi was the only Brunello di Montalcino producer and they only declared four vintages—1888, 1891, 1925, and 1945. Thanks to their success, other producers decided to jump on board and by the 1960s there were eleven producers. The region was granted Denominazione di Origine Controllata (DOC) status in 1968. Afterwards the number of producers continued to grow almost exponentially with 53 producers by 1980 at which time it became the first Italian wine region to be awarded Denominazione di Origine Controllata e Garantita (DOCG) designation.
Sangiovese Anyone? 
Sangiovese is the most widely planted grape variety in Italy and is the principle red grape of Tuscany. It is the only grape permitted in Brunello di Montalcino, the main variety for Chianti and Nobile di Montepulciano, the largest component of Supertuscans. and the work horse of Umbria.
Grape genealogists have traced Sangiovese's lineage to a a cross between Ciliegiolo and Calabrese Montenuovo. Sangiovese, in the vineyard is typically a slow grower and ripens late, with it being harvested typically in late September or early October. Sangiovese requires warmer, longer growing seasons in order to show its best. This provides a high alcohol wine with acidity issues in hot seasons and harder tannins in cool seasons. When the vines are meticulously trained, the wine is deep in color and can be aged for an extended period of time. The grape has a thin skin and can be susceptible to rot. It is a parent for several other varieties including Frappato, Gaglioppo, Nerello Macalese and Perriocone. 
Montalcino 
Located in the beautiful hills of the Val d'Orcia, is a medieval city draws its visitors in
with it narrow, steep streets that provide outrageous views of the valleys of the rivers Orcia, Asso and Ombrone. It has been a UNESCO World Heritage Site since July 2004. Part of the Siena region, it has seen a tumultuous history. 
During the 10th century, the region was invaded by Saracen (Arab and Muslim) military. It was engulfed with war for four centuries. During the 14th century, Montalcino created an alliance with Siena and built Rocca, a city with a remarkable fortress.
The fortress held strong until 1555. At that point the leaders retreated to Montalcino and created another walled town set up as a republic.  However, a short four years later, the treaty of Chateau Cambresis between France and Spain required their surrender to Medici rule. 
With peace established, the land surrounding the castles were returned to their agricultural focus. The people returned to tending their vineyards which  had been producing wine for centuries. As rumor has it, wine even played a role in the 1553 siege. The story states that the commander of the garrison rubbed the wine into his cheeks to simulate vigorous strength and provided the motivation for his troops to win. 
The Wines of Montalcino
Specializing in a specific clone of Sangiovese, known as Sangiovese Grosso or Brunello, the region produces wine under strict regulations.
Brunello di Montalcino was recognized as a wine of Denomination of Controlled and Guaranteed origin (DOCG) with the Presidential Decree: D.P.R. 1/7/1980, and various modifications ensued subsequently. The rules established by the disciplinary regulations in vigour according to the Decree of 19/5/1998 are as follows: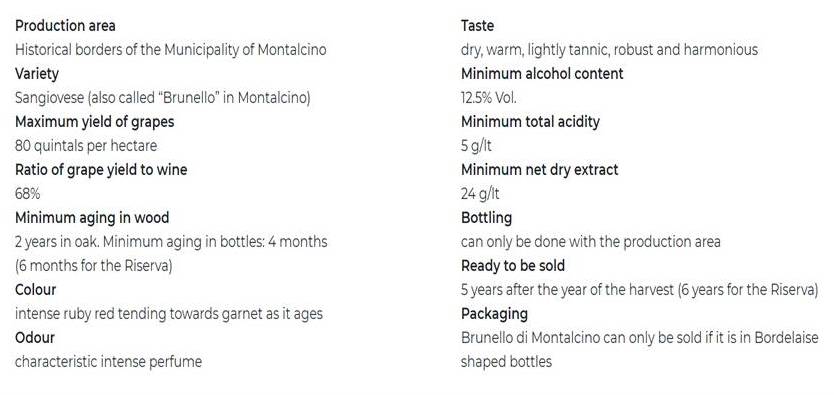 Further classification is based on aging:
Brunello di Montalcino "Riserva" must be aged in oak for two years and then remain in bottle for a minimum of four years before release. 
Brunello di Montalcino is aged in oak for two years and then in bottle for three additional years before release. 
Rosso di Montalcino was recognized as a wine with Denomination of Controlled Origin (DOC) by the D.P.R. 25/11/1983 with subsequent modifications. The rules established by the disciplinary regulations in vigour according to the Decree of 7/6/1996 are as follows: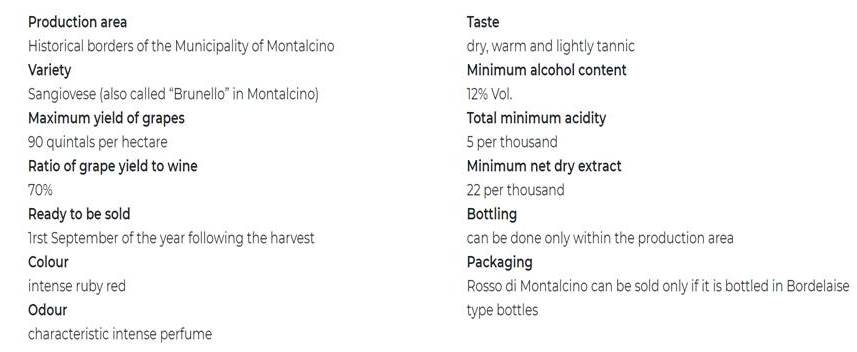 In order to be classified as Rosso di Montalcino, the wine must be aged for one year.
The Soils of Montalcino
Brunello di Montalcino has varied terroir depending on the vineyard's altitude and exposure. The region ranges between the Monte Amiate hills which lie above 600 meters above sea level to Val d'Orcia valleys below 250 meters.
As a general rule of thumb, the vineyards located at lower altitudes have quaternary fragments while the higher altitude soils are composed of marl and calcium carbonate. In the north-west region, you will find limestone from marl and alberese shale alternated with areas containing clay or alluvial fragments. In the south-east, where volcanoes use to be active, the soil is sandstone and marl rocks with the presence of tufa. The south-west, faces the sea, is the hottest region where the majority of the vineyards lie has soils that are a crumbly mixture of clays, calcium and magnesium carbonates. 
What to Eat
Depending on your intention, you can either make a harmonious pairing with Brunello di Montalcino by choosing a dish that contains the all so difficult umami! Choose your favorite game meat with rich sauce. If you have a recipe that includes sage, juniper, truffle or balsamic, this is the wine for your meal. Cheese suggestions include provolone del Monaco, mature Parmigiano Reggiano, pecorino or Ragusano PDO.
If you rather have a meal with contrasting parings, thanks to their tannins and alcohol contrast, choose a creamy risotto with sausage or lamb. The saltiness of salmon also provides an intriguing pairing. The complex flavors of braised and stewed meats provide an ample background to allow the Brunello to boast its structure.  
Finally, if you are in the mood for pizza or grilled meats, your best bet is to grab a bottle of Rosso di Montalcino. The flavors of the meat  enhances a bitterness and the acidity of the tomato sauce causes the Brunello to taste unbalanced.
What is your opinion on Brunello? Are you a connoisseur or a critic? What's your favorite pairing? Let us know in the comments!
~Sláinte!
Dracaena Wines now has  a Wine Club! We named it the CHALK CLUB. Draco is on our label, but Vegas was getting a little jealous.  So we decided he deserved to be club spokesdog. In Las Vegas, betting CHALK means you are betting on all the favorites. We are betting that we are one of your favorite wineries, so we thought the name was apropos.  The club is simple yet a bit different from most. When you wager on us, we will ship you three bottles of wine twice a year; once in April and once in September. You can choose all red or a mix of red and rose'. You immediately receive 15% off ALL your wine purchases but what makes our club stand out is a progressive discount.  Let your club membership ride into the next year, your discount increases. Each year you parlay your membership, you receive an additional 5% off up to a plan maximum of 25%. Your club shipments are discounted. Flat $15 shipping PLUS we'll cover your club shipping cost for your second shipment. That is $15 house money in a sure bet for you! So please head to our website; www.dracaenawines.com/chalk-club to find out all of the benefits of joining the CHALK CLUB and to sign up. We've stacked the odds so that you can get our award winning wines without breaking the bank.