Located on the 45th parallel lies four of the most famous wine regions. These regions are part of the Medoc district of Bordeaux. The region that is home to almost all of the 1855 Classification of Bordeaux chateaux. (one is located in Haut-Brion)
Although, red wine is what comes to mind when you hear Bordeaux, there is also white. In general, red wines are typically made from a blend of grapes, including Cabernet Sauvignon, Merlot, Cabernet Franc (woo hoo!) , Petit verdot, Malbec, and, recently, although less common, Carménère.
White Bordeaux is typically a blend made from Sauvignon blanc, Sémillon, and Muscadelle. There is also a sub-region of Graves known Sauternes that is known for its intensely sweet, white, dessert wines such as Château d'Yquem. It is estimated that only about 10% of all Bordeaux wine is white and close to four million cases are produced annually. 
Known for changing things up, Jean Guyon began his career as an interior designer. Relying on his artistic abilities, he traveled the world redecorating the most magnificent homes around the world. In 1989, while working in Paris, he caught the wine bug and decided to purchase 5 acres of vines in the Medoc. 
As with many winemakers, he began his winemaking journey by making wine in his garage for for his friends. A wine that he is proud to say was "full of authenticity, individuality and finesse," and is the staple to all of his wines today. 
Six years later, after his initial purchase, he procured Château Haut Condissas. Then in 2000 and 2001 he acquired Chateau Tour Seran and Château La Clare respectively.  He decided to add Château La Rose de By to his portfolio in 2011 at which point his cru bourgeois estates had reached 234 acres of vines. 
The purchase of Château de Greysac in 2012 included three estates, Châteaux Greysac, Le Monthil and By as well as 296 acres of vineyards. He currently is producing about one million bottles per year under the  Domaines Rollan de By portfolio. 
Château Greysac's was built in the late 1700s, by the late Baron Francois de Gunzburg. Prior to Jean Guyon it was owned by Georges Héreil, the engineer who created the Caravelle plane, and the Agnelli family, owners of Ferrari and Fiat who transformed the estate into a modern wine making facility.  
With an average vine age of 25 years, Château Greysac is planted to 50% Merlot, 40% Cabernet Sauvignon, 8% Cabernet Franc and 2% Petit Verdot. It's soil is gravel, clay and limestone. Select parcels within two acres of Sauvignon Blanc are chosen by Jean Guyon himself to produce this 100% Sauvignon Blanc.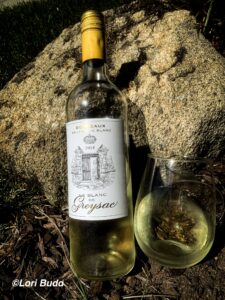 2018 Le Blanc de Greysac
? pale straw
?? medium (+) green grass, lemon, grapefruit
? dry, high acidity, low alcohol, light body, medium (+) flavors of grapefruit, lemon, lime, Granny Smith apple
? 100% Sauvignon Blanc, 12% ABV, SRP:$19.95, fermented in stainless-steel tanks, drink now
~Sláinte! 
Please follow me on Instagram, Twitter, and Facebook. You can also find me on YouTube and if you are interested in wine pairings, follow my other blog, Wine Pairing with Dracaena Wines. And don't forget about my FREE wine education series, Winephabet Street.
Please Visit our Sponsors by clicking on the banners: