Fàilte! Welcome to the next installment of Exploring the Wine Glass. Mike and I are big proponents of you should drink what you like and you are the only one who can taste like you. We advocate the fact that everyone experiences the wine differently, so in these posts we do not discuss our tasting notes.  Instead we include basic information about each of the wineries, and/or a bit about what was happening in our lives while we were enjoying them. With that said, if you are interested in reading our tasting notes and our ratings head on over to Delectable and check us out. Click here to see the chart we use to describe the color. We tell it as we taste it over there.  As always, since as oenophiles we love to celebrate #WineWednesday, our week runs from one Wednesday to the next. 
Week 1
Another week another dollar as they say.  I am having so much difficulty getting into the flow of this school year.  We have yet to have a full week of school. I know, I shouldn't complain, but it does make it tough to get into the rhythm. In the winery world, we were suppose to have been picking our Plummer Cabernet Franc today. However, the temperature dropped and the fruit slowed down.  Although it made us cancel flights, hotels and cars and we will need to re-book everything, I'm not so upset with the longer hang time.  This season has been full of surprises. Initial impressions of the fruit indicated inconsistencies and non-uniform ripening. To compensate, there was more green drop which in turn will lead to a lighter crop. However, with the lighter crop and the longer hang period, the flavors are going to be able to intensify and create an exceptional vintage. In other words, I'll be more than happy to change my plans to guarantee the fruit is amazing!
In our glass this #WineWednesday was a 2013 Mark West California Appellation Pinot Noir. We got this wine at our local wine shop for $9.99 and I think at that price it is a steal.  Our garden is still flourishing, so we paired it with a pasta Primavera. The light bodied wine paired nicely with the food.  Mark West was founded in 1978 and chose to focus solely on Pinot Noir.  Of course according to their website, "[They] didn't choose Pinot Noir, Pinot Noir Chose [Them]." They have vineyards in Carneros, Santa Lucia, Russian River Valley and the Central Coast. Their philosophy is "From bud break to bottle, you can't rush Pinot."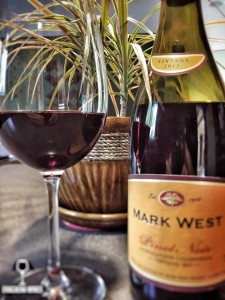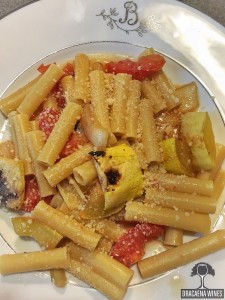 Week 2
Wow, this may be  first. An entire week and only one bottle of wine!  And I'm not seeing too many bottles in my future this week either. We fly out to Paso Robles tomorrow for Harvest. We will be picking our Cabernet Franc on the Plummer vineyard on Friday.  Our Still Waters fruit is still not ready- actually we are predicting at least three weeks more. That just means another flight for Mike.  I don't think I'll be making that trip, but who knows. 
Today is Wednesday, and that obviously means we have something in our glass. We pulled an Altos Las Hormigas Malbec Classico from Argentina. My little bit of Spanish let me know that Hormiga was "ant" and I was curious about the name.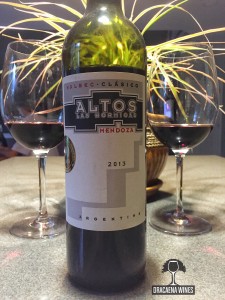 Upon looking at their website, they have an interesting story to tell. (of course they do, wine is all about the story isn't it?- but I do love this one)
They began their venture in 1996 when they purchased 530 acres of land. When it came to planting the vines the workers had to fight off the local ant colonies. The ants kept feeding on the newly planted vines but the workers couldn't bring themselves to poison the ants. A joke started to go around with the workers that the ants really owned the property. The saying  "un trabajo de hormigas" or "a job for ants" which describes a humble, patient, and dedicated work. It is from that statement- the dedication to patience, hard work and team work that they decided to name their winery. 
It's Thursday afternoon and we are sitting in the United Club at Newark airport.   However, as I stated in other posts, you don't get much choice when it comes to wine in the United Club.  It is the free wine or there is an option to purchase, but the wine still is not of high quality and it just sits around forever once opened, so I wouldn't expect too much from it.

The only wine choice is Sycamore Lane, and I chose the Chardonnay. According to their website:
 Where can you find Sycamore Lane? Not in a grocery store. Not at the wine shop. There's only one way to get Sycamore Lane, and that is on the wine list. Sycamore Lane is a foodservice-only wine designed to meet the unique needs of the on-premise category.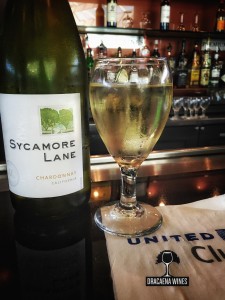 It does sound like a brag doesn't it? These guys own a lot of wine brands including that oh so famous [insert laugh track] Newman's Own Wine, Bandit and Duck Commander as well as some big names such as Sutter Home and Doña Paula.
As surprising as this is- at least to me, that is the end of this two-week wine adventure and there are only three wines.  This might be a record.  A record that I would prefer not to break.  Three wines in two weeks, help me out here and let me live through your wine antics this past two weeks. Please leave a comment to tell me the wines you enjoyed. 
Hope you have had some great wines and times these past two weeks. Remember, always Pursue Your Passion. 
~Sláinte