Fàilte! Welcome to the next installment of Exploring the Wine Glass. Mike and I are big proponents of you should drink what you like and you are the only one who can taste like you. We advocate the fact that everyone experiences the wine differently, so in these posts we do not discuss our tasting notes. Instead we include basic information about each of the wineries, and/or a bit about what was happening in our lives while we were enjoying them. With that said, if you are interested in reading our tasting notes and our ratings head on over to Delectable and check us out. We tell it as we taste it over there. Click here to see the chart we use to describe the color or if you want to see the wines themselves as they are poured, visit our YouTube Channel and watch for yourself. As always, since as oenophiles we love to celebrate #WineWednesday, our week runs from one Wednesday to the next.
Week 1 
We have been participating in this month's winestudio and have been learning a lot about some great French and Italian wines. Since the twitter chat takes place on Tuesday evenings at 9pm EST, we have been using our newest wine toy, the Coravin to sample the wine. So this Wednesday, we decided to open our favorite wine so far of the month long series. We had a 2014 Roagna Barbera D'Alba from Piedmont region of Italy and we paired it with grilled Gruyere cheese sandwiches. (with my not so secret ingredient – Blackberry jam) 
The Roagna family has been producing wine since before 1880, The Roagna story begins when Giovanni Roagna purchased the 0.22 Hectare (0.54 Acre) parcel in the heart of the Asili vineyard in 1961. Today, they own 20 hectares (50 acres) of historic vineyards of which 12 hectares(30 acres) are planted to vines while the rest remain natural. Within their 20 hectares, there are five distinct vineyard sites.  Barbaresco/ Asili, Barbaresco/ Carso, Barbaresco/ Montefico, Barbaresco/ Pajè and Castiglione Falletto/Pira (where this wine is harvested.)
Ah, the weekend is upon us, and more importantly #Snowmageddon is on its way! We have been told that we can get anywhere between 3 and 18 inches! Wow, what a range! Amazing how the professionals can really narrow that down for us, isn't it? The latest is we are going to get pummeled tomorrow (Saturday). I guess we'll have to wait and see.  But before #Snowzilla (don't you love the names they are given?) or Winter Storm Jonas is upon us, Mike and I took my parents out for dinner for their anniversary. They are been married 55 years! 
My dad loves a restaurant in a neighboring town, so that is where we took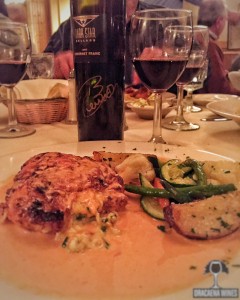 them. Justin's is located in Hawthorne, NJ and has a huge menu selection. Mike and I brought some Paso Robles wine. I believe in the motto, If you can't be there, drink there! The wine was a 2011 Dark Star Cellars Cabernet Franc. The fruit for this wine comes from the same vineyard that our award wining 2013 fruit came from – the West Side Ranch. 
Dark Star Cellars opened their doors in 1994 and have dedicated themselves to producing fantastic small lot wines. They pride themselves on their gentle processing from grape to bottle. I chose a stuffed chicken in a pink champagne sauce. Oh, I mention the chicken was stuffed with goat cheese, gouda and bacon?!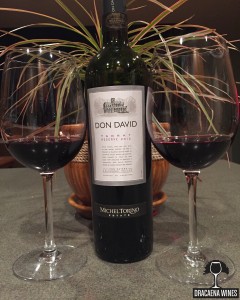 The Winter Storm Jonas is upon is. We spent the last few days listening the weather pros declare they have no idea what is going to happen. They started with us receiving 2-3 inches. Then it went to 6-12. Then last night they went on the limb and predicted 3 – 20 inches. I know that weather people are the brunt of a lot of jokes, but come on 3 – 20 inches? Can they be any more specific? But what was truly funny, in a non-funny way, is even with that huge range, guess what? They were WRONG! We got so much more! There were periods of severe white out and unbelievable winds and in the end we had about 22 inches of snow! 
Tannat, sadly a difficult varietal to find here in NJ, originated in the Basque region at the foothills of the Pyrenees Mountains in southwestern France on the border of Spain. However, the most famous Tannat wine is made to the north, in Madiran. This Tannat is produced in Calchaquí Valley, Argentina. Technically speaking, they manually harvest the fruit and only use the first press juice. 70% of the wine is aged in French and American oak for 12 months then 100% goes through malolactic fermentation.
Week 2
Remember my post about Languedoc Wines? Well, I was once again contacted by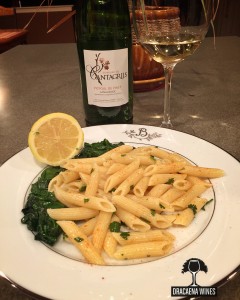 Benson Marketing and asked if I would be interested in sampling some wines that would be perfect for Valentine's Day.  I very happily accepted and we had one of the wines this WineWednesday.  It was a new varietal for us, Picpoul de Pinet. Our friends, Steve and Jackie, at Four Lanterns Winery in Paso Robles are fans of this varietal. They even ripped out vines to plant some! So I was excited to give it a try. 
Piqpoul de Pinet is well known to pair exceptionally with seafood because if the bright acidity, however, I do not eat seafood. Instead, I decided to pair it with lemon pasta with wilted spinach. The oil within the dish cut the acid of the 2014 Domaine De Cantagrils Picpoul de Pinet and provided a much softer sensation to the palate.  This wine can be a wonderful replacement for Sauvignon Blanc.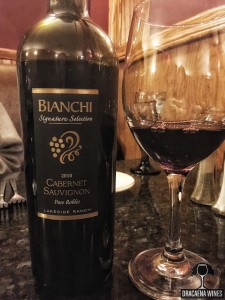 Even though we had a snow day on Monday, this has been a long week, so when Mike asked what I wanted to do for dinner, I immediately answered, Nadies! (our favorite restaurant) I'm not even going to bother with pictures of food, because if you actually read this post, you already know what we ordered. I got my penne in vodka sauce with extra peas and Mike got his pasta bolgnese. But the wine was different. We opened a 2010 Bianchi Signature Selection Cabernet Sauvignon. Their Signature Selection wines are made from grapes purchased from highly recognized vineyards adjoining the Bianchi estate and from other premium growers in and around Paso Robles and the Central Coast. 
I decided that since it was Saturday and there was nothing special to do, I would make another meal to pair with a Valentine's Wine we received from Benson Marketing. Today's meal was not difficult, but it was time consuming since I had to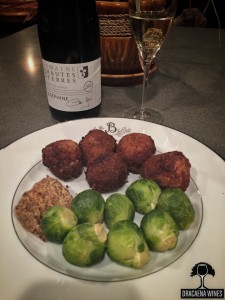 make a rue that then needed to be in the refrigerator for about three hours to re-solidify. But in the end, it was worth the effort. Mike and I enjoyed a nice relaxing dinner. 
The wine was NV Domaine Les Hautes Terres  Crémant De Limoux, Cuvée Joséphine and we paired it with Sopressata croquetas. Crémant de Limoux is made with 40-70% Chardonnay, 20-40% Chenin Blanc, 10-20% Mauzac, and up to 10% Pinot Noir. There is no Pinot Noir in this particular wine. The winery is located in Roquetaillade, a small village in the Limoux Appellation delimited area. All vines are cultivated organically. 
I hope that you have uncorked some wonderful wines these past two weeks. Please take a moment to share your favorite with us. Always remember to Pursue Your Passion. 
~Sláinte