The Thin Veil 
As we transition between October and November, so does the thin veil that separates the living from the dead. Many people find as the vegetation browns and the frosts begin to crawl in, this thin veil facilitates contact and communication with their loved ones that have passed on. October 31st, goes by many names; Halloween, All Hallow's Eve, Summer's End and Samhain. For Wiccans, Druids and Pagans, this is a celebratory time that represents the end of harvest, and the beginning of the coldest half of the year. 
Samhain originated in ancient Europe as a Celtic Fire Festival. Although how it is celebrated varies depending on tradition and location, it is often celebrated over several days and nights. Wiccans tend to celebrate Samhain from sundown on October 31 through November 1, while others celebrate it around the Full or New Moon closest to this time.
During the 7th century, as Christianity grew to become the dominant religion throughout Europe, Samhain found itself to have taken on Christian names such as All Hallow's Eve (Oct. 31), All Saint's Day (Nov. 1) and All Saint's Day (Nov. 2) But Samhain and Halloween are not the same holiday. 
Today, Halloween is a folk holiday. It has evolved into a day where children (and adults)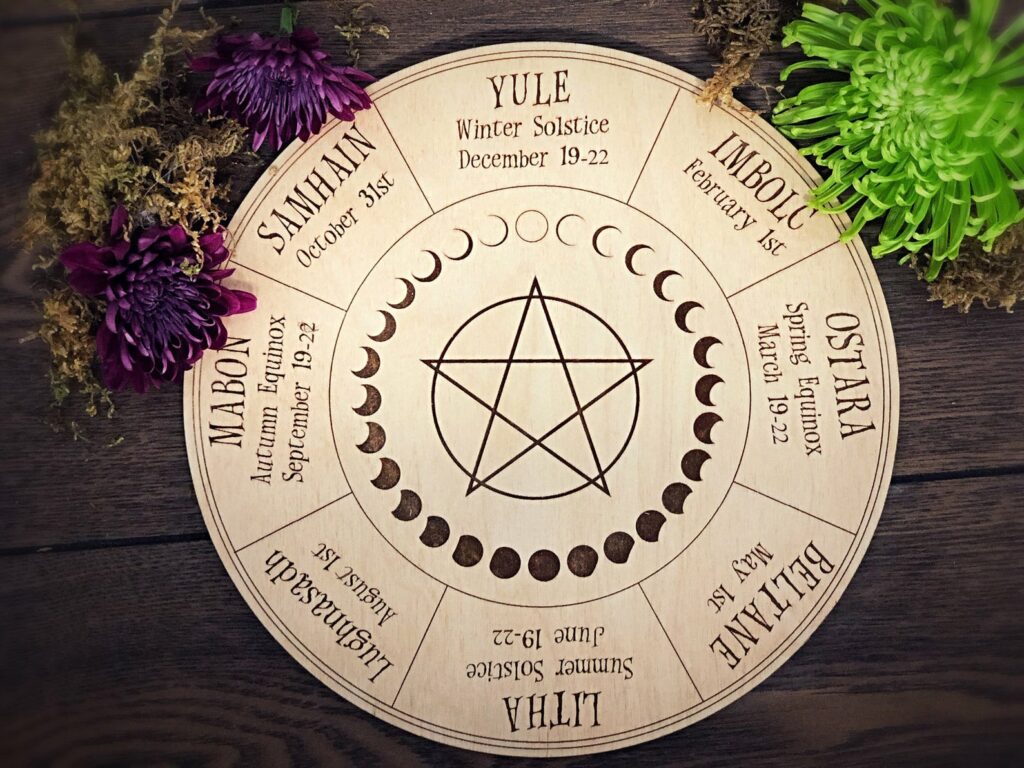 play in the make-believe world and dress up in costumes to collect candy. The brave ones, spend their nights visiting scary places. Samhain, by contrast, is a religious holiday (Sabbat) that focuses on spirituality. It honors the dead and are often somber and private. It's association with death is a mirror to nature, not sacrifice. 
There is a huge misconception that Samhain is a satanic ritual, that somehow it involves sacrifice and has demonic roots. This misunderstanding began way back in 1762 when a British military historian, Charles Vallancey, visited Ireland on a surveying mission. Captivated by the region, he recorded a three volume series on its history and culture. Unfortunately, he mistranslated "Samhain" and referred it to the Celtic God "Balsab"—bal meaning lord, and sab meaning death. Although his writings were dismissed by scholars, like so many misunderstandings, the myth that Celts celebrated a demonic god, Lord Samhain, full with human sacrifices and horrific rituals perpetuated. 
Ghost Wineries
During the 1860s, the wineries were built using Napa fieldstone, a very durable stone. Over the years, although the buildings were abandoned, they remained in tact. This may have been because they continued to be passed from generation to generation or because of the durability of the building itself, it was more cost and effort to tear them down. 
Where there is history there are ghosts! Yes, there are tales of haunted wineries, and I plan on tackling their stories in the near future, but today I'm discussing a different meaning to Ghost Wineries. These are the wineries that were built between 1860 and 1920, then closed thanks to the one two punch of the Phylloxera epidemic and Prohibition followed up with the final blow of the Great Depression. For many of these Ghost Wineries, they remained abandoned for decades. At the time Prohibition began, there were 713 licensed wineries in California. When it ended only 40 remained. The 673 wineries that saw their demise during this time frame are known as "Ghost Wineries" and today only 65 are back in operation. 
The Ghost Winery That Loves All Hallow's Eve
As you drive down Highway 29 in Napa, you have many wineries to choose from. During the holiday season, one stands out among the rest. The winery, with it's beautiful architecture sits behind a giant spider's web or dancing skeletons.
Now known as Flora Springs, this Ghost Winery was originally named Rennie Brothers Winery. When two brothers from Scotland found themselves in Napa, California what else were they to do? They decided to open a winery and planted 60 acres and began building a stone wine cellar in 1885. Rennie Brothers Winery was the first California winery to use a gasoline powered engine to crush grapes. Construction of the facility was completed fifteen years later and unfortunately, in November of that same year, a fire began in the wine cellar and destroyed the wine press and all the barrels. They were forced to close the winery after Phylloxera began its invasion. Three owners later, Prohibition took effect and the winery officially was abandoned. It wasn't until 1977 when Jerry and Flora Komes purchased the Ghost Winery along 325 acres and 60 under vine beginning the Flora Springs legacy. 
Every year, they pay homage to their heritage by producing the Ghost Winery Malbec that features a hand-drawn image of their historical stone cellar. With their love of Halloween, Flora Springs also pays tribute to the holiday by producing three special Halloween wines, Cabernet Franc, Malbec and Cabernet Sauvignon. These wines are all single vineyard and estate grown. I had the pleasure of receiving a sample of my favorite varietal, Cabernet Franc. (SRP: $60)
~Sláinte! 
Please follow me on Instagram, Twitter, and Facebook. You can also find me on YouTube and if you are interested in wine pairings, follow my other blog, Wine Pairing with Dracaena Wines. And don't forget about my FREE wine education series, Winephabet Street.
Please Visit our Sponsors by clicking on the banners: