Fàilte! Welcome to the next installment of Exploring the Wine Glass. Mike and I are big proponents of you should drink what you like and you are the only one who can taste like you. We advocate the fact that everyone experiences the wine differently, so in these posts we do not discuss our tasting notes. Instead we include basic information about each of the wineries, and/or a bit about what was happening in our lives while we were enjoying them.
With that said, if you are interested in reading our tasting notes and our ratings head on over to Delectable and check us out. We tell it as we taste it over there. Click here to see the chart we use to describe the color or if you want to see the wines themselves as they are poured, visit our YouTube Channel and watch for yourself. As always, since as oenophiles we love to celebrate #WineWednesday, our week runs from one Wednesday to the next.
Week 1
This #WineWednesday, my two girlfriends wanted to get together for a happy hour, but we couldn't decide where to go. So, we decided to go to one of their houses and enjoy the beautiful weather and view.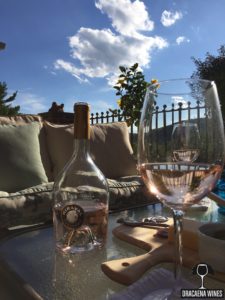 Upon arrival, my friend asked if I would like a Chardonnay or a Rosé. With it being Summer and with my participation in this month's #winestudio education program, I opted for the Rosé. She brought out a Miraval Rosé Côtes de Provence. I have heard many people talk about this wine, but have never had tasted it before. I must admit, I thought people talked it up because it was Angelina Jolie and Brad Pitt. But I must say, it is a really good Rosé. In fact, I went out and purchased two bottle for myself.
The wine is a blend of Cinsault, Grenache, Syrah and Rolle. The vineyard that the fruit came from see an extreme difference between day and evening temperatures and are composed of clay and limestone. Portions of the vineyard have terraces and are located at an average of 350 meters [382 yards] apart. Interestingly, Chateau Miraval vineyards have been cultivated organically for many years and are certified organic, yet the wines are not organically certified.
This Friday, I met my parent at Justin's, a local restaurant. I am so lucky to have such a wonderful relationship with them. It baffles me when people say they don't have a relationship with their parents. I love spending time with them, whether it is just hanging out with them, having dinner, or one of our favorite pastimes, gambling, I'm just happy when I am with them.
I ordered one of my favorites, Orecchiette alla Barese [Pasta with Arugula, Diced Mozzarella & Fresh Tomato.] I brought a 2014 Horse Heaven Hills Sauvignon Blanc by Columbia Crest. According to Horse Heaven Hills Growers Association:
The Horse Heaven Hills AVA is home to 27% of the state's vineyard acreage and a source of the four 100-point wines from Washington.

Our family farmers grow a diverse array of grapes on inspiring and rustic terrain. In the Horse Heaven Hills, you'll find dramatic, windswept vistas, clear blue skies, arid hot summers and delicious, approachable wines.

Horse Heaven Hills Wine Growers is a non-profit group of grape growers and wine makers dedicated to spreading the word about the Horse Heaven Hills AVA, the grape industry and celebrating education in all fields.
Columbia Crest has been sourcing fruit from Horse Heaven Hills for more than twenty years. The vineyards are located in Eastern Washington. This region sees less precipitation due to the rain shadow effect from the surrounding Cascade Mountain range. The vineyards face south and see excellent sun exposure. In order to allow for better protection from the wind and to allow for even ripening, the canopy size is reduced. This wine has 1% Semillion. The days are warm while the nights are cool providing a perfect environment to grow Sauvignon Blanc. In order to capture the freshness and the minerality provided by the soil, the wine is fermented in stainless steel tanks.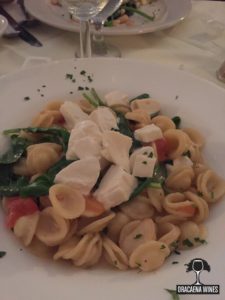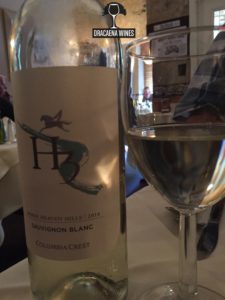 It's Sunday night, so that means pizza. But we weren't able to make pizza so we just ordered out. I know that the real foodies that read this blog are about to hit the unfollow button, but I can't lie, Mike and I like Dominos. Also, being in Fresno now, it is tough to find a pizza like a Jersey/NY pizza so we at least know what we are getting when we order from Dominos. We have already tried two different pizza places here, and neither were up to snuff, so I texted in our order. I'm sorry about that also, but the fact that I can text an emoji and have my pizza ready 15 minutes later rates high in my mind!
I got my bacon and pineapple while Mike got his sausage and banana peppers and we paired it with a Cline Cellars 2013 Ancient Vines Mourvèdre. We purchased this wine while we visited the winery in November.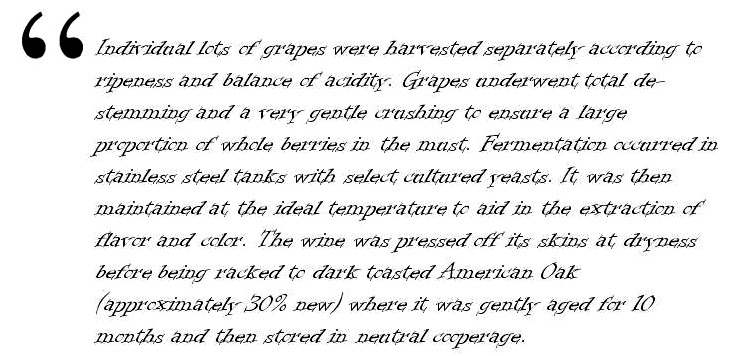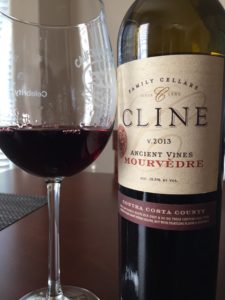 Cline's story began way back in the 1960s when Fred Cline use to spend his summers on his grandfather's farm in Oakley, CA. His grandfather was one of the seven Jacuzzi brothers who were pivotal in American aviation and water pumps, but he made sure Fred gained an appreciation for the old-world love of the soil.
In 1993, Fred and his wife, Nancy, moved their winery to a 350-acre ranch in Carneros Valley. They planted Merlot, Chardonnay, Pinot and Syrah and opened their tasting room in the historical 1853 farmhouse. Cline Cellars specialize in Rhône-style wines and Zinfandels. They offer a free tasting (rare in the area) and also have a $15 tasting for five of their reserve wines. This is a winery you can take the kids to. On site they have 5,000 rose bushes, five natural spring ponds, and rescued aviary. There are koi in the pond that are a blast to feed and there are even donkeys!
Week 2
Tonight is #SonomaChat. If you are unfamiliar with this, I'm not quite sure how much of a #winelover you are. It is a twitter chat that happens every Wednesday evening [#WineWednesday or #WW] at 5pm PST. The chat is hosted by Amy Lieberfarb and each week a different winery co-hosts. If you haven't checked it out, you really should. It is a fun hour and you learn about the wineries behind the Sonoma wines you drink.
This week, Francis Ford Coppola co-hosted. So to get in the spirit, I ran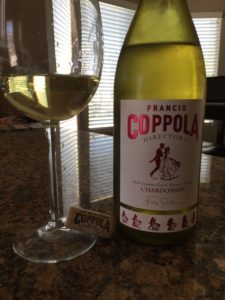 out to BevMo and grabbed a Chardonnay. Do you know that Bevmo has a 5 cent sale! Holy cow! You buy one bottle and get the second for 5 cents! I texted Mike and told him I should not be left alone in the store!
The winery is at the old site of Chateau Souverain. Francis Ford Coppola purchased the winery site in 2005. While visiting, you can partake in a property adventure. Grab a map, and explore the entire property, stopping at 7 different locations while learning about the vineyards and how the winery is a leader in sustainable wine growing.
Guided by map, guests will explore the entire property, making stops at 7 different locations throughout the adventure. The self guided tour is about one mile long and takes about 45 minutes. Along the way, learn about the surrounding vineyards and what wines they contribute to. You will also discover how Francis Ford Coppola Winery has become a leader in sustainable wine growing. This is another winery that children are more than welcome. Bring them along and you can sip the wine while they swim in one of two swimming pools totaling 3,600 square feet. There are even chaise lounge chairs. Pricing can be found here.
We have spent a lot of time looking for a house here in Fresno. It's a stressful time. We have narrowed in on the community we want to buy in, but the homes seem to be bid on just as fast as they come on the market. I wish that would happen on our house in NJ. What a difference in the market.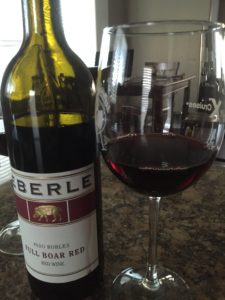 We came home after looking at houses and both decided we needed wine! We opened an NV Eberle Full Boar Red. The blend is 55% Cabernet Sauvignon, 20% Zinfandel, 20% Sangiovese and 5%Tempranillo. This is a wine that can stand up to food or just as easily sip on its own.
We are big fans of Eberle. This is always a mandatory stop while we are in Paso. Each time we visit, we do not know what we will purchase, but I don't think we have ever left without bottles in hand. I have written several posts about Eberle including my favorite Jocks in the Wine World. But my all time visit was in November of 2015, when we pulled up and Gary Eberle was sitting outside. I walked up, and introduced myself and asked if I could take a picture with him. Being ever so humble, he said yes and I treasure that picture and the memory.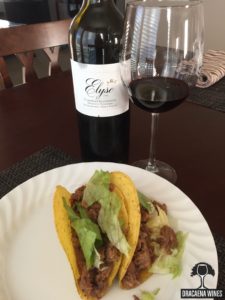 Have you ever had a wine that after you take a sip, you just know all is going to be good? Well, that is what this 2009 Elyse Morisoli Vineyard Cabernet Sauvignon did. Their story began in 1983, when Nancy and Ray left Cape Cod to pursue Ray's passion for adventure and winemaking. They moved to Napa and ran a bed and breakfast. In order to gain first hand knowledge, Ray began working at Tonella Vineyard Management. He then worked for nine years at Whitehall Lane working his way up from cellar rat to head winemaker. Finally in 1987, Ray and Nancy began the Elyse Winery label with 286 cases of Zinfandel from the Morisoli Vineyard. I think it is safe to say, that this vineyard is the cornerstone of their wines.
We made sausage tacos. I know that is a bit weird, but I couldn't find ground turkey. I guess that's what happens when you move to a new state and not sure what the stores are like. I was in a SaveMart and the selection was pretty poor. A lot of stuff that I am use to seeing in a grocery store was not there. I was looking for ground turkey and couldn't find it, but found ground sausage (which I've never seen before.) I must admit, the tacos came out awesome, and I may never go back to ground turkey again.
Tonight we opened a 2010 Stillwaters Merlot. We paired it with a broccoli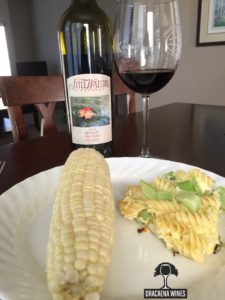 and onion frittata and sweet corn. I was very curious to taste the corn since Jersey sweet corn is to die for. I must admit, it was pretty darn good. Not as sweet as at home, but good enough that I'm going back to the store today to grab a few more ears.
On the winery site, there are beautiful gardens along with a 100-year-old olive grove. Paul produces 18 different types of wines from his 60 acres of vineyards. He is grower that takes extreme pride in his vines and his wines show it. When visiting, you can plan a picnic on the grounds. Choose your site under a blue oak, under olive trees or by the koi pond. In addition to tasting his wines, you can also have the pleasure of olive oil tasting. EVVO is a blend of Mission, Sevillano, Manzanill, Frantoia and Ascolano olives that have been pressed by an Italian mill. As if that is not enough to make you want to visit, you can also pick up a variety of fresh vegetables, fruits and eggs from their estate gardens and free range chickens
Hope you have had some great wines and times these past two weeks. Remember, always Pursue Your Passion. We would love for you to leave a comment telling us what your favorite recent wine was.

~Sláinte