Fàilte! Welcome to the next installment of Exploring the Wine Glass. Mike and I are big proponents of you should drink what you like and you are the only one who can taste like you. We advocate the fact that everyone experiences the wine differently, so in these posts we do not discuss our tasting notes.  Instead we include basic information about each of the wineries, and/or a bit about what was happening in our lives while we were enjoying them.
Want to know what we think of the wines? Do you want a little insight into our palates? Then head over to Delectable and check us out. We tell it as we taste it over there. Click here to see the chart we use to describe the color. A video of them as they are poured is found at the end of the post. Visit our YouTube Channel to see other wine videos. As always, since as oenophiles we love to celebrate #WineWednesday, our week runs from one Wednesday to the next.
West Coast For a Bit
It was Spring Break here in New Jersey, so I was able to get to California with twelve whole days! I was so excited to get there. Unfortunately, the trip did not start off too well. For anyone who travels a lot, you know it is a wise decision to be able to use carry-on a much as possible. In order to get to Fresno, I need to make a layover either in LAX, SFO or DEN. I typically fly through SFO or LAX and the plane to FAT (Fresno) doesn't have any overhead space. So I figured I would get one of those pack back carry-ons. Great idea, horrible in real life! I packed my bag and ran to the airport. I got to security at EWR (Newark) and upon putting the back pack on after security, the strap broke and the bag hit the floor! I was annoyed, but just picked it up and carried it to the gate.
Once again, our United flight was delayed. But I figured I was ahead of the game since I actually did have a seat, no one dragged me off, there was no scorpion in sight and I didn't have a pet rabbit, so I took the time to send a message to the company I purchased the back pack from to tell them about the strap. They immediately responded that they will send me a new strap. (great customer service, however, made the pessimist in me think if they have spare straps around, this must happen frequently)
I finally made it to Fresno, and went right to bed. The next morning, I woke up and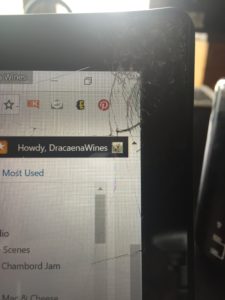 grabbed my laptop to see what was happening in the world. What I found was not a good start to my vacation!  I had the great luck of when the back pack fell, it landed square on the corner of my laptop and the corner bent which in turn cracked my screen. Luckily the computer works, but the damage is costing me over $300 to repair.
So that really sucks! But things got better! Not only because I was with my guys, but we had some great wine and had a lot of fun.
Crux on #SonomaChat
Last week I shared Amy Lieberfarb's "Pursue Your Passion"  story. And that night I was honored to be part of the virtual tasting for #sonomachat that involved Crux Winery. I was provided samples of their Viognier, GSM Rosé and Petite Sirah. 
Crux winery is owned by Brian Callahan and Steven Gower. They specialize in Rhone varietals but also produce Zinfandel and Sauvignon Blanc. They pride themselves in expressing the terroir within Sonoma County's Russian River Valley. They are hands on from farm to bottle. Being extremely environmentally conscious, Crux maintains sustainable practices in both their own vineyard sites and in the vineyards that they source from. 
The vineyard sites are similar to Mediterranean climate. With a few more degree days the vines do see a  bit more heat. Rhones varietals are grown successfully all over the world, and Brian and Steven feel that Sonoma is one of these perfect spots. The Russian River Valley see a coastal/river influence, so the vines can experience a 40-60 degree temperature shift throughout the summer. (diurnal change). One of the things that Brian and Steven love about Rhone varietals is that they are so food friendly. They suggest pairing their white wines with Asian spice, oysters and most seafood and having their GSM Rosé on the patio with a nice light lunch or day salad. Their favorite paring for their red Rhones are duck and lamb, but were boasting how they drink well on their own. We ended the chat with the "motto" of Crux Winery: "Minimal Handling…Let the Grapes be the star of the show!! Let them shine." 
Their wines are receiving great praise and accolades. The 2012 Petite Sirah earned a gold, the 2012 Syrah and 2014 Viognier won silvers in the SF Chronicle Wine Competition and their 2012 GSM and Grenache were both rated 91 in Wine Enthusiast. If you are in the area and would like to sample their wines be sure to make an appointment. The cost is $15 per person but is refundable with a 2 bottle purchase. You can schedule your appointment by contacting them at info@cruxwinery.com or 707-837-8061 to schedule a visit.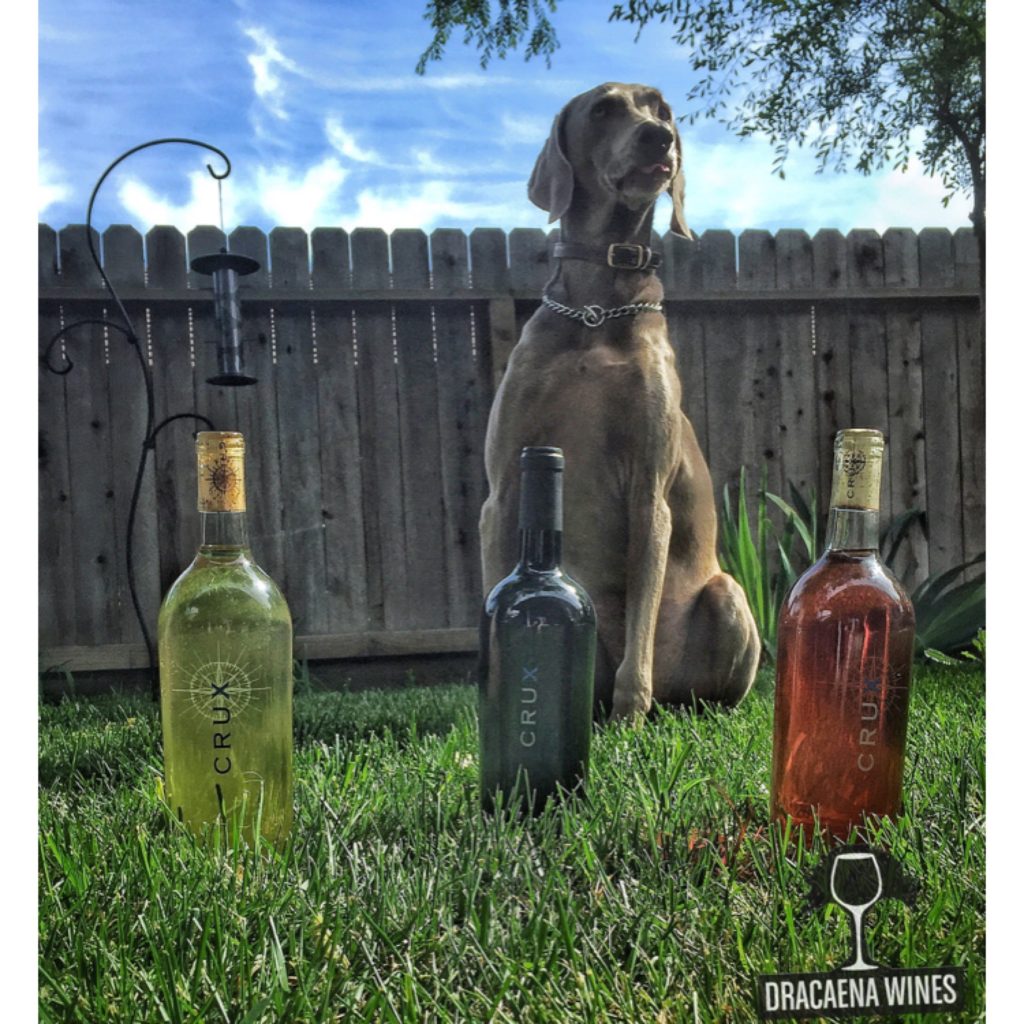 Little Guy on the Hill
There are over 250 wineries in Paso Robles.  It seems like every time we turn around, there are more wineries. It is very easy to get stuck in a rut and continuously go to the same wineries over and over again. I hate being in a rut, so Mike and I decided that we will randomly try new (to us) wineries every time we go out to taste. On one such occasion two years ago, we were at Robert Hall Winery just off of 46E. As we came out of the winery, we saw a small sign for Mitchella Winery with an arrow that led us around to the back of Robert Hall. We decided what the heck, we are right here, so we hopped in the car and took the 1 minute drive. Thank goodness for that sign! We have become regulars of Mitchella Winery. 
Mitchella is a wonderful small family owned winery that sits on top of HuerHuero Creek Bench. One of the things I love about the history of this winery is the fact that Angela and Darren Mitchell use to drink a lot of White Zinfandel. But a 1987 Eberle Cabernet changed their lives forever. That was there "It" wine and that Cabernet began this winery's passion for wine!
Similar to many of us in the wine industry, he started making wine as a hobby. But what started as a hobby became an obsession. Like us, Darren decided to take classes to learn more about wine and how to increase its quality. In 1997, Darren and Angela planted 10 acres of Cabernet Sauvignon and 10 acres of Syrah on the hilltop overlooking the old adobe farmhouse where Darren grew up.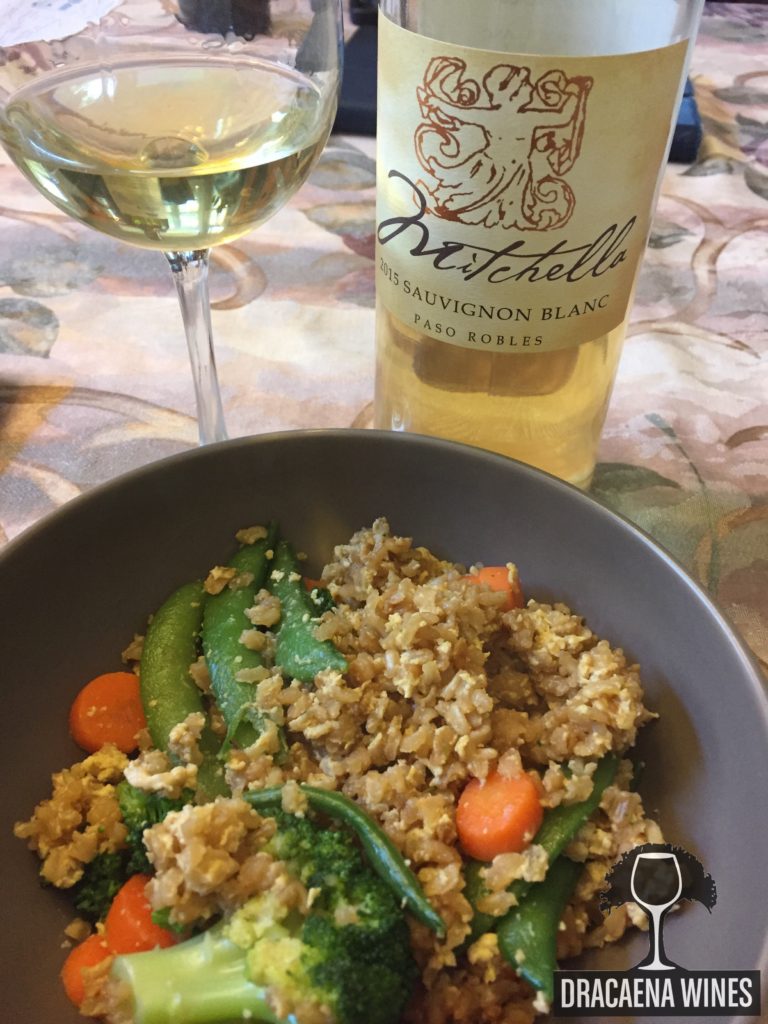 Be Like Mike (Joey) 
Back in 1998, Joey Tensely pursued his passion for wine and opened his winery with one hundred cases of a single variety wine- Syrah. He wanted to create a brand that was driven by a single variety that expressed the terroir of Santa Barbara County. Almost twenty years later his case production is at about 5,000 and he has had his Syrah in Wine Spectator's Top 100, received 99 points by Robert Parker and has won Food and Wine Magazine's award for "Top Syrah in America over $20.
We started two years ago with just under 100 cases. Substitute Cabernet Franc for Syrah and we would definitely not be upset if we followed in his footsteps! We would be more than happy to be Like Joey! Tensely vineyards are mostly located in Santa Barbara County and the tasting room is located in lovely Los Olivos. His passion for wine began when he was twelve years old! Yep, you read that right. He was on a travelling soccer team and they went to France (lucky team.) In between tournament games, they toured a winery. The chill and aromas of the caves made a huge impact on Joey, and right there and then he knew he wanted to be a winemaker.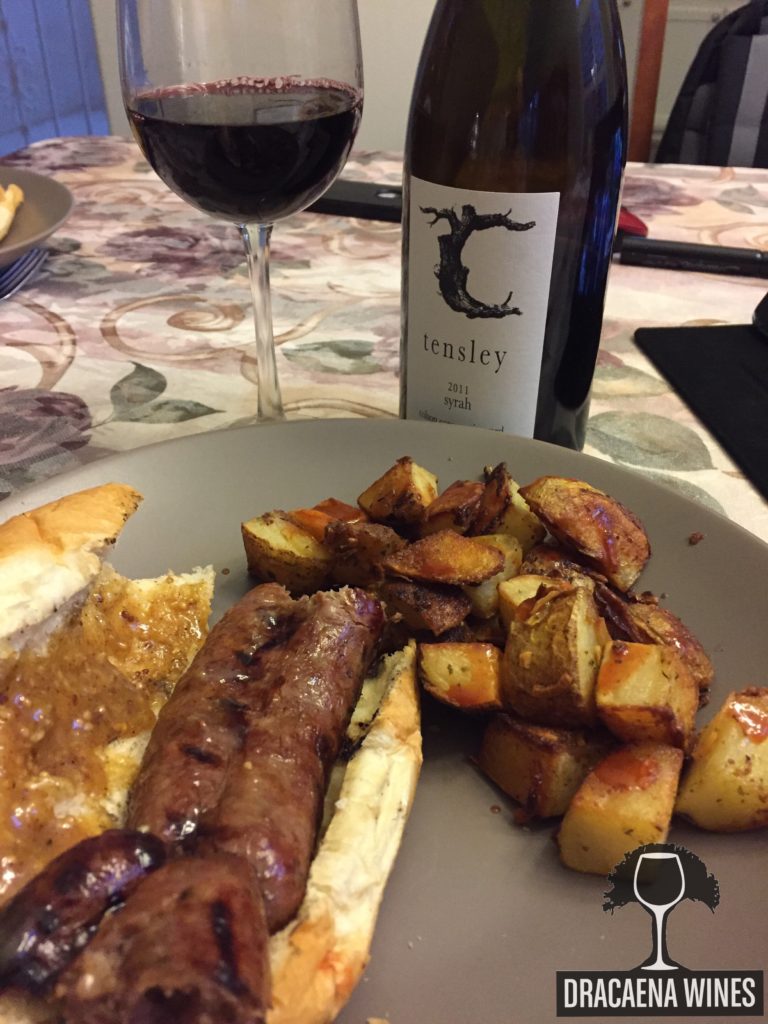 Rosé nope it's Rosato
I opened up a bottle of Miner Family Rosé to pair for a light meal of cheese and almonds. I posted on Instagram about this Rosé and then looked carefully at the bottle. It wasn't a Rosé it was a Rosato. Oops! 
I wanted to know why this was called a Rosato, so I started to do a little research. I found this fantastic article on Rosé and Rosato from my #WinePW friend Jill Barth of L'occasion. The largest producers of Rosé wine is produced in Spain (where it's "rosado"), Italy ("rosato"), and the United States ("rosé".)
This rosato is made using the traditional method of Provence using Sangiovese grapes. After a short time on skins, the juice was gently pressed to achieve the desired color. The fruit is from Mendocino. The region's cooler temperatures allow for a longer hang time and intense berry concentration. Only 498 cases were produced and unfortunately, this wine is sold out. 
Miner is a dynamic family-owned winery tucked along the eastern hills of the Oakville appellation in the heart of Napa Valley. Founded in 1998 by Dave and Emily Miner, Miner Family Winery crafts reserve-style wines by sourcing fruit from Napa Valley and other specially selected California vineyards .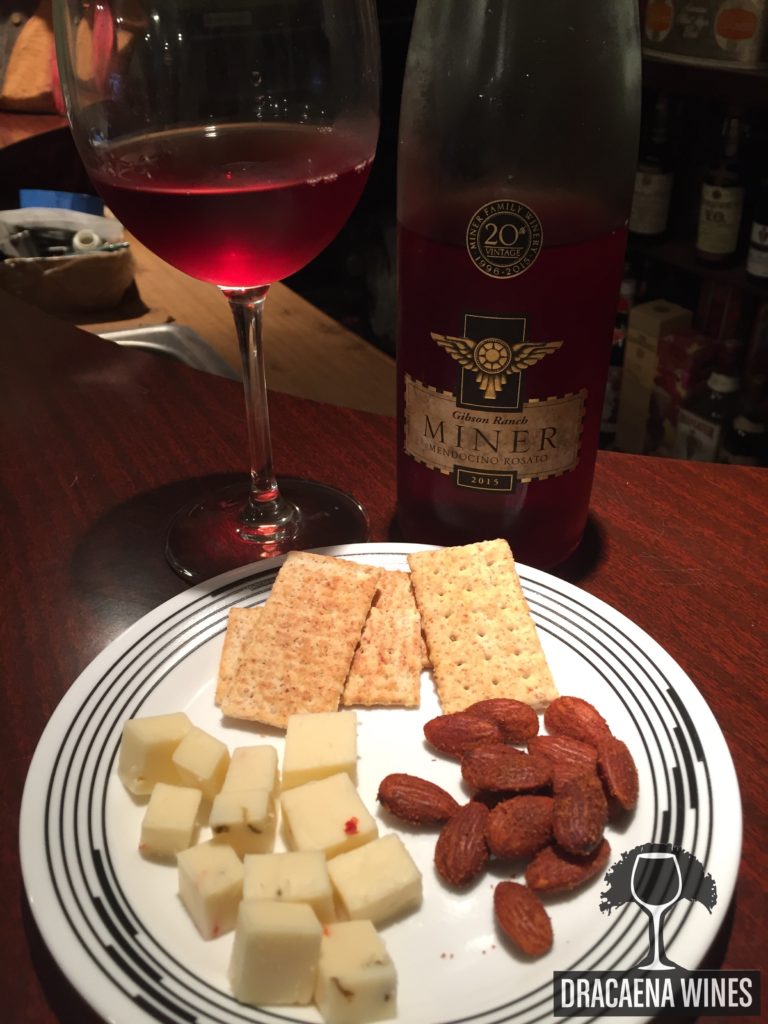 Beaming With Pride
This Friday, I poured our wine at a charity event for Chilton Memorial Hospital. With Mike in California, I had to call upon my friend Donna to help me out. We arrived at the event and set up our table. We poured at this event last year and received some love, so we decided we would do it again this year. With over 300 wineries at the event, we are definitely the small guys on the block. In fact, we are the only wine not being poured by a distributor. But I think that is what makes us stand out at this event. We are passionate about our wine, and I don't think anyone can tell your story as well as the person who is living it.
Pouring your wine, in which you have poured your heart and soul into, can be rough. We have poured for restaurants in California, who very nicely say, "Thanks but no thanks" and we have poured for restaurants that have purchased on the spot. It hurts when they don't like it for their list, but you must have tough skin and realize your wine is not for everyone. But it feels amazing when you watch a person's face light up after they take a sip and phenomenal when they purchase your wine. I can't even put into words the feeling when you open the email telling you that you received a 90 in Wine Enthusiast! 
We had a lot of happy faces at this event. We received some amazing comments and I must admit my chest was full of pride and my cheeks were sore from smiling so much. Comments like "This is the table to be at", "I was told I had to come try your wine", "I was given a bottle of your wine from someone here last year, and I came to the event hoping you would be here" and "You have the best wine here tonight" really warms my heart! Although, my favorite comment of the night was "Holy Sh*$, this wine is awesome!" (and then they apologized for cursing.)
Jersey Pizza
I went to college in California, so I am was already very familiar with the anti New Jersey opinions out there. I am not lying here, I have my countdown running until I will be in California permanently, but that has more to do with the winery than really the desire to leave New Jersey. It may also have to do with getting away from winter. That is why NJ has so many snowbirds. But overall, New Jersey is a great place to live. Yeah, we are told we are the armpit of the nation- but that is because people judge on first sight and you have to fly into Newark. Hell, I don't want to be in Newark either! Get yourself out of the airport area, and there are beautiful sights to see.  
As much as we are stereotyped, we do have a good sense of humor. And one of the things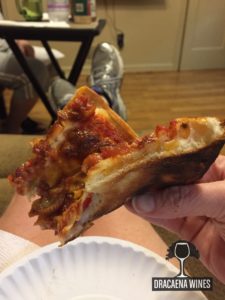 that makes me crack up are the lists of "What you will miss when you leave Jersey," or "Things only Jersey people understand." Take this one for example, it is spot on! (minus watching Devils games, because I hate them – Go Rangers!)
But the pizza and bagels. Damn, I miss them! Just Italian food in general, you aren't getting it anywhere else in the US like we have in NJ. So when I'm here, I need my fix. Last night was pizza night! We ordered from our local place and I was in heaven. I mean, just look at that. With each new pizza place we try in CA, I do the fold test, and have yet to find one that can pass.
While at the wine event the previous night, I was given a left over bottle of Buena Vista, The Count Founders Red Wine. Although I am familiar with Buena Vista (is there any winelover who isn't?) I was not acquainted with this specific wine. I couldn't find the specifics, but it is a blend of Cabernet Sauvignon, Cabernet Franc and Merlot. The winery states that it is drink now wine, so I figured it wasn't going to be too big of a wine and pizza seemed like a good fit. 
Before there were vineyards in every valley north of San Francisco, before Napa and Sonoma were household names, before there was a California wine world at all, there was Buena Vista. Founded in 1857, Buena Vista is California's first premium winery, and its history is as colorful as it is proud. Today, the legend is being re-born under the vision of Jean-Charles Boisset. Our future is our past… our vivacious, colorful, and pioneering past!
This label is in honor of winery's founder, The Count of Buena Vista. He was the pioneer of premium wine in California. He imported hundreds of premium vines from Europe to ensure quality and dug the first Sonoma wine caves. Additionally, he wrote the first comprehensive articles on California wine. The wine itself was fermented separately and aged in Hungarian, French and American oak barrels prior to being blended and bottled.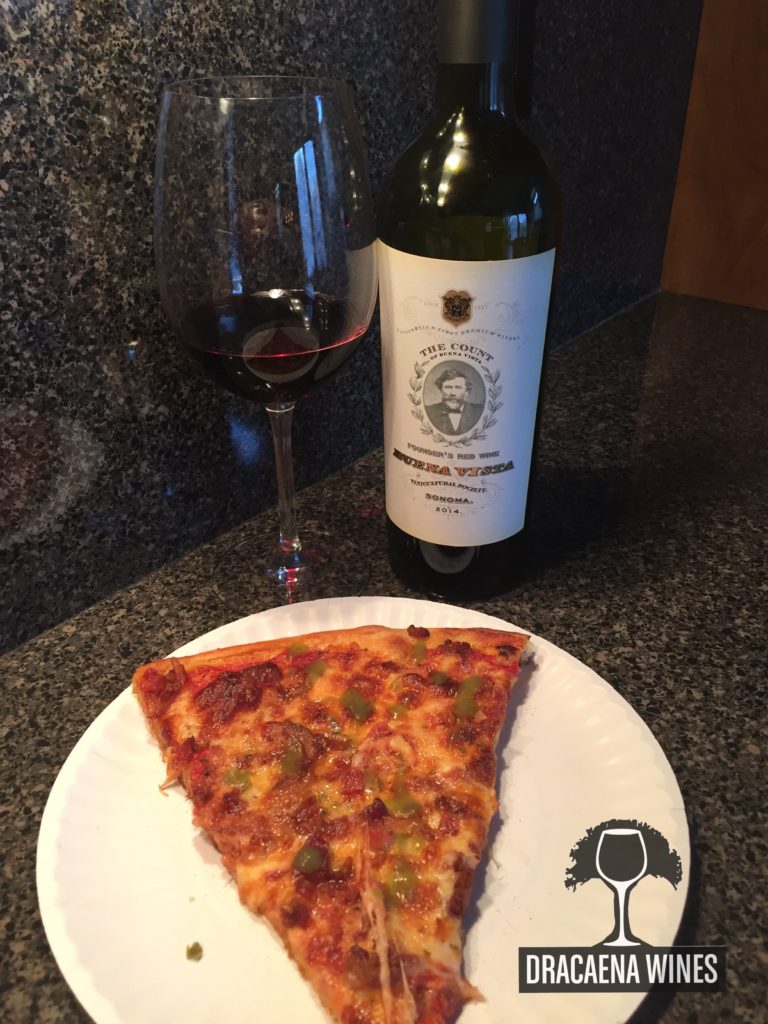 Hope you have had some great wines and times these past two weeks. Remember, always Pursue Your Passion. We would love for you to leave a comment telling us what your favorite recent wine was.
~Sláinte!