Susana Balbo received her oenology degree in 1981 and consulted for many wineries prior to beginning her own winery. She is one of the most celebrated females in Argentina. She is hands on for the entire wine making process; planting of the vineyard, canopy management, and harvesting decisions and believes in maintaining the long-term viability of the land.
Susana was the first Argentinean woman to be hired as a consultant to international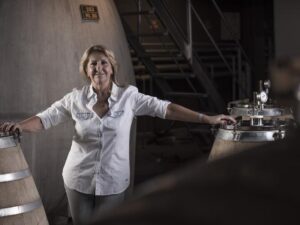 wineries including those in Spain, Chile, Italy, Brazil, Australia, and California. After years of working for other wineries, her dream was fulfilled in 1999, when she harvested the fruit for her very own winery and label. 
Her dedication to focusing on the entire process paid off as Susana was named one of the "Most influential women wine-makers" by The Drink Business in 2012. Three years later, she was once again recognized by the same magazine and was named "Woman of the year," and in 2018, they named her as one of the "Top 10 most influential women in the wine world." Most recently, she received the 2019 BRAVO Lifetime Achievement Award.
Never resting on her laurels, Susana continues to find new and innovative ways to share her passion for wine. Crios wines were created to demonstrate her love and dedication to her children, José and Ana and to provide a legacy for them. Today, both José and Ana work with Susana at the winery. The fruit for Crios wines are harvested from vineyards within the Argentinian regions of Mendoza and Salta. The philosophy of the winery is to create that "connects with the young, adventurous wine drinkers looking for unique varietals and regions as well as with those seeking reliable, quality wines that fit their budget." 
Inspired by "the generation that is willing to change the world", Crios of today is very different than the original vintages. Aiming their wine at those that are not afraid to step outside their comfort zone, Crios labels express the sentiments to "Break the rules" "Be brave," and "Trust yourself." Choosing the highest quality fruit from the Uco Valley, these wines provide a great experience for your palate, without hurting your wallet. 
The most emblematic graphic elements have been maintained: the brand, the stripe-textured background, the icon of the hands. When something is created with the hands, it has the value, accuracy and care of crafts. For this reason, this range of wines' motto is #ThePowerofHands. The iconic handprint logo on each Crios bottle symbolizes this relationship and illustrates hands as powerful tools for mothers, allowing them to hold, to provide warmth, to nourish, and to comfort, as well as to teach the next generation the skills and wisdom achieved.