[bctt tweet="Happy National Drink Wine Day!"] What will be in your glass tonight to celebrate?
Welcome to the next installment of WWHBD. If you have been following us, you know this is a bi-monthly post about What We Have Been Drinking. As in previous posts, since we are true believers of "Drink what you like and everyone tastes differently," rather than including our tasting notes, I have included basic information about each of the wines, or a bit about what was happening in our lives while we were enjoying them. If you are interested in reading our tasting notes and our ratings head on over to Delectable and check us out @Dracaenawines. Since the most celebrated day of the week for oenophiles is Wednesday, this post's week begins and ends on Wednesdays.
WEEK 1
It is #WineWednesday and it was good day. School went fast with no major issues and I came home immediately after school. It was the first time that I was able to do that in about 3 months, so it was a great day! There was no snow, it was a meager 35o outside with no new snow so all was good with the world. Mike decided to stop at the store on the way home and picked up some fresh pasta. He chose roasted chicken with fresh mozzerella ravioli. He coated it with EVOO and fresh parmesan and we paired it with a Chateau Ste. Michelle Chardonnay. It was a nice ending to the day. History states that their vineyard was built on the 1912 estate owned by Seattle lumber baron Frederick Stimson. The winery's roots date back to the Repeal of Prohibition. In 1967 they changed their name to Ste. Michelle Vintners and in 1976 they built a French style winery Chateau in Woodinville, and changed their name to Chateau Ste. Michelle. They pride themselves inOld World winemaking traditions with New World innovations." Chateau Ste. Michelle prides themselves in assuring you that great wines can come from Washington state.
Happy Friday everyone. Today has been another quiet day but I am so happy to say yesterday was a productive one. One of my
biggest challenges (lately) has been the shopping cart on our website. Trying to figure out how to accept orders on our site has been taxing. As you may know, I have taken on the challenge of setting up or website. It has been a great learning experience. I have read several books and done a lot of research on the web, yet I was not understanding how to get from "point A to point B." Yesterday, my best friend, Sonja, was more than patient with me and spent two hours on the phone walking me through how to connect the shopping cart to our website. She "stupidly" assumed it was only going to take about 15 minutes. Nothing with me and technology takes that short amount of time. (she should have known better) After we hung up, I felt like I should have been able to figure that out by myself, but I just wasn't seeing the connection. All I can say is thank goodness for Sonja- she is not just an amazing friend, she is an amazing person. I love her to death and wish we lived closer to each other . But in honor of her, we decided to continue our Washington theme (she lives in Bellevue, WA) with a Cayuse Armada Vineyard Syrah from Walla Walla. We paired it with horseradish quesadillas with onions and peppers with tortilla chips. on the side. I think Jay Miller from the Wine Advocate says it the best, "Cayuse is no longer a secret and it may be America's toughest mailing list to crack..but do whatever it takes to get your hands on a few of these gems." We have been lucky enough to be on that list and we look forward to each and every shipment.
After spending the day in Central Jersey (although most would debate Central vs. Southern) visiting Mike's mom, we traveled back up the Turnpike and the Parkway. For once, there was no real traffic. It is a rare moment that you can hit both those roadways and not sit in traffic. It was the first time we traveled the Turnpike
since the new roadways were open. It was pretty darn nice. You may be thinking how insane I am that I am happy about a roadway, but the people from Jersey who read this will completely understand the happiness the additional 6 lanes provides. We had only had breakfast at about 7 am and it was currently after 5, so we were pretty darn hungry. We decided to order a pizza from our favorite pizza joint, but felt like something a little different. so we ordered a Buffalo Chicken pizza. Ummm, ummm good. We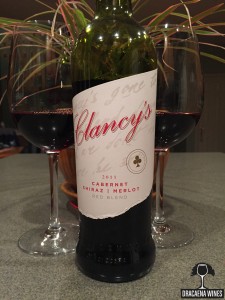 paired it with a Peter Lehman Clancy's Red Blend. This is a blend of Cabernet Sauvignon (58%), Shiraz (22%) and Merlot (22%). According to the website, Clancy's Red is a pure Barossa wine: a collaboration of winemakers and growers who believe in making honest wines that punch above their weight. A blend of Cabernet, Merlot and Shiraz, this wine is soft and supple and full of juicy flavour. The story behind Peter Lehman wines is a very interesting one. If you are interested, you can read about the "arguably the most famous man in the Australia wine business" here.
WEEK 2
I don't know about you, but I totally look forward to #WineWednesday. It is so much better than just calling it humpday. We had another snowday this past Monday, so it is another short week. I don't know what it is about Monday and snow, but I haven't had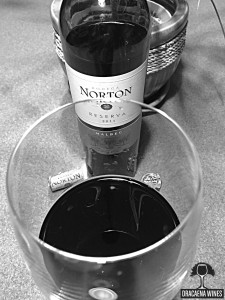 school that past three. Now, you may be thinking to yourself, sweet! no work every Monday, but for us, we only have four snow days padded into the school schedule. Anything more than that and we are taking away from Spring Break. I NEED Spring Break! This Monday we received the call for a delayed opening at 5:30 am. I don't mind delayed openings. They make the day go fast and there is no harm to our vacation time. But this time, they called us again at 7:50 am to tell us school was cancelled. Many teachers were already there, (since on a delayed opening classes start at 8:50) and I was in my garage ready to head to school (I have a very long 15 minute commute) The sad part is, this was a wasted day. Not only was the call made way too late, but it was a bad call – the snow stopped and the roads were fine. We now only have one more snow day to make it through the rest of the winter. But, once again, I digress. It is now Wednesday. Mike texted me in the morning stating we were definitely partaking in #WineWednesday. To be honest, not sure what happened at his work to deem it "necessary", but I was not going to protest opening a bottle of wine. Mike decided on a Bodega Norton Malbec Reserve. On their website, under About Us, they have a pretty cool time line. You can click each year and see how they progressed.They also have the menu of their restaurant "La Vid" and the best part if you are willing to relocate to Mendoza, Argentina – you can submit a resume here.
Today is Thursday. I am so thrilled because I am about to leave this cold snow ridden land (I know, we are nothing
compared to New England) and get on a plane to sunny San Diego. Although I have not had a great batting average for travelling to warm weather during our winter months. (Two years ago, we went to "sunny" Phoenix and it snowed!) The "natives" were so excited they were taking pictures while Mike and I were like "WTF!!" But I have more faith in San Diego. Since nothing says celebration more than #bubbles, I decided to start my vacation at EWR United Club with a Valentine's Day Special called "Bubbling With Love." It is champagne with pomegranate juice and Grand Marnier. A little sweet for my liking, but it did kick the vacation off with a bang.
We have spent a wonderful four days in sunny San Diego. We did not have a lot of wine while there since there is a plethora of craft breweries. In fact, the only glass I had was a Ferrari Carano Fume Blanc at one of the bars at the hotel. We did visit several of the breweries and enjoyed quite a bit of great beer. Even our Valentine's Day did not include wine. But it did include two awesome breweries where we had some fantastic hummus and garlic knots. The garlic knots were like bow-ties, very different than what our knots look like here in NJ. But alas, we had to come home so we took the red eye to arrive at 1o temperatures at 5 am. It was so freaking cold and the wind was ridiculous. The pilot told us the wind chill brought the temperature down to -15o! That is insane. I need this winter to be over. As I said earlier, I shouldn't complain too much compared to Boston that has at last count over 7 feet of snow. To the left is a real picture of the snow – yes that are cars. I can't imagine being there. We have about 2 feet and that is enough. On top of that, the freezing weather has just made everything one big block of ice. But to add a little humor, because if you don't laugh in this weather all you can do is cry, to the right is one of the best images I found floating around the internet. I hope wherever you are you are staying safe and warm and if you are lucky enough to be in warm weather area, please do not rub it in (too much.)
Hope you have had some great wines and times these past two weeks. Remember, always Pursue Your Passion. We would love for you to leave a comment telling us what was your favorite recent wine was.
~Slainte!