****NEXT WEEK WILL BE THE LAST POST THAT IS PUBLISHED ON DRACAENAWINES.COM. ALL FUTURE POSTS WILL BE ON EXPLORINGTHEWINEGLASS.COM. PLEASE FILL OUT THE FORM IN ORDER TO GUARANTEE YOU CONTINUE TO BE NOTIFIED WHEN NEW POSTS ARE LIVE. DRACAENA WINES WILL REMAIN POSTING BEHIND THE SCENES AND WINERY RELATED CONTENT. 

_________________________________________________________________________
What comes to mind when you hear Pinot Grigio? There is a misconception that it is a bland, watered down wine. Granted, there are some that fall under that category, but as with everything in this world, knowledge is power. Pinot Grigio knowledge is knowing where to look for quality Pinot Grigio. Those in the know look to Pinot Grigio delle Venzia DOC.
Pinot Grigio has been being grown for thousands of years. It is believed that its beginning occurred in Burgundy, France where it was called Pinot Beurot. The vines were planted among the Pinot Noir vines and were used to help add a little finesse to the wine. Pinots in general, (yes Pinot Grigio is related to Pinot Noir) are very expressive of their environment and the key to quality Pinot Grigio is the climate. Similar to Pinot Noir, it grows better in cooler climates and at higher elevations.
It gained its name thanks to the color of its skin. The white grape variety turns a grayish-blue color after veraison signaling they are close to full ripeness. Depending on where it is grown the wine produced can range from a medium to light-bodied, dry, and acidic to a full body that is extremely citrusy. In northern Italy, where the grape variety flourishes, the wine retains its high acidity, resulting in a lighter-bodied dry wine.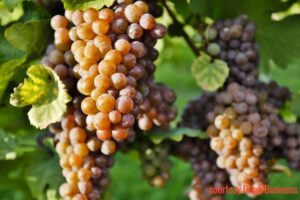 Although you can find large plantings of Pinot Grigio in France, Germany, New Zealand and the United States, its true homeland is in northeastern Italy. The Pinot Grigio delle Venezie DOC, also known as Triveneto or Tre Venezie encompasses the autonomous province of Trento, the autonomous region of Friuli Venezia Giulia and the Veneto region. The DOC is Italy's first interregional appellation and with approximately 28 thousand hectares planted to Pinot Grigio, the largest wine region in terms of surface area worldwide. According to the consorzio's website, 85% of the Italian production, the first in the world by volume, is produced in the Triveneto area. In 2016, 23,374 hectares of vineyards were planted, with significant increases compared to 2014 (+ 30.3% in Veneto, + 23.2% in Friuli Venezia Giulia and + 4.5% in the Province of Trento).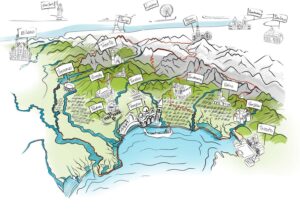 The Consorzio DOC delle Venezie guarantees and certifies the quality and origin of each bottle of Pinot Grigio produced. The consorzio was formed in 2016 and all regulations began with the 2017 harvest. As a consumer, this is easily recognizable by the paper band containing a serial number on the neck of the wine bottle.
Wines awarded the DOC designation can be found in four categories. Pinot Grigio, Pinot Grigio Spumante, Pinot Grigio Frizzante and a Bianco. They must be a minimum of 85% minimum Pinot Grigio, with the remaining percentage coming from Chardonnay, Pinot Bianco, Muller Thurgau, Garganega, Verduzzo and/or Tocai Friulano. Additionally, all wines undergo taste tests by an independent panel and growers must adhere to maximum yield guides to ensure quality control. This DOC certification system provides the consumer with a guarantee of quality and complete vineyard to bottle traceability.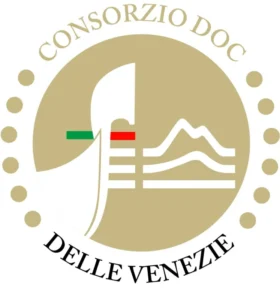 The sun filled days, cool nights and limestone soils in the region make it ideal for growing Pinot Grigio.  The uniqueness of the delle Venezie DOC region comes from its many climactic influences including the Dolomites Mountains and hills of Collio, karst (soluble rock types such as limestone, marble, and gypsum), Lake Garda, Adriatic sea and the Venice lagoon. The soils are well draining and the lake helps to ensure a mild climate while the cool breeze of the Alpine chain and Lake Garda allows the grapes to fully ripen while maintaining their high acidity.
With the beautiful acidity and light, refreshing flavors of Pinot Grigio delle Venezie the food pairings are almost endless.  You can choose between risotto, shellfish, light chicken dishes and even snacks like chips and guacamole. With the endless possibilities, you know when you see the Pinot Grigio delle Venezie seal, you are guaranteed a wonderful experience.
~Sláinte! 
Disclosure: This article is a sponsored post. I received compensation from the Consorzio DOC delle Venezie.