If you prefer to listen to the murder (sounds effects and all) click here
The largest growth for the Californian wine industry happened in the 20th century. And as we all know where there is growth, there is greed. And where there is greed, there is crime. That's what we are talking about today. The nastiest of crimes… murder!
Let's get to know the characters in this murder:
Robert Dahl – originally from Minnesota. He was an entrepreneur, with what could be called not the greatest track record. People who knew him stated that at first, he appeared to be ambitious and brilliant with entrepreneurial ideas. He was known as a quick talker and had the gift of gab that made people feel at ease with investing with him.  But as time went by, these investors realized that it was all a façade. He created a company, Duraban International, which produced a spray to kill mold and the investors fell into place.
However, after the money exchanged hands, the investors found that the company was not as it was supposed to be and the lawsuits began. The lawyer for Dahl's investors, Steven J. Lodge, said in a statement, "He was real good at getting into deals," making his business partners upset, "and then exiting in a ball of fire I considered him kind of pathological."
Robert Dahl also had a list of criminal convictions. In 1989, he plead guilty to theft by swindle for more than $2500. And in 1991, he again plead guilty to theft for another $2500. For this he served 90 days in jail. Public record also shows a 15 month prison term for another incident, in which the cause was not documented. Other public records also show bankruptcy, evictions, and collections.  
Emad Tawfilis – was known as easy going and level headed. He had gone into business for himself and was extremely successful in the corporate world. Although he was a corporate man, he was often seen in jeans and T-shirts. Neighbors talked about how they would stop by and talk the night away. He made his money in the Silicon Valley and loved movies and wine. His dream was to invest in both. His first, and last movie investment, would be one he would never get to see. Johnny Vestvood; Amerikan Hero was a poorly rated comedy that released in 2016. According to IMDB the storyline was a wannabe private investigator wins the Green Card lottery and moves to America to pursue his dream only to find himself embroiled in a conspiracy to start the next world war. He invested $200,000 in the movie and could be seen in it as an extra.
And what may have been the most important character in this story – a red gym bag filled with $800,000 in cash. The straw that philosophically broke the camel's back.
Dracaena Wines has received consistent 90+ ratings and multiple Double Gold medals. Click image to order yours today and let Dracaena Wines Turn Your Moments into Great Memories!

Time for the Plot:
Robert had packed up his belongings, and along with his wife and three children moved to Napa Valley. He used his charm to strike up a friendship with Dominic Foppoli (now the owner of Christopher Creek Winery). Robert and Dominic joined forces to purchase a vineyard. Robert didn't know anything about making wine and Dominic's family had been in the wine industry for four generations.
But soon after the collaboration began, Dominic realized things were not what they seemed. Dominic was making the wine and Robert was in charge of the books. Dominic saw the wines he made being sold, but somehow, money was not in the accounts and bills couldn't be paid. After receiving a phone call that the vineyard was going into foreclosure, Dominic went to his family and raise the money to buy Robert out and he absolved the relationship.
Dahl, after receiving payment from Dominic for his portion of the winery, decided that he wanted more, he didn't just want to be an investor, he wanted his own winery. He wanted to see his name on a label.  
In 2011, Robert Dahl met Emad Tawfilis. They both shared the dream of making it big in the wine industry. Two years later, Robert had Emad where he wanted him. He charmed Emad into investing $1.2 million to fund Dahl Vineyards.
If you are going to hook an investor, its important to dangle the carrot in front of them. In this case Robert showed a profit. Dahl was a great salesman. He was great at pouring the wine and making the sales and this allowed him to pay Emad back a portion of his investment. Which, in turn,made Emad ready to invest more! That investment was $800,000 in cash given to Dahl in a red Adidas gym bag.  
Unfortunately Emad was not aware of Robert's checkered past. He wasn't aware of his failed business relationship with Dominic Fippoli. Nor did he know about the TV star Adam Carolla who partnered with him to make wine. Although he made money on the venture, Adam did not receive all the funds that he should have. Dahl also didn't share information with Emad about his business dealings with rapper, E40. Once again, money was made, but somehow the investor did not see the money owed. Not to mention a failed brewery business that Dahl had used a portion Emad's investment, plus $250,000 that he had received from other investors.
The Beginning of the End
When Emad found out that the money he invested into the winery was instead diverted to other dealings, he was furious. It was then that he decided he needed to find out everything he could about Dahl. Emad hired an investigator who found out that Dahl had several leans against him in Minnesota along with the criminal convictions.
Upon hearing what his investigator uncovered, Emad started a lawsuit against Robert Dahl, and without blinking an eye, Robert countersued. Napa courts sided with Emad and placed a hold on all dealings with the winery.
On March 16, 2015, the lawyers came to a deal. Robert arranged for a meeting at the winery located at 6155 Solano Ave. Emad went to the winery, and their lawyers were on a the phone. During the conference, Robert shocked all by saying he didn't agree with the agreement and changed the offer. The lawyers got off the phone to allow Robert and Emad to come to an agreement on their own.
But an agreement was not made, instead gunfire was heard and the two men came running out of the barn. Robert chased Emad, firing a .22-caliber semiautomatic handgun.  As he ran through the vineyard dodging bullets, he dialed 911 and claimed "He shot me! He's coming after me in his truck!"
Emad continued to run and heard the sirens of the police racing to the scene. He must have thought he was saved, but as the police cars came closer, so did Dahl in his vehicle. At the corner of Solano Avenue and Hoffman Lane, Dahl got out of the truck and shot Emad in the head.
Robert may have had a silver tongue, but he realized there would be no talking himself out of this. He got back in the car and drove away. He was ultimately found at Wall Road and the Oakville Grade. As dozens of officers closed in Dahl chose to shoot himself.
The Aftermath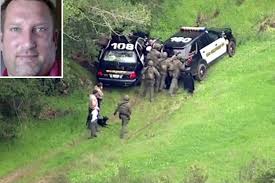 The police found a document that Robert had brought to the meeting. The paper stated that Emad was purposely trying to ruin Robert's life and that it was a hoax. Apparently, he wanted Emad to sign this document and knew it would only be signed if he was at gunpoint.
They also found evidence that Robert was planning on murdering more people. He wanted to bring down all the people who helped bring him down. The police found over 700 rounds of ammunition, in his home.
It's Yours If You Want It! 
The McVicar family owned the winery at the time of the tragedy.  The winery had been in business since 1988. It produced 20,000 gallons of wine each year, but did not have a tasting room and did not accept visitors. The business closed in 2000 and the building remained vacant until 2014, when Dahl leased it.
After the murder-suicide, the McVicars boarded up the facility, where it has remained vacant. It first went on the market unsuccessfully in 2016 for $6.9 million. In November 2018, it resurfaced for $6 million. It has been on and off the market since then and is currently listed at $5,950,000, but has never been sold. 
Please follow me on Instagram, Twitter, and Facebook. You can also find me on YouTube and if you are interested in wine pairings, follow my other blog, Wine Pairing with Dracaena Wines. And don't forget about my FREE wine education series, Winephabet Street. Sláinte!
Try the 90+ rated and multiple Double Gold medal winning wines of Dracaena Wines and get a 10% discount off your first order. Click the banner below and use code "Explore" at checkout.