We've all been there. You have a bottle of aged or unfiltered wine that you have been dreaming of
opening and you want it to be good to the last drop. As you open the bottle, you easily spot those recognizable crystals on the side of the bottle. Sadly, in your subconscious, you immediately deduct that you are going to lose at least one precious glass due to the sediment. No matter how amazing the wine is, no one wants to suck that stuff in. I know you understand exactly what I'm describing and I bet you have been known to tip and twist a bottle or few so that you don't find the sediment in your glass.
What is that stuff anyway? 
Technically speaking, those crystals are called "dregs." It's an unfortunate term, since most people hear the expression, and immediately think "dregs of the earth" which does not provide a great connotation. But in the wine industry, dregs does not equal defective. 
"Dregs" refers to the solids that are found in wine during the winemaking process. They are also known as "lees" which can be dead yeast cells, grapeseeds, stems, pulp and tartrates. Extended contact with the lees contributes to added flavor and textures. These particles are subject to the same laws of physics as everything else, and during the winemaking process, they fall to the bottom thanks to gravity. The process of racking is a gentle way to separate the wine from the lees. Filtering during the bottling process can also eliminate many of these particulates, however, some winemakers consciously choose not to filter, leaving these dregs in the bottle. 
From Kickstarter to Reality
Margarita and Patrick Vacanti are from Denver, Colorado and called upon their expertise in technology consulting, marketing and program management to help us oenophiles enjoy our wine to the last drop. They turned to kickstarter and got 301 backers who pledged 

$87,983

 to help bring their dream to life. 
From Vacanti Wine Glasses' website: 
Don't think your wine has sediment? Some bottles of wine may surprise you. With Spirale wine glasses, there is no need to plan ahead to separate sediment from your wine through decanting or filtering. Be spontaneous! Simply open, pour and enjoy. Our glasses have you covered.
After five years developing the glass, two patents and sending out more than 600 samples for review and feedback, Vacanti wine glasses have officially hit the market!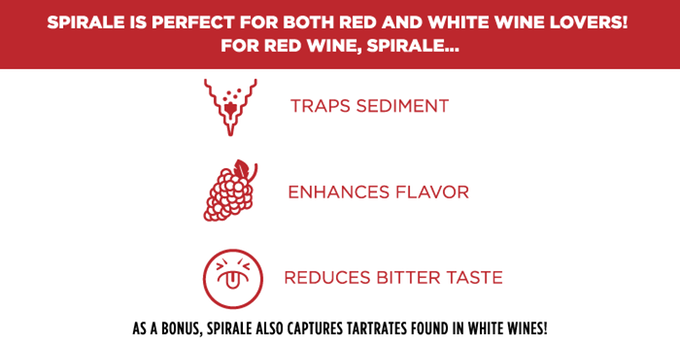 My Experience
My Vacanti glasses arrived in a typical brown box. Once opened, I found a lovely, bright red box with the wine glasses, snuggled extremely well in foam inserts. These glasses can be shipped anywhere with no fear of breakage. I will mention that the glasses are a bit on the heavy side. They are thicker than many wine glasses making them not light in the hand, BUT they are dishwasher safe and that is a huge positive. Even though they are heavier, they still maintain a sense of elegance.
We purposely chose a wine that we knew was going to throw quite a bit of sediment. Upon opening our bottle of Cayuse Syrah, the sediment was
easily spotted on the neck of the bottle. I did a little happy dance because I knew this would put these glasses to the test. Normally, when I see this amount of sediment in the bottle, I would decant or at the least, pour from the other side of the bottle. But not this night, this night I chose to pour directly over the collected dregs without any decanting.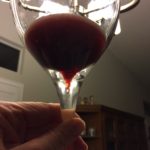 As I poured the wine into the glass, the corkscrew 1″ deep spiral became more apparent. The wine found its way into the spirale and almost immediately you could see sediment traveling towards the bottom.  This was the first glass! Who would have thought there would be sediment right from the get go? But there was, and my Vacanti Spirale glasses were looking out for me capturing each and every particle.  
I must admit that the Vacanti wine glasses caused me to drink my wine a bit slower than normal. Not because the wine was not pleasing- because it was amazing, and not because the Vacanti Spirale glasses interfered with my drinking – because it didn't hinder it one bit, but because both Mike and I were in awe watching the reservoir hard at work. With each sip I took, more particulates found their way into the spirale. It was like magic! I love when science and wine come together! 
As you can see, there is absolutely no sediment on the sides of the glass. This means that I didn't have any in my mouth as I sipped the very last drop of my favorite Syrah! 
Unfortunately, even though we sipped and savored more slowly than usual, we finally poured and consumed our last glass and it was time for us to clean up. It is recommended that you run water into the glass soon after you are done using. I was a bit concerned about cleaning the sediment out of the spirale, but there was no issue what so ever. We hand washed one and placed the other in the dishwasher. Both came out clean. Knowing that these are dishwasher safe means that I don't have to hand wash my wine glasses ever again! A big woo hoo to that! 
Be sure to check out Vacanti's website to find out more about how this wine glass works and to purchase your own.  I can honestly say you won't be disappointed! 
Sláinte! 
Disclosure of wine sample submission:  I received this product at no cost from Spirale by Vacanti. I was not required to write a positive review and the opinions I have expressed are entirely my own.